This is a review of the new Musician Audio Aquarius which is a balanced high-end R-2R array desktop DAC with additional DSD architecture. It is priced at $3199.99.
Disclaimer: This is a sample sent to us in exchange for our honest opinion. Headfonics is an independent website with no affiliate links or status. We thank Musician Audio and Aoshida Audio for this opportunity.
To read more about Musician Audio gear that we have previously covered on Headfonics click here.
Note, that this article follows our latest scoring guidelines which you can read up on here.
Musician Audio Aquarius Review
I thoroughly enjoyed testing the Musician Audio Aquarius. As a pure R-2R DAC, it still retains that natural and inviting sound signature I have come to expect but as a step up from the Pegasus you get a palatable upgrade in technical capability.
Pros
Beautifully natural tonal quality
Pairs well with almost any amplifier
Multiple I2S connectivity
Cons
Slight lower than average Vrms output ratings
Long Burn-in Time
The Musician Audio Pegasus was our surprise package from last year. A compact and not unreasonably priced desktop balanced R-2R DAC that scored really well and walked away with our Top Gear Award for 2021.
Taking on their new flagship Aquarius DAC in 2022 seems like the next logical albeit tasty step in our discovery of this relatively new audio brand.
I say flagship because since our review of the Musician Audio Pegasus has come out with a whole range of new desktop units ranging from dedicated DSD decoders, amplifiers, and even cheaper R-2R DACs such as the Draco.
At a shade over three grand, however, the Aquarius is way above everything else the company has to offer, putting the likes of the Hugo TT2 and Holo Audio's R-2R DAC range firmly in their sights.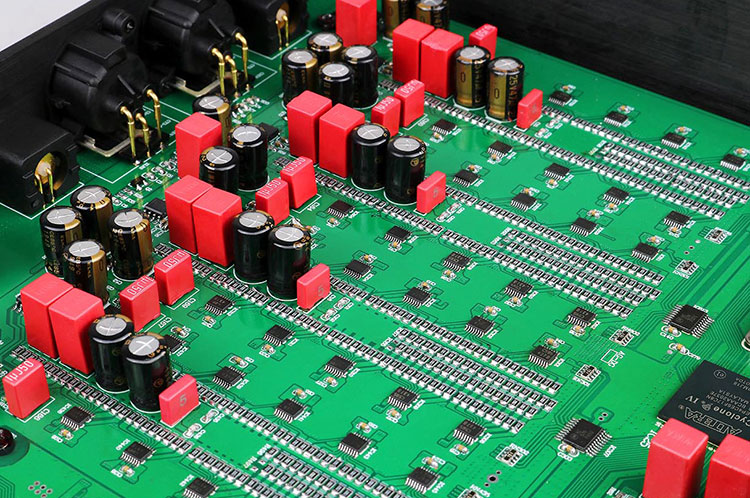 Tech Highlights
The R-2R Difference
For those new to the concept of R-2R, this is quite a different digital to analog conversion process compared to the modern delta-sigma DAC or some of the more proprietary FPGA-based solutions from the likes of Chord or dCS.
In some ways, it is one of the oldest but perhaps one of the most versatile DAC approaches still available with a strong emphasis on discrete topology designs and precisely matched resistors implemented by hand.
In essence, this gives the Musician Audio engineers 100% control over a very wide range of parameters for tuning the DAC's decoding performance. It also usually brings in a distinct and more analog flavor to the DAC's signature whereas the delta-sigma variants can often be accused of sounding more 'digitally perfect'.
Contrast this with 'off-the-shelf' delta-sigma SoC, for example, which from an engineering angle is traditionally an all-in-one solution designed to take a lot of the legwork from a company's R'n'D budget and reduce engineering costs.
Parameters for delta-sigma adjustment are usually more limited until you get to the analog side where opamps, rollable or otherwise, can take up the slack and introduce whatever flavor you like to the sound.
Topology
The Aquarius is a pure desktop DAC with a balanced topology as well as single-ended analog output capability alongside a digital input array that is significantly more feature-packed than the Pegasus.
Internally, it consists of four ladder rails of discrete 24BIT resistors, or double that of the smaller Pegasus. Each one is handpicked to within 0.005% precision resistance for core R2R native 1BIT PCM decoding capability with an additional ladder for 6BIT DSD processing, (32 steps FIR Filters).
Behind each channel, the Aquarius also has a digital bridge managed by an FPGA-based Altera Cyclone IV combined with a double constant temperature Crystal oscillation implementation for DSP and jitter control.
The Aquarius's power supply is an O-type toroidal transformer wound with single crystal copper wiring combined with linear regulators for AC conditioning on input and just after before it moves to the digital management and decoding.
Decoding
You will require a dedicated Thesycon software driver to get the best out of the Aquarius on Windows for decoding. However, its best far outshines a lot of the competition with rates of up to PCM 32BIT/1536kHz and DSD1024 via USB and I²S.
That's a big jump from the usual top-tier of DSD512 and PCM 32BIT/768kHz though there is no MQA capability.
The reason behind those super high numbers is the use of a custom-designed USB solution tied to an STMicroelectronics ARM Cortex-M4-based STM32F446 processor as opposed to something more off-the-shelf such as XMOS.
It is not that different actually to how they approached the Pegasus setup which also boasts of similar numbers and uses the same chipset.
Every other Aquarius input is also pretty much maxed out to its designed capability so that means 24BIT/192k PCM and DSD64-DoP for its coaxial and optical inputs.
The one big difference this time from the Pegasus, however, is the Aquarius dual I²S setup is actually user-programmable to work with a very wide range of I²S sources. Something we try out in more detail on page 2 of this review.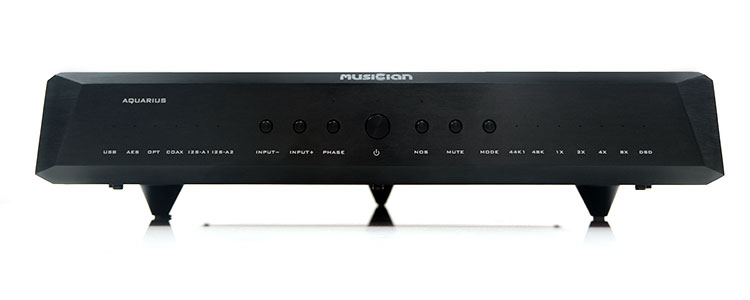 Design
The Pegasus design language remains strong with the Aquarius just that everything is now upsized making this a large desktop unit.
The color choices are somewhat similar to the Pegasus also with a dark and silvery-white alternative though the darker version of the Aquarius we have here has less of that green tint from the Pegasus finishing and more of a class shiny black hue.
The machining is unchanged which is good news as I kind of like how Musician Audio put together their units. There are no LCD panels, it's all diodes and buttons on that cleverly angular brushed aluminum front plate. It exudes that classic HiFi look rather than the more modern information-intensive display styling of competing units.
The chassis paneling behind the front plate is also a robust aluminum alloy with discrete locking screws to the rear. The curving is not terribly sharp so there are no nasty surprises for your hands when lifting the unit.
The dimensions are 33*30*7.5cm which, like its smaller sibling makes this a fairly slim but wide form factor with an almost doubling of the weight to 5.6kg. It is still supported by that tripod rubbery feet system on the base, which, when left alone is very stable.
However, you do need to be careful about where you apply any pressure on the chassis as too much to the left or right can tip the unit to one side or the other. If you are going to stack make sure the unit above is well centered.
I/O
I²S modes
You get an expanded I/O selection on the Aquarius compared to the Pegasus. This is primarily in the form of two I²S inputs as opposed to one which is just super for my Cayin iDAP-6 and something else like a CD transport.
It is not just the additional I²S port that should have enthusiasts licking their lips but also the pin mapping is not fixed either. I²S is not a fixed standard so even though it's HDMI plug compatible the pin configs for a wide variety of sources or transports differ leaving a compatibility question.
Through the use of the mute and phase button combos on the front of the Aquarius, you have up to 8 different pin configuration modes that ideally should prove to be compatible with your I²S source device.
Standard lineup
Aside from that handy I²S I/O option, you get all the regular analog and digital alternatives that came with the Pegasus.
That includes SE dual RCA and balanced 3-pin XLR to the far left for your analog output and dual I²S, coaxial, optical, USB, and AES in the middle. To the far right, you get a multi-voltage 3-prong Furutech power socket connected to the linear regulators and the O-type toroidal transformer.
One thing I did note is the rated voltage output of the analog outs is on paper a little lower than the Pegasus at 3.59V for balanced XLR and 1.79V for SE when using the PCM ladders. When switching to the 6BIT DSD ladder it drops to 2.66V and 1.33V respectively.
Both outputs are a little on the low side for standard voltage ratings for DAC analog outputs but I suspect this is a correction from the original Pegasus performance, which I felt was lower than its rating given the high output impedance of 625Ω SE and 1250Ω balanced.
Connection Design Tweak
There is one production run design change from the Pegasus sample we have here and that's the overhang on the top panel at the rear of the main chassis which is now gone on the Aquarius. I believe that may well be the case also with recent Pegasus units also.
Now you have a flatter or slightly recessed top panel finish making access to I/O connections a lot easier than before. The older design's overhang was right over the digital section which sometimes forced me to swivel the unit around head-on to correctly insert some cables.
Controls
Sadly, still no remote control for this device which would have been appropriate given its flagship status. Instead, status is via a series of LED lights above each label via manual controls all of which are located on the front panel of the Aquarius. Couch potatoes take note.
The control suite is more complex and in-depth compared to the Pegasus with no less than 6 unique buttons compared to just two. Some of the controls are the same as the Pegasus with both having an input controller and a NOS button if, like me, you like to keep listening without oversampling.
However, this time you have additional mute, mode, and phase buttons. Mute and Phase combined will allow you to change that I²S configuration to match your connected I²S compatible device.
The mode button will allow you to cycle through the Aquarius built-in filters when using the unit's OS mode. You get two filters; a slow and sharp alternative and you can access them via a combination of the mute and mode buttons to cycle through the filters using the opt LED indicator as a guide to which filter you have activated.
Because the Aquarius is a bigger unit, one of the cons of the smaller Pegasus has vanished, i.e., the small labeling. Musician Audio has thickened the labeling, upsized it, and made it a bit whiter so it is now much more legible for checking your sampling rate, (1x to 8X, and DSD), and input status.
Packaging & Accessories
A bigger unit therefore a bigger box this time around and it's more of a traditional HiFi brown packaging type for transportation rather than the glossy blue smaller Pegasus box.
That being said the black foam protection with its plastic corner wedges for the Aquarius inside the box is excellent. It seems very well protected indeed.
Do note, that the Aquarius accessories do not include a power plug. I presume due to multiple regional variations but you will have to grab a standard 3-prong "kettle-type" power cable in order to power it up.
Aside from that, the accessories include a manual and warranty card and not much else. A bit of a missed opportunity for me, both on the power plug and perhaps an additional set of balanced or RCA interconnects or even a USB cable to get you started would have been nice.
Click on page 2 for sound impressions and pairings