This is a review of the new HiBy R6 III which is a next-generation Android 12 dual DAC DAP with a switchable Class A and AB amplification. It is priced at $499.
Disclaimer: This sample was sent to us in exchange for our honest opinion. Headfonics is an independent website with no affiliate links. We thank HiBy Music for their support.
You can click here to learn more about HiBy products we have previously covered on our website.
Note, that this article follows our latest scoring guidelines which you can read here.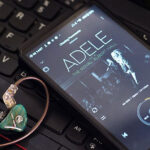 HiBy R6 III
Overall, the R6 III is an extremely smooth and enjoyable multi-media player with the most up-to-date OS, useful user tuning features, and a rather neutral base tuning. It is an affordable and engaging choice for those who are seeking a fast multi-media player or for more advanced users who have external amplifiers to pair with the device.
Pros
Very good set of OS features
Noise free output
MSEB DSP
Cons
High power consumption on Class A mode
Weak 3.5mm PO output power
The R6 III is HiBy's second DAP with Class A amplification following the R5 Gen 2 and is one of the fastest DAPs right now.
The design features Dual ESS 9038Q2M with power regulating measures, MQA 16x decoding, and rides on the Qualcomm Snapdragon 665 solution. Clearly, this is quite a leap from the previous generations in terms of OS features and the faceted design is much alike the RS8 which looks much more futuristic and masculine.
The R6 III is $300 cheaper than the $799 R6 2020, quite a bit more affordable but how about the sound performance? Let's find out!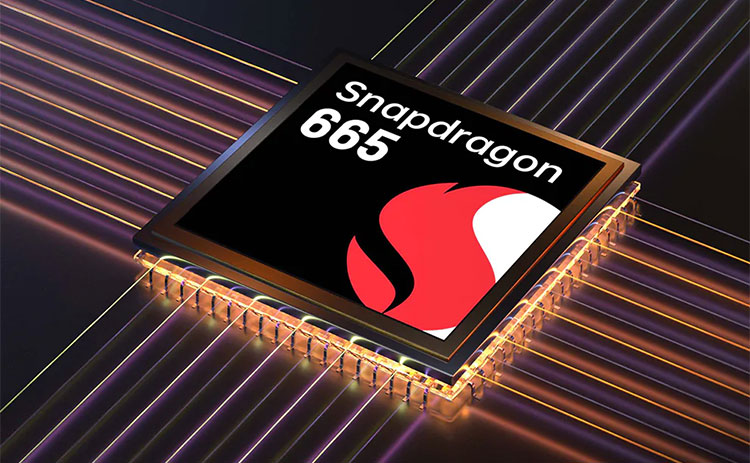 Tech Highlights
The hardware on R6 III has been comprehensively stepped up from the previous gen product R6 2020 and this is the first time we see Class A amplification on their R6 series.
The decoding Class is also switchable between A/AB, which you can hear nuances in the output.
CPU
The R6 III is easily one of the fastest DAPs in the market using the same SoC featured on the flagship DAP RS8 or the Shanling M9.
The chipset integrates BT5.0 support and with 4GB of RAM on board, the R6 III operates smoothly even when multitasking.
The Snapdragon 665 provides fast performance with minimal lag whilst ensuring more than 6+ hours of playback even when switching to its highest power, Class A output.
DAC
The decoding solution is inherited from the R6 2020 to feature dual ES9038Q2M with decoding capability up to DSD512 and PCM 32BIT/768kHz.
Being the mobile version for the ESS ES9038 DAC chip, the Q2M version offers a high S/N ratio but much less power consumption rated at just 40mW, which allows the player to achieve more playback hours.
Around the DAC there are two dedicated crystal oscillators clocked at 45.158MHz and 49.152MHz, which claim to achieve femtosecond accuracy.
Similar to the other HiBy players, we have HiBy's DTA (Direct transport audio) bit-perfect architecture onboard which frees all outputs from SRC limitations as well as achieving platform-wide bit-perfect output for all apps.
MQA 16X
The R6 III allows MQA 16x unfolding just like the flagship RS8, which is enabled by the same Snapdragon 665 chipset. This will allow unfolding up to 32BIT/768kHz or to playback of local MQA files on the player with the feature automatically applied.
If you are mainly streaming with Tidal then you may notice the output being smoother and more delicate with the higher unfolding power. This is a welcoming feature and I often find the mastering on Tidal to be more euphonic.
Amplification
Similar to the R5 Gen 2, the R6 III allows switching between A and AB class amplification.
The R6 III uses dual OPA1652 opamps, 4 ELNA capacitors, and 16 dedicated hand-matched transistors to deliver full-time peak power, enhancing transient response at the same time.
Running on Class A amplification prepares the amplifier for larger loads though it would consume more power; switching to Class AB is more power efficient for sensitive gears and the playback time can be doubled, though it sounds slightly more compressed and not as airy.
The output power on R6 III is rather conservative, rated at just 363mW, 3.4Vrms. As you may have guessed the AB mode is more power efficient and could double the playback time to 12+ hours on balanced output.
On Class A mode with 4.4mm BAL output you can listen for up to 6 hours, and the toggle switch is always a great option to let the user decide between more playback hours or higher quality.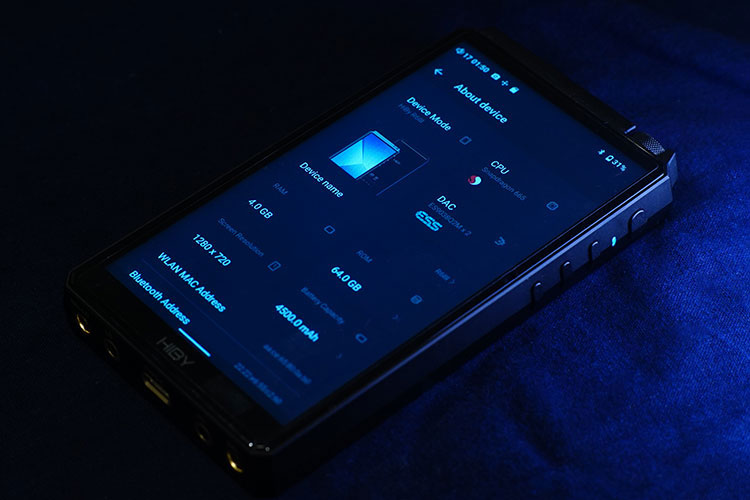 Design
The R6 III follows the same angular design as the previous R6 release as well as the R8. On the bold and futuristic design sits a fully laminated 5", 720p display which helps lengthen the playback time by reducing power consumption compared to the 1080p counterpart on the R6 2020.
We were sent the black version and there is a gunmetal silver version that seems to look even cooler.
Despite having a metallic enclosure, the R6 III feels quite light, and you can hold it easily with one hand and control playback, and the volume pod on top of the player can be reached easily even when you put it in the pocket.
On a side note, shielding is also enhanced on the R6 III such that phone signal-induced EMF interference is much less detectable.
I/O
The in/output option on the R6 III is pretty similar to the previous generation product.
All jacks on the bottom of the machine are gold plated and aside from the BAL 4.4mm LO/PO and the 3.5mm LO/PO sockets, the USB-C output can also be connected to OTG USB devices as well as external decoders.
Battery
With a 4500mAh battery on board, there is sufficient capacity for Class A amplification. Max output power on 4.4PO reaches 405mW and the THD is rated 0.005% on Class A with an S/N ratio rated at 120dB which is decent.
The 3.5mm PO is roughly 1/3 the output power compared to balanced output, which is not much higher than a phone's output, so it may not be too ideal for 3.5mm terminated high impedance IEMs and 4.4mm output will be preferred in all cases.
From HiBy, the playback time on 4.4mm BAL output, Class A mode reaches 6hrs and on Class AB it is doubled. Using the 3.5mm PO will give you 3 extra hours no matter if you are using Class A or Class AB mode.
The R6 III supports PD2.0 quick charge so you can get a few hours of playback time over a short charge during lunch hours.
Packaging & Accessories
The HiBy R6 III is packed with a transparent case which could help protect the player from being scratched.
I would prefer not to use the case as it feels much sleeker and you can enjoy every bit of the metallic chassis design. With the case on it is harder to control the volume though it may be safer if you are not locking the volume control when the screen is off.
There is also a USB-C cable, user guide, and extra screen protector in the box aside from the clear case which could come in handy if you scratch the pre-installed screen protector.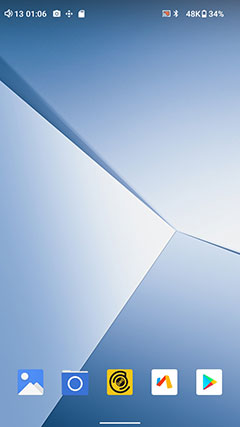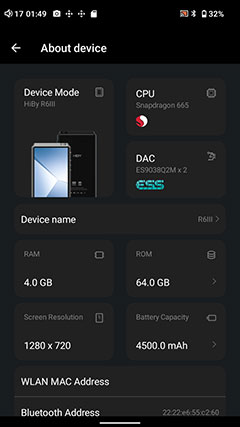 Software
Android 12
HiBy has jumped to 12 this time, the same upgrade as seen on the previous RS6 and the RS8. The UI/UX feels much more advanced and much more deeply customized. Some competitors are still running on Android 10 even on recent releases so HiBy is much more competitive in this department.
Like the previous products, we can see some legacy features such as MSEB, as well as systemwide bitperfect decoding supporting up to DSD512 and PCM768. That means you can always apply simple DSP fixes to all apps, not just limited to the HiBy music app, without any delays to the signal as tested on various streaming apps.
Performance Numbers
Using the same controller as the RS8, the R6 III scores 204514 using AnTuTu Benchmark v9.5.6 which is an excellent performance. With 4GB of RAM, the in-app scrolling is smooth, the multi-tasking never feels staggered, and opening multiple tabs on a browser is quick and painless.
At the same time, heat dissipation is well considered on the R6 III, on both Class A and Class AB modes. Even on higher CPU loads the R6 III stays acceptably warm.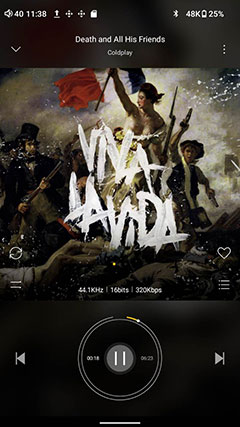 Media Management
With top-notch hardware and a decent amount of RAM, the R6 III is incredibly fast with media scanning and smooth when scrolling a long list of cover art. As usual playlist tagging is accurately captured and in the preloaded music app you can retrieve lyrics from online automatically.
The UI/UX experience for media management feels very complete on HiBy's customized Android OS. It is probably the most comprehensive, deeply customized DAP system in the competition considering the function of the HiBy music player as well as its MSEB equalization option.
Wireless Connectivity
WiFi
The updated SoC from the R6 2020 version and the newer OS help to boost internet browsing speed further.
When testing the strength from my router, I can receive a stable signal over a few meters and an instant connection. The signal strength is marginally stronger than the R6 2020 and overall, it is very smooth when streaming and content browsing over a DLNA connection.
Bluetooth
The R6 III continues to offer BT5.0 connection supporting LDAC, aptX as well as their own UAT format with ultra-high transmitting rate capable of 192kHz sampling and 1.2Mbps bitrate.
When streaming over the living room the signal strength is similar to the last generation product and as long as there are no walls between, it can stream stably over aptX at up to around 10 meters.
There is also an option to have it operated remotely via HiByLink downloadable from Google Play and you can locate the player in the backpack and control it over the phone or even a tablet.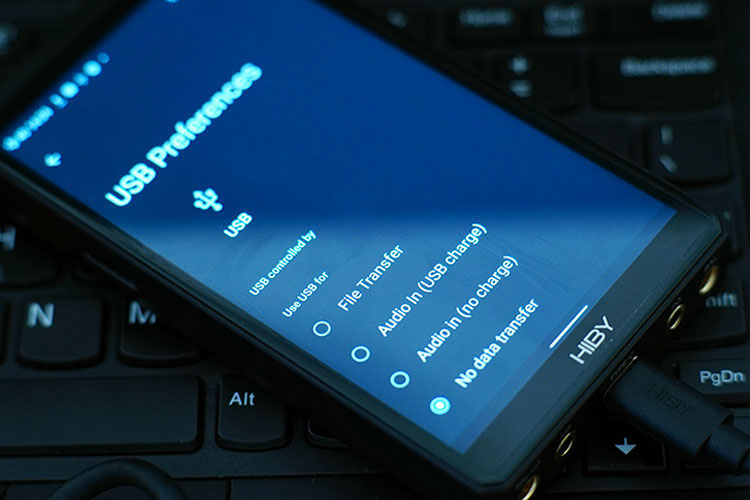 Wired Connectivity
USB-DAC
The R6 III can be plugged directly into the laptop for USB decoding, and it works for pretty much all common Codecs.
Very little latency was detected and the output quality is quite similar to playing local files on the player. If you like to watch videos outdoors or want better sound performance on the PC at work, then this could come in handy.
USB-OTG
The R6 III supports external storage so you can plug in a USB-C thumb drive and play the files stored, or transfer files between drives.
You can also use the USB-OTG connectivity to extract photos from your camera's card and use the R6 III as a digital album. And of course, an external decoder connection is supported, and you can connect dongles such as the Questyle M15 or another DAC via the USB-C output.
Click on page 2 below for sound impressions and our selected comparisons.