We review the Yamaha YH-E700A, which is a pair of wireless noise-canceling headphones with aptX Adaptive support and up to 30 hours of battery life. They are currently priced on Amazon at $199 on Amazon USA and have an MSRP of $349.95.
Disclaimer: This sample was sent to us in exchange for our honest opinion. Headfonics is an independent website with no affiliate links. We thank Yamaha for their support.
You can click here to learn more about Yamaha products we have previously covered on our website.
Note, that this article follows our latest scoring guidelines which you can read here.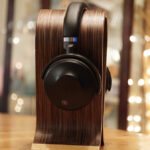 Yamaha YH-E700A
This Yamaha YH-E700A is a very neutral and almost reference-sounding studio monitor intended for portable usage and producers or music recording artists. The experience is a hyper pure feeling, and enjoyably engaging on the treble side without going into painful territory. Overall, the YH-E700A is a great option for the price if you like a straight-up neutral performance from your audio gear.
Pros
Excellent coherent staging
Great adaptive sound
Cons
Lacking bass thickness
Wind reduction tech could be a bit better
$199 (Amazon), $349.95 MSRP
Do you really need me to tell you how prestigious Yamaha is as a brand? Of course not! They are HUGE! You can't walk into a Guitar Center without seeing Yamaha headphones and branding everywhere!
Odds are good that if you come to the Cleveland area, you'll find me there at my local Guitar Center, just noodling the same Stochelo Rosenberg riff over and over while wearing the forced-upon-me Yamaha headphones from yesteryear that have been plugged into the wall for over a decade. Somehow, they are all still working!
From keyboards to cables to electronics gear in general, Yamaha is at the tippy top of the iceberg of consumer audio and has been for decades. For now, I will focus on just their new YH-E700A wireless ANC headphones, and I will touch on some other products I have experience with from their inventory.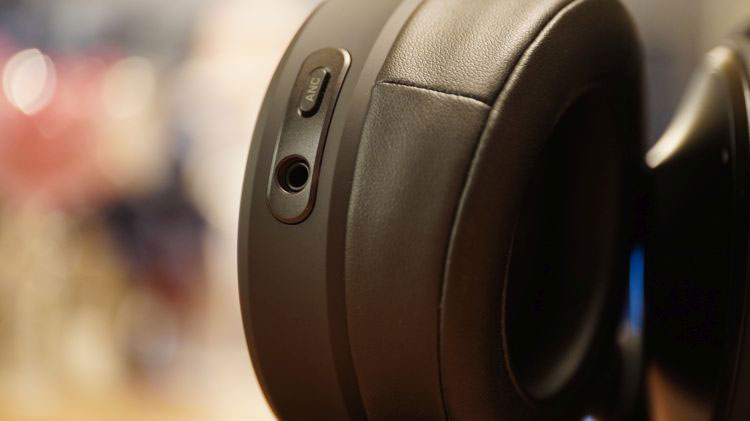 Tech Highlights
ANC
The Yamaha YH-E700A features active noise cancelation in a naturally passive closed design. Due to the headphones being closed back in nature, this only adds to the nice ANC features that come with the electronics running inside of each earcup.
ANC is advancing like the road runner beeping his way through the desert highways, as we look backward to the Bose era of a decade ago and see…nothing but Bose. Makes me happy to see so many great ANC models come out to finally smack down the former gods of old.
Yamaha's "Advanced ANC" mutes ambient noise, but without any dampening of the music track. The internal microphones are used with a new type of algorithm that creates a boundary between exterior noise and the ongoing music.
The headphone actively sifts through the data being processed to figure out what sound needs to be dampened, and what sound should remain untouched in your music track. This technology is something I hope that other companies pay close attention to and replicate in their own way down the road.
Driver
The Yamaha YH-E700A uses a standard dynamic 40mm driver, pushing a deep-reaching 8 Hz – 40 kHz. Interestingly, it is only through wired mode that you can get the hi-res function of the input.
You cannot get it through true full wireless Bluetooth mode, only through the 3.5mm wired connection variation of listening. This puts a damper on the notion of wireless needs, and I would have vastly preferred this headphone to exclude the wireless feature and just remain an active ANC WIRED model instead.
Why? Because wired mode sounds way better than the Bluetooth wireless mode, which is the reverse of something like the Sennheiser Momentum 4 Wireless, which I reviewed just recently and that sounds better wireless than it does wired.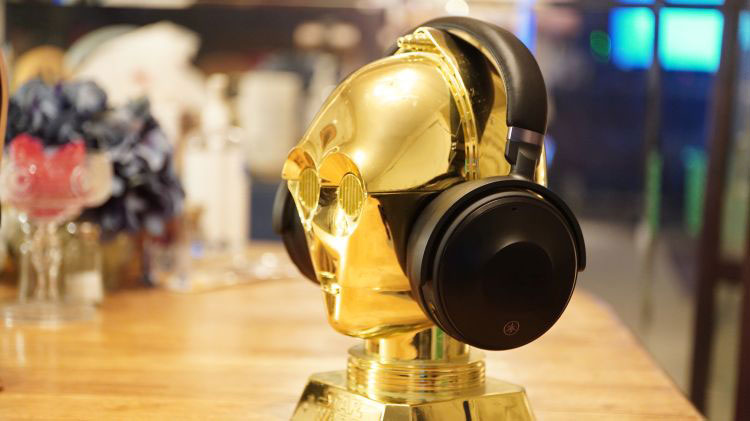 Design
The YH-E700A is a hefty headphone. The earcups feel like matte plastic and the headband area is entirely aluminum under the padding materials. The earcups are also large, and thick, with Left and Right markers on the insides.
I enjoy the lack of weirdness of the headphones that I always fear in new models. Classic old-school Ultrasone that makes you look like an Elon Musk satellite thankfully are not designed into this headband, it is clean, and the angle of approach makes sense for a human head.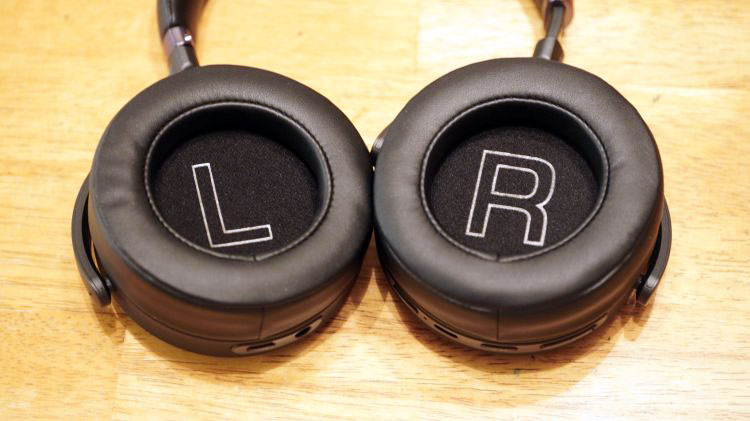 Comfort
The YH-E700A offers solid comfort and a nice, plush headband and earcup padding. What I enjoy most though is the type of material, which doesn't get too warm and seems to breathe a bit after long hours of usage.
The earpads are also slightly tapered and angled on the rear side, like the Audeze pads that come with most of their expensive headphones.
The top of the head area of the headband is also soft, thankfully the headphones themselves are lightweight considering their raw largeness. The earcups are thick so it feels weird in a good way when the padding is not shoved in there extra just to make it more symmetrical.
That is a problem sometimes when the stuffing and foams are too densely packed and end up being hard, or overly hot. The clamp factor is enjoyable, it is neither too loose nor too pressurized on my head and against my ears.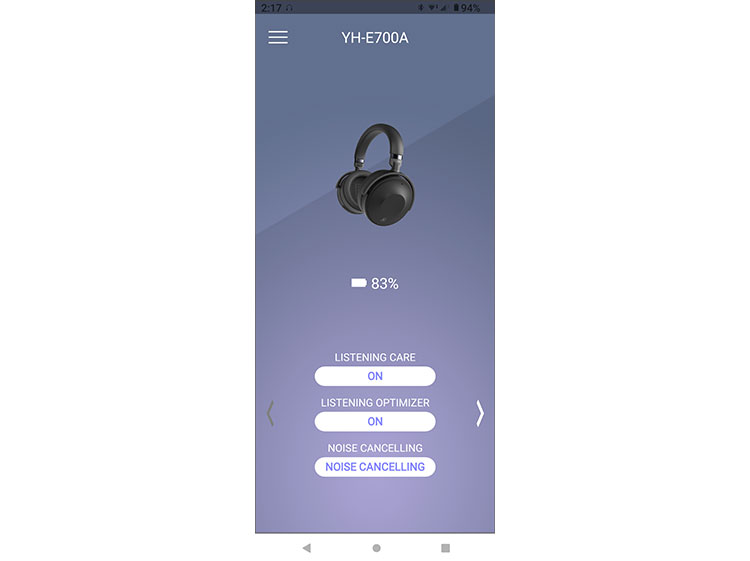 Ambient Mode and the App
Download the Yamaha Headphone app from your Play or iOS store, so you can run and get firmware updates if needed. You'll also get access to the Listening Optimizer, which in intervals of 20 seconds, will analyze the seal of the headphone and will continue to detail the type of environment you are using the headphone in.
Thus, optimizing the sound characteristics for you on the fly to get you the best sound possible. There are no areas in the app that I can find that let me set any custom EQ or let me play with how much ANC I want at any given time.
Battery Life
The Yamaha brand claims 35 hours of usage on wireless with a full charge. My tests without using high-res files lasted closer to 35 hours, so that was accurate. However, usage of only higher resolution files granted me only a 19-hour experience.
Still really high, when are you going to listen to headphones for 19 hours straight? Nobody does that. You can travel almost the entire continental USA and the ocean into another country and still have some time left on the battery.
I have noted that battery depletion when not in use is also very good, which seems standard for "stand-by" time these days. The Momentum 4 Wireless and the 1MORE SonoFlow both have ridiculous standby time, so now we have a new player that also shares that same insanity.
I left the YH-E700A on for over a few days, and came back to it, (without any music on and ANC disabled), to like a 4% drop in battery life. Insane.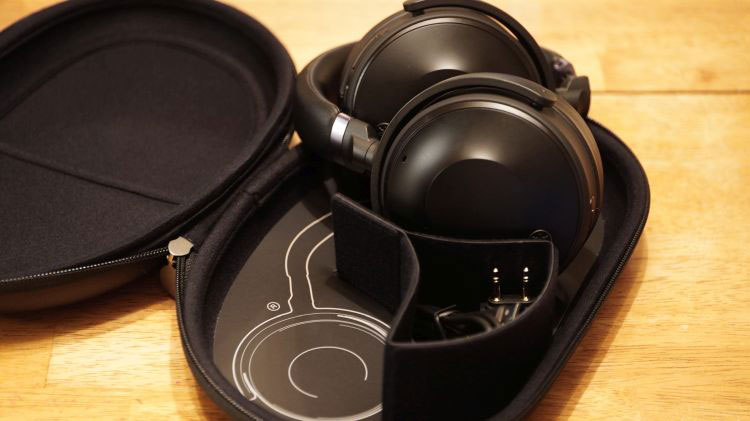 Packaging & Accessories
The Yamaha box is hefty! What a superbly thick and heavy cut of cardboard, jeez. Inside, you get a nice carrying case, all the adapters and USB cables you need, and also the portable length 3.5mm cable for wired connection.
Better to start working on your grip strength and watching the Baki anime to learn how to do it properly, because that box is seriously difficult to grip and hold in one hand. Ha! Good stuff, I like quality parts like this even when they are not needed. Everything feels quality here, and I couldn't be happier.
Click on page 2 below for sound impressions and our select comparisons.