Today's feature is a review on the Questyle M15 which is the company's flagship current mode dongle-type portable DAC and amplifier. It is priced at $249.
Disclaimer: This sample was sent to us for our honest opinion. Headfonics is an independent website that does not have any affiliate links. We thank Questyle for this opportunity.
To read more on other Questyle products previously featured on Headfonics click here.
Note, that this article follows our latest scoring guidelines which you can read here.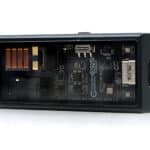 Questyle M15 Review
The Questyle M15 is probably the most immersive-sounding dongle I have heard to date. It has plenty of power so do not be fooled by those paper specs. Harder to drive dynamic driver IEMs and even some headphones will pair very well with this diminutive amp/DAC.
Pros
Spacious and dynamic sound signature
Uniquely Designed
Surprising results from more demanding headphones
Cons
Lack of onboard volume control
Most of the rest of the Headfonics review team has been actively reviewing the dongle scene for a while now so the Questyle M15 is my first official dongle review.
However, yours truly has been quietly amassing some of the popular models such as the RU6 and the W2 for my own personal enjoyment so the new M15 dongle-type portable amp/DAC from Questyle should fit right in given its similar pricing.
James covered the M12 a few months ago and I do have the very same unit here also so it will be interesting to see how Questyle has taken their unique Current Mode amplification that bit further with the M15.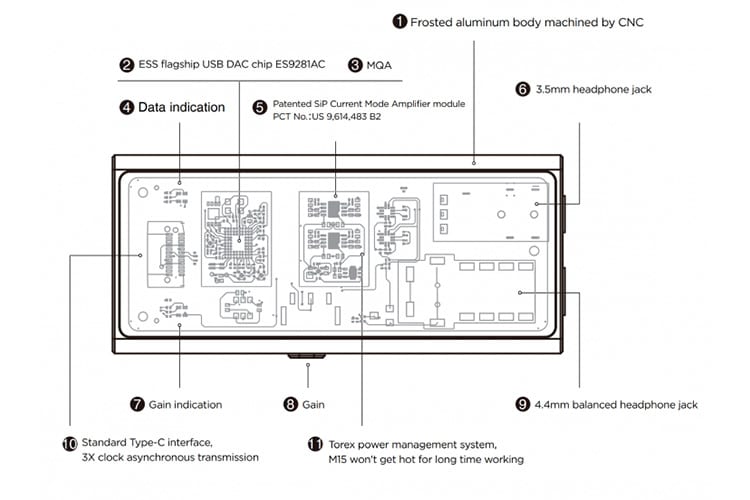 Tech Highlights
The Questyle M15, like most other credible dongles, is a pint-sized integrated portable amplifier and DAC. It uses a balanced amplification circuit topology meaning 4.4mm as well as 3.5mm are both in play for PO use.
It is primarily designed to connect to smartphones and iPhones via OTG but can also be used as a DAC output from any USB-C compatible laptop, PC, MAC, or tablet.
In most instances, the M15 protocol handshake will allow audio to bypass any inherent source OS sampling limitations and receive a bitperfect signal for decoding by its own DAC rather than the source, thereby offering a potential upgrade in sound quality.
DAC
In this instance, the onboard DAC inside the M15 is a fairly popular one called the ES9281AC PRO which is a chipset from ESS launched in 2021 and in use by a wide range of audio firms such as FiiO, Audirect, and ddHiFi. It is actually the same chipset inside the M12.
There are two versions, the AC and the AQ version. Both are 32BIT 2-channel DACs particularly suited to mobile applications such as a dongle with the only difference being the AC version able to handle MQA and the AQ alternative cannot.
Decoding levels are good, or at least market relevant, at up to DSD256 native and PCM 32BIT/384kHz as well as an 8X MQA hardware unfolding capability making this a potential option for TIDAL users. iPhone or iOS users will also have access to lossless decoding with the M15's ALAC compatibility.
Current Mode Amplification
For me, the current mode amplification is really the key feature of the M15. This type of amplification design has been the calling card of Questyle for many years, be it desktop or portable. The CMA SiP modules inside the dongle are a miniaturized application of their desktop engineering principles.
There are a lot of ins and outs to how these circuits tick but basically, its current mode design is supposedly impedance agnostic, unlike a traditional voltage mode circuit. Therefore, it should cope better with a wider range of headphones with low levels of distortion and without requiring huge amounts of backend power, (low voltage operation).
Since the M15 uses a balanced topology that means Questyle has doubled the CMA SiP amplification modules going from the single module that was inside the M12 to two for a total of four CMA amp circuits.
To keep this petite amplification setup from overheating and ensure that the source battery drain is not overkilled, Questyle has added a pocket-type XCL Torex power management IC to the circuit board.
Performance Numbers
The M15 published numbers only give us the maximum load output rating at 300Ω which is 22.6mW max on the balanced output and just under 12mW for the 3.5mm TRS SE PO alternative.
There is no indication of lower load ratings but Questyle did help us out there and it does seem that gain control will also be a factor in how much power there is at 32Ω.
For SE on low gain the PO output power is 29.95mW and on high its 42.25mW. Going balanced low gain is a bit unusual in that power is higher in low gain compared to high gain at 77.11mW compared to 72.72mW.
The output power on its SE side is more or less the same as the M12 at 12.26mW for a 300Ω load and slightly higher than the 26.71mW 32Ω load rating for the M12's SE output.
That being said the new 4.4mm balanced output of the M15 offers a lot more power compared to the M12 as well as keeping a firm lid on distortion in much the same manner as the weaker M12 at just 0.0003%, (THD+N).
Curiously, the much-vaunted smart detection system for gain control inside the M12 is not applied to the M15 amplification circuit. You do get a low gain and a high gain option as before but this time the control is manual and on the side of the M15 chassis meaning you can select your preferred option.
One other thing missing from the Questyle guidelines on the M15 is whether or not on loads of over 600Ω it will switch to a 2V line out on the SE which would be quite useful for those looking to connect it to a portable amplifier.
Design
I absolutely love the clever use of what has become a staple of the desktop HiFi industry, a solid CNC-machined aluminum chassis with an anodized finish and a glass top panel to be able to peer down to all of the internal circuitry.
That should appeal to the electrical nerds and give a nice level of transparency to Questyle's circuitry design as a nice lateral benefit. It also creates its own unique design aesthetic which is an anathema to the sometimes-banal commonality of dongle form factors.
Take the eye candy away though and the size of the M15 is not too different from the likes of the Cayin RU6 or even the older Lotoo PAW S1. It does dwarf the rather diminutive M12, however at almost double the width and about a third more in height.
Though wider than the RU6 and much more so than the LP W2, the M15 is a little sleeker looking with that lower profile. Adding an additional leather case to all 3 will bulk them up somewhat more.
Mind you, where I find the design usefulness is not so much in a dongle size but the cable flexibility. For the M15, more so the smaller M12, it is a little stiff. I do understand though that there is an aluminum foil layer inside for enhanced shielding from EMF which is a benefit for use with modern-day devices such as phones and DAPs with WiFi and BT.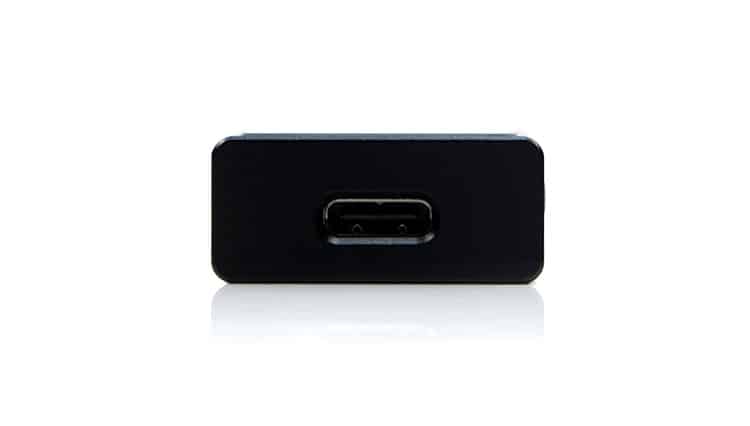 I/O
The M15 keeps it simple like most dongles for I/O with two PO and a single USB-C digital input. The USB-C port will operate under OTG conditions and will come with an optional USB-C to Lighting short cable for iPhone owners. The two PO to the front are 4.4mm Pentaconn for balanced output and 3.5mm TRS for single-ended output.
Unlike the M12, the M15 3.5mm TRS output is not finished with a gold-plated ring, and for what I presume is for sizing reasons they are not symmetrically aligned in the middle of the panel housing. Indeed, if you peer through the top panel glass you can see a fair old difference in the output socket sizing of the two PO.
As mentioned in the performance numbers, Questyle has not officially declared an SE LO functionality with the M15 sockets unlike in the M12 which auto switched to a 2Vrms when loaded with over 600Ω.
One thing to note is that the M15 only becomes active once you plug in a jack to whatever it is you intend to use it with. That can catch you out if you plug it into a phone and nothing seems to happen at first.
Controls
Sadly, there is not much in the way of external volume, LCD screen, or DSP control with the M15. Unlike some of the competition, this is a feature-free dongle with only a manual 2-step gain control on the side panel which is the complete opposite of the smart switching gain system used inside the M12.
The LED light output system is retained, however, with two diodes under the glass panel for sample levels and gain levels on either side near the USB-C input stage. For the sample level you will get 3 different color sequences as follows:
Green for 48kHz or less.
Red for lossless playback from PCM 88.2kHz~384 kHz, or DSD64~DSD256
Magenta for MQA unfolding
The gain system will light up in red if you are switched to high gain and green for low gain though this is more for quick visual checking for me since the physical switch on the side is also clearly labeled high and low gain.
Packaging & Accessories
The M15 packaging is petite and relatively simple with a classic black cardboard design with the Questyle logo on the outside and a draw loop to allow you to slide out the internal presentation layer.
Both the dongle and the accessories are neatly stacked in two layers of protective black foam panels and on top, you also get your usual manual and warranty card.
The contents are split between two prices. For the base SRP of $249, you get everything you need to operate the M15 as a dongle for Android and a USB-DAC for PC and MACs with a USB-C to USB-A short cable and a USB-C to USB-C short OTG cable.
If you want to pony up for an additional short USB-C to Lighting cable option to go along with the stock cables for use with iPhones that will set you back an additional $20.
Click on page 2 below for sound impressions and pairings