Today, we review the FiiO FX15, which is a new flagship tribrid universal IEM featuring a single dynamic, 1 BA, and 4 electrostatic drivers. It is priced at $749.99 MSRP.
Disclaimer: This was sent to us as a sample in exchange for our honest opinion. Headfonics is an independent website with no affiliate links or services. We thank FiiO for their support.
You can click here to learn more about the FiiO gear we have previously assessed on Headfonics.
Note, that this article follows our current scoring guidelines which you can read in more detail here.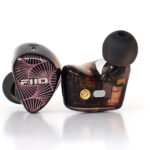 FiiO FX15
Is the FiiO FX15 the new top dog within FiiO's current IEM lineup? It certainly is. They're fun and pleasant to listen to, they come well-accessorized, and are versatile as far as synergy and overall sonic versatility goes.
Pros
Beautifully accentuated highs
Good cable and connectivity options
Good comfort and isolation levels
Cons
The on/off switches contradict the tuning objectives
At the moment, FiiO offers one of the largest selections of IEM models to choose from. Up till now, the count is up to 25 models if you count their FW3 and FW5 TWS models and if I counted correctly. They're not showing any signs of slowing down soon either.
They're not just delivering on IEMs; they're also releasing DAC amp combos like the recent R7 and K7. As a matter of fact, it seems FiiO is also set on improving most of its products by releasing models that surpass its current product lineup's top models.
For example, their FH9 and their FD7 IEMs set that example well plus other recent pieces of gear like their K9 and their BTR7 also aimed and hit that same top dog spotlight.
So, going back to their IEM lineup, it seems there's a goal within FiiO to reach a higher level of high-frequency production. The FX15 was designed with this in mind. This new tri-hybrid model also takes FiiO's top model spot at present.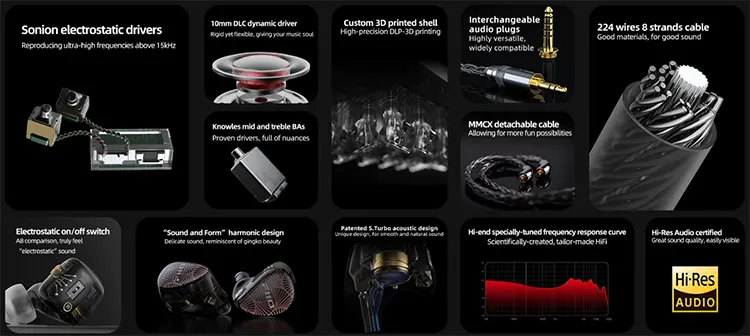 Tech Highlights
FiiO always seemed conscious and always seemed to desire a refinement in their high-frequency production within their IEM lineup behind the curtains or so it seems from this midway point. They always had decent highs but it seems they always wanted to hit a higher note, no pun intended.
So, for the first time, FiiO mingled with Sonion and came up with the FX15 and employed a quad set of Sonion Electrostatic drivers for the upper treble ranges on each side but with a twist. The twist is that you can shut them off and go warm, almost vintage-like in general sonic characteristics.
The rest of the driver array remains constantly active, regardless of the switch position. The array consists of a tried and true Knowles ED-29689 balanced armature plus a custom in-house 10mm diamond-like carbon dynamic driver which is driven by a high-quality voice coil.
The balanced armature produces frequencies below 15kHz but there's no mention of a crossover point for the bass driver. But to me, it seems it's set to a low frequency since the dynamic driver acts commonly and tonality-wise to a subwoofer.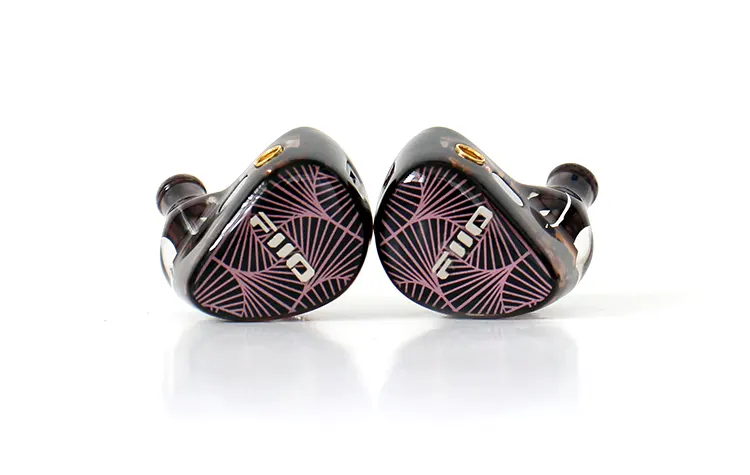 Design
Besides a driver vent, the FiiO FX15 shell has a single micro switch that shuts off the quad-electrostatic array so you'll only get up to 15k of top-end reach. Perhaps a top-end trimming would have been more useful in this case.
The 10mm dynamic bass driver sits behind FiiO's S Turbo design internally but I'm still wondering why FiiO didn't use their larger 13.5mm instead of this one. Perhaps they were looking for a tighter response.
All this hardware along with the Knowles BA is placed inside a custom shell made from medical-grade resin and with a Gingko design pattern on the faceplate.
Rarely does FiiO make IEMs with resin and they're more inclined to make composite-bodied IEMs, so this was a surprise implementation for me.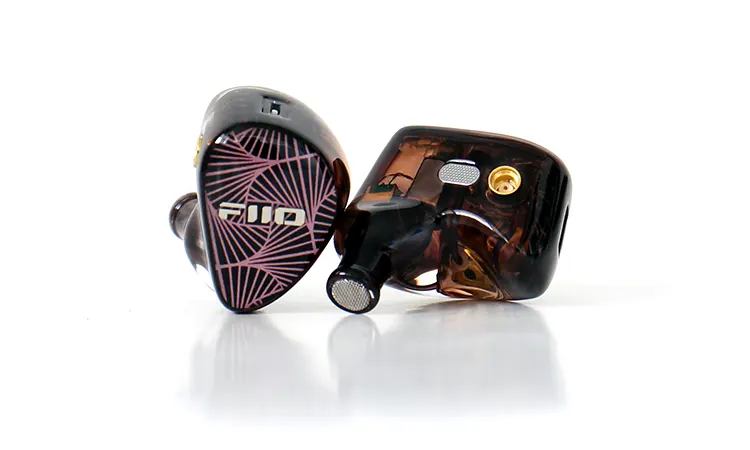 Comfort and Isolation
My only concern with resin body style IEMs is that some irritate the inside of my ears but the FiiO FX15 doesn't. I can certainly wear them for extended periods as long as I alcohol-swipe the tips. The only part I feel most of the time is the rubber tip insertion and ear loops.
The isolation in this IEM is top-notch for a passive set and they isolate better than average IEM even though the shell is vented.
The vent was placed there to remove some of the back pressure of the dynamic driver. Listening fatigue is partially attributed to backpressure but the FX15 is one that I can listen to for long periods even with their authoritative highs.
Tips
FiiO is rather generous with tip inclusion and the FX15 comes with 19 sets in total. They include foam tips, SpinFits, some common black rubber tips, some silicon tips, and their HS18 soft tips.
The FX15 does change tonality with tip selection. For example, the SpinFits open up the soundstage, especially within the midrange bands but don't re-enforce the bass. Contrary to that, the double flange tips do elevate the bass.
My personal favorites from these tips are the FiiO HS18 tips but only because of their comfort level. However, when used with the FX15 I felt most of the excitement in the tuning was removed. The bass was flat, the midrange too forward and it somehow made the treble lose sparkle and definition.
Sonically, the best tips were the stock tips which are the black rubber type with a narrow bore. The bass was neutral but could still take a large boost with no distortion on these tips. The midrange was the smoothest plus the high frequencies remained clean even on bright recordings.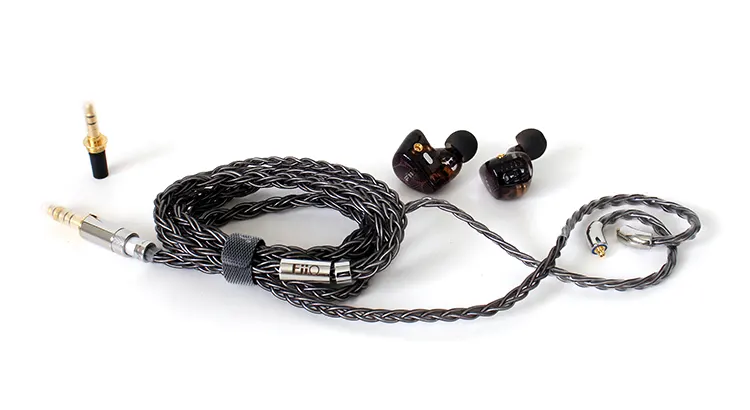 Stock Cable
FiiO always gives you a good cable assembly and others should take note. They outsource them but who cares, if you're not up to making a good cable then leave it up to someone else to do it and give your customer a worthy cable assembly.
FiiO chose FABRILOUS to make most of their cables and as usual, the cable comes with an interchangeable tip system. However, FiiO this time excluded the 2.5mm and only included the more popular 4.4mm and the standard 3.5mm.
The cable assembly's hardware is made from a highly polished metal and has FiiO branding. The MMCX connectors are at the end of some molded ends that become ear hooks.
The cable itself is an 8-core Litz braid with a total of 224 strands that are made from high-purity silver. The cable wiring has a double insulation implementation and although beefy, the cable assembly remains flexible. It's a good cable and I doubt you'll need to go aftermarket if you purchase this IEM set.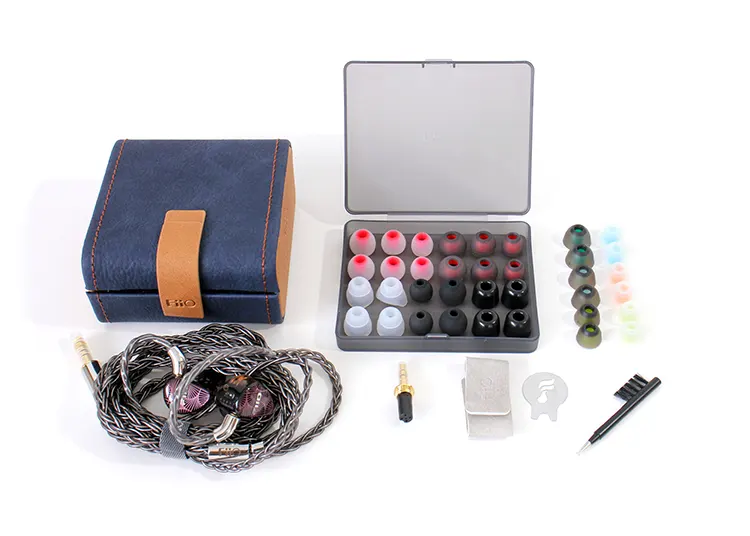 Packaging & Accessories
This packaging is another job well done by FiiO because the packaging size was reduced from past variants but it can still transport and contain the usual plethora of goodies as always.
Those goodies include an MMCX removal tool, a leather FiiO branded magnetic cable strap, a cleaning brush with a tip to aid in flipping those tiny switches on the opposite end, and a FiiO branded suede storage case similar to their past models.
Besides the IEMs, the cable assembly, and the two tips, there's not much else and little documentation. But my question is, do you need instructions for IEMs? I think we can figure out how to use them on our own so we're good and let's do it.
Sound Impressions
Summary
The FiiO FX15 was run for over 40 hours and not much change was noted. It could be that these have already passed a break-in period before they got to me or were bench-tested previously but I doubt it.
They were used mostly with an iFi Audio iDSD Diablo run by a Windows 11 PC and an iDSD NEO. I also ran a FiiO M11 Pro for on-the-go situations, along with their KA5 and their BTR7. I wanted to use gear that is absent of color with an absence of coloring tools.
The FX15 overall tonality is balanced but there seems to be an upper high-frequency emphasized presentation. The bass is neutral and sits in the second row. The midrange is also noted to dip a couple of decibels and sits in the third row.
Looking at the driver configuration makes it easy for one to see that most of the frequency bands come from the single Knowles BA. It seems that the bass in particular crosses over at a low point to not be noticed much in lower mid-frequency presentation but the driver responds when it has to and becomes visceral when called upon.
The crossover point in the upper regions was already established by FiiO at 15kHz. So, the Sonion tweeters are partially responsible for the crispy and airy top end since some of the highs are produced by the Knowles BA. The highs are very pronounced in this set but are not offensive or harsh. These will surely please the treble first type of listener.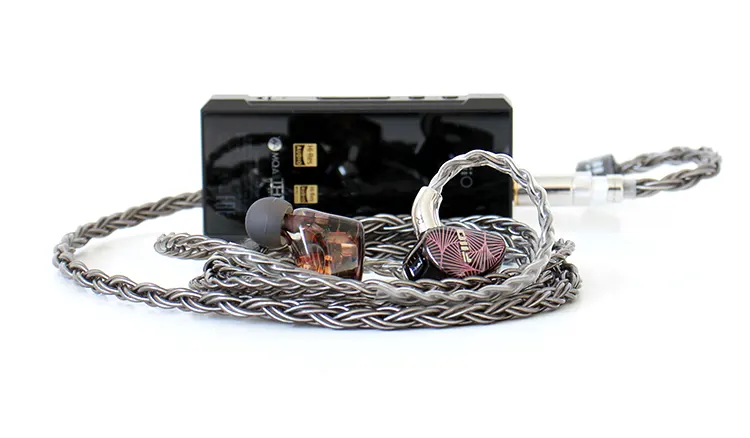 Timbre
If we start with the lower frequencies, this set does have neutral bass and is studio flat in that region but it can reach a juicy and almost bass head-capable bass with a small tweak on an equalizer. Once raised it becomes a party animal and can produce deep, fast, and vigorous bass.
This FiiO 10mm driver seems flat in tone but it can dish out the good when pushed. The driver has a tight, well-controlled character, and rarely did I hear any distortion or weird harmonics, resonances, or driver breakup.
The midrange is very smooth and if you put on well-known recordings that have rough spots, the FX15 has a keen ability to quell them in this range of frequencies. The driver has a couple of small peaks, mostly in the upper mids but no area is excessively underlined.
The treble is the star of the show according to FiiO and I agree, but there is an equal representation within all the frequency bands. So, although this Sonion array produces some very sharp realistic but forward high frequencies you still get a perceived full range and well-extended frequency response production overall.
Staging & Dynamics
The FX15 excels in staging, particularly in the high frequencies. But before I go any further do not mistake my FX15 sonic description as an IEM with shrieking highs because it retains a good amount of tonal balance overall.
The FX15 staging is somewhat unique in that the midrange section, or a large portion of it tends to take center stage in a focused way. The bass region extends out further giving the listener some omnipresence but the high frequencies do all the width and most of the height productivity.
These characteristics work out well in heavy vocal recordings or when there's a simple ensemble playing. But there can still be present focal points within that center. Simultaneously the omnidirectional presence is enhanced by the high frequencies.
I should also mention the fact that impactfulness and overall transients produced on the FX15 are on the high side but their treble sensitivity can pick up hiss. Perhaps that is why the switch is there, just in case you use a source with a high amount of residual high-frequency noise.
Click on page 2 below for our recommended pairings and selected comparisons.