Today, we have an in-depth review of the FiiO BTR7 which is a flagship wireless dongle featuring a dual-DAC and a balanced THX amplifier. It is priced by FiiO at $199.99.
Disclaimer: This was sent to us as a sample for our honest opinion. Headfonics is an independent website with no affiliate links or services. We thank FiiO for this opportunity.
To learn more about FiiO products we have previously highlighted on Headfonics you can click here.
Note, that this post follows our latest scoring guidelines which you can read up on here.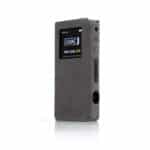 FiiO BTR7
The FiiO BTR7 is a very versatile piece of gear to have since it's not just a Bluetooth receiver but it's also a dongle DAC plus it can also play the part of a desktop DAC amp combo. Most first-time buyers who have an all-in-one frame of mind will benefit the most.
Pros
Great sound quality
Lots of driving power
Good app integration and app features
Cons
Larger than past models
Sharp edges
The FiiO BTR5 seems to be a staple for Bluetooth and portable audiophile dualists nowadays. However, this has not prevented FiiO from tinkering with a winning formula. When has it ever?
Actually, the BTR5 itself went through some changes of its own. FiiO introduced a revision called the BTR5 2021 which received a few updates, tweaks, and a new improved DAC section.
Following up on that, the new FiiO BTR7 seems like a piece of gear that I believe will be talked about for a long time to come. It combines LDAC Bluetooth connectivity and a decent DAC section combined with THX amplification. Who wouldn't want that in their pocket audio arsenal?
However, the BTR7 seems to be a product that caters more to the end result rather than aesthetics and functionality. Not that it lacks any because it seems to be a very versatile piece of gear indeed.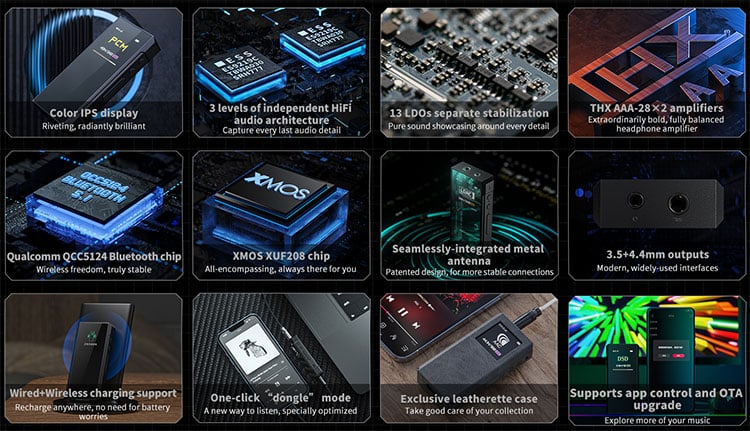 Tech Highlights
Amplifier Stage
The most noted component change within the FiiO BTR7 from let's say their past portable Bluetooth receivers is the THX amplification section. Not one but two AAA28 THX chips were used on the amp section.
The dual THX amplification circuitry forms part of a three-level architecture circuitry which in a way simplifies the circuitry by bringing every component closer together avoiding excess pathways.
FiiO claims a first-ever dual THX setup in this device category with 88% more power output on the balanced side and 30% on the single-ended out than their past units which is quite a big leap in performance gain.
Using a 13 LDO power supply regulator stage ensures stable power to all the BTR7's circuitry. All the LDOs seem to be coupled to a TPS65133 with two supply rails each capable of 250mA which feed both channels.
DAC Section
It seems FiiO stuck with a tried and tested design with the DAC section's concept inside the BTR7. The same dual ESS ES9219C setup is carried over here from the 2021 model which was preferred over the ES9218P within the original BTA5.
One particular component which was never replaced during this latest lineup is the XMOS XFU208 USB Bridge which handles the USB input particularly when you use the BTR7 as a USB dongle DAC amplifier. This combination handles most digital formats out there.
The FiiO BTR7 acting as a standalone DAC amplifier or USB dongle DAC amplifier can handle PCM rates of up to 32 bit 384 kHz rates plus DSD256 native. MQA at an 8x level is also game-on with the BTR7.
Bluetooth Section
Apart from the ability to act as a desktop DAC amplifier, the FiiO BTR7 has Bluetooth receiving capabilities all the way up to an LDAC level transmission. Other more common codecs work as well and you could go down the long list starting with SBC, AAC, and LDHC. All the aptX variants like the HD, low latency variant, or adaptive also work.
This Bluetooth receiving capability is made possible by incorporating a QCC5124 which according to FiiO works at a 5.1 level. But if you look at this particular chip's specs sheet it states it's a Bluetooth 5.0 chip and it's actually what I ran the BTR7 on all the time.
Performance Numbers
Looking at the FiiO BTR7 specifications one could already make the comment of it being one of the better dongle DACs out there. Power output seems conservatively rated at 320mW per side of the balanced 4.4mm connection at 32Ω.
One low number within the specifications is that FiiO only recommends headphones of up to 150Ω but I'm certain that's a low ball figure since I was successful in powering up some SIVGA SV023 cans which are 300Ω.
SNR is at 118dB for the balanced side and 115dB on the single-ended output. Channel balance is at 0.2dB. THD+N is at 0.00055% on the balanced side and 0.00048% off the single-ended side. Pretty good specs for such a small and inexpensive device I must add.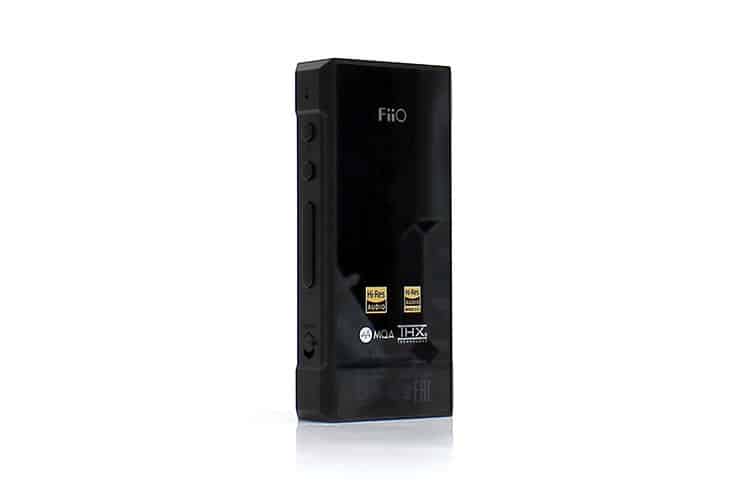 Design
One very interesting aspect of the FiiO BTR7 is that the black anodized all-metal main body shell acts as part of the Bluetooth signal receiving antenna. FiiO calls it a seamless metal frame antenna design and even lists a patent number on its website for this particular design.
The overall size of the unit grew some and sits at 39.6×83.6×14.6mm with a weight of 68g. This is considerably bigger compared to the BTR5 2021 and their other BT receivers plus the BTR7 gained a few sharp corners that were not present on the BTR5. The BTR5 had rounded corners which I preferred.
It looks as if FiiO was going for a more futuristic look or a seventh generation 'mecha' design as FiiO calls it and incorporated hex-shaped buttons plus squared everything off except for the rocker-type volume which has rounded ends.
Another major change was the switch over to a 4.4mm balanced connection instead of a 2.5mm one. The 3.5mm is carried over from previous designs. This particular dual output setup has become the standard nowadays and is being used across a plethora of components so I would consider it a positive change.
Display & Options
There is another obvious upgrade to the BTR7 design and it sits upfront in the form of a 1.3-inch color IPS display. The main screen usually displays PCM, DSD, or Bluetooth levels depending on what's running along with bit rate, battery level, and volume position.
On the flip side and if you semi-long press the power button you'll run into a menu with a bunch of selectable features. There are features like a 2-stage gain, a fast and hybrid DAC filter select, a car mode, and some other stuff.
There are more features like selectable EQ presets, screen timeout, language selector, input priority, a dimmer, and factory reset. You can also confirm your firmware version. There's also a U-Audio mode which is just a USB 2.0 or 1.0 selector. Some call it a gaming mode.
Controls
Speaking of the volume control, the rocker-type bar is over to the right side of the screen along with all the other controls. The button array consists of a power button, a menu selector and pairing mode combo button, and a charging mode slider.
The slider is actually a dongle DAC mode switch which will allow the dongle to work without a battery and will either couple or decouple the internal battery to your phone. I would also consider the battery off mode a desktop mode.
There is a small quirk with the button pressing sequence because the power button serves more than one function and this sometimes confuses the user. For example, to shut the unit off is a 5-second long press but at a couple of seconds of the long press, the menu is also activated.
I think the task of that long press to access the menu should be assigned to the menu selector button. Instead, a long press of this menu button will put the Bluetooth transmission into force pairing mode. This function should be assigned to the power button. That's my opinion.
Battery
The internal battery within the FiiO BTR7 is an 880mAh battery which is capable of lasting 9 hours according to FiiO. If you use a sensitive pair of IEMs and moderate the volume you could get that or close.
Of course, that number drops considerably using current demanding headphones and at high volume levels. I got on average 7 plus hours which is good enough for an entire day outdoors or a rather long flight.
The charge time is close to 1.5 hours if you use a charger capable of a 2 amp output. You charge the BTR7 through the USB-C port placed at the bottom of the unit mostly but you could also charge the BTR7 wirelessly by just placing it on a QI charging base.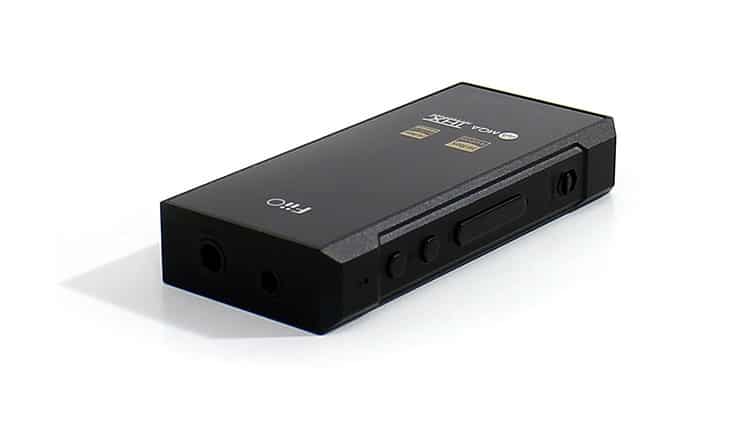 Software
The FiiO control app has some ups and downs, to be honest. For example, on the UTWS5 the EQ doesn't work but it does on the UTWS3 which is the older model. The good news here is that everything seems to be up and running far as the BTR7 is concerned.
Not only does the EQ work but there's also a hidden feature called PEQ which is a full EQ with adjustable parameters, otherwise known as a parametric equalizer in which you could adjust each EQ band's frequency, gain, and Q.
Once you have everything set right, you could store these settings as a preset. You could also alter the built-in presets. For example, you could take the rock or classical preset, readjust each frequency with the PEQ and store it back to then later to recall that setting.
Everything else seems the same if you are familiar with the app. It includes a volume limiter with a balanced output boost feature, idle time adjustment with an auto shutdown feature, and online firmware updates. There are more features but for time's sake, let us continue forward.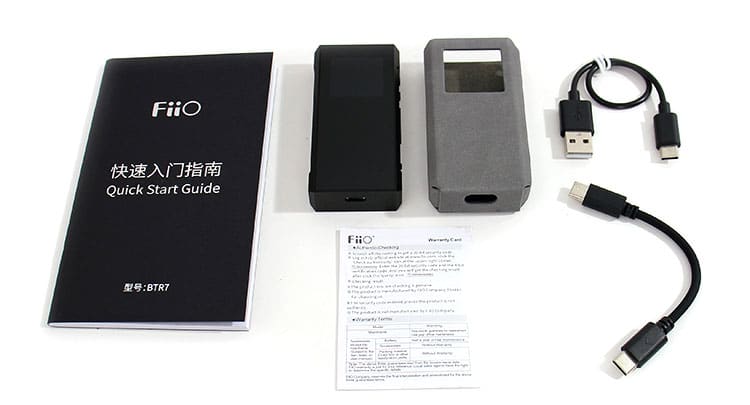 Packaging & Accessories
I really like the fact that the FiiO BTR7 comes with a custom Bejirog leatherette case which protects the anodized finish and that doesn't obstruct any of the BTR7 features and controls either.
I also like the fact that two cables were included, a male USB A to a male USB-C and a dual male USB-c so you could keep one home by the PC and the other in the bag.
This particular unit did not come with iOS connectivity but FiiO offers an Apple version of the BTR7 which comes with two cables and one is a USB-C to lightning cable.
The other item you get is a quick guide within the black printed box. All the contents seem well packaged and protected. My box was slightly crushed by the postal machine but the contents survived and I bet the box could take further abuse with no damage to the contents.
Sound Impressions
Summary
Déjà vu is what I feel for certain being an owner of an M11 Pro and in particular when I listen to the FiiO BTR7. It almost seems as if they took the DAC, amplifier, and Bluetooth section along with the USB circuitry and slipped it into a miniature version of the M11 Pro.
The ES9219C and most of the ESS line of SOC DACs have a very clean and neutral sound quality while simultaneously maintaining a good amount of dynamic range and a good amount of attack and decay.
The THX section should be familiar to some already. The main characteristics observed are punchy, energetic but sometimes desiccant. The low end digs deep but sometimes projects itself as hygienic with a generous character that produces a wallop when teased.
Midrange and high frequencies are produced evenly and smoothly across the frequency spectrum. There's a smooth character within the midrange and lots of details come through with little to no veil.
Dongle Mode
This is the mode where the FiiO BTR7 shines the most. I would even dare say that if you're in the market for a $200 or less DAC amp combo then do not neglect to give the BTR7 a look.
In particular, if you use a headphone with a balanced connector, the DAC section will surprise you plus the THX power will suffice for most cans you might have. You could almost mistake the BTR7 for a good desktop setup if you close your eyes and listen.
I tried many IEMs, mostly FiiO models, and was mostly greeted by a dark background absent of hiss. Noise levels were kept considerably low considering the significant rise in power output. The signal-to-noise ratio seems higher off the USB port in comparison to a BT reception.
Click on page 2 for wireless performance and select comparisons