Today, we review the FiiO FW5 which is an aptX Adaptive-capable 10mm dynamic and dual Knowles BA driver true wireless system with IPX4. It is priced at $149.99 SRP.
Disclaimer: This was sent to us as a sample for our honest opinion. Headfonics is an independent website with no affiliate links or services. We thank FiiO for its support.
You can click here to learn more about the FiiO gear we have previously highlighted on Headfonics.
Note, that this post follows our latest scoring guidelines which you can read up on here.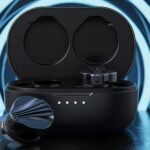 FiiO FW5
One thing clear from the FiiO FW5 is that it's a TWS designed for audiophiles, where sound quality trumps anything else.
Pros
Balanced and natural tuning
Wide and open soundstage
Cons
No ANC
Difficult to get a good fit
FiiO has dabbled quite a bit with wireless TWS-themed products with their debut model, the FW1 launched in 2020, (Jade Audio EW1) along with the more recent UTWS5 targeting those with their own detachable earbuds.
What we have today is FiiO's second but most ambitious and possibly their most complete TWS to date, the FiiO FW5.
FiiO has indicated that this is a wireless solution targeted for audiophiles with its dedicated HiFi architecture and DAC chipset with a hybrid driver configuration. Priced at a competitive price of $149.99, will this be enough to overlook the features that the FW5 is missing out on?

Tech Highlights
With the same R&D team of the wired FiiO FH9 flagship, I expected no less. The FW5 houses a hybrid driver design – a 10mm dynamic driver with 2 Knowles BA.
Beyond the large dynamic drivers inside, it houses the N50 magnets that allow better dynamics. The Diaphragm of the dynamic driver is a DLC with PU for the gasket. These combinations allow the FW5 to have high rigidity which all in all results in a better overall resolution.
The FW5 also houses the high-end Qualcomm QCC5141 that supports Bluetooth 5.2, an independent AK4332 or AKM VELVET SOUND DAC that has a strong decoding capacity, SNR up to 106dB, distortion as low as -96dB, and dynamic range up to 102dB.
Aside from the Snapdragon Sound certification, it also supports a good range of codecs such as LHDC/aptX Adaptive with 24Bit/96kHz sampling rates possible.
The same Qualcomm chip also offers a multi-point connection for up to 2 devices at the same time. No longer need to disconnect and reconnect when switching devices.
Battery life is 21+ hours with 7 hours with the Earbuds and 21 hours with the charging case.
Design
At first look, the FW5 looks oddly familiar. Then I remembered it has a similar silhouette to the FiiO FD5, but now with a wireless design. For some reason, the design reminds me of seashells. I really like the overall finish with the FD5, a bluish-black tint on the shell.
What surprised me is that they are IPX4 water resistant, meaning you can probably get away with using this in the gym or to be somewhere near water.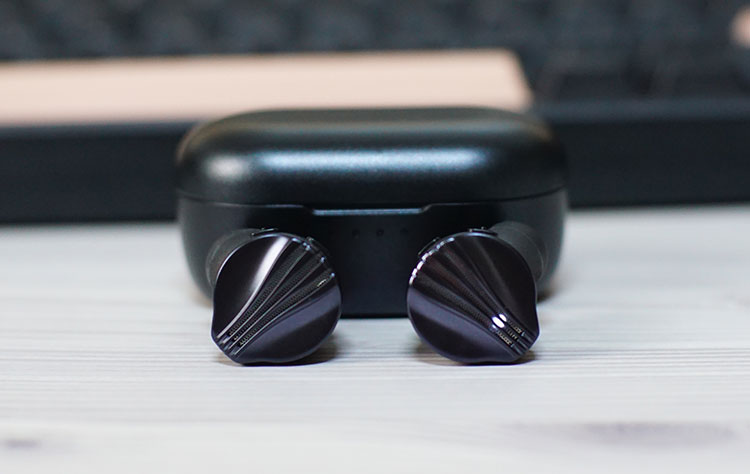 Controls
What I find unique is the use of physical buttons that are perfect for OG or tactile people like me. There are 4 physical buttons – 2 per ear to control play times.
They are intuitive in design where the left and right earbuds display identical controls. While I do wish that the buttons are programmable, it gets things less complicated with the current design.
Comfort & Isolation
My only gripe with the FiiO FW5 is the fit. At first, I had a hard time getting a good fit. After a series of errors, I found the Balanced tips eventually gave a good fit. Once I got a good fit, it no longer became a problem when used repeatedly.
The earbuds themselves are on the bigger side of things for a TWS. Unfortunately, with prolonged usage, it produced some hotspots on the side of my ears. Do note that I have pretty small ears, so your experience might be different.
Tips
The FiiO FW5 provides 2 sets of tips – Balanced and FiiO HS16. Between the two, I can get a better fit with the balanced tips. And for that reason, I have better comfort and isolation with the balanced tips.
I did notice some changes when changing tips. The FiiO HS16 enhances the bass response of the FW5 while the Balanced tips sounded rather flat.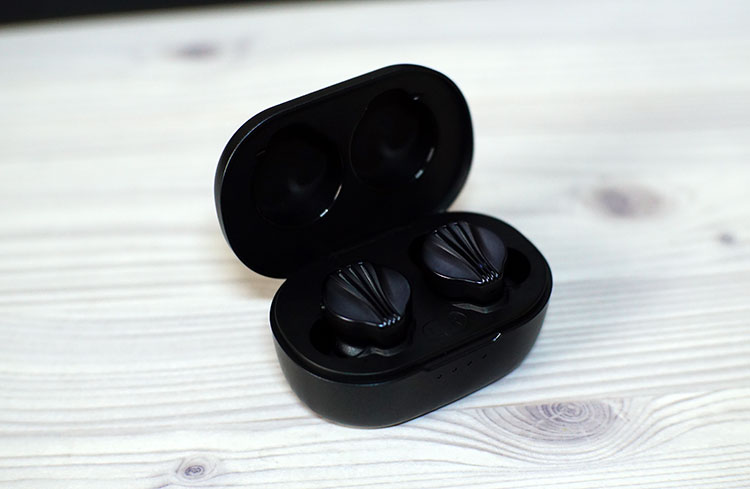 Cradle & Battery Life
The cradle itself looks ordinary with a matte black finish. There are no hints that it's a FiiO aside from the markings at the bottom that indicates specs. One thing I did notice is that this case does not easily scratch. I have chucked this inside my bag numerous times and it did not get any scratches on it.
White indicator lights are placed strategically in front. It was easy to see the charge status of the device. The clasp's hinge does feel plasticky with a magnetic shut but is good enough for one-hand access. The back of the cradle shows a lone USB-C port to charge the cradle.
Opening the cradle houses the earbuds, which stick perfectly when placed. There were no light indicators to see the current charge of the earbuds themselves.
Battery life is also okay with 21+ hours of battery life. It has a 65mAh and 380mAh combination which provides 7 hours of battery life on a single charge.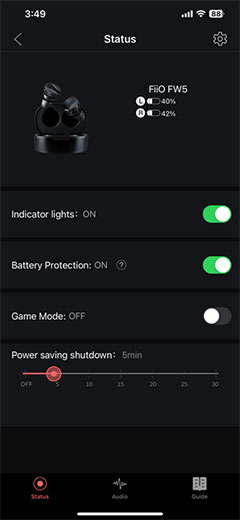 Software
FiiO Control
The FiiO Control with iOS is pretty straightforward. Once the device is connected, you can immediately change the settings. The settings are pretty intuitive and warrant no further discussion.
One interesting feature is the "Earbud Volume" control. You can control the maximum volume of the earbuds themselves instead of controlling it from the player. This allows the player to output more power into the earbuds, which may alter the sound received.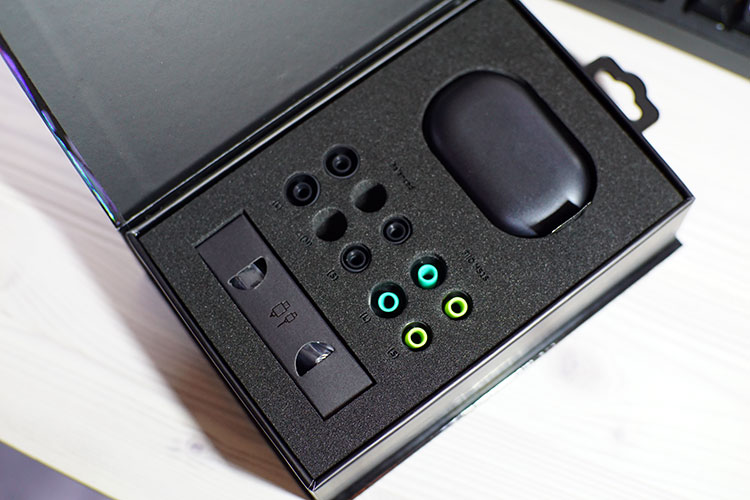 Packaging & Accessories
The FiiO FW5 is housed in a sturdy box, which in my opinion feels like a flagship product. The insides are very straightforward with the cradle and accessories all presented in the same dimension.
It has generous accessories. A cradle case, USB cable, 2 pairs of S, M, and L tips (Balanced and FiiO HS18), and 2 sets of cleaning brush is also found, which is a good accessory to include for something you'll be using a lot.
Sound Impressions
Bass
FiiO is known to have a house tuning that has a bass punch with a hint of warmth. With the FiiO HS18 tips, it does have a good quantity of both sub-bass and mid-bass, although not quite what I was expecting.
Surprisingly, the quality and detail on the low-end are not as deep as I thought they would be. Although, bass guitar hits have a good mid-bass quantity where differentiating notes are very evident.
At times, I do feel it lacks body where it seems to be hollow with some tracks. Bassy tracks bring out the best in them, but still lacking when we're looking for depth.
Nevertheless, the overall bass quality given by the FW5 does complement the overall tuning of the earbuds.
Mids
Mids of the FW5 are quite impressive for a TWS. It has a natural tuning to it, with both the vocals and instrumentals having a good and full presentation. It also has an impressive amount of articulation into them, where minute details are heard.
The midrange does feel a little bit recessed due to its mildly V-shaped sound signature. A bit of warmth is also felt across the midrange region.
If I were to nitpick, I did notice at certain frequencies in the upper mids where it does have some grainy textures which I assume is the crossover distortion. This is only noticeable if you listen closely.
Otherwise, the richness and openness of the midrange and accuracy in tonality are quite impressive, especially for a TWS.
Treble
The treble has a slight uptick, which is expected for a mild V-shaped tuning. It's neither harsh nor sharp but does show a good level of control and treble extension.
It does have a good sense of brilliance with enough airiness and sparkle. Vocals have an airy layer on them. Guitar strums are also crips where minute details such as fret changes are captured.
Cymbals also have good energy in them, whereas cymbal crashes are impactful and felt as intended.
Staging & Dynamics
To be completely honest, I was blown away by the FW5's soundstage. At times, it left me wondering if this is a TWS that I'm listening to.
Imaging is also implemented very well. The openness did help position both instruments and vocals in a 3D plane which feel that sound surrounding me. I find that the FW5 nailed both soundstage and imaging where there is very little to complain about in this department.
Click on page 2 below for wireless performance and our selected comparisons.