The iFi Audio iDSD Diablo is a new dual Burr-Brown DAC portable DAC/Amp featuring up to PCM 768k, MQA, and DSD512 decoding. It is priced at $899.
Disclaimer: The iFi Audio iDSD Diablo Signature sent to us for the purposes of this review is a sample in exchange for our honest opinion. Thank you to iFi Audio for giving us this opportunity.
You can read more about iFi Audio products we reviewed on Headfonics by clicking here.
Note, this 2-page review follows our new scoring guidelines for 2021 which you can read up on here.
iFi Audio iDSD Diablo
The iFi iDSD Diablo to me sonically is the best iFi DAC amplifier with portability made up to date. Its sound characteristics are more in line with esoteric gear but that does not mean that their past units are far behind either. The sonic refinement is apparent on the Diablo once you give it a listen for a while.
Have you ever heard of something called 'Diabolus in musica', 'el interval demoniaco', or the Devil's tritone? You probably have. People like Jimmy Hendrix and Black Sabbath used it in like for example the beginning guitar riff of the track Black Sabbath back in 1970.
It's a musical interval composed of 3 semitones which during the history of music has been used many times in many songs and in different forms and genres, not just in Rock music but in Classical and Jazz as well. The Devil's tritone was once banned in Europe because it supposedly summoned the devil himself.
What about the common saying of the devil in the detail? iFi Audio has attempted to conceptualize this in some of their latest devices and are using the jingle on a couple of their products now.
So to get on track with our next review the iFi Audio iDSD Diablo arrived at our desk and since its release, it has gotten lots of attention amongst some audiophile circles. Is it the best transportable DAC amplifier iFi has made up to date? Is the devil in the detail? Let's find out by diving right into it.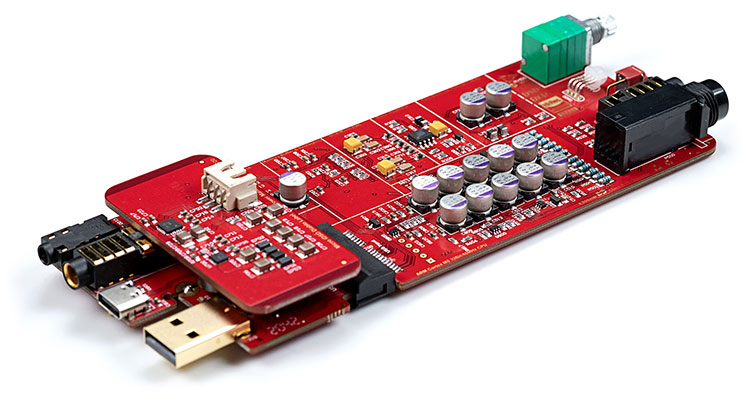 Tech Highlights
DAC
On the digital front and the DAC of the Diablo sports a customized dual Burr-Brown DAC chip set up with a new 16 core 2000MIPS XMOS chip. This is a new chip that has four times the memory of past XMOS setups at 512KB and receives digital audio data to convert to then pass it down at low latency and in bit perfect form.
There are only two inputs, an optical SPDIF 3.5mm input and a USB 3.0 input which runs through jitter eradication GMT global master timing Femto precision clock with an intelligent memory buffer to keep things jitter-free.
I really enjoyed the DAC section of the iFi NEO and here is the same setup and this is good news, to be honest. This little guy has some serious power, more than the NEO but still follows the same sonic trend of the NEO which is to stay as clean and neutral as possible.
iFi writes their own XMOS firmware and has two versions posted on their website for the Diablo for now. The two versions that are available are their 7.0 named Cookies and Cream and the 7.0c which uses the GTO filter which to me warms things up a bit. The 7.0 to me sounds a touch brighter.
Bit Perfect
The iFi iDSD Diablo does not have any switches to alter the sound signature in the form of bass boost or DAC modification like its predecessors. The Diablo DAC operates constantly in bit perfect mode operation, end of the story. Other iFi designs have a switchable DAC which I always kept on bit perfect anyway so this is um, perfect.
The Diablo is a minimalist and purist design piece of gear and there is not much sound alteration control besides the volume control and a 3 position switch labeled Turbo, Normal, and Eco which acts as a gain switch.
Another trick iFi used to keep the noise down is that any step-up voltages were designed around a 1.2MHz clock which is way beyond human hearing capability, therefore, making noise inaudible. The internals runs off a 15-volt step-up system.
To ensure sonic transparency iFi uses trench technology MOSFET FET base switching to keep circuitry dormant only waking up by the presence of a signal to ensure complete silent operation between tracks.

Decoding
You could say the search is over for a device that will play any format of digital music files you could run into possibly because the Diablo does all the formats I know of and will let you know what format is being decoded with a subtle front-mounted RGB LED.
The iFi iDSD Diablo has a long list of compatible codecs starting with the usual pulse code modulation 32 bit up to 768k. My personal PC is topping out at the 32 bit 192k off the USB on windows 10 off a USB 3.0 port.
DSD Octa speeds up to 512 plays back with no issue plus the Diablo can also playback DXD at double and single speeds. Throw in MQA unfolding into the mix and you have a DAC section that can play any file you have and then some.
Pure Wave & Direct Drive
iFi calls part of the Diablo circuitry design PureWave and uses a balanced, differential analog design that reduces noise and crosstalk in combination with their symmetrical dual mono topologies with short signal paths to keep everything nice and tidy.
Another aspect of the iFi iDSD Diablo is what iFi calls Direct Drive circuitry which is direct coupled in nature but with no applied DC servo bias.
The Direct-Drive system in the Diablo follows the design traits of the PureWave design by keeping signal paths as short as possible to keep noise to a minimum.
OptimaLoop
Another exclusive design aspect of the Diablo is what iFi calls OptimaLoop which is an inverted play on the negative feedback design and inverts the negative and positives which negates the drawbacks of the common negative feedback design.
iFi found that by optimizing certain multiple individual points of their circuitry at chosen spots the inverted feedback design works best compared to the more conventional way of using a single point global loop method for optimization.
Mode Switch
The iFi iDSD Diablo has a front-mounted switch labeled mode but in reality, it's a gain switch, or is it? I do believe the IEMatch system is implemented here which does not work with gain but with impedance matching which is more desirable since, by this method, the input gain remains unaltered. By better impedance matching both the amplifier and IEM, (or headphones), equally benefit.
There is a power output and a power draw difference of course once you flip that switch to the higher output levels and power draw is increased from a very low 2 watts on Eco, increasing to 5 watts on Normal mode and goes to a max of 12 watts on Turbo mode.
Power
Speaking of power the Diablo has some serious power. On the balanced 4.4mm connector there is a maximum of 4,980mW of power at a 32Ω load and capable of 611mW at 600 ohms while the single-ended 6.35mm plug could supply up to 2,417mW at 32Ω and 153mW at 600 ohms.
The Diablo does not run hot at all but just slightly warm at times. It mostly stays at room temperature or perhaps a few degrees higher. It does get warm when pushed hard on turbo mode or strangely when no audio signal is present but it never gets too hot.
Components
iFi attempted to keep their components list of the iDSD Diablo of high-quality parts and employs lots of high-end components. A plethora of high-quality parts are listed as components inside the Diablo. Parts such as Panasonic OS-CON caps have excellent ESR noise rejection and long life.
Other components being used here are Vishay MELF resistors which have the lowest noise suppression abilities around. Murata low ESR with a high Q multi-layered capacitors and high bandwidth Texas Instruments low noise IC chips with power supply noise reduction levels of up to 100 decibels. TDK COG class 1 ceramic capacitors are also employed.
iFi custom-designed OV series OP amps with a low noise rating of 0.0001% distortion and a wide bandwidth which in listening test shows the component configuration used are well combined and are top-notch.
Design
The iFi iDSD Diablo is fairly small for the power output it's capable of but I would not consider it a good candidate for a pocket carry device. I think it would be more suitable in a backpack. The length is about the same as the average 6-inch phone but with more girth and weighs 330 grams.
The case is made of metal and finished in a hot rod red that is very striking visually and although the finish looks durable I would not take any risks scratching the finish. The bottom side has four black half rounds made of rubber which for me did a good job at making sure when I needed to adjust the volume that the unit stay put on my desk.
The only protrusion physically on the unit is the volume knob. Everything on this unit is flushed mounted from the full-sized USB male connector to the mode switch and all rear and front-mounted inputs and outputs.
The design is strikingly bright and attractive, and I use that word not only to describe beauty but the Diablo will be the one piece on your desktop setup that will catch the eye every time.
I/O
iFi tried to keep things simple but give the user enough connectivity for most situations. There are a total of three input possibilities, Optical and SPDIF by means of a single 3.5mm jack and since it's a combo jack both cannot be used simultaneously.
The USB input is by means of the infamous iFi countersunk mounted male USB connector. I understand the concept of the plug being robust in its form but if it was a female connector many wire hunting issues would be resolved and that would enable people to use most wires they already own.
There is an analog output but no analog input on this device. However, the output is a balanced 4.4 Pentaconn. The front 4.4mm connector is a balanced headphone out along with a full-sized 6.35mm TRS connector which is a single-ended stage output.
There is a secondary USB C type plug on the rear of the Diablo but that one is strictly used for charging the unit or keeping it powered up in a desktop situation. I prefer the positioning of the charging plug on the Diablo over its predecessor which had it on the side. This on a desktop just looks more refined.
Analog Volume Control
The iFi iDSD Diablo is mostly an all-digital device except for the analog headphone output ports and a single 4.4mm balanced output port placed in the rear of the unit but another aspect that is analog is the volume control.
I fed the Diablo with two different signals from my Windows 10 PC. The optical out volume can be controlled by the PC main volume control but if you use the USB input then the volume stays static and you must rely on the Diablo volume knob.
Is it smooth? Yes, it is. Is it perfect? No, because if you use a very sensitive IEM, for instance, a 16 ohm or lower with a high-efficiency rating you will notice a slight channel imbalance but only at the very bottom of the volume level. It levels out quickly and with 98% of headphones and IEMs, it goes unnoticed or is basically nonexistent.
Battery Life
The iFi iDSD Diablo does not have a battery exclusively for portable use. In fact, iFi labels the Diablo as a transportable DAC amplifier but not as a portable unit specifically.
The 4800mAh Lithium Polymer battery supplies a cleaner and a more constant and stable voltage and bypasses the unstable circuitry of an AC to DC converter or wall wart as some call it since the battery operates exclusively in DC.
Battery time from a full charge will depend on the mode selector switch and the position you use it in, the headphone you use, and the headphone jack you use. The balanced side consumes more current of course.
I got 4 hours and up to a full day of PC monitoring usage and then some using some very sensitive IEMs but the lower amounts of time were acquired with power-hungry Planar magnetic cans and the mode switch on turbo and running the balanced headphone output with rather high volume levels.
Packaging & Accessories
The amount of accessories the Diablo comes with is ample and there are lots of high-quality parts and connections which allow you to just buy the unit, unpack and use it. Not quite. I still see no connectivity for a phone with a USB C or Apple connector.
Here is where I have to scratch my head. You get the wonderful package of iFis iPower adapter plus the DC purifier 2 which by itself could get a full review.
The problem is that the supplied blue USB 3-foot cable that is in the box will not work because it terminates into a standard A USB while the Purifier 2 has a 3.0 type B connector. I had to outsource a wire to use the Diablo with the Purifier 2 off the bat.
The included carrying case with the strap is just what the doctor ordered, a good quality case with room to spare and easy access to wires through a slotted bottom opening. Another awesome accessory is the 4.4mm to dual 3 pin XLR to connect a second amp.
The rest of included accessories are the warranty card, a quick guide, a USB C charging wire that is used in combo with the iPower adapter, a full-sized USB standard A to a USB C adapter. There is no SPDIF adapter but there is an optical to 3.5mm converter pus a 3.5mm to 6.35mm adapter.
Click on page 2 below for sound impressions and select comparisons