Today's feature is a review of the FiiO FW3, which is an AK4332 DAC-equipped single dynamic driver TWS with up to LHDC decoding capability. It is priced at $99.99 SRP.
Disclaimer: This was sent to us as a sample for our honest opinion. Headfonics is an independent website with no affiliate links or services. We thank FiiO for their support.
You can click here to learn more about the FiiO gear we have previously highlighted on Headfonics.
Note, that this article follows our latest scoring guidelines which you can read in more detail here.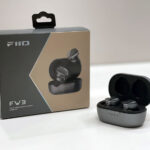 FiiO FW3
The FiiO FW3 TWS is designed with budget-conscious audiophiles in mind, offering a dynamic driver sound signature that prioritizes a fun and enjoyable listening experience over intricate details. It provides a textured audio presentation that audiophiles can appreciate while adhering to a limited budget.
Pros
Good level of clarity
Wide and open soundstage
Cons
No ANC
Large sized shell tends to have hot spots over long periods
TWS enthusiasts are in for a treat in 2023 as FiiO introduces the next installment in its lineup, the FiiO FW3, which serves as a more affordable option compared to the FW5, priced at a competitive $99.99.
True to its tradition, FiiO delivers a fully integrated HiFi TWS experience, incorporating a HiFi DAC and amplifier design.
Given FiiO's reputation as the go-to brand for budget-friendly audiophile equipment, there is anticipation regarding whether the FiiO FW3 will establish itself as the king of sub-$100 TWS devices as well.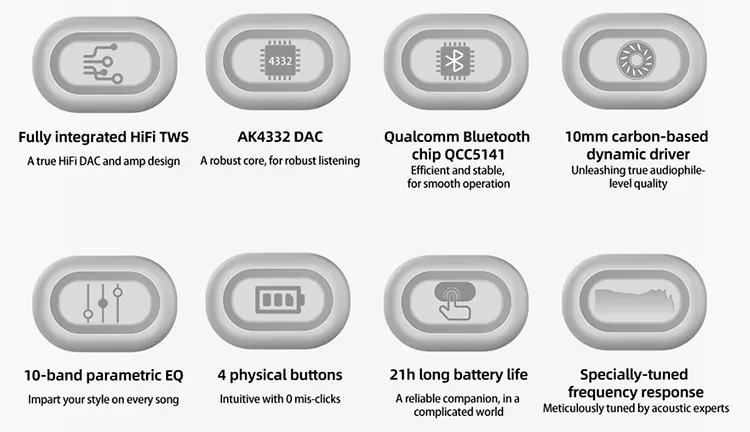 Tech Highlights
This true wireless earphone is packed with some impressive features. It incorporates a proficient AK4332 DAC and a Qualcomm Bluetooth QCC5141 chipset.
The AK4332 DAC is a high-performance chip known for its exceptional specifications, including a Signal-to-Noise Ratio (SNR) of up to 106 dB, a low distortion rate of -96 dB, and a dynamic range of up to 102 dB.
The QCC5141 chipset is a top-tier dual-DSP, dual-core Bluetooth chip, ensuring stable Bluetooth audio and smooth overall operations. Additionally, this chipset supports 96kHz/24Bit High Resolution (HR) audio, enabling the use of LHDC, aptX Adaptive, AAC, and SBC audio coding formats at their highest bitrates.
With the FiiO Control app, users can select their preferred Bluetooth codecs, ensuring a consistent high-quality music experience without compromising on audio codecs.
Diving into the internal drivers, the earphone features a 10mm carbon-based dynamic driver. FiiO takes pride in its meticulous tuning of the frequency response, catering to the discerning tastes of audiophiles.
As for battery life, the device offers an impressive 21-hour playback duration, providing ample usage time to last throughout the day.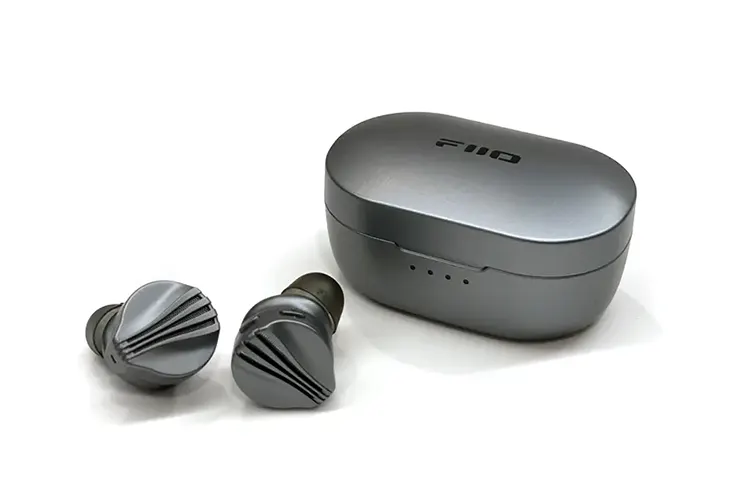 Design
FiiO goes with their classic design which I think looks like a seashell-like design. The FW3's silhouette resembles both the FW5 and the FiiO FD5 with a wireless configuration.
One pleasant surprise is the IPX4 water resistance rating, indicating that the FW3 can withstand water splashes and making it suitable for gym use or being in proximity to water without much concern.
Controls
The FW3 has the exact same design as the FW5 which has tactile buttons for control. The FiiO FW3 is an ideal choice for individuals like me who prefer original or tactile controls. It features four physical buttons, with two buttons per earbud, allowing convenient control over playback functions.
The design of the buttons is intuitive, as both the left and right earbuds have identical controls. Although I would have preferred programmable buttons, the current design simplifies usage and reduces complexity.
Comfort & Isolation
The main issue I encountered with the FiiO FW3 was its fit. Initially, I struggled to find a suitable fit and made several attempts before discovering that the Balanced tips provided a good fit.
Once I achieved a proper fit, the fit-related problem no longer persisted during repeated use.
In terms of physical size, the earbuds of the FiiO FW3 lean towards the larger side for true wireless earbuds. Regrettably, with prolonged use, I experienced some discomfort on the sides of my ears, likely due to hotspots. It's worth noting that I have relatively small ears, so your experience may differ.
Tips
The FiiO FW3 comes with two types of tips: Balanced and FiiO HS16. Comparing the two, I find that the balanced tips offer a more secure fit, resulting in improved comfort and isolation.
Switching between the tips also revealed some noticeable differences. With the FiiO HS16 tips, the bass response of the FW3 is enhanced, whereas the balanced tips produce a relatively flat sound.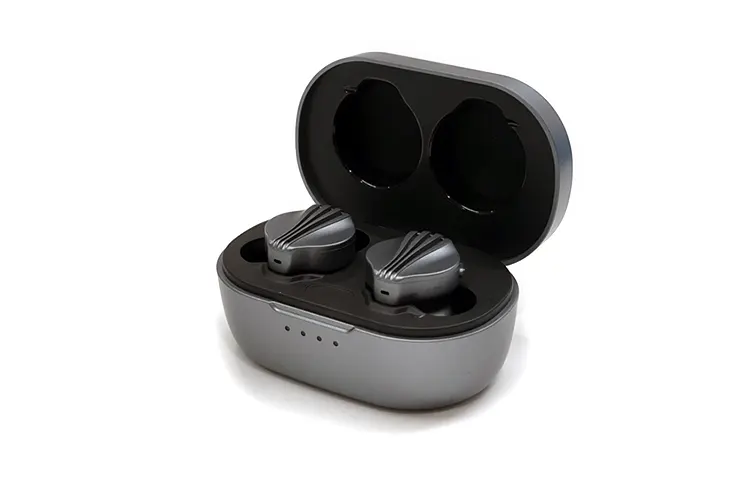 Cradle and Battery Life
The cradle itself sports a matte grey finish with the FiiO logo placed on top, giving it a rather unremarkable appearance. One notable feature is the case's impressive scratch resistance. Despite being tossed into my bag multiple times, it remained free from any scratches.
Strategically placed white indicator lights on the front allow for easy visibility of the device's charging status. The clasp's hinge, while feeling somewhat plastic-like, features a magnetic closure that facilitates convenient one-handed access. On the back of the cradle, there is a single USB-C port for charging.
Upon opening the cradle, the earbuds fit snugly in their designated slots. However, there are no indicators to display the current charge level of the earbuds themselves.
Regarding battery life, the device offers a satisfactory duration of 21 hours. The combination of a 65mAh battery in each earbud and a 380mAh battery in the cradle allows for approximately 7 hours of playback on a single charge.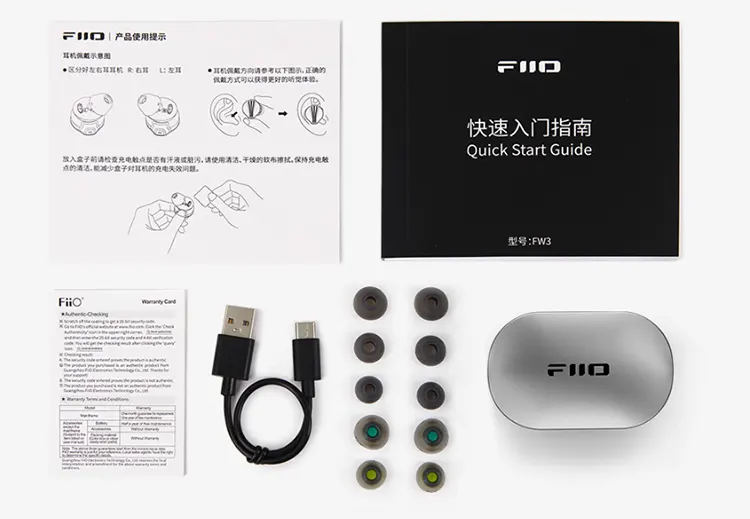 Packaging & Accessories
The FiiO FW3 comes packaged in a robust box. The interior arrangement is straightforward, with the cradle and accessories neatly presented, all in a uniform size.
The accessories included with the FW3 are quite generous. It comes with a cradle case, a USB cable, and two sets of S, M, and L tips (Balanced and FiiO HS18).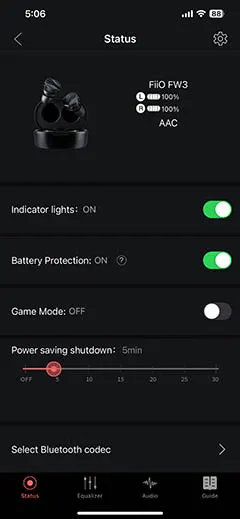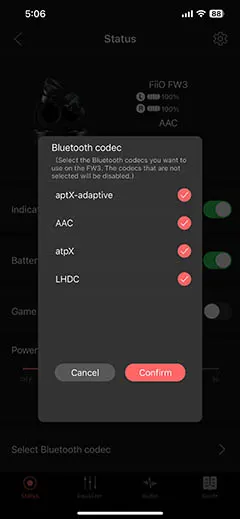 Software
The FiiO Control app for iOS offers a straightforward experience. Once the device is connected, you can instantly adjust the settings without any complications. The settings themselves are intuitive and require no additional explanation.
A new feature of the FW3 is the ability to control the codec transmission. This ensures that your preferred codec will be delivered to the earbuds every time.
Another feature worth mentioning is the "Earbud Volume" control. This feature enables you to directly regulate the maximum volume of the earbuds, rather than adjusting it solely from the player. This allows the player to deliver more power to the earbuds, potentially influencing the sound you perceive.
Sound Impressions
Bass
The bass on the FiiO FW3 is right around the corner, but not elevated. I was expecting a bit more thump on the low end but FiiO tuned the FW3 to have a more balanced sound signature.
The sub-bass is quite lacking as there are no rumbles or vibrations to feel the bass. However, the mid-bass is quite pleasant with a recognizable presence.
It has a good sense of control with no sense of bloating to the upper frequencies. Bass notes in rifts are easy to tell apart, emphasizing a fast attack and decay.
Mids
For a $100 TWS, there is nothing to hate about the FW3. It has impressive clarity for a single DD, allowing the midrange to be as transparent as possible.
This is a mildly V-shaped sound signature, so a little bit of dip in the midrange region is nothing unusual. It does follow the warm tint that FiiO products usually tend to have.
Overall, it is full-bodied with enough richness in both vocals and instruments. There is no evident unbalance between the upper and lower midrange.
Both female and male vocals are lush and rich, giving weight to the vocal melodies. Although if I were to nitpick, it tends to lack technical details, but only if you listen in closely. There is also good separation between the instruments, which is felt when tracks are very busy.
Thanks to its design, it has a certain openness to it. The midrange sounds a lot more expansive. Accuracy and tonality are quite impressive, especially for a TWS.
Treble
There is a good amount of treble in the FW3, but nothing peaky or sharp. It does lean on the bright side, but only to complete the V-shaped signature of this monitor.
I'm surprised with its upper extension and detail. It does stretch on the top, giving a good sense of brilliance. Vocals have a good airiness and sparkle to them. Guitar strums and cymbal crashes are also crisp, with enough energy in them to produce a detailed splash and shimmer.
Staging
For a $100 TWS, I was not expecting much. I'm incredibly surprised with how expansive the soundstage is, which I think can compete with IEMs at this price point. However, imaging tends to be monodirectional at times.
Click on page 2 below for wireless performance and our selected comparisons.