In this feature, we review the FiiO R7 which is an all-in-one desktop streamer, decoder, and 3.6W-capable balanced headphone amplifier. It is priced at $699.99.
Disclaimer: This was sent to us as a sample for our honest opinion. Headfonics is an independent website with no affiliate links or services. We thank FiiO for its support.
You can click here to learn more about the FiiO gear we have previously highlighted on Headfonics.
Note, that this post follows our latest scoring guidelines which you can read up on here.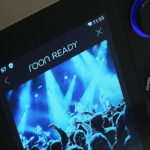 FiiO R7
The FiiO R7 works exactly like how it is described, not just like a DAC Amp with a screen. With a premium power supply and excellent connectivity, strong expandability, and an intuitive UI, the R7 has excellent performance to suit a wide range of audiophile needs.
Pros
High output power
Expandable design
Intuitive UI
The Roon Ready certified R7 is a new all-in-one player, DAC, and headphone amplifier from FiiO. It features THX AAA788+ amplifiers, full-balanced outputs, and a strong 3W output within a palm-size metallic housing.
Unlike many other rivals, the R7 has a rather bizarre appearance and takes up only a tiny fraction of the desk's space. Surprisingly, it is packed with expandable options like an external linear power supply, keyboard connection, or hooking up an external screen for video viewing.
That said, the R7 isn't a "huge DAP" so you won't find any battery inside and worry about its sustainability, and the experience is one of a kind. Now let's drill into the sound and features of this audio Swiss-knife.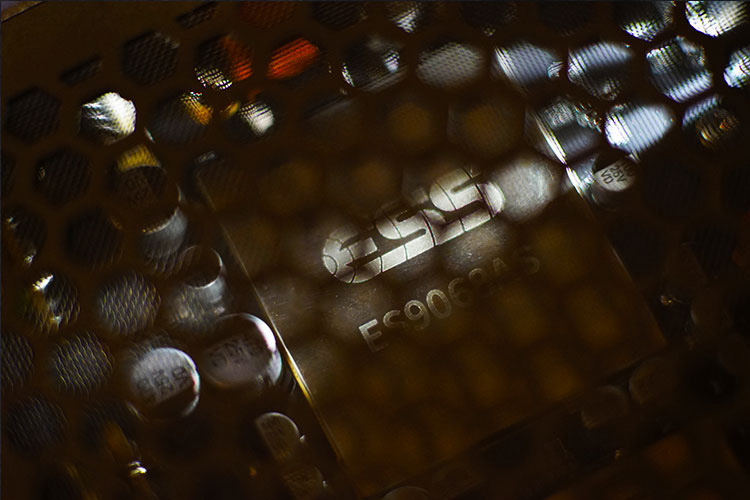 Tech Highlights
DAC
The FiiO R7 packs in the ESS ES9068AS decoder chipsets with their 4th-gen FPGA featuring phase-locked loop clock technology and a pair of femtosecond crystal oscillators, promising precise and low-jitter clock signals.
Implemented around the decoding circuitries you will find audiophile components including Panasonic PPS film caps, which offer better reliability and superior sonic qualities.
If you can remember, the same SABRE chipsets have been used on FiiO's M11 Plus ESS player which is also a very powerful device.
Amplifier
Following the decoding stage, the signal is fed to discreet opamps under a fully balanced configuration, passing through an I/V stage, low-pass filters, and a gain stage. Then, onto the THX AAA 788+ module that does the final bit of amplification to power your headphones.
The R7 can output more than 3W to headphones rated at 32Ω in impedance so this is one of the most powerful streaming all-in-one devices of its size I have personally tested offering much more than the likes of the Cyrus One Cast streamer which was previously reviewed by Marcus.
To cater to different gears, you can switch between 5 levels of gain which allows matching with sensitive IEMs or big cans that demand strong swings. At the highest gain level with 32Ω load, the R7 is able to output as much as 3650mW in each channel on balanced output.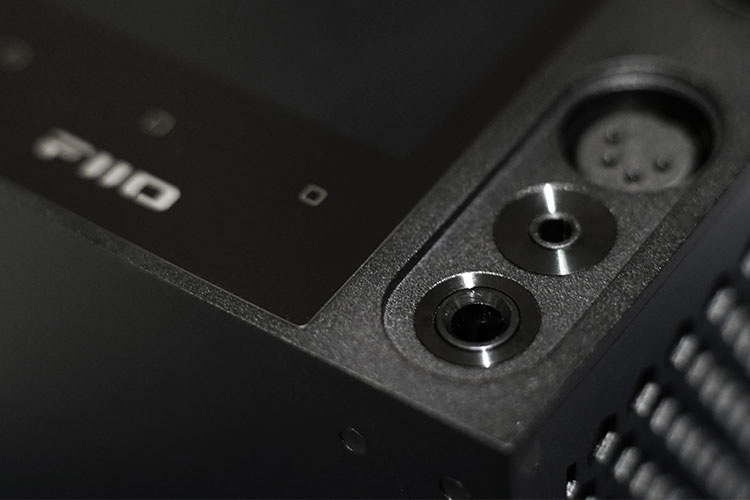 Performance Numbers
The R7's 3650mW per channel balanced output has a 39V peak-to-peak while maintaining a decent >122dB SNR on ultra-high gain mode with its XLR/4.4mm output.
The 6.35mm output can output as much as 1850mW per channel and scores >124dB SNR. The noise floor on balanced output is < 7.5uV even on ultra-high gain mode which is satisfactory on paper.
The output impedance is rated at <0.5 on both balanced and SE output which allows the R7 to flexibly connect to sensitive earphones and demanding cans.
Power Supply
It is worth mentioning that under the honeycomb side panel, FiiO manages to fit in a 30W switching power supply that takes up quite some space inside the machine. It is then filtered by high-voltage, large capacitors to ensure clean and dynamic output.
There are some cool details inside including a custom-made metallic cover that shields the transformer, also an array of tantalum caps for power regulation. Beyond that, there are also numerous discreet power regulators before each of the core components to enable a stable and clean power supply.
For advanced users, FiiO also reserves a +/-12V 3A DC inlet for upgrading to other discreet power supplies such as their own PL50 power supply unit.
There is a built-in protection circuit but do make sure your power supply unit fits the power ratings if you plan to give the R7 an upgrade. On a side note, you could also upgrade the power cord and fuse, which could potentially change the output quality.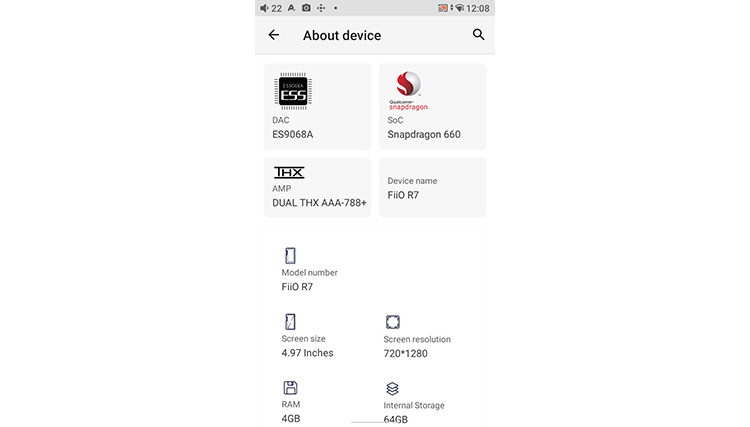 CPU
The R7 uses the octa-core Snapdragon 660 on Android 10, the same combination we have seen on the M11 PLUS ESS player.
Do not expect it to handle intensive graphics, but for music playback and perhaps some video viewing, this is far more than sufficient. With 4GB RAM the user experience is smooth and it feels quite responsive when scrolling through album art, as well as browsing through web pages.
Wireless Capability
The R7 is Roon Ready and with Android 10 built-in it supports various streaming applications including Tidal and Spotify.
With a 5G Wi-Fi connection or the even more stable LAN port connection of higher bandwidth, users can stream high-resolution music stably and with an expandable option to connect to an external monitor, doubling the R7 as a Karaoke machine or a movie streamer.
The R7 also supports streaming over LDAC on Bluetooth connection, and with Apple products, FiiO suggests using Airplay receiver mode for the best sound quality.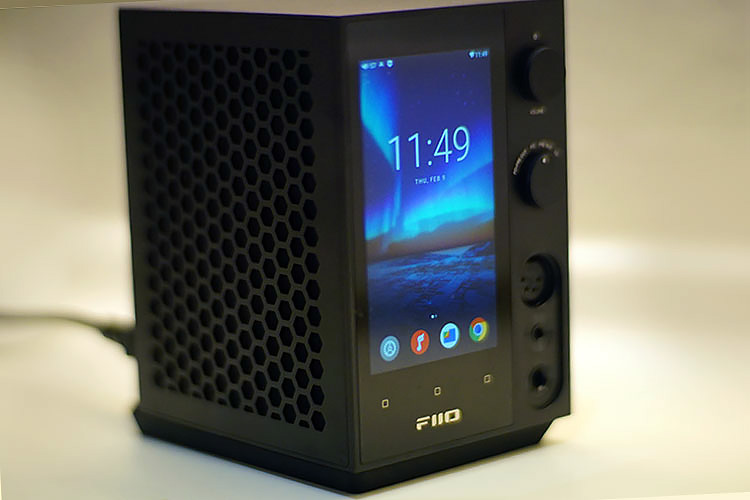 Design
The R7 is positioned as the centerpiece of FiiO's HiFi desktop experience version 1.0 plan, between speakers and headphones. Unlike some similarly positioned devices, it is as sleek as a few stacked DAPs while not having a geeky appearance.
A cubic shape is employed inheriting FiiO's honeycomb theme, also a sleek layout with physical buttons that allows users to switch between different outputs and control the volume intuitively. The LED backlight will change color with different bit rates or when a different Bluetooth codec is used.
There are also 3 customizable buttons below the 720p, 4.97" touch panel that further enhance the control experience. Everything feels just right with the upright layout and it works instinctively like a phone or a DAP.
On the sides, honey-comb-shaped holes are carved out for heat dissipation purposes. There are metallic grills to prevent it from being dusted. Peeking inside there is a large transformer and we can see that quite some components have a metallic shield to suppress EMF interference.
If you are using the R7 as part of your Hi-fi system, the R7 comes with a dustcover for the headphone jacks which makes it looks even sleeker. There are also two sets of rubber feet supplied for tilting the R7 at a flat or elevated angle.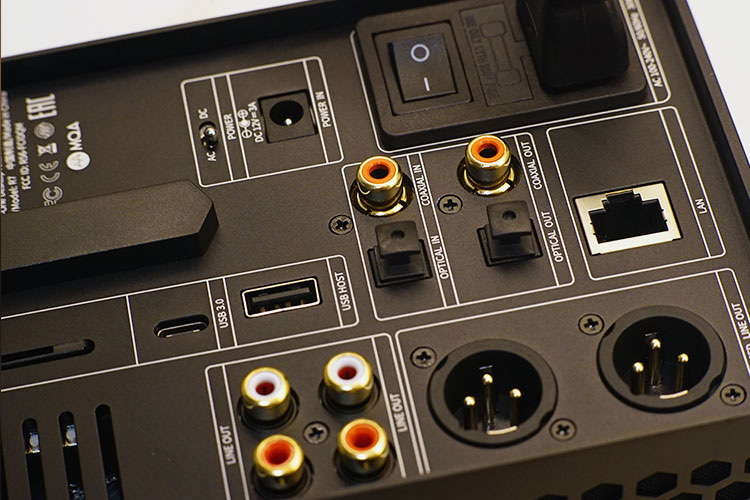 I/O
The R7 is a much slimmer device than I have imagined yet it allows connection to almost any other device. The front side of the device hosts a 4-pin XLR balanced headphone output, also 4.4mm balanced and 6.35mm SE outputs.
You can switch between outputs with the knob on the front and listen to both the speakers and phone out simultaneously by switching to "PO + PRE-OUT".
On the back panel, there are two sets of RCA lineouts for connection to external amplifiers or active speakers, or you could hook up to studio monitors with the XLR Balanced Lineout. Next to that is an SD card slot, and FiiO is considerate enough to supply a card convertor so you can plug the card on your DAPs straight into this machine.
There are Optical In/Out and Coaxial In/Out options for the R7 to allow for a Pre-amp setup or a digital jukebox. FiiO makes it even more interesting by including a LAN port such that you can hook the R7 up to your local network and stream videos and music over from your NAS.
The R7 is also ROON certified and you can also run other software such as FiiO's own music app which supports DLNA.
What makes the experience different is that FiiO includes a USB 3.0 and USB A Host port, allowing connection with keyboards, dongles, external monitors, DACs, hard disks, or even an expansion hub for you to hook up everything. By projecting the screen to a portable monitor, the experience is much more immersive.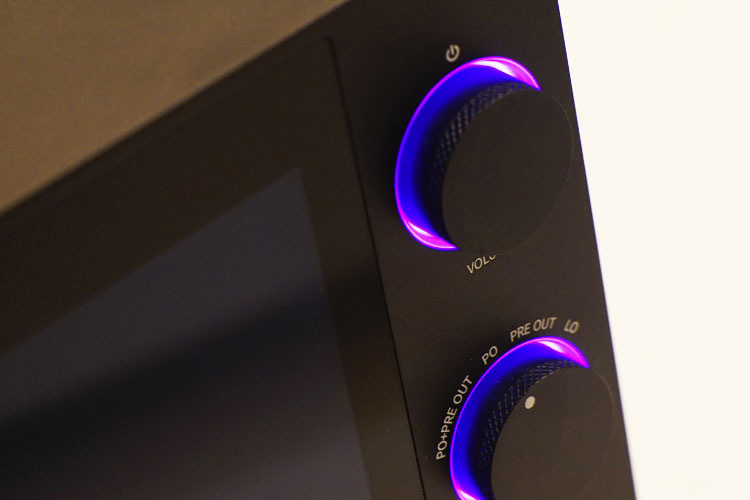 Controls
The R7 supports a wide range of control options with its inbuilt 5" touch screen, physical knobs, and the three customizable touch buttons on the front panel.
The touch screen works just like any phone and the customizable buttons allow quick access to frequently used functions or behaviors under Android or Pure Music mode. However, you can expand its control options with Bluetooth remotes and keyboards.
The volume has 120 steps, so when you are pairing sensitive IEMs such as the Campfire Audio Andromeda 2020 with the R7 you can still fine-tune the volume precisely.
And of course, you can also use the FiiO Link function that allows you to remote the R7 on your phone for music playback, which is preferable if you want higher playback quality by playing local files on the device.
Packaging & Accessories
The R7 comes in a huge, cubic box that aligns with the techno theme as seen on other FiiO packaging. As the R7 is 1.3kg in weight, the box feels quite hefty and aside from the quick start guide, there is an uncommon set of accessories including:
1 Spare fuse
Power cords
USB cable for data transfer
Jack cover lids
Double-sided tapes to secure the connection to rubber pads
6.3mm to 3.5mm converter
SD card converter
Inside the packaging, there are two different rubber pods designed to let the R7 stand on a flat or tilted angle. I am using the tilted angle pad on my desk and if you put the R7 on the shelf, the flat one would probably be more suitable and it will keep the R7 in place without sliding.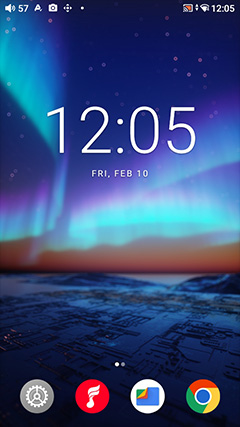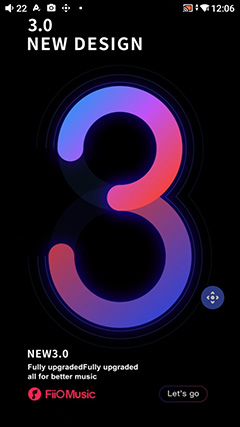 Software
The software experience on the R7 is consistent with the M11 Plus ESS. The R7 rides on a deeply customized Android 10 OS which bypasses SRC restriction globally, enabling the FiiO music app and other 3rd party applications to enjoy higher output quality.
The same Pure Music Mode that forces background apps to close in order to suppress interference can also be found on the quick access menu.
The overall UI experience is responsive and rather stable, and you could always expect OTA firmware updates from time to time from FiiO to fix minor bugs or further experience.
Navigation
I have the chance to play with a few streamers with a screen but the R7 feels more pleasing as it performs exactly like a normal-size DAP with additional buttons.
The R7 has a reasonable screen size and it doesn't move when you swipe on the screen, while the physical buttons and customizable buttons are located on the same panel as the screen which makes it more viewable.
FiiO would be announcing a Bluetooth remote control and I am expecting that to be a great match with this player if you are linking it to the home system and want to control it across the living room sitting back on the couch.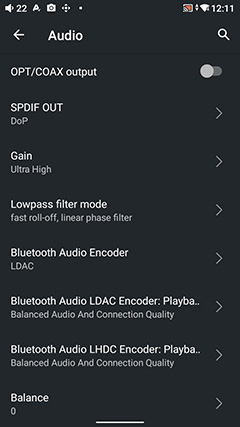 Features
FiiO Music App
Same as FiiO's DAPs the R7 comes with the FiiO Music App, the main interface for media management and audio playback. You can also use it to access the control options for other FiiO devices and make use of the FiiO Link function to control the R7 over on your phone.
The FiiO Music App supports swiping actions perfectly and you can customize its theme to fit your desktop setup. Other than that, there are many useful features to be discovered such as equalizing.
MQA
The R7 supports 8x unfold for MQA tracks and it automatically applies to MQA tracks when playing back on Tidal or UAPP. I often find the output sounds smoother and more refined which could be a result of better mastering.
All-To-DSD
This is a feature I would recommend all users to try which up-sample to DSD64 everything across the output. Unlike portable DAPs, the R7 does not have battery-power constraints and this more power-consuming feature could be well utilized to enhance the output quality.
The All-To-DSD function applies to all apps and the global output, refining it to sound more delicate and smoother in articulation.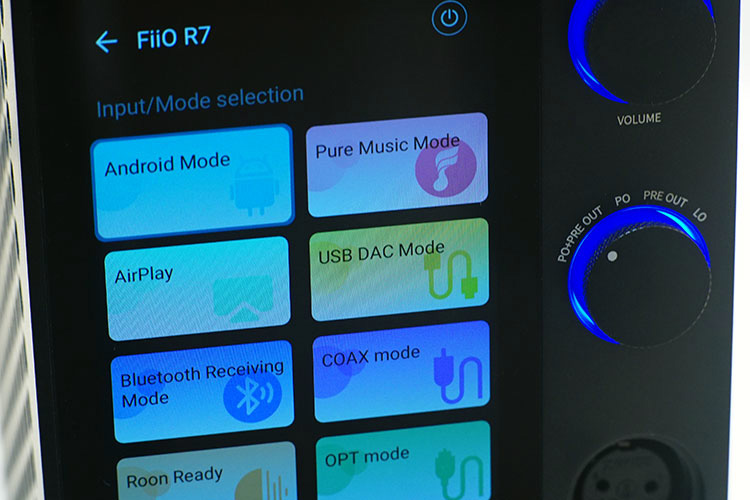 Wireless Connectivity
Bluetooth 5.0
As a transmitter, the R7 supports a wide transmission range from SBC and ACC up to aptX HD and LDAC.
However, it also acts as a receiver so you can also use it to receive SBC/AAC/LDAC signals from other sources. Those looking to upgrade from the BTA30 Pro should take note.
The signal strength is better than the M11S and M11 Plus ESS obviously, and you could hook up the R7 to your speaker system and beam high resolution over the air with DAPs and phones.
Wi-Fi
Using a 5GHz connection, the connection within the living room is very stable over WiFi and I can stream high-resolution video on the R7 smoothly.
There is an inbuilt antenna that is subtly hidden at the back of the device, and the signal is significantly more stable than common DAPs, allowing more stable connection over longer distances, especially with apple devices using Airplay.
Wired Connectivity
USB-DAC
You can hook the R7 to your PC with the supplied USB cable and there is a dedicated USB DAC mode. With this mode, the R7 utilizes the DAC chip's full power to support up to 32bit/384kHz PCM signal and Native DSD256 decoding.
If you are placing the R7 near the PC then it would be a handy soundcard solution for gaming or movies aside from music streaming.
USB-OTG
You can easily hook up the R7 using a dual-end USB-C cable to a dongle or other external decoders, and the output signal is up to 32bit/768kHz, native DSD512 supporting DoP and D2P as well. The connection works exactly like other recent FiiO DAPs and as such the R7 can serve as the source for better DACs.
Click on page 2 for sound impressions, pairings, and our select comparisons.