The FiiO M11 Pro is the company's 'upgraded' edition of the Android M11 digital media player featuring a dual DAC AK4497EQ. It is priced at $649.99
Disclaimer: The FiiO Q5s sent to us is a sample in exchange for our honest opinion. We thank FiiO for this opportunity.
To learn more about FiiO reviews on Headfonics you can click here.
Note, this review follows our new scoring guidelines for 2020 which you can read up on here.
FiiO M11 Pro
The M11 Pro is shortlisted into my 2019 favorites. The comprehensive experience combining great connectivity, fast UI, great build quality, and refreshing "Hifi tuning'' marks a milestone for Android-based DAPs. This the most attractive and enjoyable package at this price point I have experienced thus far.
During September 2019, FiiO showcased the latest M11 Pro at a dedicated launch event in China. Basically, FiiO has retained that excellent powerful predecessor from the original M11 and focused on producing a higher-end sound performance.
Key upgrades include stepping up to an AK4497EQ DAC chipset, discreet oscillators, and MQA support. They have also doubled the onboard memory from the M11, introduced a bigger battery capacity, and for the sound, a THX AAA™ 78 (THX Achromatic Audio Amplifier implementation. The THX AAA 78 is something you may have seen earlier on FiiO's AM3D and X7 exchangeable modules.
There is indeed a higher price point for all these new features but not so high as you would expect at $649.99 or around the old X7 Mark II price. All these features not to mention a high-end amp setup could throne the M11 Pro as one of the most complete packages in the DAP mid-fi market right now.
Getting curious as to how will this DAP actually performs? Is it just a differently tuned M11? Read on!
Design pitch
If you remember my M11 review earlier, the bezel-less design and speed made me feel like it was the best Android-based multimedia player to date. You could stream videos and games on the "smart Hi-res music player" positioned DAP whilst enjoying its balanced output at the same time. The M11 is exceptionally fun and handy for music games on the large screen.
Nonetheless, the 3.5mm output is a bit underwhelming and hisses. I had hoped FiiO could brush up the sound hardware and make an audiophile version. The M11 Pro is the answer with an unexpected overhaul on the sound hardware which makes complete the original M11 design.
Build Quality
You will see a "Pro" logo on the left side of the machine showing off the more prestige identity of the M11 PRO. This is one of the two main cosmetic differences in the design of the M11 Pro from the M11.
The sleek and solid machining on M11 Pro combines seamlessly with the large screen that uses >85% coverage with an 18:9 screen ratio that looks cool and avant-garde. The matte finish looks stealthy and the gold trimmings touch up the design smartly. The aluminum chassis is built like a tank yet the sleek dimensions means the M11 Pro does not feel like a brick.
On top of the machine, you will find the power button with a blue LED rim, a signature design of the latest generation FiiO products which you could also spot on K3 and X5iii. A similar volume knob and controls layout similar to X5iii and X7ii can be found on the side as well. This is a digital rotary dial rather than analog but it will feel analog with its click-based rotational mechanism.
On the back of the M11 Pro, you will see a huge piece of carbon fiber textured glass panel fitted closely to the back of the chassis, with golden Hi-Res logos printed in the inner side.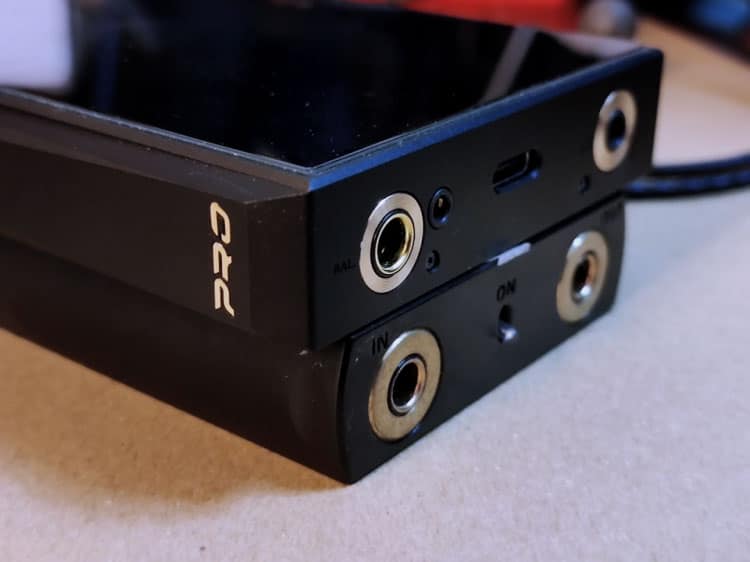 Finishing
On the CNC machined chassis, there are etched indicators near the buttons and output jacks. The M11 Pro now comes with 1 micro sd card slot instead of 2 on the M11 possibly to limit power consumption and to ensure better stability. The 4.4mm and 3.5mm jacks are decorated by a golden rim that gives it a more premium look. Everything feels very solid and you can easily navigate the DAP by one hand.
Devil is always in the details. On the M11 Pro, it fits an identical gold-colored volume knob, built much like a watch crown with mesmerizing details when you zoom in. It is not just about the look, the digital domain is also taken care of with the volume controller IC is upgraded to a standalone NJW1195 chipset. This will mean the M11 Pro has better volume precision over the M11's previous volume control.
Screen
The 18:9 IPS screen packs in a 1440*720 pixel screen resolution with 310+ pixels per inch and covers nearly the whole front panel. The screen can get very bright, with good contrast and vivid colors under the sun.
Streaming at 720p the experience is lovely, not what I expected from a DAP but more like a higher-end phones. Now you could read subtitles clearly whilst enjoying audiophile-grade sound watching the latest episodes of your favorite shows on whatever app you choose to use.
Battery
The M11 Pro comes with a 4370mAh battery supporting Quick Charge 2.0 and MediaTek Pump Express. It charges from 20-100% in 2 hours on a 5V/2A charger and you will get 9-10 hours of music replay when it is fully charged on paper. My day to day usage had it close to 7-8 hours with hi-res files.
This is slightly less than the M11 but you won't really notice the difference as it covers 2 days of commute easily. There is more than enough extra juice for some games and video streaming. It is only when you sit down and 'measure' it will you notice the battery drain faster than the M11, particularly with WAV files.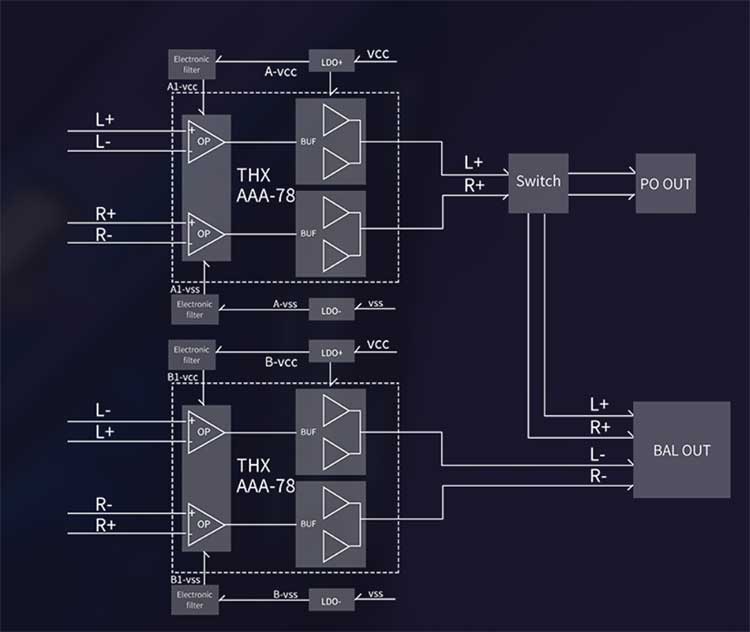 Internal Hardware
The M11 Pro features 6 cores and 3GB ram allowing different applications to be run smoothly on the open-source Android 7.0 Nougat OS. This means a swift UI experience on the 5.15 inch fully laminated IPS screen. The highlight this time, however, is the audio components that are more high-end than the M11.
THX Amplification
The M11 Pro encases a fully-balanced THX structure amplification module AAA-78 (THX Achromatic Audio Amplifier), officially explained as the "World's Most Linear Amplifier Technology for Headphones and In-Vehicle Audio Systems". The chipsets promise infinitesimally low levels of noise, distortion and power consumption, also being able to output great power under low voltage power supplies.
You could read more about the AAA technology here: https://www.thx.com/mobile/aaa/
Flagship DAC
For the DAC chips, you may be familiar with the 2 pieces of AKM VERITA AK4497EQ DAC. This is the flagship model decoder chipset from AKM Semiconductor Inc with a strong over-sampling feature for noise control.
The SNR on this chipset reaches 128dB and THD is as low as -116dB. Both are stunning figures but the implementation is more power-consuming. The M11 Pro's fully balanced architecture plus the THX AAA-78 amplification stage aims at bringing down distortion and noise floor along with enhanced signal to noise (SNR) performance than older generation chipsets.
Implementation is the key so continue to read and we will talk more about how it sounds further down the review!
Exynos Processor
The M11 Pro CPU is a big step up from M9's Exynos 7270 featuring the flagship processor Exynos 7872. YOu also get 3GB of RAM and 32GB storage totaling 64GB.
The more powerful 14nm tooled 2.0 GHz processor rivals even the performance of the Snapdragon 625. Along with 3GB ram and an Arm Mali-G71 GPU, the M11 Pro will deliver a smooth UI experience and heavy 3D graphics at 720p.
As mentioned, the battery life is short on the M11 Pro even with a big battery. This is likely due to the more power consuming DAC chipset implmentation and it may as well suggest more real power is allocated to the audio circuitry.
Hi-Res certified
As defined by JAS which established the Hi-Res Audio standard, Hi-Res Audio Wireless logo has been introduced after Nov. 28, 2018. This is an accreditation for wireless products that meet similar standards alike normal Hi-Res certified products when connected wirelessly. LDAC is the only certified Audio Codec that can be registered for Hi-Res Audio Wireless.
The M11 Pro supports all of the popular Bluetooth codecs and allows you to connect to all the latest Hi-Res receivers or earphones. The device also packs in Airplay support for Apple TV/ other speakers that support Airplay. Bluetooth 4.2 only though so I hope to see Bluetooth 5.0 on later devices that will further reduce power consumption and boost playback time.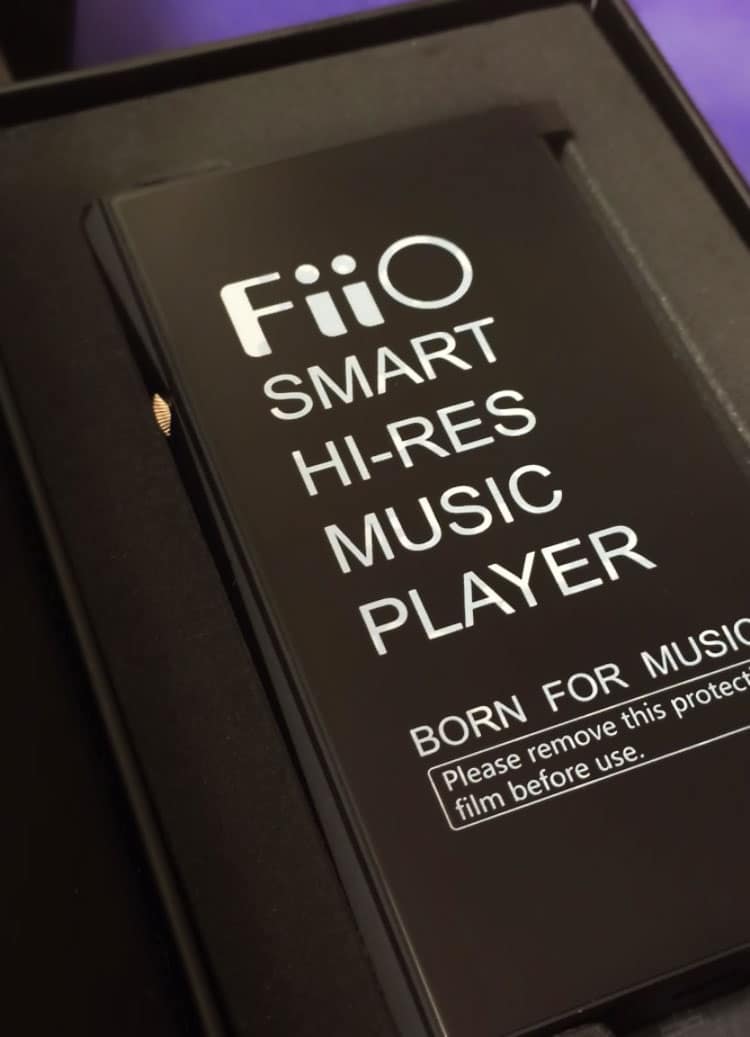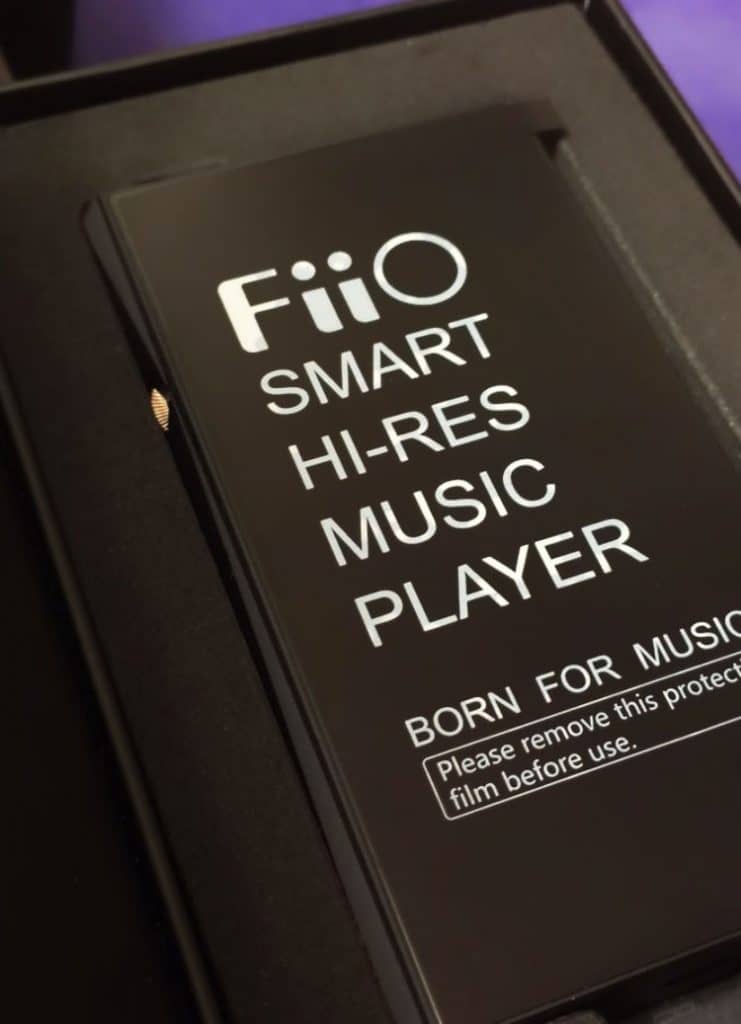 Unboxing
M11 Pro's packaging is based on M11's same professional dark tone throughout with a very similar box design. The M11 series is one of the first products that has acquired the Hi-Res Wireless Certification and this time both the MQA logo and THX logo can be seen on the front cover.
Similar to other FiiO products i.e. FA7, the M11 Pro is packed in a hefty inner box with FiiO's logo laminated. Digging down you will see M11 Pro sitting right in the middle wrapped in a milky plastic bag.
Accessories
This time there is no TPU case pre-installed and looking at the official specs the dimension of M11 Pro is 1mm thicker than the M11. Perhaps that is the reason why the same case isn't included. It is recommended to get yourself a leather case from aftermarket sellers which do look stunning and offers essential protection for the device.
Below the hard foam layering, you will find two paper boxes for the accessories. This includes a coaxial cable, Type C USB cable for charging and some user manuals or documentation. There is also a sim-card pin for the micro-sd card slot for storage extension. I don't think we need more storage here when these devices can connect to almost anything!
Click On Page 2 below for Software Performance & Features