This is an independent review of the Yamaha YH-E700B, which is a 2nd-generation wireless headphone with aptX Adaptive decoding and ANC. It is priced at $349.95.
Disclaimer: This sample was sent to us in exchange for our honest opinion. Headfonics is an independent website with no affiliate links. We thank Yamaha for this opportunity.
You can click here to learn more about Yamaha products we have previously covered on our website.
Note, that this article follows our latest scoring guidelines which you can read here.
Yamaha YH-E700B Wireless Headphones
The Yamaha YH-E700B's active ANC is very nice, and the battery life is superb. If you need a headphone that sounds okay and has crazy good battery life while you are on the go, then this could be a solid choice if you find it on sale soon.
Pros
Excellent connection strength
Low latency mode for Gamers
Great battery life
Cons
Thin sounding
Treble sibilance at times
Yamaha made its debut on Headfonics earlier this year with their flagship wireless YH-E700A ANC headphones. A pair of headphones I thought stacked up quite well in what is now a very competitive market.
Well like buses on a rainy day we have another wireless headphone from Yamaha launched recently, this time the YH-E700B which is supposed to be a revamp of the older YH-E700A.
Priced at $349.95, they would be considered premium rather than casual. As such, you would pick these amongst a plethora of competitors such as the Sennheiser Momentum 4 Wireless to name one such example. How do they stack up? Let's find out!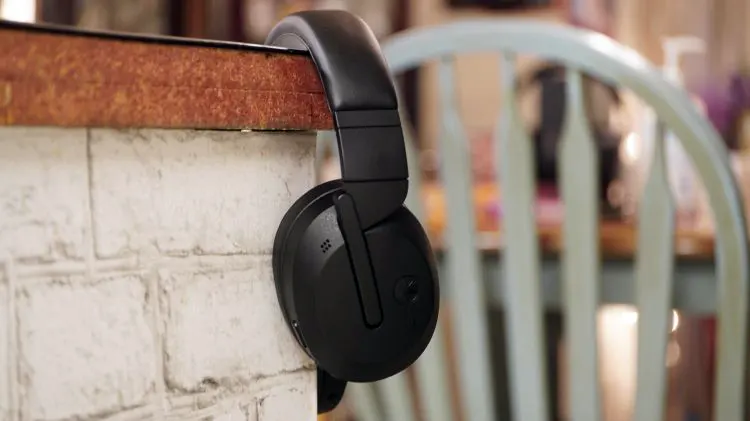 Tech Highlights
Summary
The Yamaha YH-E700B uses a 40mm dynamic driver at its core, which Yamaha says is designed in conjunction with the interior of the earcups, to produce what they call Realistic Expression and True Sound, which is their viewpoint on how the artists wanted you to hear the instruments being recorded.
Their Listening Optimizer technology automatically adjusts the sound qualities of the headphone experience to what Yamaha's internal circuitry feels is the most optimized sound trait for the current listening environment. This technology also adjusts itself based on fit as well as a proper seal from the earpads.
Also, the headphone offers solid Noise Cancelation potential, like the older YH-E700A model that I reviewed some time ago.
Wireless
Moreover, going BT with Google Fast Connection makes the link to wireless sources a breeze and I must say that in a points game, this YH-E700B paired faster to my TempoTec V6 faster than any other device I've ever used or attempted to pair. I am used to there being some delay and lag during a pairing process but it was lightning fast.
The headphone also has numerous modes that you can activate too, such as "gaming" mode, full ANC mode, and ambient mode.
Further adjustments can be made via the Yamaha music app that will link to the headphone and let you customize EQ and some other settings, but more on that in another section later.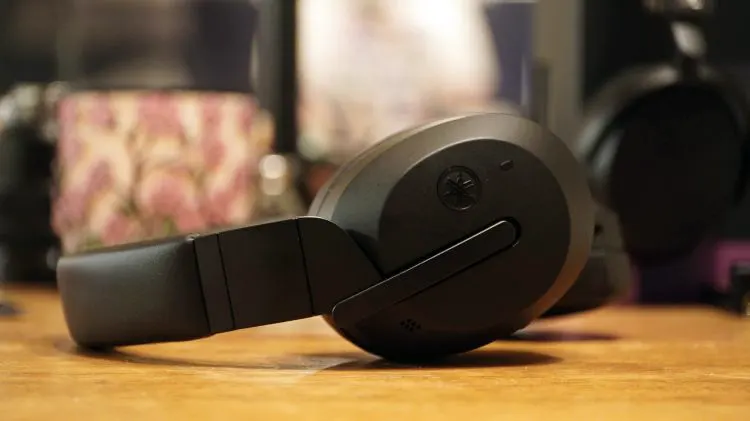 Design
The YH-E700B is a closed-back headphone design with small earpads that do not qualify fully as circumaural, which means fully encompassing the ear. They are technically on-ear with the width factor in mind, but the height of the earpad hole area is quite tall.
Interestingly, the YH-E700B's exterior design is totally different from the YH-E700A, which looks more rounded and bubble-like, than the oblong shape of the new YH-E700B, which is more ovoid than circular.
This headphone doesn't offer any touch controls on the side cups and they also do not turn the music back on when you place the headphone back over your ears after you take it off to disable the music currently playing.
The exterior design for the earcup and swivel mechanism looks like a microphone can pop down and be set back into the physical exterior of the earcup, but it's not a microphone at all, it's just the design of the headphone.
That placement is where most gaming headphone microphones would retract inward so naturally others might think this is a gaming headphone with a mic attached to the side of the earcup.
Comfort & Isolation
The leatherette materials used on the earpad are a little on the low-side quality-wise for this price point. More so, the earpads are firm and small, they are not fully over the ear like the older models were, and they are oddly shaped on the inside to disallow room for your ear lobes to breathe and not feel restricted.
Beyond that, the headphone headband also uses the same material as the earpads and I do not find it very comfortable at all to wear for extended, or even short periods of time. But thankfully, the caliper pressure is moderate and not extreme.
I realize this headphone is intended to be snug for ANC purposes, and that the earpads like these are intended to maybe help with active noise suppression by offering a much better seal, which they do. However, the byproduct is that they are too squeezing sometimes and uncomfortable for my ears.
The weight of the headphone is also 330g, which is match something like the Cleer Alpha almost perfectly. Both sets weigh 330g but for my head, the Alpha is the more comfortable of the two.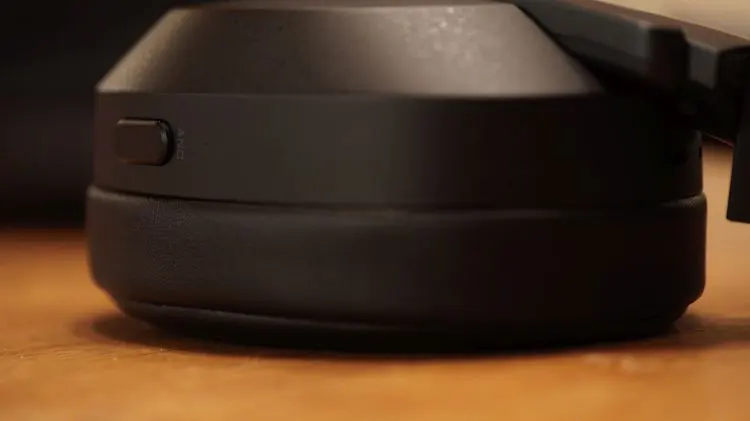 Noise Canceling Performance
Overall, the noise-suppressive qualities of this YH-E700B are good and certainly get the job done. It cuts out a good portion of box fan sound and ambient wildlife noise.
However, it is a few steps behind a few generations of Bose ago, as well as Sony, and the Cleer Alpha. Side by side with the Cleer Alpha, the Cleer seems to disable exterior high-pitched noise, like an air conditioner, for example, a bit better than the YH-E700B.
The ANC values between this and something like the 1More SonoFlow are relatively comparable and both are a few steps behind the Momentum 4 Wireless and the Alpha.
Battery & Range
The Yamaha battery performance is excellent on their headphones. 30 hours is accurate, at least for me. And as I mentioned before, I shut my headphone down and came back the next day to it accidentally still on and it had hardly hit 50% despite it playing music quietly in its case the entire night and into the next afternoon.
The range of the wireless transmission always seems to cut out at around 30ft no matter what brand or model out there, just like the Cleer and Sennheiser's, 30-40ft is the cutoff point before you will hear some drops and start to experience disconnections.
Totally normal range, totally fine but as I also mentioned, the connection quality is intensely excellent on these headphones. Pairing with Bluetooth devices is incredibly potent even in areas I know that mess with the wireless signals.
Stock Cable
The stock cable is 1.2m long and a fairly typical generic rubber cable that you find with most ANC headphones these days.
Does the cable even matter if the headphone is intended for wireless usage? Well, yes, because the headphone sounds better via wired on this model than it does wireless.
Interestingly, I went to Walmart and found a replacement fabric cable that fits it for $5.99 that looks and feels beautiful when attached to the YH-E700B.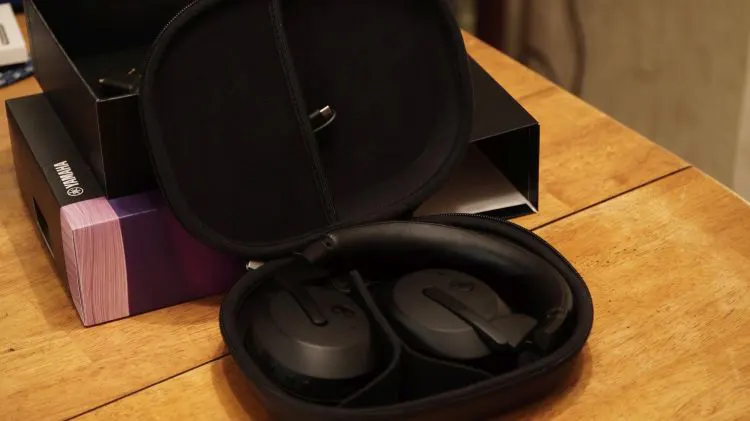 Packaging & Accessories
The YH-E700B comes with a standard 3.5mm portable length cable and a USB-C charging cable, both of which sit inside a small hard case. The box is standard as well, complete with the Yamaha branding and a drawer-like removal process like the Cayin Fantasy box's pull-out design.
The headphones fold inward to set in the box, but the problem is that the power button and some of the other buttons are raised enough to where if you place the headphone button side down, either on the table or in the case, it might turn on and activate the headphone.
I realized that it's possible to lay them down in just the right way to re-activate the power button with the weight of the headphone alone. You will need to keep an eye on this in case it happens to you.
Synergy
This headphone doesn't require any amplifications at all and will run at its best off a small DAP or music source of your choice.
No amps are needed. And since it is intended to be mostly used as wireless headphones, you're pairing it with your source or phone or whatever device doesn't need any extra juice to do so.
When you are connected via 3.5mm, warm sources don't do much for this headphone. However, sterile, and clinical amps that I have made the treble issues stand out a bit.
In wireless mode, none of that matters, and no matter what source you use, it'll sound the same unless you mess with the EQ settings in the source app or Yamaha's app.
It's great that Yamaha has an EQ app but the dynamic things you can do with free apps in Hiby with MSEB are significantly better and more detailed than anything these music apps from the manufacturers have been offering.
I prefer to just use the MSEB to help attenuate the treble and make it more forgiving with the right MSEB function, which is a dedicated area of EQ in the Hiby music app.
With that in usage, the experience bumps up positively. Without it though, the experience will stay relatively the same unless you disable the ANC, and when you do, you get less bass.
Gaming Mode
They have a low-latency gaming mode intended for usage with movies and gaming. However, this headphone lacks the ability of touch control, so it becomes an issue when you are trying to use apps like Discord or Telegram, where the mic can be auto-muted when you remove the headphone with some other models out there.
Since the Yamaha brand doesn't support that, this is an issue if you go wireless. Otherwise, you need to have a dedicated mic externally connected to the PC and then use the YH-E700B through Bluetooth as well to game and hear others if you want more control over the microphone.
Yamaha has said that the microphone is excellent on this model, but I have found it to be pretty much the same as the YH-E700A. Here is where the automatic adjustments are a great idea.
When using the interior mic of the headphone with any app, the experience will auto-adjust and take note of the surrounding area and what's going on to reflect the best sound type and presentation for you now. With calls and with gaming on this model, that is awesome stuff.
The problem? The microphone is still just okay quality and outclassed by the Alpha and the Momentum 4 Wireless, which both now retail for less than this new YH-E700B.
Click on page 2 below for sound impressions and our selected comparisons.