In today's feature, we review the TempoTec V6 which is a new Android 8.1 OS DAP with a dual DAC architecture and a balanced amplifier output. It is priced at $369.
Disclaimer: This sample was sent to us in exchange for our honest opinion. Headfonics is an independent website with no affiliate links. We thank TempoTec for this opportunity.
To learn more about TempoTec products that have been previously featured on Headfonics you can click here.
Note that this article follows our latest scoring guidelines which you can read up on here.
TempoTec V6 Review
The TempoTec V6 is a very good DAP for this competitive price with decent battery life and modern design quality. It will not break the bank at its current price point but will offer a very enticing upgrade path for those on older non-Android DAPs struggling to find something new under $400. 
Pros
Good sound clarity
Excellent functionality
Wide Range of outputs
Cons
Old Android Version
Slow UI
In the past, TempoTec has released a slew of fantastic portable options that ranged from amplifiers to USB DACs such as the Serenade and Sonata range, and gained a solid following in the audiophile community
Starting September 5th, 2022, TempoTec will launch its Kickstarter campaign for the new V6 DAP.
The crowdfunding early bird pricing will be set at a supremely amazing price just under $300. Afterward, the retail pricing will be set to $399 but even at that price, this DAP might possibly be a bargain.
Tech Highlights
DAC
The CS43131 DAC is a good choice for their previous HD Pro Dongle, which was a solid budget option for the audiophile community, but one that wasn't aimed for a higher-end vibe.
This time around, they've implemented a dual AK4493SEQ chipset in a balanced format. That should sound familiar to you, as this was the same DAC chip that Astell and Kern dropped in their SEM4 module add-on.
This DAC is from a family of tonality that is regarded as holistically neutral, neither metallic nor warm. This is the wisest business choice that would appeal to the majority, at least in my opinion and from what I know about the audio world.
Neutral doesn't mean clinical or totally accurate in this context that I am using, it means colorless, neither cold nor boosted feeling. As a point of contrast, the CL CS43xxx family is well known for providing a general baseline feel towards a musical tonality and texture.
Decoding
The TempoTec V6 is capable of decoding up to DSD512 natively and PCM up to 32bit/768kHz with an additional MQA unfolding capability of up to 16X making it fairly up to speed with modern DAP decoding limits in the market today.
Because wireless connectivity is also a feature, the V6 will also support Bluetooth Audio decoding up to LDAC as well as aptX HD and HiBy's own standard UAT for those that have HiBy TWS such as the W5. AAC and Airplay are also built into the feature set of the DAP.
The V6 is also WiFi capable so lossless transmission and receiving via 3rd Party apps are possible for those who have NAS or DLNA setups.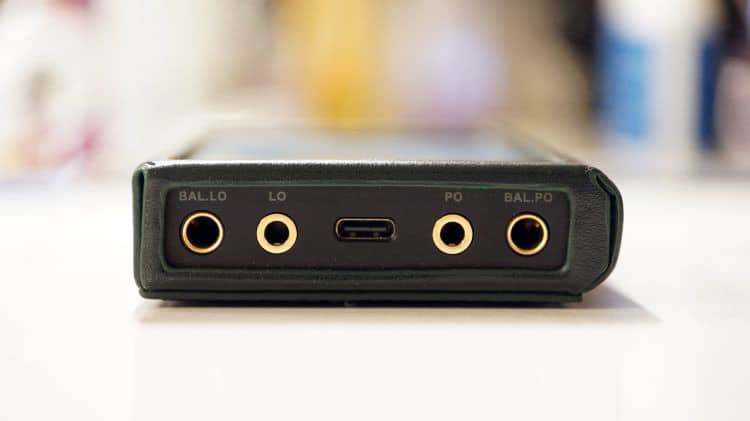 Performance Numbers
The TempoTec V6 offers PO and LO in both d4.4mm inputs and 3.5mm. It can output 610mW into 32Ω in balanced 4.4mm mode and 330mW via 3.5mm from the PO and a standard 2Vrms SE and 4Vrms balanced for the line out.
The line out is fine, it's where you will expect it to be for connecting an analog out to a portable or desktop amplifier. However, I really wanted to see closer to 1W for the balanced PO as I run into a problem driving some planar headphones or the 600Ω Sennheiser HD800 which sounds underpowered.
However, overall, it is only the neediest headphones that I have on hand that I prefer to use a different DAP with. The entire rest of my stock is well powered by this V6. For example, the Audeze Euclid that I enjoy often is more than well powered by this V6, despite being Planar in design.
Yes, I do need to output the 3.5mm LO to something like the CEntrance HiFi-M8 V2 for extra power needs with my HD800, but otherwise, I don't really require it.
The HD800 feels very weak and thin with the V6 all by itself as the sole source of power. Using a USB-C to C cable, I can route the V6 digitally into the CEntrance and allow it to handle the quality and power needs for my audio.
I mentioned the CEntrance M8 V2 because it has high 1W output and is closer to double the output power of the TempoTec V6 in balanced mode. When at home, I prefer to just plug directly into the big boy desktop amplifiers and use the TempoTec as the source for audio. With that route, of course, the experience is sublime and overkill for power needs.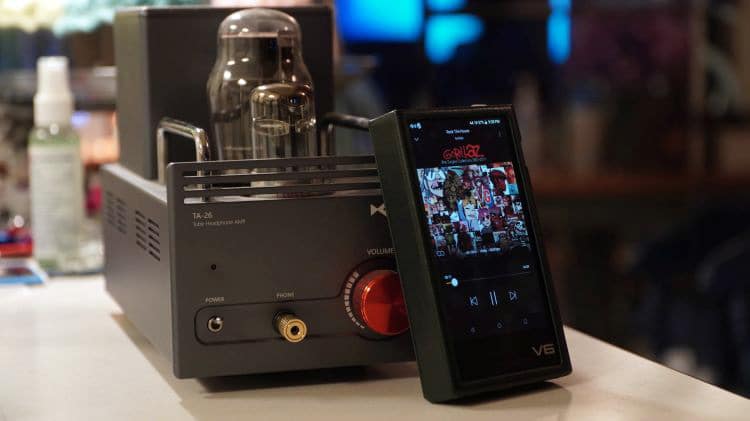 Design
The V6 is lovely to hold in the hand and a true upgrade from my much smaller XDuoo X3ii that I reviewed back in 2018 and have consistently used daily ever since.
For reference, the X3 puts out 230mW at 3.5mm while the TempoTec V6 puts out 330mW in 3.5mm mode. I cannot hear the difference between them in terms of driving power.
Quality? Yes, very audible, but not the driving power and heft that comes with a good bass rumble and treble smoothness. The V6 and the X3 feel the same in that regard and the extra 100mW doesn't feel audibly different.
The physical dimensions are 4.5L x 2.5W x0.7 deep rectangular design. The screen size is roughly 4.2 inches diagonal. It is a hefty boy too and weighted in the hand. It is brickish, and thick feeling which is a great sign for me because I feel that density factor to be a sign of robust quality. I do not want my DAP to feel hollow and light. I enjoy that heft.
Aesthetics & Screen
Stereotypical, A-typical DAP design ongoing here and nothing obtuse in physical appeal. The standard small rectangle box is something that is going to be timeless for us and I don't see this changing any time soon.
The screen though is super bright and much, much brighter than I thought it would be when I first turned it on. I was actually shocked when I swiped the Android OS down to play with the brightness settings to turn it down, only to find that it was at 50% brightness at the time. I said to myself "Whoa, ok…that is a bit of a lighthouse spotlight brightness factor then, isn't it?!".
And that is a good thing, outside in the sun, I can actually read the text and see what I am doing. I cannot do this on my X3 and I can hardly do this on my new 2021 Sony Xperia 1iii phone. Side by side, the V6 is super bright on that LCD.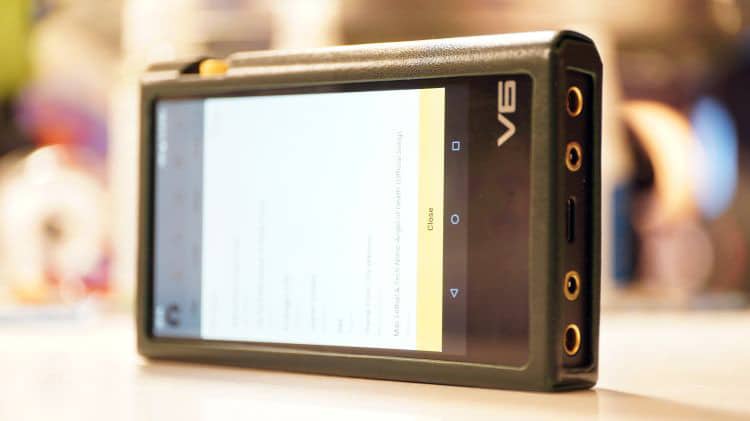 I/O
On the bottom side of the V6, you have the PO and LO outputs, including 4.4mm PO/LO and 3.5mm PO/Lo, very similar to the latest HiBy DAP configurations.
The jack output/input quality here is very good. Gone are the days of wiggle and play in the headphone adapter area, these don't budge at all on the V6 so it is clear the soldered input jacks are quality and not trash.
As previously mentioned, the USB-C input for charging is also a USB-C output for direct digital connection to a larger amplifier if need be. I use the USB C to C option and direct connect to something like that portable powerhouse M8v2 or any number of home DAC/amps that will further increase the sound and voltage output if need be.
On the flip side, the volume knob is recessed slightly so it avoids accidental spinning while in your pocket, and the single micro-SD card slot of course allows for extra storage.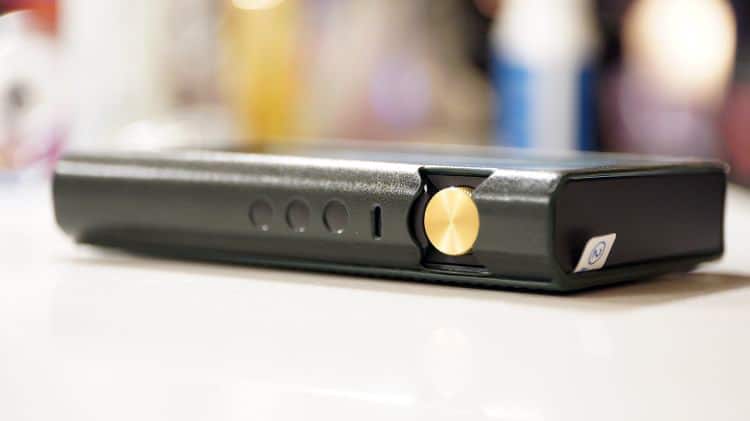 Controls
The TempoTec V6 is a touch screen design and I must admit that the system is a little sluggish on the UI to allow for anything fast to register on the touch panel. Often I have to tap, wait, and tap again because it did not register properly.
The firmware updates and different musical applications, like the Foobar2000 portable app that I can install via the Android Play store app, were still not as responsive as I would prefer them to be.
But for under $300 on Kickstarter? I am not complaining. I hardly even use the touch screen once my favorites have been activated. I prefer the physical buttons anyway, I am old school that way and only use the touch screen to manually search for tracks, or to add tracks to a list, or do other non-listening functions that don't take up much time.
So, to me, personally and subjectively, the lacking response of the touch screen will be a deal breaker for some but less so for me. YMMV. Once the music is playing, it doesn't matter as much.
Buttons
The TempoTec V6 button layout is well thought out and for me, this is important because I pocket play often. I like being able to reach into my pocket and toggle the physical buttons with accuracy and not have to guess what I am doing or worry about accidentally blasting my ears out after hitting the volume knob instead of whatever else I was aiming for.
The Track Skip and Play buttons are located on the side of the unit and thankfully not blocked by the nice leatherette case that is included.
Battery Life
When I first received it, it came to me at about 40% battery and I used that on a small car trip that lasted a few hours and into a distant shopping area while my family and I were out.
It lasted from home, out to this distant place over an hour away, while I was walking around there, and all the way back home before it hit 15% battery power. However, that was with the screen off, and yes, using the balanced output that had a higher voltage swing too.
So, I would rate this V6 as very good in battery life prowess and by my testing and in my own settings, the unit displays about 8-9 hours of constant usage with the screen off before it taps and needs a recharge.
The V6 charges fast too with that USB-C input, a few hours to fill up. This seems to be a standard thing now for DAPs. Faster USB-C charging than it was years ago is a lovely thing.
Packaging & Accessories
The V6 comes with a nice little box and some paperwork, an extra screen protector, a USB cable, and a nice leatherette case.
Upon opening, you are greeted with a foam cutout and the accessories each tucked neatly into their own designated areas or smaller box. Below that was a small foldable manual and some promotional materials. Not much to boast about here, just the basics.
As a Kickstarter discount item when it releases, this is actually preferable to me. I'd rather not have a fancy anything on a Kickstarter deal with regard to the box. Just give me a case and charging cable and I am happy. The extra protective cover is also a nice touch, so thank you TempoTec for that.
Software Features
This is an Android 8.1 OS device, so whatever you want it to be, likely it will be with the right downloaded APK or application that will change whatever settings you want.
There are tons of great software for music you can install, and as much as I like the stock music app on the V6, I prefer Foobar2000 due to the numerous available extras that are included. Also, for the simple design of that music app.
Beyond this, the WiFi and BT modes will let you stream and connect to music streaming services to your heart's content, so go nuts with it. There is not much you are limited to with a device like this, hell, I can play Pokémon Go on this via WiFi.
Bluetooth is capable and sounds great as well through any good quality BT-enabled headphones that I have here with me. I hardly would ever recommend using them with a DAP like this, this is made for higher-end stuff, but if you want it, it is there for wireless needs.
Beyond that, you can screen mirror too and use your phone with a dedicated app that will link to the V6 and let you control the V6 screen from your phone display. I see the benefit of this if you keep your DAP in a bag as I do sometimes.
Performance Benchmarking
The V6 has adopted a Snapdragon 425, a specific design from Qualcomm that was intended to yield high efficiency for lower-end devices. This lends credibility to the good battery life but the 2GB RAM limit also tells the tale of why the device may be a bit sluggish with its operating system responsiveness.
Yes, the V6 is a bit slow on the draw and there is noticeable lag when shifting tracks or performing button presses. More than a handful of times, the device locked and crashed, requiring a total power off and restart before it would function again.
AnTuTu Score
I have tested the performance statistics of this player with AnTuTu, which is a measurement system and guideline application that will test and benchmark the power of your device.
Running the app resulted in a decent score but not cutting edge compared to more expensive DAPs. The V6 is roughly double the original Hiby R6's score but a bit behind more modern DAPs such as the FiiO M11.
Basically, the DAP has good power under the hood. For a portable music source using a budget-tier Snapdragon model, this is a good score. You can't play intense games with it, but you might be able to play lower tier easily playable non-GPU heavy games and applications.
Click on page 2 below for sound impressions, pairings, and select comparisons