In this feature, we review the Sennheiser Momentum 4 Wireless, which are closed-back circumaural wireless active noise-canceling headphones. They are currently priced at $338.95 on Voonaudio.
Disclaimer: This was sent to us as a sample for our honest opinion. Headfonics is an independent website with no affiliate links or services. We thank Voonaudio & Sennheiser for this opportunity.
You can click here to learn more about the Sennheiser products we have previously highlighted on Headfonics.
Note, that this post follows our latest scoring guidelines which you can read here.
Sennheiser Momentum 4 Wireless Review
The Sennheiser Momentum 4 Wireless is a very good wireless ANC headphone. It is supremely comfortable, has great-looking materials, and has a premium, well-thought-out design. It sounds great in wireless mode, and the ANC is fantastic, easily on par with the titan Sony WH-1000XM5.
Performance & Features
8.7
Pros
Excellent depth & bass
Class leading ANC
great voice call quality
Cons
Wired mode needs a lot of power to drive
Touch controls a bit laggy
The Sennheiser Momentum 4 Wireless is their latest generation of Bluetooth-enabled active noise-canceling closed-back headphones which started back sometime in 2015 I believe.
If you know anything about audiophilia, you should be aware that Sennheiser is one of the alphas and omegas of the industry. We just recently reviewed the IE 600 which has proved to be a very popular IEM rollout in 2022.
Of course, they have produced some of the most incredible headphones that money can buy, each passing the test of time and continuing onward for years to come as icons of our hobby.
Sennheiser is known for innovation and pushing the horizon forward, they are trendsetters and likely always will be.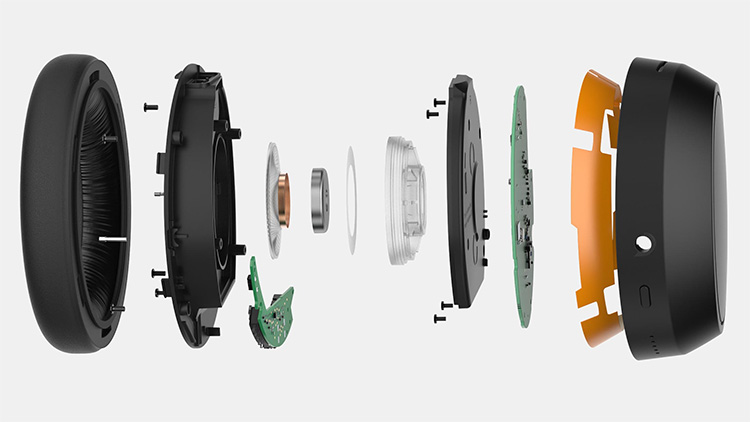 Tech Highlights
Sennheiser wants everyone to know that their Adaptive Noise Cancellation technology is potent and well thought out.
Immersion is the plot point that is at the forefront of this model, and I can safely say that Momentum 4 Wireless's functionality around active noise canceling is a match for the best ANC (active noise cancellation) headphones that currently exist in the world.
I will detail the quantity factor and quality of the ANC prowess of the Momentum 4 Wireless in the comparisons section at the end of this review.
Situational Awareness
The Sennheiser Momentum 4 Wireless has one of the coolest design features I've seen in a wireless headphone. When you pluck off the right ear cup from your head, meaning when you lift the right-side cup, your music and audio activity will pause on the source that the headphone is currently connected to.
This is amazing for those who have a healthy lifestyle, who may interact with other human beings or prefer not to run or walk across the crosswalk in town without hearing what is around them.
Transparency Mode works wonders when you may need to hear the exterior world around you, simply lift up the right cup and it will automatically disable or pause your music tracks (depending on what app you are using).
But more interestingly, it has a pinch-to-zoom feature on the same right-side cup that allows the owner to reduce or increase the amount of desired ANC.
Yep, you can pinch-open gesture on the cup surface to increase the ANC intensity factor, and then pinch-close gesture to decrease the amount and hear more of the exterior sounds around you.
Beyond that, swipes across the right-side cup or a tap will allow you to skip tracks, raise the volume, or mute the experience entirely.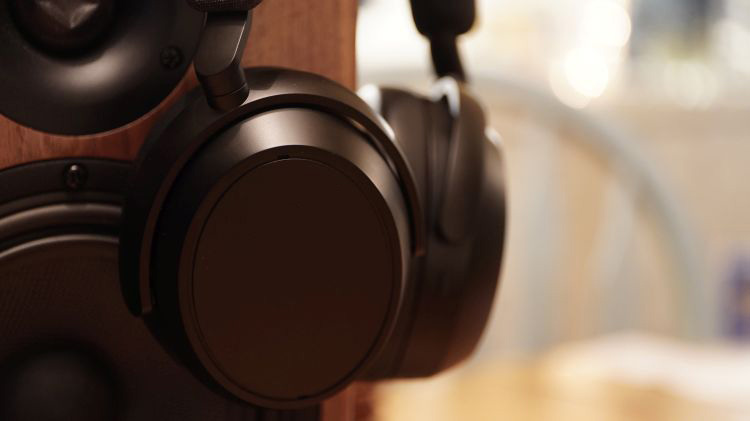 Design
Happy to report that the Momentum 4 Wireless design is extremely well thought out. The selected angles of the headband end up relieving pressure on the top of your head, despite being plastic in the materials used.
The cut is thick and weighty, lacking a creaking or rubbing squeaking sound when rotating the ear cups in your hand or applying pressure to the headband area. In this case, I would prefer metal is not used near the ear cups so we can keep the weight down.
This is a headphone intended for active users, so I appreciate the quality of plastics used instead. The headband arc is aluminum though, and it feels slightly pliable and able to bend a bit outward directly before bouncing back to shape when you play with it.
The ear pads are circumaural but on the smaller side of "full size". Both ear cups rotate and swivel around enough to allow for a perfect fit for me.
On the bottom side of the ear cups, you will find the power button, which doubles as a pairing mode button when long pressed, light indicators of pairing modes and battery life left, the 2.5mm input for wired cable mode, as well as a USB-C port.
On both ear cups, you'll find a mesh metal vent for dual microphones just below the mesh grating.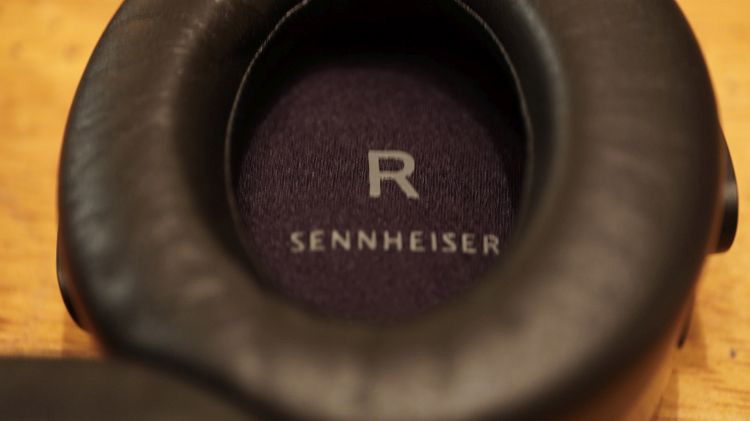 Comfort
Ok, I will just come out and say it. This Momentum 4 Wireless is one of the most comfortable and exceptionally balanced feeling designs I've ever used.
I have been reviewing headphones for 15 years, this is the pinnacle of a small over-the-ear design that doesn't make you look like a satellite dish. There are no large gaps just above your ears where the yolks and Y-brace come together, that gap is very small.
The headband is plush and has a comfortable material wrap over it. The earpads are supremely soft and forgiving, easily some of the softest pads I've used in a while.
The clamp factor is less than moderate and just right, it's not loose fitting and it isn't harshly clamping. The caliper pressure is lovely and enjoyable for long sessions, which is greatly helped by the plentiful softness in the earpads that make the experience a true pleasure to use for half a day.
Yes, the Momentum 4 Wireless is a closed-back headphone, and the pads are a leatherette material, so they do get warm, but it's not a severe problem.
The headphones are fairly lightweight, so taking the headphones on walks or around stores is quite enjoyable. High marks on comfort for me, it fits my head very well and I wish more companies would use this design.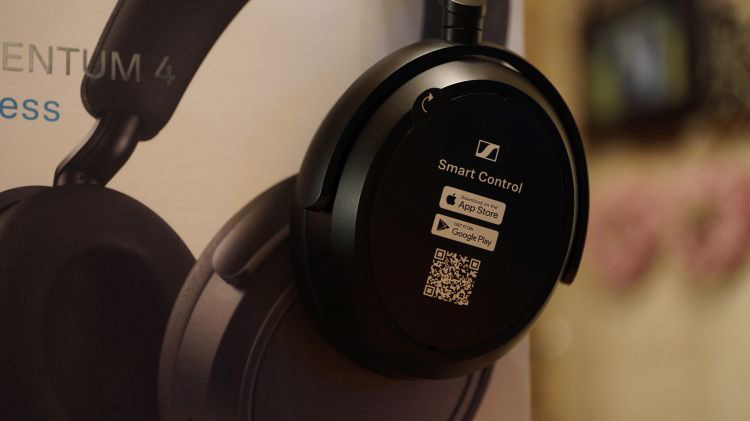 ANC
The Sennheiser Momentum 4 Wireless has some of the best Active Noise Canceling on the market, comparable to the titan Sony WH series. I do not own the WH-1000XM5 but I have extensive time on the 4 series and am aware that the 5 series is even better.
In a brief session with a friend at a local meeting, I was able to get my ears on a WH-1000XM5 Sony ANC model and the difference was marginal between them. The biggest difference was wind factor reduction, which the Momentum 4 Wireless actually obliterated the Sony in. In fact, this is the best wind reduction I've ever seen in a headphone. Period.
It's damned cold out right now where I live up in the Northeast US. I've stupidly taken the Momentum 4 Wireless out in some cold windy afternoon and nighttime short walks, only to come back not even realizing I didn't hear a damned thing going on outside. Not one iota.
In fact, I cannot hear the toilet flush, the fan going on nearby (heater), or anything but the muffled sounds of a TV. The ANC performance is phenomenal here and equivalent to the last-gen Bose series models.
Wireless Range
The Momentum 4 Wireless Bluetooth range is about 50 feet for me, which is excellent. I can go stand and have a short walk down my driveway and shovel snow while my source is safely inside of my house and the music won't cut out.
Moreover, the BT5.2 combined with aptX Adaptive has been a significant leap in quality across the board.
To date, I have not had a single cutout or disconnect, while I did have disconnects on a few other Bluetooth models I have on hand, including the Cleer Alpha and the 1More SonoFlow. So, I rate the strength factor as excellent overall, even at 20 ft+ away from your source.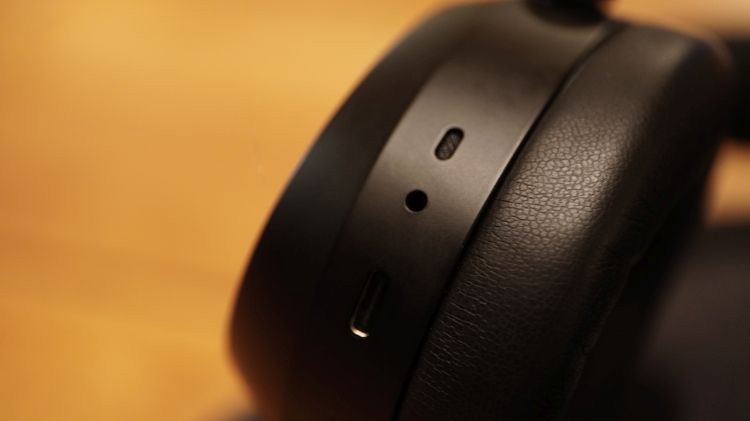 Battery Life
Excellent! With ANC active, I crushed over 50 hours of playtime. That is magnificent! The battery life on this model is insane and absolutely devastated the Sony WH series that cap out around 35-40 with ANC on.
With just 5-6 minutes of fast charging via USB-C, you can fill the battery enough for another 5-6 hours of usage. An hour per minute, we've come so far in battery tech and it is impressive.
Without ANC on, the adaptive tech disables itself and will allow for a smidgen more time on the clock, but it was nominal at best (a good thing) so you might as well just keep it active and on, in my opinion.
Voice/Call Quality & Assistant
Most Bluetooth headphones suck at voice calls. This was the first time I was actually widely complimented on my voice call quality while using Telegram, which is an app I frequent that lets me connect a BT headphone to my phone, and in turn talk via the voice chat function.
I was praised for having excellent voice quality according to others listening to me. It sounds much better than the Cleer Alpha, and the newer Yamaha E700A, by heaps.
In fact, I do not have any other headphones that have voice quality like this Momentum 4 Wireless. It is a cut above the rest, and that includes expensive IEMs that have mic cables that I've tested.
The assistant function is limited, but it's there if you want it for basic commands. Gamers, do you want an amazing gaming headphone that has insane voice quality? This is for you.
Trust me, discontinue buying the Razor and similar "gaming" headphones and drop that $349 you would on Beats for this Momentum 4 Wireless instead. You won't be disappointed.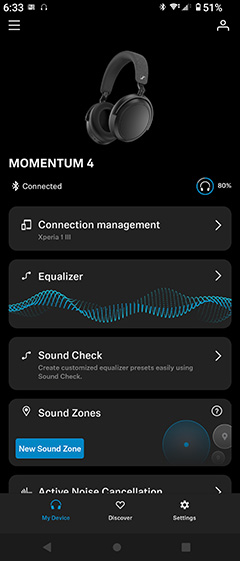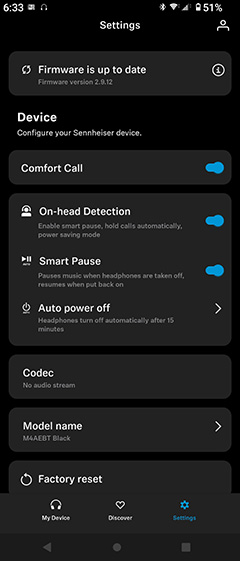 Smart Control App
Download the Sennheiser Smart Control app and connect to the Momentum 4 Wireless the instant you buy one, odds are good you'll need a firmware update on the headphones that you can only get through this phone app.
Also in the app are a slew of insane features and a lovely design UI on the app itself. Enjoy the EQ function the ability to toggle lift the cup to pause, and a few other customizable options inside the app.
The best feature, bar none, is the bass boost function. In my opinion, these Momentum 4 Wireless have the best bottom-end boost of any ANC headphones I've ever used and I applaud Sennheiser, a company not known for bass anything, for actually making one of their headphones play-friendly with bassy tracks.
In fact, nay. I am astounded they did it and did it to this level. Not only can you add a bass boost that is auto-controlled, like a one-tap switch. But you can also add more bass quantity via custom EQ sets if you wish.
The impressive thing is that these headphones retain excellent control even at +3dB with the booster active as well. This is stupendously rare in any headphones, let alone a Sennheiser. We need more of this.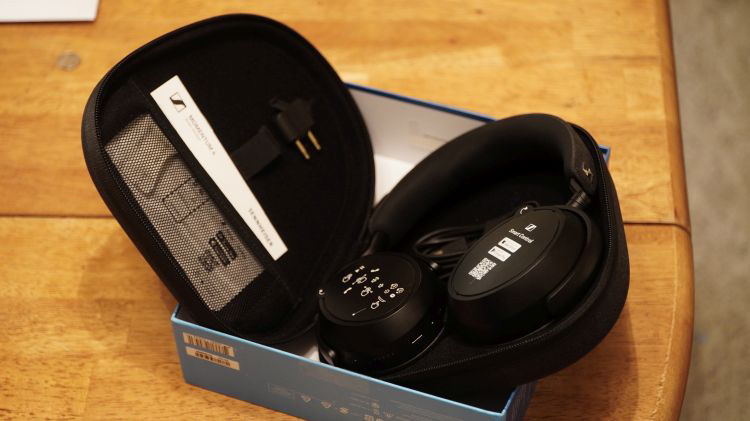 Packaging & Accessories
The Momentum 4 Wireless comes with a standard box and carrying case, which contains the headphones, the charging USB-C cable, a short 1.3m 3.5mm to 2.5mm headphone cable, and an airplane adapter. Pretty basic stuff and nothing to gawk over.
The inclusion of a nice thin cable is enjoyable, it is not thick and intrusive and it feels like a thin piece of spaghetti, but then again, that is kind of what I want with a headphone like this. The less bothersome, the better.
The hard case is hard and useful, not flimsy at all, and the mesh net is on the opposite side of the headphone bed section, which makes me happy to see. It lets me easily access things without having to fumble over the headphones.
Click on page 2 below for sound impressions and our select comparisons.