We review the Cleer Audio Alpha, which is a flagship wireless closed-back active noise-canceling headphone with aptX Adaptive decoding capability. It is priced at $199.99
Disclaimer: This sample unit was sent to us in exchange for our honest opinion. Headfonics is an independent website with no affiliate links or services. We thank the team at Cleer Audio for giving us this opportunity.
Click here to read more about Cleer Audio products that we have previously featured on Headfonics.
Note, that this article follows our latest scoring guidelines which you can read here.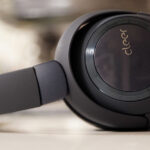 Cleer Audio Alpha
This is a fun headphone, and I love it. For $199, you'll be hard-pressed to find a closed small portable that has a powerful presentation and tone like this. Yes, it has some clarity issues on the bass with control, and also on the treble. But the midrange bloom is highly enjoyable, and the headphones themselves are just a fun experience with good sound fidelity from top to bottom.
Pros
Mid-forward and fun to listen to
Great engaging and musical presentation
Good ANC performance
Cons
Padding is a bit uncomfortable
Bass response is a bit overdriven
In today's wireless round-up, I will be reviewing the beautiful-looking Cleer's flagship Alpha Wireless ANC headphones.
This is my first experience with the Cleer brand, but as a website, we have covered some of their previous cheaper wireless ANC models such as the Flow II ANC as well as their flagship wired headphones, the NEXT.
Tech Highlights
Summary
The Cleer Alpha is primarily marketed as a wireless active noise-canceling closed-back dynamic driver headphone. In addition, it offers integrated Dirac VirtuoTM spatial audio capability which is designed to enhance the spatial capability of the performance.
It wirelessly connects via Bluetooth 5.1 with a multipoint capability with a marked range of up to 15m, (see page 2 for our results on that claim), and can handle decoding from SBC/AAC up to aptX Adaptive.
ANC
The Cleer Alpha offers a slew of fun and nice features, but first and foremost, the active noise-canceling prowess is rather formidable.
I do not believe that the prior gap between Bose and everything else is nearly so wide. In fact, I think these more obscure and lesser mainstream companies, like Cleer, are now proving to be a proper match for Bose's stellar ANC capabilities.
Years ago, Bose and Sony released models for $299 that didn't sound as nice as this Cleer Alpha does with its ANC potency. However, that applies to generalized usage.
Bose and Sony focused on low-end rumble (airplane cabin noise) first and foremost. If you were to take a walk with your Bose on your head, you'd hear plenty of the surrounding world even with your ANC maxed.
Such is not the case with the new era of ANC models from various solid companies out there. The 2020 Covid shutdown really caused a lot of companies to go back to the drawing board (as I am told), all in hopes of developing new and advanced tech.
Pushing the boundary is what I like to see most and what I reward the most in my articles: innovation, an attempt to do something new, or better overall.
Overall, the ANC capabilities on the Cleer Alpha are solid. Not the best I've heard lately, but still very nice and a "clear" upgrade to the ANC of yesteryear. I will go into the sound traits of the ANC later in this review and in more detail.
Ironless Driver™
Cleer has developed some proprietary tech for themselves. They say they've bypassed the need for a standard "soft-iron" single magnet driver. Instead, opting for a new motor design that layers 20 rare earth magnets inside the cups.
The aim of which is to reduce distortion as much as possible, while allowing for a highly efficient energy transfer between each piece of the interior.
This headphone is quite potent in heft and tonal presentation, so I wonder if that is what is causing the extremely weighted and impactful sound being created by the Ironless Driver technology.
This headphone sounds very different from the majority of headphones out there that use a dynamic driver set, it actually sounds a bit closer to Planar tone and heft, which is a great thing.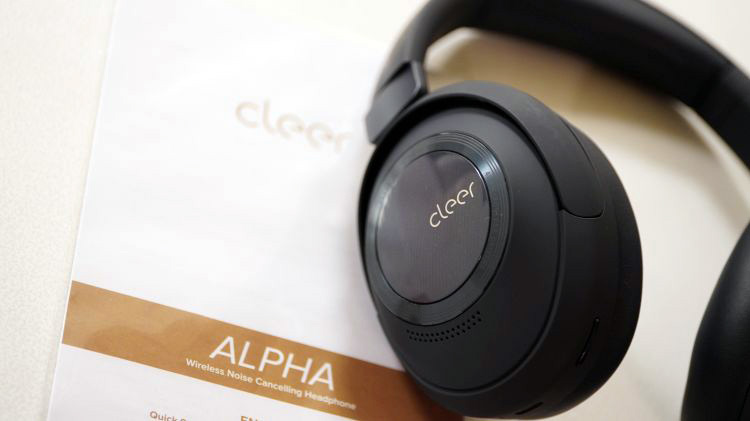 Design
The Cleer Alpha is a closed-back design that uses a very thick cut of aluminum framing and exterior plastics. This headphone feels like the very robust Ultrasone from the 2010 era, which I really like.
The headphones are very heavy for being so small. 330g is heavy for a short guy like this (but so am I).
Despite being fully circumaural, the headphone has a small profile. So too, the headband is well-designed and doesn't make me look like a satellite dish in orbit.
I prefer designs like this, they remind me of the older Phiaton MS400, which to this day, remains one of my favorite portables. But…rest in peace, my MS400! You will be forever missed as you lay broken in your grave, due to the mishandling of baggage while I was traveling some years ago.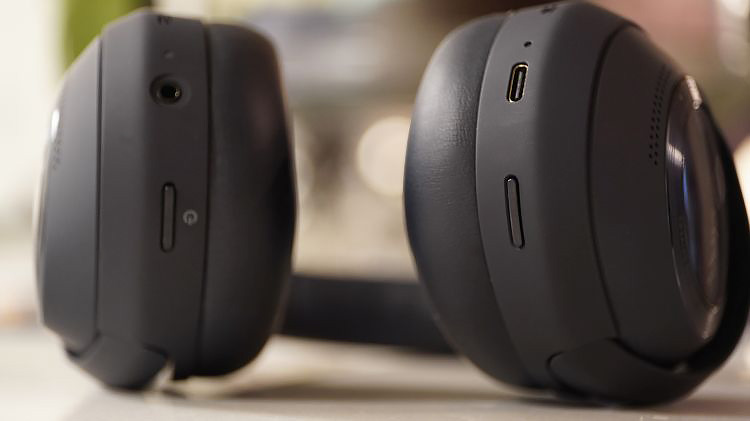 Comfort & Isolation
It's the padding material that is ruining this for me, on a subjective level. I'm like 1000 years old and my hair went extinct in my late 20s. I shave what little is there rock the Mr. Clean look.
But that is an issue for me with headphones that have some fit and comfort issues. If you have a head of hair, it is likely you won't even notice.
But those like me? I get a massive indent on the top of my head after wearing this headphone, which is not something that happened with the 1More SonoFlow or the Sennheiser Momentum 4 that I have also recently reviewed.
The earpads and the headband could be plusher. I do understand the clamp factor, which is needed for a high-tier ANC model, like this. So, I will not knock points for some moderate clamp because that is supposed to be there. However, the pads could be changed to a future revision or improved model in the future and I'd be very happy.
Passive Isolation
Due to being a fully closed-back design, the Alpha is quite good with passive isolation potential. Drop in the active isolation on top of that, and you have yourself a solid little headphone that can drown out your kids and soon-to-be ex-girlfriend who nags you endlessly about the little things.
While out on walks, the passive isolation quality is enough to mute car rumbles and large truck engine noise passing by. But, not enough to drown out the birds or any wind noise.
Passive qualities seem to mute low frequencies, but not so much the higher frequency side of the spectrum. I can still hear leaves blowing around on trees, and similar. But a large car passing by? I can hardly hear the engine. 80% of that is removed when the active noise cancelation is enabled, of course.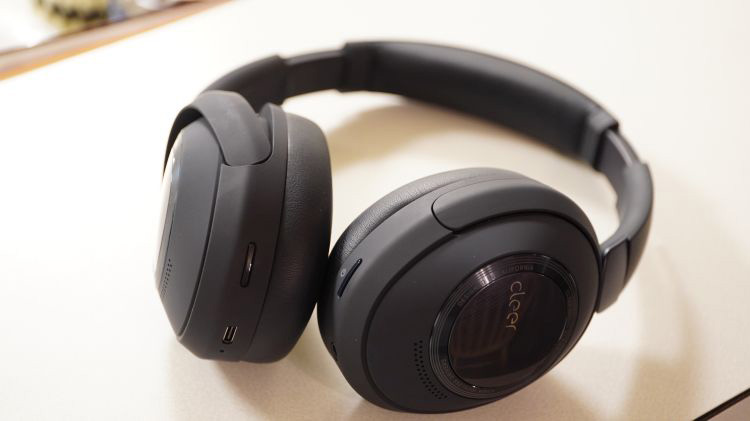 Battery Life
The Cleer website and manual say that the Alpha can grab up to 35 hours of playtime, but I have not been able to solicit more than the upper 20s with ANC on.
My tests seem to tap out at about 28 hours of continuous playback with a randomized slew of tracks that range from high-res to that awful Kazaa-era nefariously downloaded back in the early 2000s tracks we all have that are very low bit-rate. Without ANC on, the Cleer exceeded 35 hours and scored closer to 40 hours of continuous usage.
28 hours with ANC active is pretty solid though, considering that 10 minutes of charging = 4 hours of continued usage, which is fairly close to what I was able to squeeze out during testing. Wireless BT 5.1 and aptX are the future.
This is a far cry from the recent 1More SonoFlow, which offered more than double that battery life without ANC active, and about 40 hours with ANC active.
I think Cleer falls a bit behind, but seriously, 28 + hours with ANC? Do you really need more than that? We really do not. Battery life overall is still very nice on the Cleer, and likely more than you'll ever need for a single day at a time.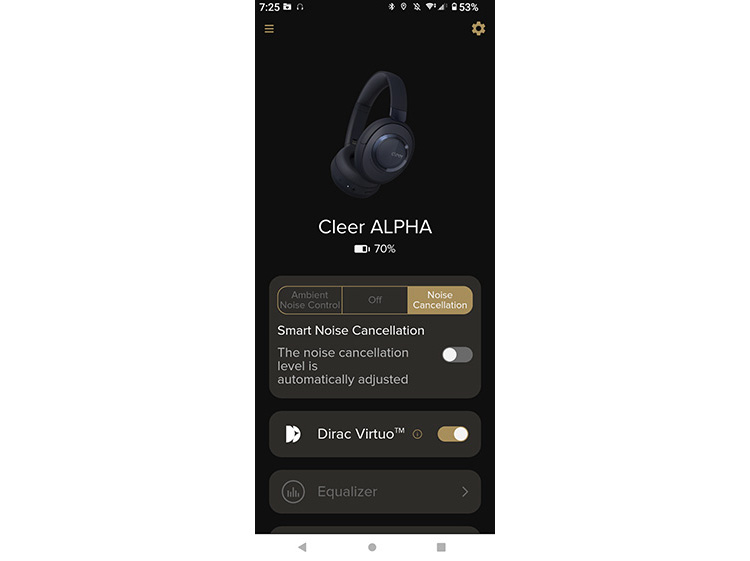 Cleer+ App
Download the Cleer+ software on your mobile device via Google Play or the Apple App store depending on what smartphone or DAP you own.
After that, you can connect through the app and activate a few perks inside of the app that make the quality of life and listening much more easy-going and less stressful. You'll be able to toggle the Ambient Mode to your own whims from inside the software.
What that means is that you can set a bar toggle to either enable a lot of exterior noise suppression, or you can open up the ANC a bit and allow for exterior noises to still come through.
You have options and the ability to customize how much ANC you prefer. You will also be able to update the headphones with new firmware and have access to some fun preset EQs.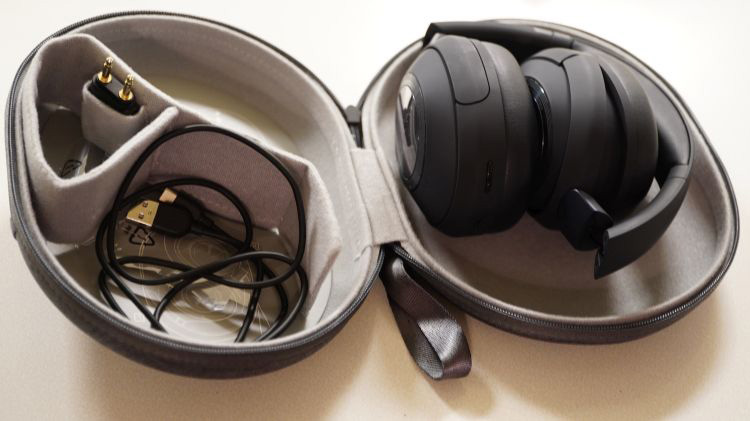 Packaging & Accessories
The Cleer box is quite standard, just cardboard and some logos. Inside, you get a nice hard zipper case, a 3.5mm portable length cable that I'll never use, and also a USB-C cable for charging needs.
Both the stock cable and the USB cable are generic and relatively low-end. I'd have liked to see a nicer blue color cable set included, just for giggles and to match the awesome color of this headphone.
Midnight purple and blue are my two favorite colors, so having a nice colored cable set to go along with this obscure color of the paint job would have been fun for me. Not important though. We all have a drawer of nonsense cables anyway, and audiophiles likely already have a nice cable set for themselves, if need be.
Click on page 2 below for sound impressions and select comparisons.