Today, we review the SHOZY AVA, which is a single dynamic driver true wireless system with Bluetooth 5.0 and up to aptX decoding capability. It is priced at $169.00.
Disclaimer: This sample was sent to us in exchange for our honest opinion. Headfonics is an independent website with no affiliate links or status. We thank Shozy for their support.
Click here to read more about SHOZY gear that we have previously covered on Headfonics.
Note, that this article follows our latest scoring guidelines which you can read here.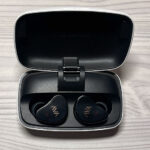 SHOZY AVA
With a price of $169, The SHOZY AVA is price competitive with a lot of contenders in this space. If the only consideration is sound quality, where ANC and IP ratings are not part of the consideration, I can easily recommend these monitors with their comfortable fit and fun tuning.
Performance & Features
7.8
Pros
Comfortable shell
Good bass response
Last year we had a couple of SHOZY IEMs in our pipeline. SHOZY is a strong brand known for its mid-fi and hi-fi offerings such as the Elsa and Magma. It came as a surprise that they're entering the TWS market with the AVA.
The AVA has a competitive pricing of $169.00, competing with big brands in this space. We have seen a pattern of TWS systems targeted for audiophiles with no ANC.
This is SHOZY's bullet in this space. Will it measure up to the other veteran players in the TWS space?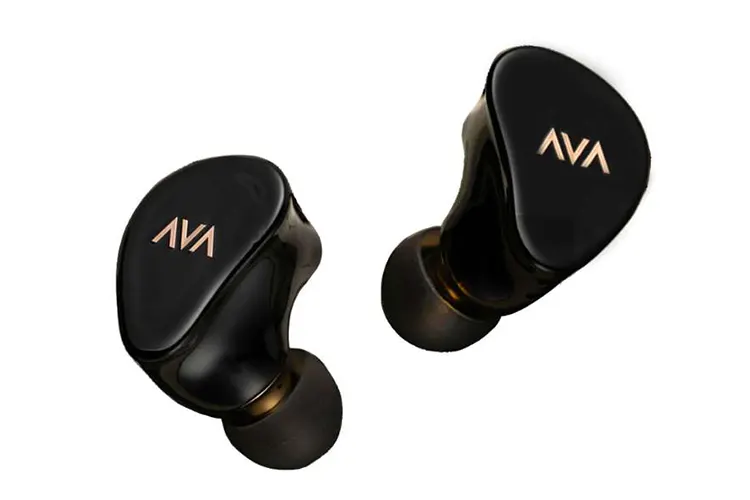 Tech Highlights
The SHOZY AVA is a straightforward no-fuzz TWS offering. It shies away from advanced features and focuses on the basics. Surprisingly, there is limited information about the driver specs but inside is a single dynamic driver.
It also contains a Qualcomm QCC3040 that supports Bluetooth 5.0 aptX and consistent high-quality streaming. Bluetooth 5.0 is a bit outdated but it does have high bitrate streaming and up to 2 Mbps of bandwidth.
The cradle has an interesting hinge design with a battery life of 55+ hours with a rated 6 hours of playback per charge.
Design
The SHOZY AVA has an ergonomically shaped shell, similar to wired UIEMs. The shell is of color black with a faceplate of "AVA" written on it. It also has an accented silver nozzle.
It's incredibly light and comfortable to wear. It is a bit small but it fits well in my use case. I have tried working out with these on and it never fell. When wearing them for a long, it feels seamless.
Controls
The faceplate houses a touchpad control. This interface is intuitive – similar to all other IEMs. My unit did not come with a manual but the controls are pretty intuitive. Single tap to play/pause, double tap right to skip, and left to reverse. Triple tap to activate voice control.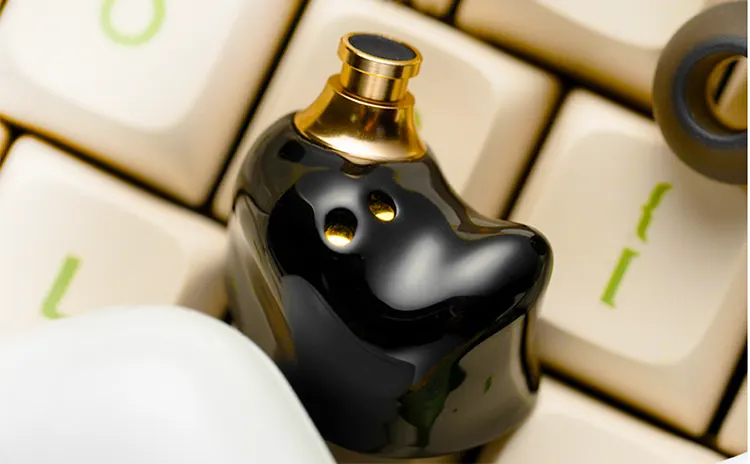 Comfort & Isolation
I have reviewed a lot of TWS and AVA is one of the most comfortable TWS that I have ever tried. Thanks to its ergonomic shell, it's easy to get a good fit. The monitors are perfectly sized to sit comfortably in the ears. When worn for long periods, it doesn't create hot spots around the ears.
Although these don't have ANC features, the stock tips do a fine job of blocking outside noise. It's similar to wired IEMS which relies on the seal of the tips.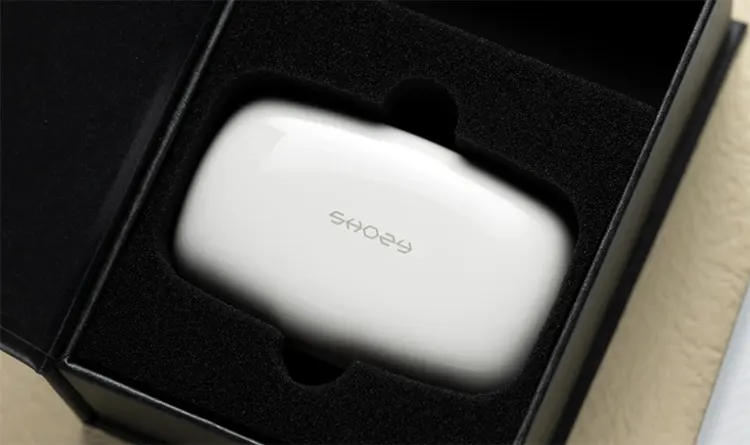 Cradle & Battery Life
The battery life is pretty average with 55+ hours and a rating of 6 hours of playback per charge.
The cradle surprisingly comes in glossy white, despite having the monitors themselves in glossy black color. It also has an unusual hinge that creates a bit of a lift on the top lid. I think it's an unnecessary feature but it does create a level of sophistication and uniqueness to the product.
The cradle's clasp is spot on, with a nice snap that adds a certain premium feel to it. The magnetic shut is designed well. Three LED lights can be found in the front part of the cradle, below the USB-C port. It flashes green depending on the current battery status.
Packaging & Accessories
It is no surprise that the AVA comes in a very familiar SHOZY box. It's the same box design as the other SHOZY items reviewed on this website. The insides are very minimal – cradle, monitors, 6 pairs of tips. Surprisingly, there was no instruction manual found inside.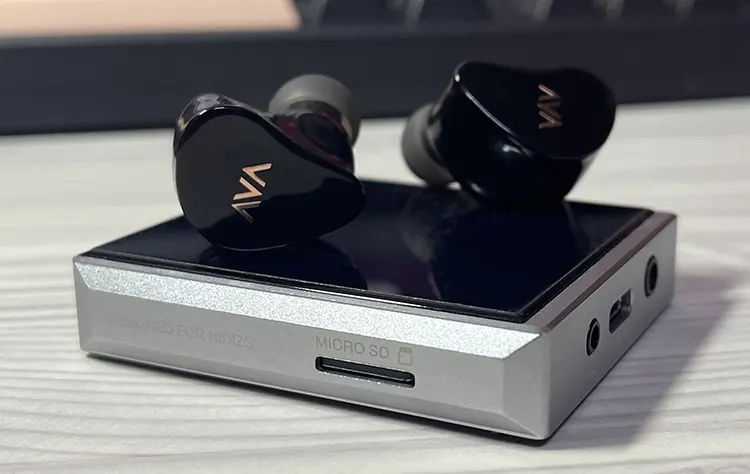 Sound Impressions
Bass
The AVA brings a punch to the bass. It has great depth and heft, one of the best that I have heard in a TWS. This surely makes a good gym companion with its boomy enjoyable bass.
The quality and detail on the low-end give a good deep thump, with a good fast attack and decay. The sub-bass depth is just right and the mid-bass has a good, rounded body.
Mids
Although the bass is prominent with these monitors, it doesn't compromise its midrange quality. It's not a very technical set of pair. What's good is that it has a natural tuning to it, with a thicker presentation of both instrumentals and vocals. It also has impressive detail retrieval.
Although, a bit of bass bleed can be felt in the lower midrange which does mask some details. It isn't a deal breaker though since it gives a great bass response.
Midrange region is having neither a forward nor backward presentation. It sits in the middle, with a good balance with the bass amount. It is tinted to the warm side, which makes it easy to listen to.
Treble
Treble is a bit relaxed on this pair. There are some weaknesses in this area, such as an unevenness in the lower to higher treble range. There is more emphasis on the higher treble as cymbals appear to be a bit splashy but feel hollow.
Despite these flaws, it surprisingly still works with the overall tuning of the monitor. It may not be the focus but glad that it works.
Staging
The soundstage on the AVA was impressive. It shows a good balance of width and depth, staying true to the dynamics of sound. Imaging on these monitors is also implemented well. Throughout listening, it was consistently unidirectional with good layer separations.
Wireless Performance
As usual, I try TWS devices during both my walking and biking commutes. The AVA had no problems connecting with my iPhone 12 pro max. The connectivity was seamless. Once connected, there were no noticeable drops and lags in my use case which is connected with a device near my body.
The AVA has 5.0 BT technology. Although not the latest on the market, it performed well with no noticeable latency.

Select Comparisons
Apple AirPods Pro (1st Gen)
Technical
The SHOZY AVA has a better total playback total of 55 hours compared to Apple AirPods 25 hours. Both offer Bluetooth 5.0 capability, which is a little outdated compared to the latest Bluetooth 5.2 technology.
There is not much information about either TWS driver but tech experts say both have a custom dynamic driver.
Design
The Apple AirPods Pro has an iconic Apple white packaging with both the buds and case having a white finish. The SHOZY has the same white glossy case and black ergonomic shell.
The shape of the buds is also very different with the apple having a head with a stem setup while the AVA has a single bud setup.
Performance
In terms of sound quality, the AVA is superior compared to the AirPods Pro.
The bass on the 2 monitors are comparable in quantity but the AVA delivers a fuller thump and a deeper punch. It also has a more well-bodied bass compared to the AirPods Pro hollow presentation
The AirPods Pro has a more forward midrange but the AVA sounds a lot clearer and more accurate in terms of both vocal and instrumental presentation. The AirPod Pro's vocals sounded nasal at times, compared to AVA's more natural and full vocal presentations.
Treble is ok with both earbuds but the AVA does deliver a better overall comprehensive sound whereas the AirPods Pro tends to be dark at times.
The soundstage is a lot wider on the AVA with improved imaging and more evident separation and layering. The AirPods Pro felt cramped and a bit mono direction at times.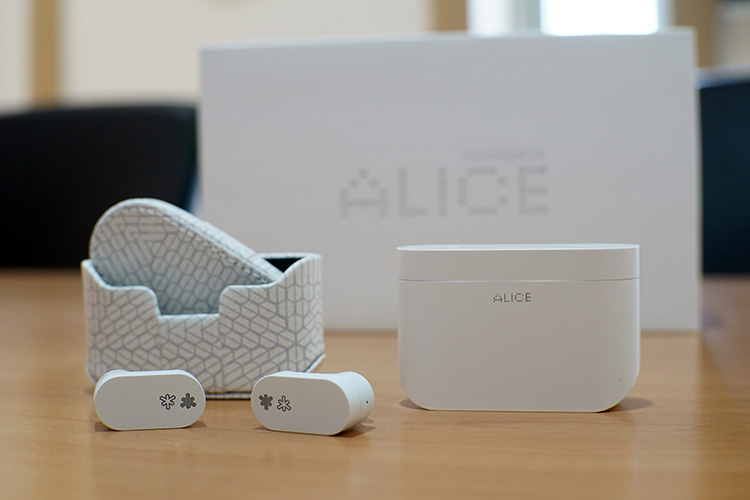 Moondrop Alice
$189.99
Technical
The MOONDROP Alice has a far longer single charge listening time of 8 + 40 hours compared to AVA's 6 + 49 hours. Both have up-to-date Qualcomm chips with the Alice having the QCC515 and the AVA QCC3040. The Alice is equipped with Bluetooth 5.2 while the SHOZY has Bluetooth 5.0 inside.
Both Alice and AVA have a single dynamic driver. There is no information about the SHOZY driver, but the Alice has a 10mm ULT Ultra Linear Dynamic Drive with a DLC Diamond-like composite diaphragm.
Design
Both monitors carry a similar design – a case and buds with a single-bud design. Both have a simple and white case.
The main difference between the two is their footprint. The AVA has a smaller cradle with a glossy finish while the Alice has a matte finish. The buds themselves are also different. The Alice has a pill-like monitor while the AVA has an ergonomic shell design.
Performance
The difference is bass quality and quantity are night and day between these two. The AVA has deeper and more impactful bass compared to Alice. The Alice lacks a comparative heavy sub-bass delivery.
The midrange tuning of Alice is more forward sounding. Alice's midrange is more shouty although with clear and crisp vocals. However, the AVA performs better with more clarity and coherence. Alice at times has a bit of grunge or grain to it.
The midrange is more forward on the Moondrop Alice. However, the AVA presents more overall clarity, and at times, Alice sounds grainier. Both monitors are on the warm side, with a velvety and lush midrange.
While both have treble that extends well, AVA's treble tuning is more forward than that of Alice. The cymbals have more punch compared to the Alice where it blends more in the background.
The soundstage is average on both monitors. Although, the AVA is a notch higher in this department. When comparing the two side by side, Alice felt comparatively more intimate compared to AVA's soundstage though better for imaging.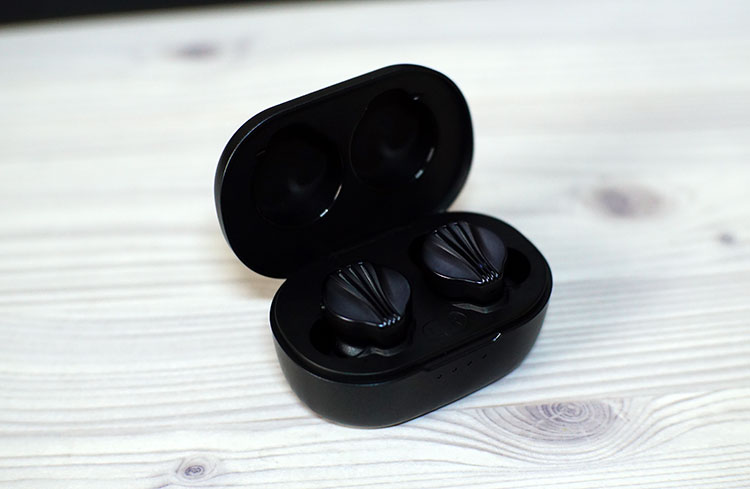 FiiO FW5
$149.99
Technical
The FiiO FW5 has a far shorter listening time of 7 + 21 hours compared to AVA's 6 + 49 hours. Both have up-to-date Qualcomm chips with the FW5 having the QCC5141 and the AVA QCC3040. The FW5 is equipped with Bluetooth 5.2 while the AVA has Bluetooth 5.0 inside.
Unlike the SHOZY single dynamic driver configuration, FiiO FW5 has a hybrid design with a 10mm dynamic driver and 2 BA Knowles.
Design
First off, the cradle of the FW5 comes in a matte bluish-black color as opposed to glossy white color. Inside, the buds of the FW5 are consistent with a bluish-black shell while the SHOZY AVA has an ergonomic glossy black shell.
The FW5's monitors are also significantly bigger, which at times, makes the fit difficult. The AVA has an ergonomically shaped shell, which means the fit is very similar to wired IEMS.
Performance
The two TWS have very different sound signatures. For one, the AVA has more warmth and bass presence compared to the FW5. It is a lot more bottom-heavy while the FW5 is top-heavy. Boomy bass is to be expected.
The FW5 pales in comparison in this aspect. Although you can roughly hear the mid-bass presence in the FW5 it is the AVA that has more punch with better sub-bass and mid-bass quality and quantity.
With the midrange, both have good clarity and natural presentation. The main difference is that the FiiO FW5 has a more forward tuning and thinner timbre compared to the AVA which has placed the midrange a bit to the back with a thicker timbre.
The treble on the FW5 has a lot more presence. I would have to say that the FW5 is bright sounding while the SHOZY is a bit reserved in this aspect. Between the two, I prefer the AVA's more conservative tuning.
When it comes to soundstage and imaging, both perform relatively well within their price point. Both are sub $200 TWS monitors where you can't expect an expensive soundstage. They both do have a good sense of width, height, and depth.
The AVA is more well-balanced with more depth and maintains an average soundstage while the FW5 has a wider soundstage but taller highs. Imaging is also spot on without sounding monodirectional across different genres.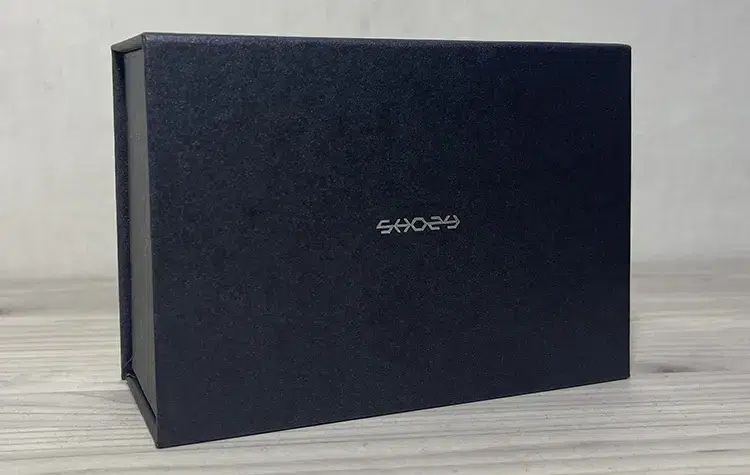 Our Verdict
The SHOZY AVA is the company's first attempt in the TWS space. Although these are not the most technical sounding, it's a ton of fun to listen to. I can confidently tell that these are made for both audiophiles and non-audiophiles alike with their signature tuning that surely will upgrade the listening experience.
With a price of $169, it is price competitive with a lot of contenders in this space. If the only consideration is sound quality, where ANC and IP ratings are not part of the considerations, I can easily recommend these monitors with their comfortable fit and fun tuning.
But if ANC and IP Ratings are important features, you can look elsewhere for getting a better value in terms of all-around features.
SHOZY AVA Technical Specifications
Frequency Response: 20Hz 20kHz
Impedance: 15ohm
Sensitivity: 100dB
THD: <0.08% @1kHz
Bluetooth solution: Qualcomm QCC3040
Bluetooth version: 5.0
Codecs Support: aptX, AAC, SBC
Battery Capacity: 80mh
Charging Time: 1.8hrs
Connector: Type-C
Dimensions: 75*45*30mm