We review the FiiO X3, which is the company's debut portable digital audio player with 8Gb of memory and up to 192K/24BIT decoding. It is now discontinued.
Disclaimer: This was sent to us as a sample for our honest opinion. Headfonics is an independent website with no affiliate links or services. We thank FiiO for its support.
You can click here to learn more about the FiiO gear we have previously highlighted on Headfonics.
Note, that this post follows our latest scoring guidelines which you can read here.
FiiO X3
The X3 is a brave new world for FiiO and to be honest it ticks a lot of boxes for what an audiophile DAP on a budget might sound and look like for many.
Darn… FiiO just went and did it and finally gave us the DAP they have been talking about since late 2011 – the FiiO X3.
Feted for their quality-to-price ratio and bang-for-buck kings they have kind of stepped into the unknown or a radically different and more competitive market of DAPs for the X3 and offered us a high-quality DAP for the price point of $200.
I would have to say this is going to be a qualified rather than unqualified success. It is going to sell well for sure. The FiiO fan is almost 'Apple-esque' in their dedication and those who want a good quality DAP and are on a budget will take a second look at the X3 I have no doubt.
Background
About 5 years ago the DAP market was safe, iPod was still the click or touch wheel and River, etc were emulating the DAP model to a degree of success in the wake of the initial iPod trail-blazing formula.
Nowadays everyone is in on the act and a FLAC player with button control can be bought for as little as $30 locally or imported from China. Yet the DAP market is not just a straight shootout between FiiO, iRiver, Cowon, and Colorfly.
Just because the FiiO does good quality high bit rate playback of music at almost a third of the price of an AK100 doesn't automatically give it first place. The iPods are still lingering around and in this era of gadget convergence and 'USB on the go' so also many mobile phone manufacturers and at cutthroat rates also.
What the general gadget market is looking, for now, is convenience and convergence so it could be argued that FiiO's X3 could almost be deemed irrelevant in 2013 to many who have the latest iPhone and Android variation and say a CLAS Solo or Fostex HP-P1 given its lack of wifi, apps, Bluetooth and huge touchscreen.
Why Now?
OK so why release the X3 now and in its current format? Well, you have to be living under a rock for the last 18 months not to notice some of the old timers and new players are once again trying to create a new pitch for the pure DAP player at a new and rather higher price point.
The AK100, Colorfly C4, and the iBasso DX100 all have massive selling points for the audiophile purist and old-school fans that created the gap for FiiO to do what they do best.
People now want to know the DAC chip inside a DAP, the demand for more than just a headphone jack is deafening and the eagle-eye readers don't want MP3 as the standard bearer for storing music on the go, they want high bit rate and they want oodles of space to store it and play it back in the best possible way.
Call it a comeback if you like for the humble DAP over the swiss army knife PMP and mobile phone convergence devices. But these cost an arm and a leg starting at about $600 minimum, unfair say many for the pursuit of good quality sound on a budget, and that is where the X3 fits right in and starts to become relevant.
Packaging & Accessories
Oddly enough for such a critical release, the packaging is much the same as the E17 or the E12: that small white and red box with the picture and what it is and the same neatly folded internal packaging with a USB cable, coaxial adaptor, silicon case, screen protectors and a small but useful manual.
Perhaps to keep costs low, perhaps to stay on brand and identity I just hoped for something a bit more special but it's only a fleeting thought since in reality, the box will gather dust thereafter.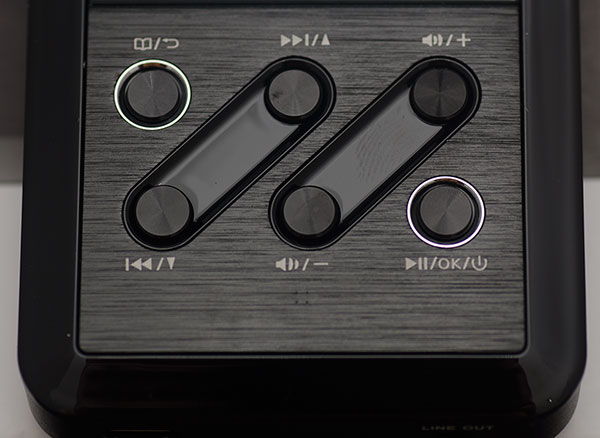 Design
The X3 itself is very much FiiO build quality and finish with that familiar edge and design in the form factor but this time with a more piano black glossy feel than the previous brush metal look of their amps.
The brushed metal finish is reserved for the back plate and the front manual metal panel with a hard plastic bezel and screen panel. For $200 it's a good finish, plenty out there slightly cheaper but not as well cut or cut 100% from hard plastics.
It feels sturdy and not something you are going to forget about in a hurry in your pocket. The dimensions are more reminiscent of the old classic Sony Walkman W600 or W900 Candybar mobile phones crossed with a slight nod to the iRiver iAudio 7 series media players with the recessed swooped diagonal contours housing the buttons and a stop/exit on the left and play and power on the right.
The minimal button on top is a move away from the 'button-on-side' approach you find nowadays with touchscreen DAPs and cellphones. Hand-to-eye coordination on what you see and what your pressing is always better on top for me than to the side for non-touchscreen electronics.
The screen resolution is 240×320 which is adequate for browsing and selecting music but since thankfully it is not a PMP or touch-based we need not worry too much about picture quality. It gets the job done and that is all we can say about that.
Software & Features
(Note I am reviewing firmware 1.23 released July 2013)
The only UI to date FiiO has done before is the E17/E7 basic interface and it is done reasonably well but creating a DAP UI and accompanying navigation toolset is a whole different ball game.
DAP UI is a game changer for Apple with the click wheel and a kiss of death for some like Cowon on some of their models so I am pleased to say that FiiO kept everything pretty simple much like the Hifiman HM series DAP menu system only a bit snappier and a bit more in-depth with a nice evolution of the E17/7 options into a much more comprehensive UI map.
A simple UI will always win over an ambitious and complicated UI. The faster you learn a UI the more likely you are to come back to it again and again for regular everyday use and the quicker you can set it up for your preferred playing options.
I included a pretty comprehensive YouTube video on the UI to show you every in and out you can do with the FiiO X3 UI and menu system as well as the button configuration and what you can do with each button. Thanks to Boweness006 for such an in-depth video and for saving me page upon page of explanation.
Controls
Those who have used the HIFIMAN or old-style wheel-based iPod classic or even the Rockbox OS will be quite comfortable with the menu-based UI.
Lack of touch demands a simple control interface and most of the buttons have a dual or even triple function such as the bottom right for play/ok and power or volume up and down or menu up and down.
It won't take that long to get to grips with the button functions in all honesty. The physical buttons are quite sturdy also and I don't see them falling off or losing any pressure sensitivity.
Memory
The X3 has an internal memory of 8Gb which seems a bit tight but to the left side, it has an open MicroSD card slot that can take up to 64 GB on FAT32 format much like the AK100 though sadly lacking dual slots for 128GB potential which would have been killer.
This does allow a pretty decent library to build up easily and FiiO takes care of that by allowing you to browse via a generic file browser that allows you to drill down from folder to file or a tag reader library.
Media Management
The tag reading library, (category) is pretty accurate and doesn't miss a file but does in fact miss a critical step in browsing in the genre category by going genre – file which is very hard to navigate as I get a huge list of files to work through in alphabetical order.
That is not going to work if all my genre is the same. Next time I would like to go from the genre, then artist, then album, and then file – a much more logical UI structure there for song choosing.
In the end, I stuck with "browse Files" as my main library explorer since I am pretty anal about tagging anyway and I knew everything would be easily found.
The X3 will work with most major library managers such as Media Monkey, Windows own Media Player, and Winamp to name a few, and will play just about any file type you throw at it including:
APE (Fast):192K/24B;
APE (Normal):96K/24B;
APE (High):96K/24B;
FLAC:192K/24B;
WAV:192K/24B;
WMA 9.1 LOSSLESS:96K/24B;
Apple Lossless:192K/24B;
MP2, MP3, AAC, ALAC, WMA, and OGG
Considering the price point that is a pretty impressive variety of file types and saves me a lot of bother converting into one standard format or another. Mind you most of my stuff is in FLAC now so playback at 192/24 for $200 is where this little player steals a march on many other players around the same price point.
EQ
I really did enjoy the little mini EQ menu options of the treble and bass but I wish it was in the same spot as the gain and balance under player settings. Perhaps even its own sub-menu would be perfect.
This the E17 thinking evolved for the X3 and they work really nicely. Not Cowon levels of EQ options but noticeable. The gain is basically low and high, low is just fine, particularly for IEMs and other sensitive cans. The balance option is another offshoot from the E17/07k and for some that I know offhand this is going to be music to their (left or right) ears.
Rated at around 10 hours, the battery life of the X3 is fair given the myriad of high-end bit rate files you can play on it, and has the edge over its nearest competitor the Hifiman 601/2 by one to two hours.
My initial tests confirmed around 9-11 hours with a mix of the sampled files on the internal memory including ape, WAV, FLAC, and mp3.
Click on page 2 below for sound impressions and our selected comparisons.