This is not your typical reference portable player review. To be honest, my idea of portable personal audio at this point is a smartphone with decent audio and an in-ear-monitor; lugging around two devices strapped together just isn't my thing. Although I've been with portable audio from cassettes to microSDHCs, all I knew about serious portable players was that battery tech was considerably behind the systems they are meant to support.
In any case, given my perspective on the matter I decided to write about the DX100 in terms of my reservations to high-end portable players: Would a battery outlast a transport? Can't people wait until they get home? But just because I'd spend my money elsewhere doesn't mean I won't be excited to use it as I would if I actually bought it, for free.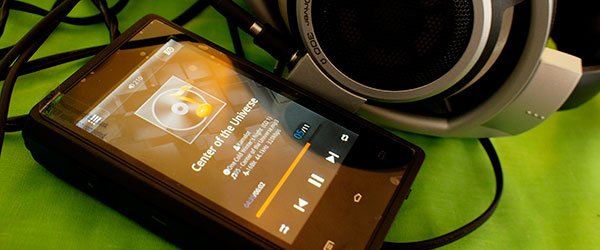 As a stand-alone Reference music player
After an easy drag-drop-wait operation loading it with my music, navigating was easy thanks to the touchscreen and Android, which also made sure it didn't look like a throwback to a 1990s Nintendo. After one song with my HD600 the first thought in my head was, "wow, no need for an amp!" It wasn't simply that it can get to ear-splitting SPL – there was a lot of verve and energy to the music. I was supposed to work but I ended up listening to one song after another, and before I knew it I've listened to over ten songs. It was detailed but presented smoothly and without bloat – cymbals were extended but decayed smoothly and bass notes were perceptively "fast" without sounding hollow.
Contrary to popular belief, metal isn't simply enjoyed with big speakers in a poster-lined bedroom. Many (older) people get confused by the music itself and some systems can get confused with everything that's going on. Some may not put the vocals and other instruments forward enough, but admittedly the recording doesn't put the drums far back enough either. The DX100 and HD600 don't have these issues with it – as with the previous tracks the music just flowed, so much even Nightwish's 10th Man Down has a "groove" to it that analytical systems can't bring out. On Epica's Facade of Reality, the percussion and amped guitars had a lot of "bite," the main vocals forward, while the strings and choir blending well and while it may not be "holographic" there were enough positional cues. I didn't even feel that it needed crossfeed that much, and also reminds me well of the Cayin CD100i, with less HF extension and aggressiveness to the guitars.
I got to jot down some impressions using this with other open-back reference headphones as well, and in terms of driving power, imaging and musical presentation, it had no issues with the HD650, HD800 and SRH-1840, all at around volume level 195 to 200, hi-gain, in a public setting. While not struggling to drive the Q701 however, all the notes were along the same point in the Z-axis just ahead of my eyeballs – outside my head but no perception of depth between the instruments. In fairness to the AKG the earpads were oddly shaped thanks to the headphone stand. The 600ohm T1 on the other hand needed around level 215 but as expected the sound is very smooth; sadly the PS1000 couldn't isolate enough in a meet environment.
As a transportable player
I don't have any serious IEMs but I got to try it with a couple of serious portable headphones. I sat on AVDI's HT couch for over an hour on the Focal Spirit Ones , and comparing it to my Galaxy S3 there was an immediate difference. Initially the treble (or the apparent lack thereof) may be tailored for smartphones and against fatigue, the DX100 opened it up enough that "smooth" is a lot more apt than "rolled off" to describe the sound. It's hard to tell for sure why without objective measurements but perhaps it isn't all in the Focals, and possibly the smartphone.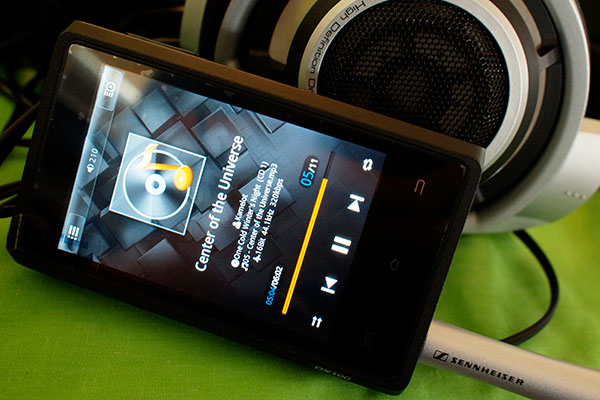 Listening to the AKG K550 was completely different. Tonally the S3 and DX100 weren't anywhere near night and day, but in every other point the K550 shows how much better a purposeful player can be. Where the S3 with Neutron Music Player was, at best, good enough, the DX100 was just plain good – very musical with good speed if a bit lacking in bass impact and a touch too much treble, the kind of system I can take on a trip and not miss my main system. Despite Egghead not being like a home theater showroom, just headphones on stands and no plush seats, I listened to track after track until my foot told me to check the time – the DX100's clock then told me I've spent almost two hours on my feet listening to the same cans.
As a Reference source
I also used the DX100 through the lineout with my Corda Cantate.2 (which is usually used via USB with my iPad2) and my Swan D1080MkII 08. It's affected by the volume control, just not the gain switch, and I kept it around 225. I began writing this review with the latter and the DX100 playing my music, and it's no surprise that it's smoother than my laptop and a D-Zero I was able to borrow.
With the Cantate.2 however there was one bit of a surprise. This is a fairly transparent amp that revealed differences between the CDPs and DACs I've tried so far, and would have been very similar to the DX100's own amp except for adding a touch of warmth. I can't be sure but this might be proof of why Meier shifted to digital pots due to claimed coloration (though minimal) from the analog Alps, or my cheap interconnects, but it was definitely adding warmth to it. Running more Class A bias and producing more power didn't give the Cantate a clear advantage on the HD600 since the DX100 wasn't incapable of doing so.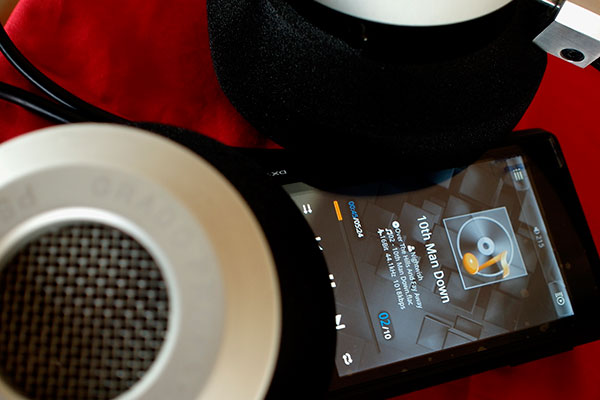 But how does it stack up against some CDPlayers? Generally the differences weren't a simple matter of capabilities but variances in what designers preferred. The Rega Planet (with Ixos IC's) was most definitely warmer, but aside from more extension on the low frequencies, the presentation was fast with a fair bit of bite on the attack. The Cambridge 651C on the other hand was close to the DX100's tone, with louder percussion, however it was also positioning them ahead of the other instruments – even my car's system doesn't do that thanks to time alignment processing.
One thing the DX100 had on both, aside from 64gb of internal storage and a headphone amp, was less dependence on Crossfeed. Where the soundstage on the others – the 651C more than the Apollo – had the typical headphone L-C-R issue, switching on the Meier Crossfeed with the DX100 just sounds like tinkering and nitpicking; it is after all designed with headphones in mind more than speakers.
Speaking of Class A bias…
If there was anything I didn't like, it was the tradeoffs due to current technology. For one, while the battery's overall life wasn't that bad for my needs, it was a bit weird – once I just shut the screen, and after three hours it only consumed 1%. Another time I removed the headphone plug, switched off the screen, and the battery was dead within five hours.
Another is the heat. At home with the DX100 sitting on its side on an armrest it was just warm, but when I stuffed it in my bag with the screen switched off waiting for my turn at other headphones, it felt hotter than my quad-core notebook computer. As it is I'd rather use it as transportable so it can breathe.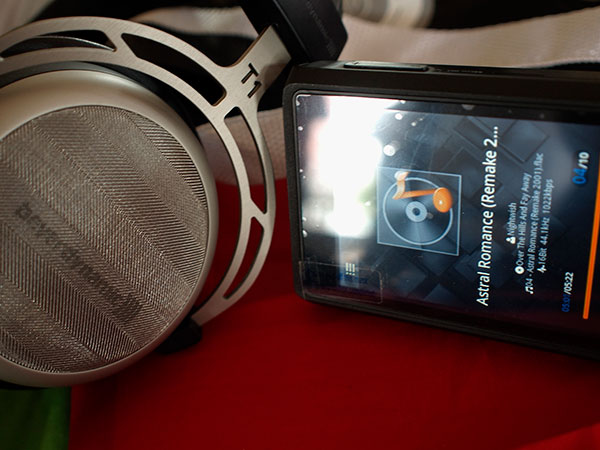 As a further note, I couldn't get my albums' artworks to show up in its music player app, however I assume that this being Android there should be some way to make it happen that isn't too complicated. A minor gripe for me regarding this review that I didn't really try to fix it, but if I owned this I'd definitely tinker with it until it works – then probably rant when it doesn't. To its credit though I've never found auditioning headphones to be this convenient yet satisfying – I've taken the train to a mall, and went around several tables at meets, without hauling my desktop amp, and yet the DX100 was able to drive everything I threw at it.
Would I buy one now?
Probably not yet. Don't get me wrong, I was only acting casually when I handed it back and I actually miss it; I like its sound over the 651C; and its battery might come in handy during a blackout (just like an iPod and a CMOY I had before). For what it is the DX100 is a fantastic player whose sound I prefer well over the CDPs I tried, but the thing is as much as the cost of a CDPlayer and an amp would make its cost seem less intimidating, I am not planning to let go of my tablet nor amplifier. Another reason is because I'm still holding out for a desktop music server – essentially a CDPlayer but its own HDD or other connectivity/storage options in place of a transport. This isn't about absolute SQ though, but rather more about what I actually need in terms of my listening habits – I don't really need the benefits of a battery nor deal with its maintenance. However, if anyone I know with deep enough pockets ever dives this deep into audio (or switching from a home system to a portable one, for whatever reason), I won't hesitate to recommend the DX100. And yes as I was editing this I was kind of missing the DX100, so then again, who knows – maybe I'll have a big enough windfall sometime and I can afford to spend some of it on this.
In a way the DX100 was like the kind of fling that can alter my perceptions and goals – it was short, it was sweet, it went away because of my non-committal attitude to it and once back to what was planned and structured I realize I miss it. Well, at least it can't ruin my life, right?
Technical Specs
Main Features:
– Android2.3 OS With Custom Audio Player Software
– Support up to 24Bit/192kHz Bit for Bit Decoding
– ES9018 32Bit DAC Chip
– Built-in +/-8.5V Headphone AMP
– 3.75″ Capacitive Touch Screen
– Up to 24Bit/192 Optical/Mini Coaxial Output
– 3.5mm Headphone Output, 6.3mm Headphone Output, and Line Out
– 256-Steps Digital Volume Control
– 64G Onboard Flash
– Support up to 32G External MicroSD
– 3-Setting Gain Switch
– SRC Function
– Slow Roll-off/ Sharp Roll-off Digital Filter
– Support Wifi, Bluetooth
– Solid Case Made of Magnesium Alloy and Aluminum Alloy
– Audio Formats Supported: APE, FLAC, WAV, WMA, AAC, ALAC, OGG, MP3
– Come With Micro USB Cable, Coaxial Cable, and AC Adapter
– One Year Warranty and Ten Years Free Labour
Specification:
Power Source:Built-in 2000mAh 8.4V Li-polymer Battery pack or external power supply
Frequency Response: 20Hz-20KHz +0.1/-0.25dB
Signal to Noise Ratio:-116dB
Crosstalk: 1KHz0dB > -100dB, 20KHz odB = -82dB
THD+N: 0.002%
IMD: 0.0034%
Gain and Output Power: 0dB=2V rms (125mW/32ohm)
+3dB = 2.8V rms (245mW/32ohm)
+8.5dB = 5.0V rms (83mW/300ohm)
Battery Life: 72Hours (stand-by) or 7Hours (play music)
Battery Charge Time: 4Hours
External Power supply: 12V DC
Recommended Headphone Impedance: 8~600Ω
Dimension: 2.83W x 4.65L x 0.93H (inch)
71.8W x 118L x 27.5H (mm)
Weight: 265g or 9.3oz
Review Notes
Sources : DX100, iPad2+CCK (USB Audio)*, Rega Apollo and Cambridge 651C CD Players, Samsung Galaxy S3, Ibasso D-Zero
Amplifier : Meier Corda Cantate.2*
Headphones : Sennheiser HD600*, AKG K550 and Q701, Focal Spirit One
Speakers : Swan D1080MkII 08* Active speakers
Cables used: Generic USB and OTG cables, Sese's custom Sennheiser cable, Audiopro 3.5mm to RCA interconnects
Test Tracks :
1. Norah Jones, Deceptively Yours, from The Peter Malick Group's Chance and Circumstance
2. Jane Monheit, Taking a Chance on Love, from Taking a Chance on Love
3. Mighty Mo Rogers, The Boy Who Stole the Blues, from Focal-JMLab 6
4. Dream Theater, Metropolis Pt. I, from Images and Words
5. Kamelot, Center of the Universe, from Epica
6. Nightwish, Fantasmic, from Wishmaster
7. Epica, Facade of Reality, from The Phantom Agony
8. ashdjas
9. asddf
Note : these were tracks used for comparisons but others will be mentioned throughout the review
For more infor and buying please visit: www.ibasso.com