The Shanling MW200 is a detachable Bluetooth receiver with a neck brace design capable of aptX HD and LDAC decoding. It is priced at $119.
Disclaimer: The Shanling MW200 sent to us is a sample in exchange for our honest opinion. We thank the team at Shanling for giving us this opportunity.
To read more about Shanling products we have reviewed on Headfonics click here.
Note, this review follows our new scoring guidelines for 2020 which you can read up on here.
Shanling MW200
The Shanling MW200 is a detachable Bluetooth receiver with a neck brace design capable of aptX HD and LDAC decoding. It is priced at $119.
Not too long ago we covered Shanling's ME700 and M6 Pro audio player, and they asked us if we want to check out their latest Bluetooth cable as well.
The new MW200 is priced at $119 and packs in an interesting set of features including IPX4, NFC connection, OTA firmware upgrade, their signature curved glass panels, and 8*18 strands of high purity OFC cable cores.
If you want to turn your higher-end IEMs into a wireless experience and enjoy longer playback time and quality than normal TWS, this is easily one of the smarter picks of the holiday season!
Tech Inside
As usual, when it comes to a receiver-type product our main concern will be its decoding power and output. The MW200 uses an AKM AK4377A DAC chipset with 4 digital filters implemented. This is a fairly mature solution used in a lot of portable decoding setups.
If you are an Android phone junky you may well remember its presence and fame for high output power. Keeping up to date the MW200 supports BT5.0, powered by a Qualcomm CSR8675 Bluetooth chipset which supports up to 24BIT/96kHz rates.
The MW200 also supports other high bitrate codecs including LDAC and aptX HD. The Qualcomm Bluetooth solution to me is a safe bet, promising good connection reliability and power management.
Another nice feature included with the MW200 is the OTA firmware update support which allows you to remotely update the firmware using the Shanling App, future-proof. The NFC function also allows you to connect to the MW200 instantly if you allow NFC touch activation on your phone.
The MW200 supports quick charge with Shanling claiming it gives you around 2 hours of phone call power from a 10 mins charge.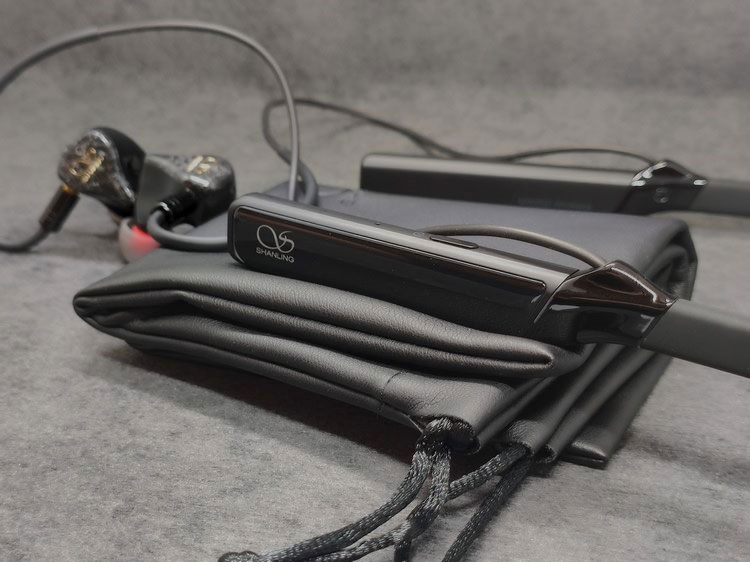 Design
Originally I did not think there is much you can do with the design on a receiver cable like this. The MW200 proves me wrong as Shanling has implemented their signature curvy glass panel touch-with good attention to detail in the material chosen.
The neckband is quite broad while the MW200 weighs not much, no stress wearing for a few hours. The medical-grade silicone material is sweat resistant and feels quite premium.
The bendable part is very flexible, you can bend it all around and it will still bounce back to the original position. The cables are rugged, looking fairly simple but feel strong in the hand. There are ear guides that add to the aesthetics while making the MW200 more comfortable to wear and also more durable.
The charging port is hidden nicely so also the volume control buttons on the inner side. Overall, this is a very classy design for this product category.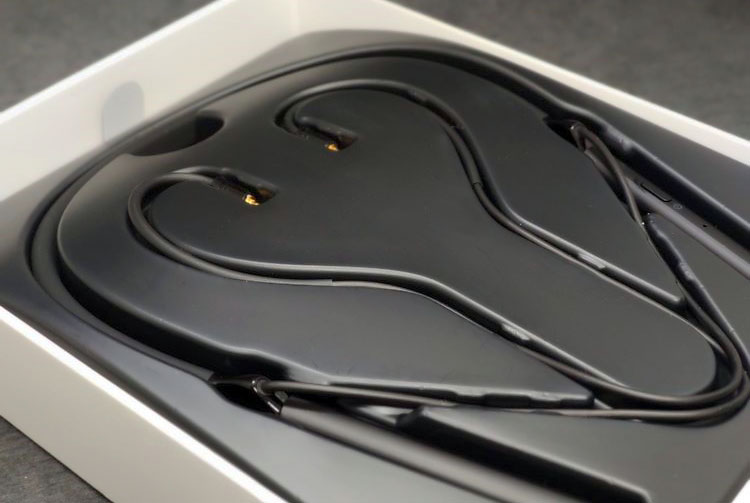 Packaging & Accessories
The MW200 comes in an Apple-style box that shows a spot-UV laminated image of the MW200 on the front cover. You can see the codec support and Hi-res certification on the side and not surprisingly, Shanling has received the Hi-res Audio Wireless certification for the MW200.
Unpacking you will find a charging cable with a small pouch alongside the main unit and the user manual. The leather pouch feels incredibly soft and premium and has roughly the same dimension as the MW200 for easy fitting.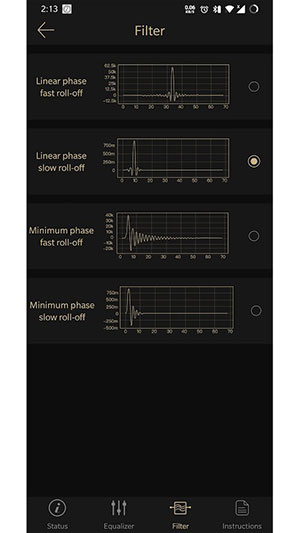 Shanling Controller App
As aforementioned, the MW200 is packed with the AK4377A which equips 4 digital filters onboard, and these options can be controlled via the Shanling Personal Center Controller App. Be careful this is not the original Shanling Music App but you can download it from Google Play Store for free.
Connecting the device to the Shanling Controller App you will be able to switch between these filters and control a 5-band equalizer for some easy tweaks.
The app will show the connected device with battery info, the Codec being used, and the firmware version. You can also toggle between off and on the LED lights and adjust the overall channel balance between left and right.
There is an option to upgrade the firmware on the MW200 using the app. This is far more user-friendly than connecting the MW200 unit to the PC/MAC for updates.
Comfort & fit
The MW200 uses a skin-friendly silicone with a delicate touch as well as demonstrating a high degree of flexibility on the neckband articulation, I have tried scratching it and there does not seem to be any coating on top that will fall off.
The flexibility is awesome as well as how good it fits on the neck, which causes nearly zero stress even when I am sweating. The unit also stays on my neck well with gravity pulling it down, you can probably go jogging with it and there is little chance it will fall off.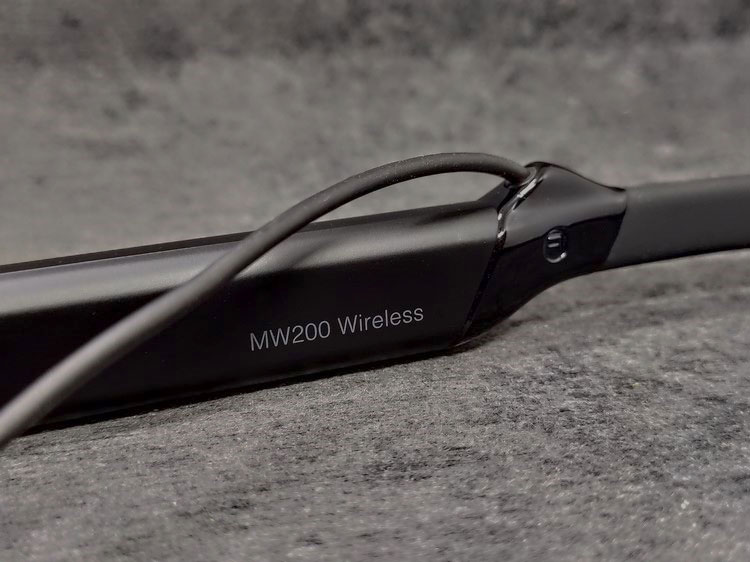 Cable
The cable includes 4 strands of 18cores silver-plated Oxygen-free copper wrapped inside its outer black jacket. It has become a norm for the audiophile brands to use more premium cablings on their machines and the wires on the MW200 feel very sturdy.
The injection molding part and plastic guards around the cable exit joints are built well too. I am abusing the unit quite a bit and sitting on it a few times, and it still looks like new so I assume the cable can withstand some good wear and tear.
At the moment this is an MMCX terminated cable but Shanling will make available a 2-pin version shortly.
Battery life
The MW200 uses a 340mAh battery capable of more than half a day's playback. Usage time will drop with higher codec and volume levels. Pumping high res music via AptX and LDAC connections on my Phone and DAPs I get more than 8+ hours of playback during the week, decent duration.
With less power demanding codecs like SBC and lower-res files you can expect the playback time to be lengthened by a large factor and get a few additional playback hours.
USB-DAC
Much like some higher-end Bluetooth dongles the Shanling MW200 supports decoding through USB-C input. You can connect it straight to your laptop and use it as a decoder/amplifier for your earphones while having it charged at the same time. This is one fun and practical feature if you enjoy long listening sessions.
The decoding quality of the USB connection seems to be slightly better than its wireless transmission. A great Easter Egg if you want to squeeze out some extra quality!
Sound Impressions
With 38mW and 26mW output on 16Ω and 32Ω load respectively, I am expecting the MW200 to be reasonably capable when paired with compatible IEMs. To test the receiver, I will be pairing it with various MMCX earphones. I also burnt in the MW200 using a Shanling M6 Pro with high res files for around a week before I put down my impressions.
Shure SE846
With this overly sensitive IEM, the MW200 has little to no background hiss. The output impedance on the MW200's output is quite low with the resulting dynamic range and staging presence being quite impressive.
The MW200 is not a top-tier DAC or DAP designed for low impedance IEMs so I cannot say it drives the SE846 to full potential but it is definitely performing nicely. The agile bass performance together with a gentle roll-off in the higher register combined with decent detail retrieval so for me, this works well for light jazz or modern pop music.
Shanling ME700
Unlike the 846 the ME700 requires much more swing to shine. While the MW200 does sound quite balanced and powerful considering its category, the ME700 seems to be a bit too demanding for the power to open up.
Nothing wrong with the MW200 here but if you have high impedance buds/IEMs or very mid/low centric tunings, it might be better to consider alternative amping options. A more powerful DAP is desirable unless you like a more intimate staging and honky vocal performances.
The pairing can still work if you listen in a noisier environment or with some club songs that require a bit more bass impact.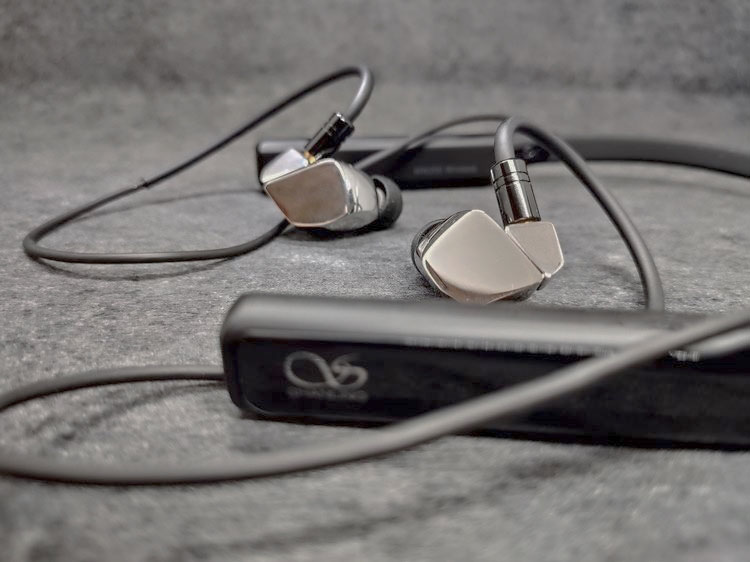 Final A8000
The Final A8000 does not require that much juice and on the MW200 it is more than satisfactory to me.
With the MW200 there are good bass layering, decent power, and separation for the vocal part, and a nicely extended and gently roll-offed treble that makes pops sound great.
Listening to Aurora's "Animal" gives me goosebumps. There is enough detail and resolving power for you to hear the voice transitions. The articulation is swift with no dip or artificial altering that makes the sound uncomfortable to listen to.
Summary
Wrapping all up, the overall sound impression with MW200 is quite positive, and this is actually one of the best Bluetooth cables I have experienced up to date, which has achieved a good balance between decoding quality, battery power, and synergy with IEMs tuning in the market.
The MW200 works best with balanced sounding IEMs and those which have a slight V-shaped tuning/sounding more expansive.
Wireless Performance
Call Clarity
If you are a daily commuter or traveling long haul the MW200 offers up to 14 hours long playback and more importantly, clear phone calls. The MW200 has cVc noise filtering technology with Knowles microphones that will filter off ambient noise and make your voice clearer to the listener.
This is one great advantage when compared to TWS or some receivers that pack in a microphone of poorer performance. I tried to talk on the train and in a noisy cafe and the listeners agree it sounds as clear as my iPhone's onboard microphone.
If you are used to talking on the phone or messenger apps make sure you pick a receiver that can pick up your voice clean and clear.
Connection Quality
The connection quality is great throughout all the time I am tested the MW200. Once connected there are no glitches and loss of connection, unlike some TWS that can drop one side's connection.
Latency
I do not sense any delay with the latest codecs, maybe a tiny 0.1s with music and gaming. It doesn't pick up the phone signal's interference either. If you need good reliability and power for competitive phone gaming or other scenarios the MW200 will be a better choice than TWS and the USB-C connection will allow you to charge it while using it as well.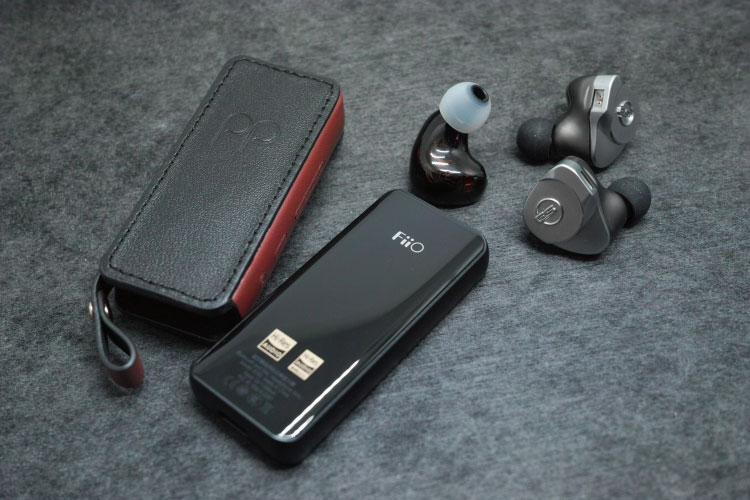 Select Comparisons
FiiO BTR5
Technical
The experience with the MW200 is quite alike to the BTR5 except there are no cables hanging from the pocket. Codecs, connection stability, and filtering options are similar but there is less coloring on the MW200 it seems.
The shorter cable gives a shorter signal path and takes in less coloring from the cable and connectors in between. The MW200 works as good as the balanced connection on the BTR5 so you can feel good power and resolution and also better amplification than most phones or entry-level DAPs.
Performance
Switching between different IEMs with SPC cables in between I feel like the MW200 has stronger power in the bass and the BTR5 has a lighter impact. The MW200 is also slightly warmer than the BTR5.
Walking around with both devices outdoors it actually feels more convenient to have the receiver on the neck than a receiver dangling in the pocket. No cables are hanging out of the pocket and you do not need to take out the receiver to talk on the phone or speak directly to the phone. This makes the experience much more complete.
Hiby W5
Technical
The Hiby W5 is similar to the BTR5 but you will need to control everything on your phone. As you can imagine this makes the experience quite different. The W5 serves a single purpose, to decode externally and output better quality.
With MW200 I can control everything with the neckband without taking out the phone for calls and pressing for the next song. When you rely on your phone's volume control there are fewer steps and less precision as a result, this is one aspect that the W5 compromises for the very futuristic-looking design.
At first glance, the BTR5/W5 seems more flexible to connect to other gears but the MW200 lets you put the whole set of earphones in the same pouch, allows you to control everything, and hangs the IEMs on your neck when you need to talk.
It can also let you make phone calls with higher-end IEMs without the need to hold the receiver near your mouth which looks quite awkward.
Performance
Sound-wise the W5 sounds cleaner and faster, with better penetration power in the treble while MW200 has sounds fuller and as powerful, with more warmth and punch in the mid-bass that gives better weight to the vocal.
Overall, I think their decoding performance is on par, and what really matters is the experience and flexibility to connect to different gears.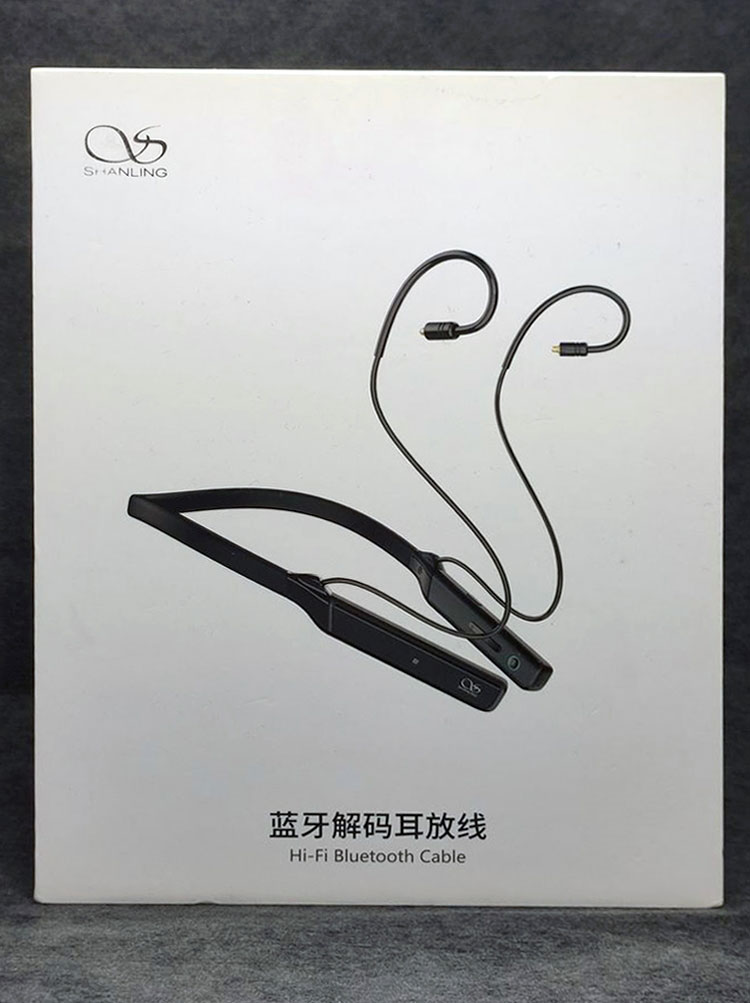 Our Verdict
I still remember some similar Bluetooth earphones that come with my LG phone purchase and it has been a long time ago. At just $119 we are now getting very professional products, which possess solid output quality and power that can beat most phones and possibly replace some lower end DAPs.
This is not something that innovative but the overall experience and packaging on MW200 are impressive in many ways. Switching from TWS the MW200 is much nicer to be used at home or at work where you can just hang the IEMs on your neck when you need to talk to someone.
If your anxiety level with dropping earphones is high or reliability/ phone call is your top priority, the MW200 is the preferable wireless option.
Shanling MW200 Specifications
Bluetooth Chip: Qualcomm CSR8675
Bluetooth version: Bluetooth 5.0
Supported codec: LDAC, HWA LHDC, aptX HD, aptX LL, aptX, AAC, SBC
Audio DAC/Amp: AKM AK4377A
Output power: Up to 27 mW @ 32 Ohm
SNR: 119 dB
Connectors: Industry-standard MMCX
Cable: Quad-core silver-plated copper
Microphone: Knowles SiSonic
Water resistance: IPX4
Battery capacity: 360 mAh
Battery life: Up to 14 hours (SBC codec) / Up to 11 Hours (LDAC High-Quality)
Standby time: Up to 500 hours
Charging: USB-C port
Neckband Material: Skin-friendly silicone
Other features: NFC pairing, a Companion app for Android and iOS, OTA updates, USB DAC function (up to 16/48)