The Shanling M6 Pro flagship DAP improves on the original M6 release with a new dual AK4497EQ DAC and a more powerful 600mW amplifier. It is priced at $759.
Disclaimer: The Shanling M6 Pro sent to us is a sample in exchange for our honest opinion. We thank the team at Shanling for giving us this opportunity.
To read more about Shanling products we have reviewed on Headfonics click here.
Note, this review follows our new scoring guidelines for 2020 which you can read up on here.
Shanling is not randomly changing some chipsets to lift the price, but to offer truly enhanced performance. The M6 Pro offers a higher degree of detail retrieval power, better tonal balance, and dynamics along with a lot more power in its output.
A few weeks ago we received Shanling's latest flagship DAP, the M6 Pro. This is the successor to the M6 and has some improvements to the internal hardware as a response to ever-increasing competition.
Shanling has thrown in two pieces of AK4497EQ DAC chips and revamped the amping circuitry, not only keeping themselves up to the hardware race but also producing some top-tier power numbers at 600mW max output into a 32Ω load. These are some excellent and competitive numbers.
After some burn-in cycle, we are excited to tell you how it feels and performs with comparison to its predecessor, the M6. Read on!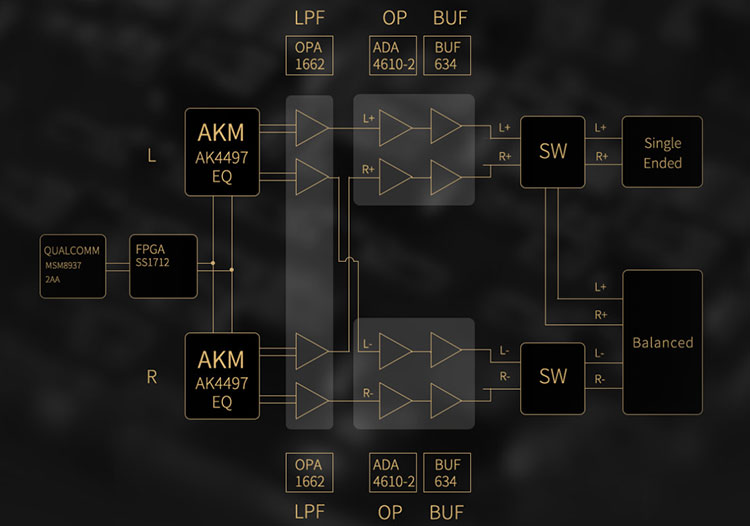 Tech Inside
Stepping up from M6's Dual AK4495EQ DAC chips the M6 Pro packs in AKM AK44997EQ DAC chipsets which supports DSD256 decoding. The M6 Pro should potentially be more resolving than the original M6 on paper.
An 8-core Qualcomm CPU (430) is also installed with 4GB ram, promising smooth UI experience on its open android UI. Interestingly, the dual AKM AK4497EQ DAC is not fixed in stone. It can be switched between single and dual DAC mode instantly and achieves 123dB S/N ratio for excellent background noise control, a few dBs over the original M6.
The improved high output amplifier circuit packs in 2x OPA1662 opamps, 2x ADA4610-2 JFET opamps, and 4x BUF634. You can now get up to 600 mW of power into a 32Ω load with a special Super high gain mode that is amongst the strongest I have reviewed to date.
Shanling has also showcased their use of 8 x Panasonic 220uF caps for filtering, and an SS1712 FPGA chipset for clock control. A low noise linear power supply system is integrated to supply clean power to the audio circuitry.
There is also some explanation on their site on the LPF (Low pass filter) that claims to achieve constant phase in all frequencies.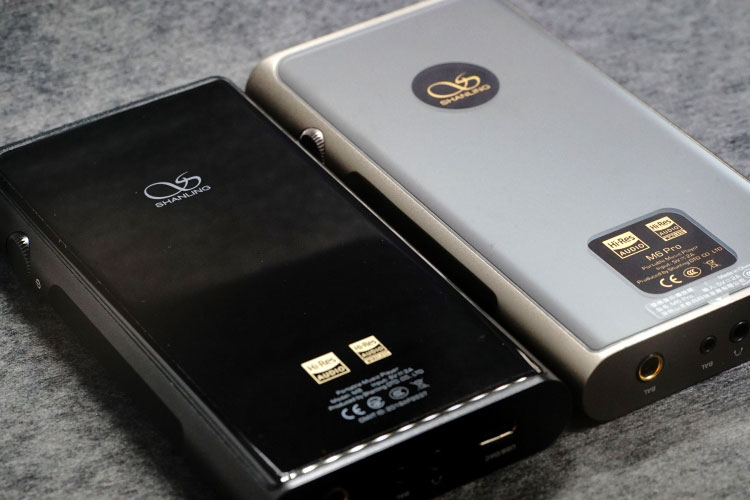 Design
The M6 Pro and M6 are built alike but putting them together you will notice some differences that make the M6 Pro more premium looking.
The design language, however, is still consistent within Shanling's product line and you could easily recognize the volume knob. Cool curved glass, smooth rounded edges, and the roller wheel that doubles as the on/off button can be found as usual. However, the outline of the framework is more masculine and firmer than the M6.
Machining quality on the aluminum chassis is solid and the full lamination screen fits seamlessly, with no screws in plain sight. The design is light at just 244g, similar to the M11 Pro and lighter than the Hiby R6 Pro.
Stepping up from the M6 the new M6 Pro is installed with a satin-finished, AG reinforced glass panel on the backside, cleverly displaying Shanling's logo and some other prints through its clear openings.
Curved Edges
The glass panel with curved edges feels very premium to the touch, and possibly the best back panel design I have seen so far, big thumbs up. My only complaint is its light aluminum housing which could be more prone to damage and I wish there could be a stainless-steel version or a more industrial colored theme.
On the bottom of the housing the USB-C port, 2.5/ 3.5 and 4.4 balanced outputs spread out horizontally.
Control Buttons
On the left side of the M6 Pro, you will see round control buttons. There is also a micro SD card slot with a soft cover that does not require a pin to unlock, quite a friendly feature that could prevent the card from jumping out. This will let you quickly swap cards/eject the card and transfer files from a card reader.
Aside from the beautifully curved glass panels the volume wheel highlights the design, finely machined and you can hear tiny clicks when turning it. Good tactile response and this subtly designed volume wheel could well prevent accidental pressing.
Screen
The M6 Pro has a similar front panel size to the iPhone SE at 4.7inch, 720p which is perfect for single-hand operation. The SHARP panel used is bright and packs in good pixel density that works clearly under sunlight.
Scrolling is responsive on its oleophobic coated screen with enough RAM to make all music application runs smooth. However, I found that it got slightly more insensitive after applying the supplied screen protector.
Battery
The M6 Pro has a 4000 mAh battery with QC3.0 quick charge support. With 3.5mm single-ended outputs connected and single DAC mode Shanling states that it can run for up to 13hrs. With dual DAC mode on and the 3.5mm connected it lasts for up to 9hrs and on a balanced connection will get you around 8hrs of battery life.
The dual DAC switchable mode is a very useful feature that can nearly double the battery life with a backup 3.5mm IEM. While I perform run-in with the M6 Pro I tried the different combinations and can confirm the battery life is over 10 hours on single-end mode.
With time-to-time app surfing, you can feel the battery draining faster on balanced mode. The drain gets faster with external devices hooked up or with apps that consume more CPU power.
Packaging & Accessories
The first impressions always count when it comes to visual aesthetics and the M6 Pro impresses for packaging. The M6 Pro comes in an impressive artistic retail box with a reflective sleeve embossed with a Shanling logo.
On the sides, you will find Hi-res certificates also HWA (Huawei's wireless transmission standard), LDAC, and aptX HD support. This suggests the player can be paired with Bluetooth dongles/ receivers for higher resolution files replay.
You will need to apply the screen protectors yourself which is quite a fun challenge. Shanling has included a screen protector installation kit for the job. The screen protector is quite thick and seems to offer good protection, however, if there are small bubbles after you apply the screen protector you may wait for it to cure itself,
You can also find an additional USB cable inside the packaging for PC transfer and charging as well as a beautiful tan leather case for M6 Pro which fits perfectly.
Software
Android 7.1
The M6 Pro runs on an open Android system and supports google play store after firmware updates. That means you could play games or to use apps that require Google login and to instantly download apps registered under your google account.
It is smooth playing with the system and there is quite a lot of customization on sound-related features such as different filter modes, equalizing options, and the official music app. Shanling is proficient at offering a great experience with little glitches and bugs and the user experience with M6 Pro is very friendly.
You can see a lot of customization like the drop-down menu icons, and it makes navigation handier than the original interface that you may sometimes accidentally press. If you are already an M6 user you could check Shanling's latest firmware updates that brush up some app performance i.e. Synclink and fixing several bugs, (editorial note this review was completed before the new firmware update)
Boot Up
There a cool starting logo with a Thanos 'finger snap' effect while you boot up the M6 Pro. It takes roughly 20-23 seconds to reach the unlock screen and the system is ready to play music right away with no extra caching lag.
Performance Measurements
Running AnTuTu's latest version we ended up with a very fast score of 70755. Not the fastest we have seen, that accolade belongs to the FiiO M11 and M15 series. However, it is more than sufficient to provide a smooth UI experience and faster than some competing DAPs such as the R6 Pro and DX220. It is also faster now than the original M6 DAP.
My experience with most apps is similar to other higher-tier DAPs and again there is no accelerometer for doodle jump or racing games. Gaming results in quite severe frame drops and not too playable with most DAPs.
Features
PRIME Mode & SRC
To bypass android limitations and not downsample your audio Shanling have implemented their proprietary AGLO technology, (Android Global Lossless Output), supporting up to 768 kHz sampling rates.
This is an important feature customizing the Android system down to the root level to ensure there is no unnecessary conversion that hinders the sound performance. You could also switch to the PRIME mode which force-kills other apps in the background and focus on replaying with Shanling's own music app.
Synclink
This is one of the major features you can enjoy with Shanling's system even for the lower end models. Updating to Shanling Music app v1.8.6 you can have access to the Synclink function enabled in the music app wireless menu.
Switching that on and downloading the corresponding Shanling control app on your phone allows you to remote control the player like a Bluetooth receiver.
(Sadly, this review was completed and uploaded before the Synclink firmware was stable so we are unable to give you a full breakdown of how good the performance is – Editor)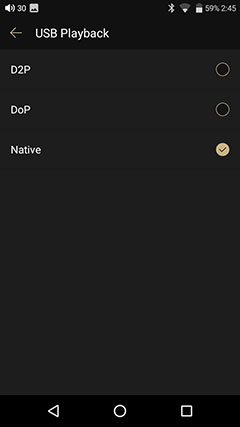 USB-DAC/OTG
The M6 Pro supports USB-DAC and OTG functionality after an earlier firmware upgrade. That means you can toggle between USB-DAC and storage modes in the drop-down menu for audio put form your PC or file transfer.
Connecting to the Lotoo S1 no setting is required and it instantly works with the stock Shanling music app. If you are connecting to external DAC remember to turn the volume low to avoid damaging earphones by high output.
You can also use an OTG card reader/ thumb drive to quickly transfer songs to the M6 Pro's SD card or internal memory and it also supports playing files on the OTG storage device.
Wireless Performance
Bluetooth Connection
The M6 Pro runs on Bluetooth 4.2 and supports all of the popular Bluetooth codecs, allowing you to connect to all the latest Hi-Res receivers or earphones.
Connecting to TWS or Bluetooth headphones is smooth and the M6 Pro can work two-way as a remitter or receiver for LDAC and SBC codecs when you select "Bluetooth Amp mode" in the Bluetooth settings. For aptX HD and HWA, it can transmit the signal outwards only.
I am getting a stable signal out of the M6 Pro to other receivers with no glitches in connection even when placing the player in my pocket/ bag. There is an LED indicator above the volume wheel that shows the BT connection status. The color codes are green is for LDAC, SBC Blue, aptX purple and aptX HD will get you yellow. The M6 Pro is certified for Hi-Res wireless standard.
LDAC – BTR5 / Hiby W5
Connection to the Bluetooth dongles is instant. You can select the prioritized Codec for wireless music transfer in the settings under "Audio" > "Wireless playback quality" in the bottom.
Both BTR5 and Hiby W5 connect swiftly and outputs resolve sound but both cannot match the output power from the M6 Pro nor sound as full and detailed.
Despite the fact that there isn't much advantage or reasoning to put a Bluetooth receiver with higher-end DAPs for IEMs, it is always a fun functionality to hook it up to speakers or other systems and free the wired connection.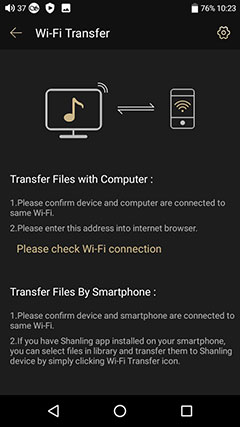 WiFi Connection / Airplay support
The M6 Pro is surprisingly fast and strong with a WiFi connection. Its switchable 2.4G/5G module connection is smoother than the latest-gen iPad and my phones. It seems to have an impressive antenna design for strong signals so it works like a charm for streaming.
Click on Page 2 below for sound impressions and comparisons