The Shanling ME700 is the company's flagship hybrid 5-driver universal IEM. Featuring a single dynamic driver and 4 BA it is priced at $559.
Disclaimer: The Shanling ME700 sent to us is a sample in exchange for our honest opinion. We thank the team at Shanling for giving us this opportunity.
To read more about Shanling products we have reviewed on Headfonics click here.
Note, this review follows our new scoring guidelines for 2020 which you can read up on here.
The ME700 is unique in going for more of an old-school SET or tube sound rather than a high-contrast clean sound like quite a lot of competing hybrids. While many gears are stressing treble clarity and adding peaks to boost the perception of detail, the ME700 demonstrates Shanling's persistence in pursuing lively, engaging sound in a flagship product.
Shanling has a long history in audio manufacturing with around 30 years of experience. However, it was not until the last few years that they have moved into portable audio. The ME100 and ME500 were solid efforts, however, the new ME700 is now their flagship hybrid monitor and perhaps their best yet.
Featuring a hybrid 1+4 configuration under the hood, the ME700 is a 'bouncy', intensive mid-bass focused presentation that works exceptionally well with some genres of music. You can feel their strong character right out of the box, even with minimal burn-in.
The mids density in the output is well-differentiated from mainstream IEMs that aim for clarity and speed, Looking for a strong punch and a dense mid-range performance? Read on for the full impressions.
Tech Inside
Drivers configuration
The ME700 has two single BA, one dual BA, and 1 Dynamic driver inside. Unsurprisingly, the dynamic driver is for the lows, two BAs handles the midrange and lower mids and a dual BA takes care of the treble.
There are some phase measuring when the drivers were positioned in the housing in order to achieve a more natural tone as well as an interesting silver/gold-infused solder to further tweak the sound on the dynamic driver.
Gold Plating
The dynamic driver has a 24K gold plated layer to improve damping factors so as to minimize unwanted vibrations, and to sound clean and tight in bass. The gold will also help keep the sound lush and natural as explained on Shanling's materials.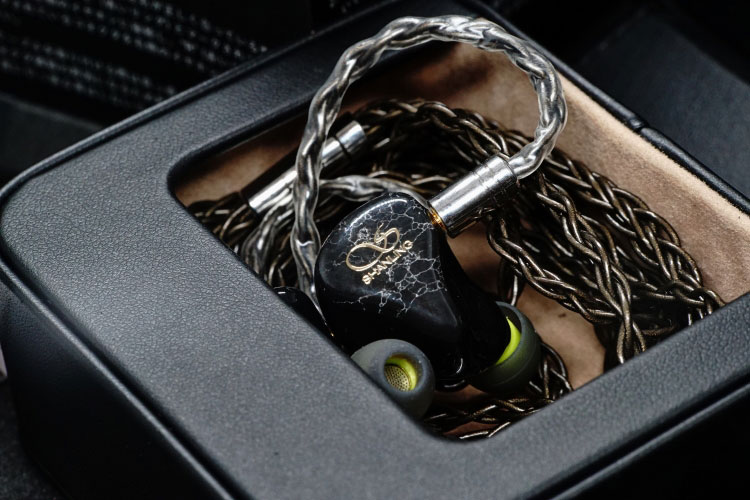 Design
Unlike the Shanling ME100 and ME500, the ME700 doesn't come in a mass-produced metallic housing but a more premium, hand-built enclosure. From official data, this is an SLA 3D printed inner structure that holds the drivers in space.
The build of the IEM body is solid with no dent and bubbles, very well sanded and polished. On top of the body sits a cultured marble faceplate with white veins fitted with Shanling's logo in the middle.
You can find the model numbers and L/R indications engraved and painted over in the inner side of the IEM. Everything is neat and professional with a nice contrast on the faceplates.
You will find a lot of metal parts decorating this IEM, with a clean and sturdy design. The nozzle is machined from 316F aluminum and has a smooth gloss finish, consistent with the metallic parts on the MMCX male plug, cable ports, and connectors.
Unplugging the cables we can see the MMCX sockets. Cables are firmly installed and there are ear guides (thicker shrink sleeve) wrapped around. The stock cable is composed of twisted wires, braided from 8 cores into a squared design that looks like some TOTL cables. The set comes with a few different connectors which you could use to hook up to 2.5mm, 3.5mm, and 4.4 sources.
Comfort & Isolation
The nozzle on the ME700 is quite long as you can see from the photos and it seals pretty well in my ears. The smooth finish and custom IEMs like contours help to give a good tight fit.
The weight is around 17 grams, so it does not feel like weightless plastic, and is built with medical-grade resin from Germany. You could feel the quality from the touch. Wearing the cables over-ear there is no microphonics and the cables are soft enough to not cause any stress on the back of the ears.
I took the ME700 with me on some long haul bus rides and it doesn't stress my ears after a few hours of listening. I would recommend using softer tips for the best comfort if you listen continuously for a few hours.
Stock Cable
The stock cable is braided from 8 strands of 6N Neotech silver foil core and feels very generous for the asking price. The cables are terminated in MMCX connection with an upgraded type of MMCX pin that claims to be 4 times more durable than traditional MMCX plugs. It does feel quite firmly connected and nicely plated when looking closely, nothing feels loose.
The other end of the stock cable is 2.5mm terminated, and you will find 2 connectors in the package which allows you to changes the cable to a 3.5mm or 4.4mm connection.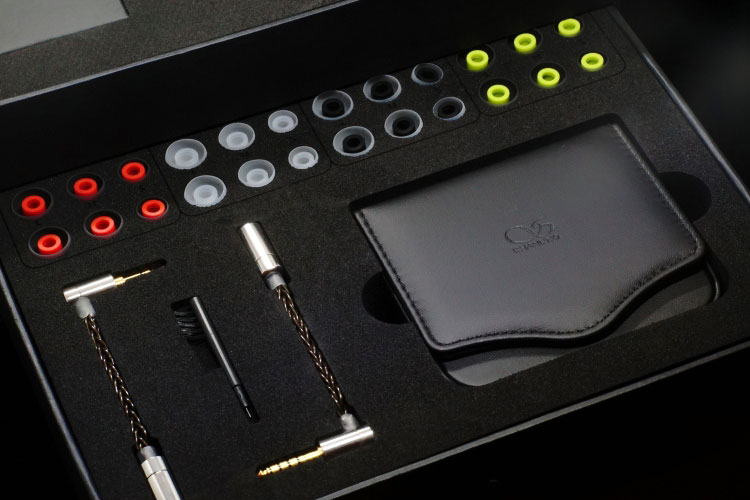 Packaging & Accessories
The ME700 comes in a huge box, nearly 4 times the size of M6's packaging, one of the biggest packaging boxes for portable audio gears I have ever seen.
Tips
To my surprise, the ME700 is very well equipped with tons of accessories. Stepping up from ME100/500's packages there are now 12 pairs of ear tips included plus a set of T400 comply tips. The 4 different sets of tips are labeled for enhancing soundstage, bass performance, more balanced tuning, and vocal performance.
While they don't sound the same in the ears these could also help with the fit. Sometimes the harder tips may fall out easier and the softer tips with a more glossy finish will stay in easier. A better fit will definitely help do the sound performance justice too!
Accessories
There are 2 extra adaptors for 4.4mm and 3.5mm connections from the original 2.5mm termination. This provides some excellent flexibility similar to the recent DUNU cables so if you collect DAPs these could be really handy.
A very compact black leather hard case is also included. It feels quite well built, not smelly, and practical for everyday carrying. Some cleaning tools are also packed in the set for you to clean earwax from the grills on the nozzle.
ME700 Sound Impressions
Summary
If you follow Shanling's ME series you will see a varied level of tuning in their respective presentations. The ME100 is clean, the ME500 gets bassier with a more intimate staging, and the ME700 shares the best of both worlds.
I was expecting them to go super clean, wide sounding and instead, Shanling courageously chooses to color the ME700 with a tube-like sound. This is very unlike some other recent flagship earphones but perhaps closer to the FiiO FA9. The ME700 is tuned to be more primitive, old-school in style while not sacrificing clarity by using BA drivers to add texture to the treble.
You are getting a very rounded treble and a roomy presentation alongside a well-weighted mid-bass and sub-bass. The tuning does not emphasize clarity by pressing down the mid-bass nor adding a peak in the mid-treble range so most will not find it exciting, yet it doesn't feel lacking with matching sources.
It works marvelously well with old pop from the Polygram era, offering a magical rendering that could describe as creamy, soothing, with room-filling vocals and a faint reverb in the mix. This tuning is not overwhelming on detail or a high-contrast and you could argue it might sound a bit dull. However, I find it more towards a warm and inviting presentation overall.
Listening to the ME700 a few hours on transport and walking around it still sounds pretty engaging and lush in mids but I prefer listening to this model indoor as the treble is too shy.
Staging
The ME700 is elevated around 300Hz and delivers a bit of warmth and body into the mids for husky or throaty voices. That sustained bass in the background pushes forward some brass instruments in terms of weight.
Actually, the overall weight of the lower mid-bass is strong, with good intimacy between vocal and bass instruments yet it draws some muddiness into the mix, with a bit of vagueness ensuring.
The upper part of the vocal has a cleaner image and is positioned slightly in front. Instruments don't get very spread out but are still well defined and layered, panning across a small classroom-sized space. It sounds just right with smaller bands but not so much for complex ensembles accompanied by vocals.
You can feel the bass dispersing into the air softly and there is an effort in the upper 5kHz range to add some texture and clarity for more openness, followed by quite a sharp roll-off that kills off all sibilance. It somehow limits the headroom a shade for me on the ME700.
Bass and Mids
Putting the ME700 on various rigs it sounds quite consistent, with a juicy, slightly thick mid-bass and bass presentation. Saxophones, bass guitar, or anything with a strong bass texture sounds slow in pace but euphonic and full-bodied.
The bass decay is rather responsive, moderately slow dispersing into mid-air. Punches are soft and more on the engaging side than solid or sounding flat.
Stereo imaging in the bass is enjoyable with good enough separation that won't make it sound boxy. I got Bee gees, Coldplay, Pink Floyd, Eric Clapton, and some older Chinese pop on my playlist with the ME700. These acts seem to get well with an excellent male vocal synergy as well as natural full-bodied percussion and guitar tone.
While some other flagship-level IEMs stress clarity, the ME700 is tuned to be exceptionally rich and punchy, with a good balance between staging, texture, and extension. If you have vinyl masters the ME700 will remain faithful to that analog tone.
With faster music, you may feel the discrepancy in the speed between the dynamic and the BAs, but this is what it takes and in return with some relaxing genres it brings you into the vibes.
With the stock Comply tips on these are even smoother and bass intensive. If you like hand drumming, acoustic instruments, thick dark voices like Buena Vista Social Club, or wet guitar/bass guitar licks, you will find the ME700 really immersive.
The overall tuning leans towards the soothing, slow-paced side and you could EQ down the lower-end if you want a bit more mids and vocal headroom.
Highs
The mids on ME700 transition smoothly into the treble range, which is mild, very rounded, and controlled without any harshness. Sibilant tones are well pressed down, but there is still some energy in it to brighten up the treble a bit for clarity, making the overall tuning slightly v-shaped.
With some higher-pitched vocals, you may feel some depression and dampenings with higher notes. This is the downside for those who like bright and clean upper mids and treble. I recommend listening to thicker, darker male vocals or very high pitched clean female singers, nothing with a fast BPM too.
Overall the tuning is quite unique and balances out harshness well in hot mixes. This adds to the full midrange body to create a dense, rich mids focus that works excellently with gentler easy listening genres.
Synergy
Efficiency
The ME700 is rated at 106dB SPL in sensitivity and 18Ω in impedance. It is not taking that much swing to drive but you will definitely feel the hunger for more current.
A more powerful and clean DAP or amplifier will help it to sound much more balanced and open while smaller DAPs or USB-powered DAC/amps may sound a bit lossy and recessed in the mids at the same time.
As more power is required I'm mainly testing the ME700 on Shanling's M6 Pro. The older M6 is also capable of giving it a decent push too. I am letting the ME700 run in on the M6 with the balanced output as that is the most powerful output. After around 2 weeks of daily playback, the bass seems to be taming down slightly and sounds more opened up.
Pairings
This is the fun part playing with the ME700. If you are after an "analog sound", the ME700 will faithfully reproduce that vibe while pairing with more modern outputs, especially with good masterings from the old days.
There is little to no hiss on mid-gain with most of my gears but it does feel more open with a higher gain setting, though the background hiss may add some grain into the mix.
With a 4.4mm output, the ME700 works quite well but its full potential is unlocked with desktop amps such as the FiiO K5 Pro where you get more current available for a faster bass punch and a cleaner response.
Note that lower-powered devices could not really open up the sound in the dynamic driver as well so unless you are a heavy basshead, get an amp or a powerful player like the M6 Pro.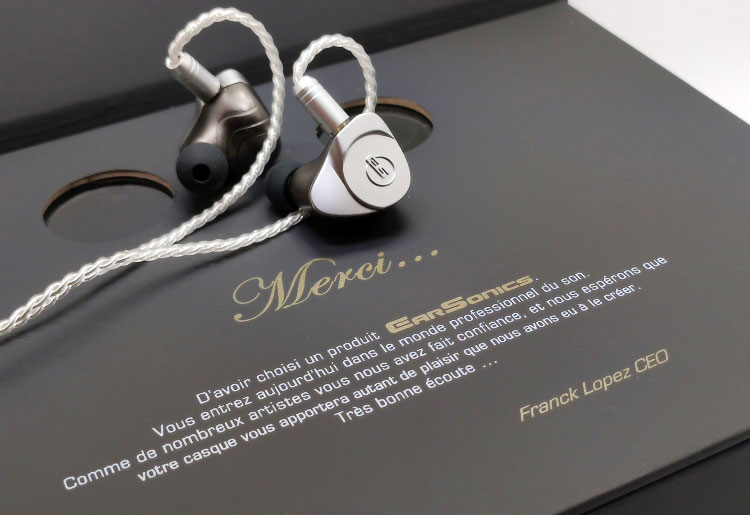 Select comparisons
Earsonics STARK
The STARK is another bass intensive hybrid with 5 drivers though it is more sensitive than the ME700 with its more responsive 8mm dynamic driver.
The bass attack is faster on the STARK which promotes better coherence and clarity. The treble is more brilliant on the STARK without being harsh and it goes well with the faster bass response.
Comparing the two you can feel the STARK being more 'modern' in tuning, with better speed, control, and texture in the higher register, also noticeably a more expanded soundstage. However, the ME700 is built for its full, dense mid-bass performance and whenever you put it with the older tunes, it gets the vibe right even when some resolution is compromised.
I prefer the ME700 when listening to brighter Asia pop and the STARK when listening to more modern pop songs with detail and contrast, and it is easier to pair the STARK with DAPs.
Oriveti OH500
The OH500 is another easy-to-drive hybrid with 5 drivers. Like the ME700, it works well with Asian pop but the mids have a lighter touch. These hybrids may look similar on paper but there are a handful of differences when you compare them.
The OH500 is clean, balanced, well-textured, an all-rounder that works with most tunes. On the other hand, the ME700 punches deeper, has a sharper focus in the mid-bass which gives it advantage and synergy to express the timbre in woodwinds and old pop standards.
Like the STARK, the OH500 lacks the body in the mid-bass, with more detail and resolution to distract you from enjoying the soothing, buttery smooth presentation.
Overall the OH500 is still a better all-rounder but the ME700 beats it when you want a more immersive, heart-pounding, and expressive sound. The lack of treble spikes makes it more forgiving with some streaming sources also.
Our Verdict
The ME700 is unique in going for more of an old-school SET or tube sound rather than a high-contrast clean sound like quite a lot of competing hybrids. While many gears are stressing treble clarity and adding peaks to boost the perception of detail, the ME700 demonstrates Shanling's persistence in pursuing lively, engaging sound in a flagship product.
Be reminded that fast-paced tunes don't work but you will get to enjoy a lot of old tunes the soothing way or at least how I think they should sound.
If you are tired of the modern more sterile or very clean sounding interpretations of HiFi sound and want to bring back your vinyl junkies' memories, get the ME700!
Shanling ME700 Specifications
10mm gold-plated dynamic driver
Dual Knowles balanced armature & Dual custom balanced armature drivers
3D printed acrylic shell
Cultured marble faceplate
Premium MMCX connectors
Balanced 6N Neotech silver cable with 2.5mm connector with 3.5mm and 4.4mm adapters
Sensitivity 106 dB, impedance 18 Ohm