The Grado GT220 is the company's debut TWS featuring BT5.0, 36 hours of battery life, and aptX decoding capability. It is priced at $259.
Disclaimer: The Grado GT220 was sent to us in exchange for our honest opinion in this review. Thank you to Grado and 4ourears USA for giving us this opportunity.
You can read more about other Grado products reviewed on Headfonics here.
Note, this review follows our new scoring guidelines for 2020 which you can read up on here.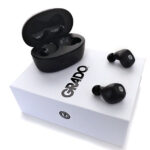 Grado GT220
The Grado Labs GT220 has to be one of the most consistent working TWS models I tested and that alone deserves merit. The good sound they produce is a bonus and that combination makes them worth considering.
New York, New York
I love New York is a popular phrase known all over the US and in many parts of the world. It was a jingle promoting New York tourism. I do because I was born five minutes away from Manhattan and have countless amounts of good memories of the Empire state.
At the audiophile-level, many great audio equipment manufacturers are based in New York. The list is huge. It seems like New York knows good audio. This is also the place where my love for good audio was born.
One of those companies is called Grado Labs. Their hand made and assembled headphones are known all over the world, are loved by many Audiophiles everywhere and they managed this worldwide fame from a small family-run basement business.
Not only do they make great headphones but they also make world-class handmade phono cartridges. They now decided to try their hands on a TWS model. So after many years of research and development, here it is. We got the Grado GT220 TWS up for review and we are gonna take a hard look at it.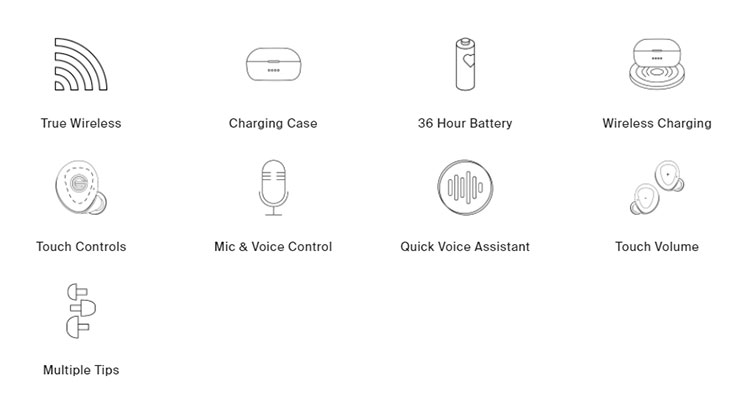 Tech Inside
The GT220 is a Bluetooth 5.0 TWS model from a company that knows audio. It seems to be a device with a very simple design concept. Black and white is the theme here.
Grado Labs does not specify what chip is used inside the GT220 but a little bird told me the chip being used is a CSR. This to me is a good thing because the Qualcomm CSR line is a step up from the commonly used QCC line and Realtek chips.
The CSR company makes midrange stereo Bluetooth single-chip solutions and are not at the bottom of the line but somewhere in between and is more upscale compared to the above mentioned.
CSR or the Cambridge Silicon Radio semiconductor company was acquired by Qualcomm not too long ago and I bet the chip used here is a collaboration of the two company merger and might include Grado Labs in there too. That is a triple- company collaboration.
Codec Support
The most common basic and major codecs can be managed by the Grado Labs GT220. There is a trend nowadays of including only two codec types and I am happy Grado gave us at least three.
aptX is the first on this list, but the more basic SBC is also not a problem. Then there is the Apple AAC which again, is not Apple exclusive anymore and is also available on Android devices.
This codec capability will keep you at a tad over the 320kbps and is adequate for a TWS model. It all works under a Bluetooth 5.0 transmission and of course, it is backward compatible with 4.0.
Dynamic Driver
The GT220 sports an 8mm polyethylene terephthalate dynamic driver which is custom made by Grado. A strident free and natural frequency response was the objective of the driver design.
The driver has a frequency response of 20hz to 20khz and to my ears, this seems to be correct because the driver seems to have a fairly flat frequency response and good bilateral extension except for maybe the upper regions.
The driver has a nominal impedance is listed as 32 ohms. No other specifications are given.
Dual Microphone cVc
The GT220 does not sport any type of ANC and Grado Labs decided to not add any to not affect sound quality and rely on passive isolation but it does have noise reduction on the dual-microphone system built into each earbud.
It works well. I used the GT220 on phone calls and discord chatrooms with good results. I never got a complaint of poor vocal clarity and got a couple of compliments from people who said that these gave my voice good clarity.
You also get voice control operation with quick assistance if you want access to functions on your device but have it buried in your pocket. You could always use the touch controls to do the same.
IPX Rating
I could not find any type of IPX rating neither on the Grado website nor in the included literature. So since this spec is not mentioned, I would not take a chance and get these wet. I think they will be fine for workouts because they fit well inside the ear and resist to fall out and look like they can resist a little sweat somewhat.
The only area that needs to be watched is the output nozzle. Just make sure not to get any liquid in there and they will be fine but I would try to keep them dry nonetheless.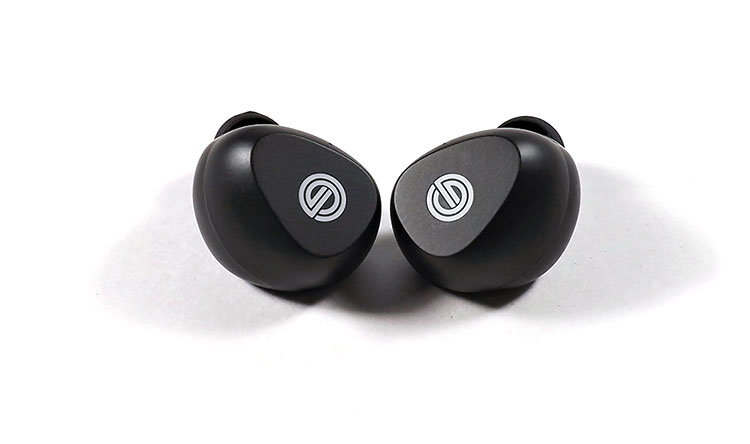 Design
The GT220 shells are made of high-quality polymer material and are fairly light and quite comfortable although they are rather chunky. They have an ergonomic shape that fits my ears well but this may vary as you know and they refused to fall out with rigorous activity for me.
The flange system is the usual TWS slotted short stem but fortunately, you can use aftermarket flanges. I got very good sonic results using many types of flanges and they do not seem to be finicky with flange selection but, for me, they worked best with Dekoni foam isolation flanges.
The charging station is made of the same material on the outside that the earbud shells are made of. I like the Matte finish with an almost rubber-like texture and it seems durable.
The twist to lock fit designed earbuds sits inside the base while charging in a correct orientation. The left is on the left side and so on. Magnets inside the charging base keep them from falling out and also control their on and off switch.
Controls
The GT220 has Bifurcated Capacitive touch controls that include most functions needed and expected of a modern TWS model.
They are very sensitive but for my taste, they have just the right amount of sensitivity and rarely gave me false functions or failed to work. You do have to put them in your ear carefully because the slightest touch triggers them.
They work on music player functions, voice, and phone calls. The one place how all the functions are used is only listed in the included owner's manual.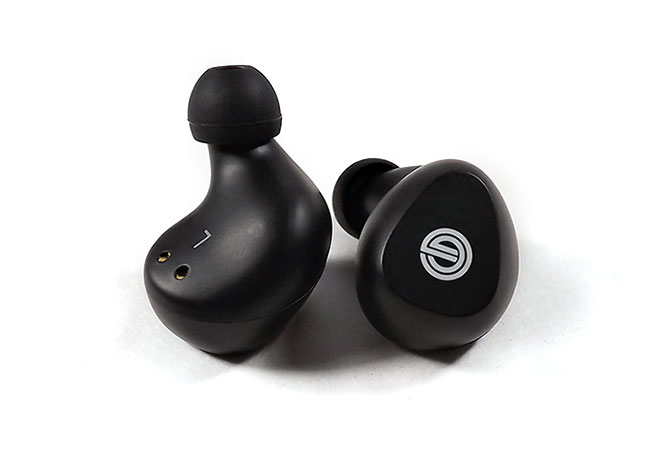 Charging
The GT220 TWS charging base has wireless charging capability. It has a QI certification so it can safely be used with wireless fast-charging stations.
If you do not have a wireless charging station then just use any USB type C charger you have. The unit has fast charging capabilities through the USB-C ports as well and quickly charges within two hours for me from zero to full.
Battery Life
The GT220 charging base has a 500mah battery built-in which is capable of charging the earbuds about 5 times once they give the low battery warning. Grado claims 36 hours' worth of playtime and I got perhaps 32 hours but that is acceptable.
Each earbud has a 50mah battery which Grado claims a battery life of about 6 hours. I got that exactly or perhaps a touch less. A couple of times I did get up to an hour less time but this is still quite acceptable.
The charging base has 4 LEDs and each represents a 25% charge amount. The earbuds light up red at the Grado G logo when charging inside the case, turn blue when finished charging and blink alternate colors when in pairing mode.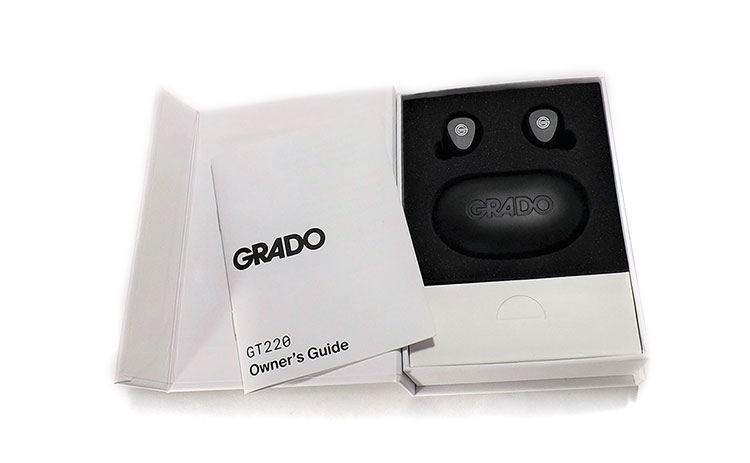 Packaging & Accessories
Simplicity carries on throughout the product and again, the theme is black and white. There is no color anywhere however, I like it.
The box is white with a minimum amount of black printing and a magnetic flap to reveal the contents. Again, think simplicity. One USB-C wire which seems to be a decent quality wire is included along with a small instruction manual. You also get 3 sets of black rubber flanges.
Perhaps this is where the GT220 is lacking. At this price point, I would assume you would get a better-accessorized product with a better flange selection plus there is no app available which is almost expected at this price point.
GT220 Sound Impressions
Pre observations
Somehow the GT220 does not seem to have a typical Grado sound signature in my opinion. I felt it was not an opposite sound signature but different. To my senses, Grado headphones have a bright forward sounding signature, and the GT220 sound warm with a prominent amount of bass.
They do tend to sound clean even though their codec capabilities keep them at 320kbps or under, they do give a good impression of fidelity.
The sound signature is fairly flat but pleasant with a very small amount of bass emphasis. The sound although close to being flat has no deficiencies in the frequency spectrum. Bass is the most dominant in the sound signature with a slight forwardness in the midrange but with no huge peaks anywhere except for one at around 3khz.
I ran the tone generator test and found these to be one of the most even sounding TWS models I have tested. They do drop below 25hz, drop above 14khz, and do not extend very high into the upper frequencies but, the frequencies that were produced audibly were produced evenly with no channel imbalances or hard peaks denoting good driver matching.
Bass
The bass does have a roll-off below 25hz but the GT220 does not sound deficient in the bass area. Most of the bass energy is concentrated in the 60 to 120hz area and there seems to be just a couple of decibels of elevation. Enough to be tasteful and not bloaty.
The bass is relaxed with good note definition and depth. These are not the typical bass monster TWS but rather a clean audible experience with just a small amount of visceral sense and they respond well to further enhancement from an EQ or bass boost DSP.
The bass is tastefully tuned for a TWS and does not exhibit the typical boomy type but is a pleasant listen. It never bleeds into other frequencies either.
Midrange
I seldom find TWS models to have a pleasant midrange with high levels of detail but the Grado Labs GT220 gives you that.
You get ample amounts of detail and some layering too, just enough to keep you interested. There is lots of separation in each element within a recording and things barely sound congested.
Tonality is pretty accurate and I can sense no off tone sounds in familiar tracks. Male vocals tend to sound warmer and female vocals have an edge and probably due to a frequency peak. It sounds to me as if the culprit is the peak around 3khz.
There is a touch of forwardness and presence that seems to be mostly in the upper midrange frequencies and it sounds to be again the 3k peak.
Treble
In the tone generator test, the high frequencies did produce some abnormal noise above 14khz plus there was a sharp roll-off however, the particular noise was inaudible while listening to music.
The highs are fairly sharp and airy but do drop off early. They can handle some complexity but are not the best at it and I would prefer a touch more of extension in the upper regions. Just a smudge of harshness is heard at times but only in certain recordings.
The highs sit just a couple of decibels to the rear of the frequency spectrum and this keeps them at bay so they never become too bothersome and are partly responsible for the warm sound signature.
Staging
The Grado Labs GT220 has a fairly wide soundstage. They do extend further to the sides better than they do frontal staging. Vocals sound centric but inside the head and do not sound like the singer is upfront but inside your head.
The staging is personal and centric with a left and right sense of positioning but not much in a forward presentation. I do sense some rear projecting and a touch of height. There is some height but not much.
These can do small spaces of perception and medium-sized but not a very wide panorama type of soundstage. They seem like more NYC Jazz club rather than a large theatre or stadium.
Detail retrieval
The GT220 has to be one of the better TWS at detail retrieval from most models I tested and excel in this area.
Nuances that cannot be heard on other TWS models come through here. Everything from string vibration and room reverb to musicians grunting while playing in the background.
There is a high level of revelation and it is most likely attributed to the drivers and being well matched. We are not talking high audiophile levels of detail but for a TWS it is very good. Detail yes, but does not go into the micro-detail territory much.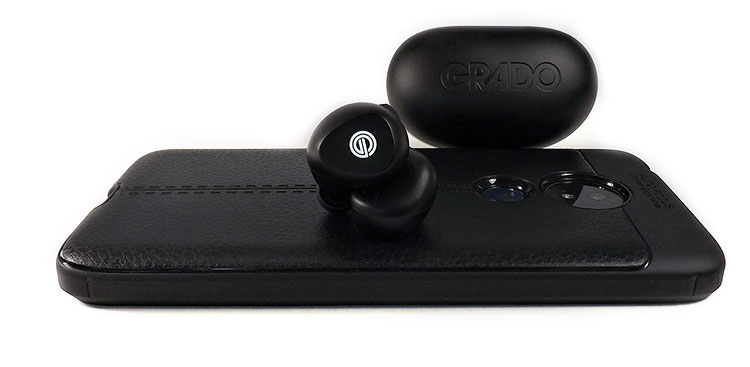 Wireless Performance
Pairing
Did the GT220 TWS present any anomalies when it comes to pairing and reception? Not at all. These had to be one of the least dramatic sets I have tested and they pair with no issues whatsoever.
I would remove the buds out of the case, once the initial pairing was done, they would simply connect and within 10 seconds. The initial pairing was also done flawlessly.
What more can I say. I tried to trip up the GT220 purposely. I have these USB Bluetooth adapters that are pretty bad that I use for the sole purpose of obtaining pairing problems and tripping up Bluetooth devices. Well, The GT220 paired flawlessly with them and made me look bad because I swore they were going to run into trouble. Nope, not a chance.
There has been no mention of the fact that the GT220 can pair each earbud individually. They act as if they have TWS stereo plus that exhibits the L/R step effect when you use the volume control but it is very subtle in this set. But yes, they can be paired individually.
Range
I did a straight view line test and I got the average 30 feet from home base. This is the average for most BT chips. I rarely get any distances over 30 feet from TWS models so this one is about average.
Latency
Latency is tiny but you may notice it on some media files. Most TWS models do have a little in terms of lag. The ones tested here on Headfonics have around 0.1 to 0.2s and the Grado GT220 is no exception.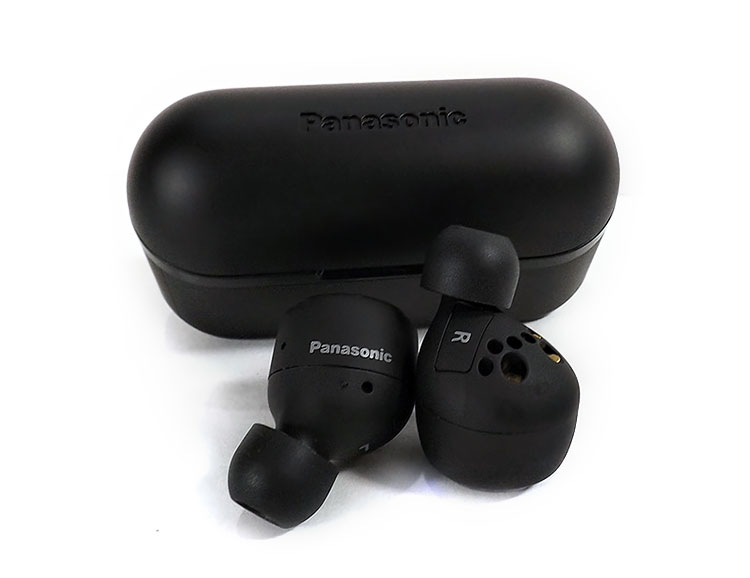 Selective Comparison
Panasonic RZ-S500W
These just came in for review but from what I got so far from this TWS is promising. They are a polymer constructed TWS with lots of features along with a very good implementation of an ANC that has a 50 step setting.
They are priced lower at $179 and another plus is that they come with more flanges. You get ANC plus an app. The GT220 comes with no app. There is even a firmware upgrade program.
The Panasonic RZ-S500W charging case is thinner but seems heavier. However, the GT220 set has better battery life. If it matters to you the LED scheme is more subtle on the Panasonic set where the GT220 LEDs are quite large especially on the earbuds.
Performance
One aspect of the Panasonic RZ-S500W is that the pairing is not as forgiving. However, the scale tilts when you consider that it has a 50 step ANC feature plus an app that includes an equalizer, a spatial enhancer plus a bass boost.
Touch controls are available on both and battery life seems similar if you use the Panasonic RZ-S500Wwith ANC off.
Tuning
These two TWS units sound somewhat similar. Warm sounding with a slight bass elevation, a smooth midrange response, and highs that are present and fairly crisp.
The RZ-S500W does not have the 3k edge in the midrange. Everything seems pushed back and smoother in the midrange versus the more forward and personal Grado signature. The GT220 seems to play at higher volume levels perhaps by a few decibels.
The Panasonic set has a wider soundstage and can project further out front and to the sides. Both sets project height the same. Again, personal taste dictates here, do you want the sense of being in a big space like a theatre or in a small Jazz club, in New York City.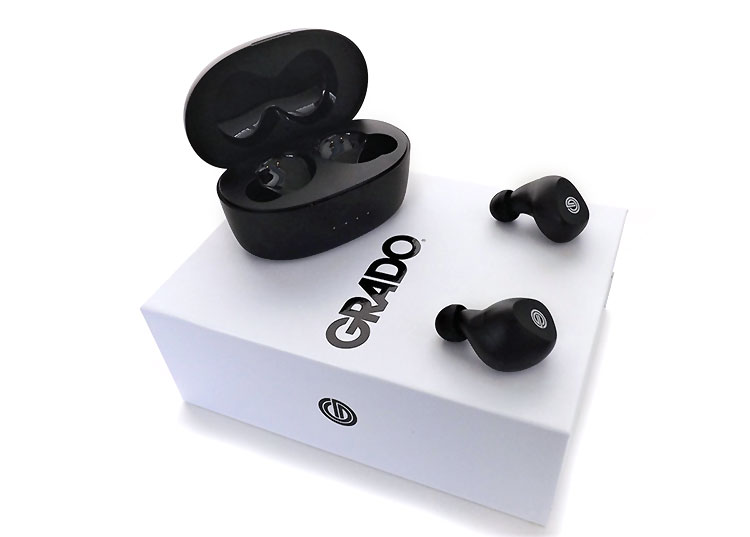 Our Verdict
I like simplicity and the Grado Labs GT220 is a simple TWS that pairs with no drama with a rock-solid connection to devices, works every time you want to use them with no issues, and sounds good to boot.
There is a lack of features but I rather have stability over bling. I would take simplicity, stability, and function over features and complexity with a bunch of bugs any day.
The Grado Labs GT220 has to be one of the most consistent working TWS models I tested and that alone deserves merit. The good sound they produce is a bonus and that combination makes them worth considering.
Grado GT220 Specifications
Bluetooth: 5.0
Battery Life: 36 hours
Headphone Battery: 6 hours; 50mAH
Case Battery: 5 full charges; 500mAH
Charging: USB-C, Wireless; 2 Hours
Codec: aptX, AAC, SBC
Frequency Response: 20Hz~20KHz
Nominal Impedance: 32ohms