We review the Shanling M9 Plus, which is a new flagship Android 10 DAP featuring a Quad-AK4499EX DAC and up to 1.125W of output power. It is priced at $2959 SRP.
Disclaimer: This sample was sent to us in exchange for our honest opinion. Headfonics is an independent website with no affiliate links or status. We thank Shanling for their support.
To learn more about Shanling products we previously discussed on Headfonics click here.
Note, that this article follows our latest scoring guidelines which you can read here.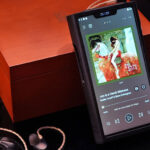 Shanling M9 Plus
The Shanling M9 Plus is a beast of a DAP which delivers similar if not better technical performance to some of the competition costing significantly more, all within an impressively portable package.
Pros
Strong dynamics
Long battery life
Euphonic 3.5mm output
Cons
Older Android OS
Loud button clicks
Shanling has released a special edition of their digital audio player, the M9 Plus, to celebrate their 35th anniversary. This is being positioned as their TOTL DAP sitting above their former M9 flagship which we reviewed last year.
With an impressive feature lineup and some killer looks, the M9 Plus is competitively priced for a flagship at $2959, making it an attractive option for audiophiles who are looking for a potential end-game high-end music player.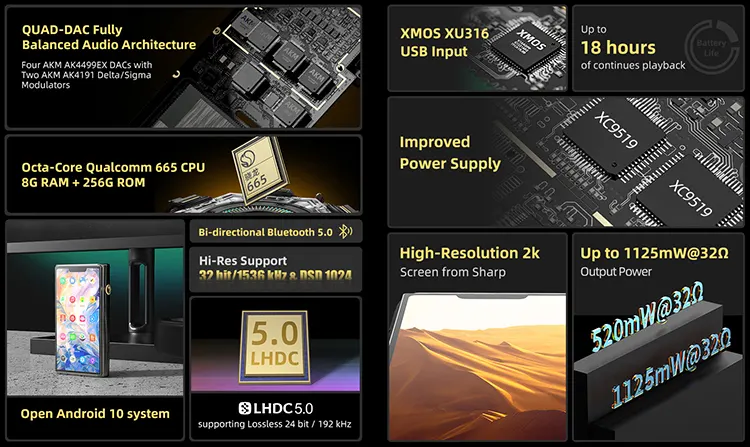 Tech Inside
Summary
The Shanling M9 Plus is a fast and powerful portable audio player packing in a Snapdragon 665 processor, 8GB of memory, and 256GB of storage. It also features the XMOS XU316 USB chipset and supports up to a massive PCM 32BIT/1536kHz/DSD1024 decoding.
The device runs on a customized version of Android 10, which allows for easy access to a variety of audio-related controls and supports streaming media apps of all kinds.
For users who want to connect the M9 Plus to their home audio gear, the device supports multiple wireless connectivity modes, including Airplay, DLNA, and NAS.
Additionally, in order to improve the tonality, the M9 Plus has a special circuit implemented in its 3.5mm single-ended output path, grounding the output jack to the casing.
DAC
In the heart of the M9 Plus sits 4 pieces of the latest AKM AK4499EX DAC and 2 pieces of AK4191. This combo is the pinnacle of decoding chips under the AKM Velvet Sound series with an impressive 135dB signal-to-noise ratio and -124dB THD performance.
Unlike traditional integrated chipsets, the AK4191 is responsible for digital processing while the AK4499EX handles analog signal processing.
This allows for better distortion control performance and an improved signal-to-noise ratio, with each channel of the DAC reaching as high as 135dB in S/N ratio and –124dB in distortion.
The chipset design in the M9 Plus is a departure from the trend of packing more components into smaller chipsets. Instead, it allows more room for circuitry tweaks, resulting in impressive specs and audio output quality.
With more channels, the signal-to-noise ratio is enhanced, as well as the output current, resulting in exceptional audio playback performance.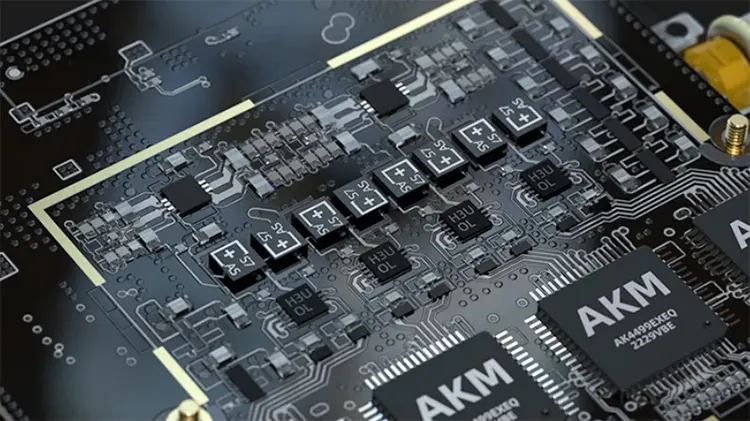 Decoding
The M9 Plus supports pretty much all codecs including ISO-packaged DSD files. PCM 32BIT/1536 and DSD1024 decoding is supported through USB DAC mode or local playback, and it also supports MQA 16x unfolding.
To ensure accurate clock signals and improved distortion and jitter control, the M9 Plus also features upgraded KDS crystal oscillators operating at 90.3168MHz/98.304MHz. The digital and analog clocks are separated through asynchronous operation, allowing for high-precision digital-to-analog conversion.
Amplification
The output capability of the M9 Plus for its headphone output, (PO), is competitive at 500mW into 32Ω load going single-ended and up to 1.125W balanced for the equivalent load.
Both the SE and balanced PO outputs have an impedance rating of less than 1Ω also making it very suitable for sensitive IEM use.
As far as the measurements are concerned, the M9 Plus achieves excellent THD+N of only 0.0007%, and a signal-to-noise ratio of 126dB with 115dB @ 32Ω loads for separation, basically the best you can get for a portable DAP.
If you are planning to hook up the M9 Plus to amplifiers, then you could make use of the two output jacks on top of the device. The LO jack duals with the PO to keep the design clean so, you have to manually switch to LO mode in the drop-down OS menu after connecting to an amplifier.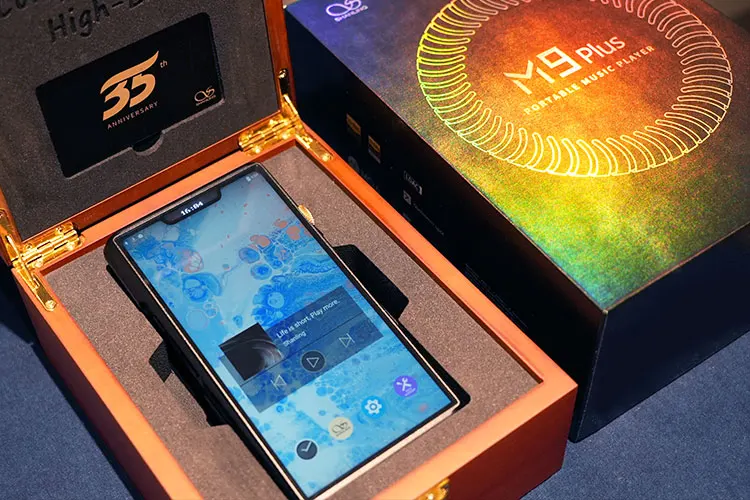 Design
The Shanling M9 Plus shares a similar curvy design aesthetic with the original M9 player but with some modifications to make it more suitable for outdoor use.
It retains the design language of its predecessor, with curved lines machined into the magnesium-aluminum alloy body that is visible through the leather case. This design is reminiscent of the flow of musical notes and adds a touch of elegance to the device.
In addition, the M9 Plus features a slightly concave and nicely textured volume button that is a delight to use. It provides a small click for every incremental volume step, which makes it easy to adjust the volume precisely.
The M9 Plus has a modern and premium look with new glass inserts on the top and bottom. The device's yellow-gold colored indicators and knobs give it a premium feel.
The back of the device has a large matte glass panel, which is a feature seen on other Shanling players such as the M7, and is preferred by some users over traditional glass back panels. However, if you opt to use the leather case, the panel will, unfortunately, be hidden.
On another note, leather cases on DAPs can make them look very similar, but Shanling has added subtle details to the M9 Plus to enhance its touch and feel, as well as make it more practical for outdoor use.
The device weighs just 379g, 10% lighter than the M9 and feels much lighter than iBasso's DX320 MAX Ti or FiiO's M17 and is more in line with lighter high-end players such as the Cayin N7, making it easy to carry around.
Screen
Compared to the M9, the M9 Plus is 5mm shorter in height and has a larger screen-to-body ratio.
On the front of the M9 Plus sits a 2K resolution Sharp LCD screen with 2160*1080 resolution, and it is accompanied by a secondary, retro-styled LED screen. This is similar to iPhone's status bar, but with various info such as volume and format being displayed in the 8-bit font.
The screen feels very sharp with excellent pixel density, you can stick your face to the screen and it still looks well-defined.
The screen can be adjusted brightly so you can read under strong sunlight, to use it in the car without the need to move under the shade. It is also very responsive and smooth when playing mini-games and viewing videos at high fps.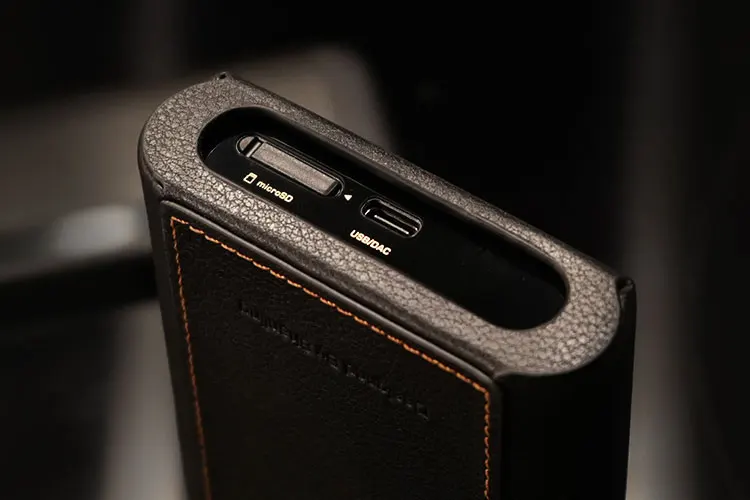 I/O
The swappable jack design is cancelled on the M9 Plus unlike what is implemented on the M8 and M9. Instead, the 4.4mm balanced output jack and the 3.5mm single-ended output jack align nicely on top of the player and are adorned with a glass panel.
While the swappable output jack design is innovative and fun, it is more practical to feature the 3.5mm and 4.4mm outputs which are more commonly used.
At the base of the M9 Plus are a microSD slot and a USB-C connector, which allows for connection to other decoders, using the player as a decoder for your PC, or connecting OTG devices.
The microSD card slot is subtly improved upon the original one that I sometimes found hard to push out, and this time it comes with a lid that you can easily pick out with your nails.
While the Shanling M9 Plus does not include optical or coaxial outputs, it does feature a USB-C connector that can be used to connect the device to other digital audio sources or devices via OTG.
This means that it can be used as a digital source, allowing you to transfer high-quality digital audio files to other devices or use it as a USB DAC with your computer.
Controls
The screen-to-body ratio of the Shanling M9 Plus has been further enhanced, and when using the leather case, it covers nearly all of the screen area. Despite its larger screen, it still feels light and easy to grip, making it easy to press items located in the corners.
The button arrangement on the M9 Plus is minimalistic and intuitive, with the volume knob also serving as the power button, and three other buttons on the left for controlling playback functions. These buttons are located in just the right spot when holding the device left-handedly.
These buttons have clean and solid feedback upon clicking and are all easily accessible and exposed even when using the leather case. My only complaint is that the clicks on buttons sound slightly loud, if you happen to listen in the library you may need to use the on-screen controls instead.
Battery Life
While the circuitry is made more efficient, the M9 Plus keeps the 8350mAh battery that allows it to playback high-res files for 18 hours on single-ended and 11 hours on its balanced output.
That means if you listen only during your daily commute, it is likely you will only need to charge it once a week, and charging it is as fast as charging the phone with QC3.0 equipped.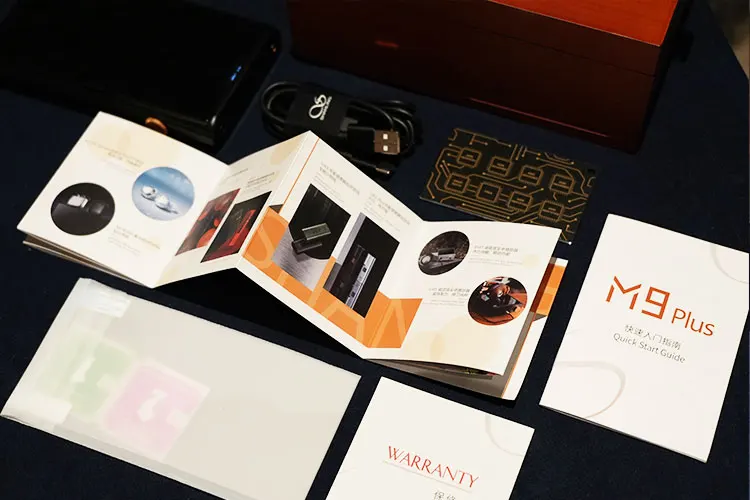 Packaging & Accessories
The Shanling M9 Plus comes inside a huge solid wooden box that could double as a treasure box for all the accessories and IEMs.
In the packaging, you will also find a USB cable and other materials introducing to you the hardware. The leather case can be separately purchased and it is improved against the M9 case to cover the edges and all sides perfectly.
Click on page 2 for software and sound impressions.