In today's review, we dive into the new Shanling M7 which is their latest wave-designed ES9038PRO DAP equipped with Android 10. It is priced at $1249.
Disclaimer: This is a sample sent to us in exchange for our honest opinion. Headfonics is an independent website with no affiliate links or status. We thank Shanling for this opportunity.
To find out more about Shanling products we have previously covered on Headfonics click here.
Note, that this article follows our latest scoring guidelines which you can read up on here.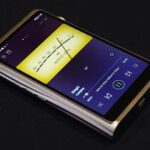 Shanling M7 Review
The Shanling M7 delivers an excellent balance between portability, tonality, and power. It could easily pair with any IEMs and is able to power portable cans to sound very dynamic and loud.
Pros
Excellent performance for the size
Good synergy with any IEM
Balanced tonality
Cons
QC 3.0 only
No 2.5mm output
Limited dropdown menu
Shanling recently launched their new M7 DAP which is intended to fill the gap between the older M6 Android series and their newer flagship alternatives, the M8 and M9.
This gives the company an opportunity to introduce their new wave design language from the M9 into a smaller package as well as a slice of what they have been doing with their high-end gear at a more affordable $1249 retail price

Tech Highlights
The M7 is technically a petite-sized M9 inheriting some of its strongest hardware features. Running an open Android 10 OS powered by an 8-core Qualcomm Snapdragon 665 SoC and 6GB RAM, it is not as fast as the 10-core on Apple's M1 chipsets, but it is definitely enough to make the UI performance silky smooth.
The Shanling M7 has 128GB ROM on board, which is enough for plenty of apps and high-resolution music to be loaded. The SoC supports MQA so you can stream high-resolution tracks from online to your hi-fi setup with 16x unfolding power.
DAC
Instead of doubling up mobile version chipsets, Shanling uses an 8-channel ES9038PRO flagship DAC chip configured in current mode and supporting up to 768 kHz/32BIT and DSD512 decoding.
Shanling uses the same DAC on their TOTL CD player, which makes this choice more convincing. In addition, a similar PSU like the M9 is used alongside the ESS's ES9311 voltage regulators, to supply clean and stable power to the audio circuitry.
Around the DAC KDS Crystal Oscillators & Shanling's 3rd Gen FPGA custom chips are implemented to ensure high accuracy in the time domain and to decode with pinpoint accuracy.
CPAF Technology
Shanling implemented their self-owned CPAF technology based on mathematical algorithms to rectify phase errors in the whole audio spectrum caused by low pass filtering.
Measures include using a single circuit board with a minimized signal path, and arrays of regulating circuitries that pump the current to the DAC, the I/V, as well as the amplifier to ensure a highly stable power supply.
As such, the working condition for core components is optimized to achieve the target sonic qualities and to minimize distortion.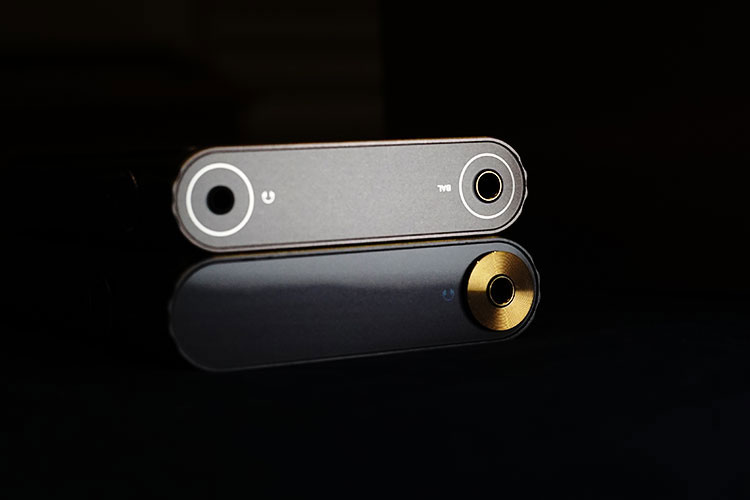 Amplifying architecture
Shanling designs an I/V conversion stage for its 4-channel amplifying circuitry. Consistent with their other DAPs, OP+BUF stage design is employed on its Single-Board Acoustic Design, and the fully balanced architecture is capable of outputting 900mW @ 32ohm, pretty decent for a pocketable device.
To be more specific, Dual ADI ADA4896-2 is used in the I/V stage with matched resistors and capacitors, along with Muses8920 Dual-channel J-FET op-amp that offers excellent noise control performance. Also, a TI-OPA221 is used as well as a BUF634A from Texas Instruments.
High precision thin film resistors, Panasonic Tantalum-polymer capacitors with high accuracy and low sensitivity to temperature fluctuation are implemented around the signal path, also top-grade ELNA Silmic II capacitors from Japan.
All these components mimic high-end SACD players / digital turntables designs, bringing together analog goodness in its amping circuitry and strong technicalities offered by the decoding solution.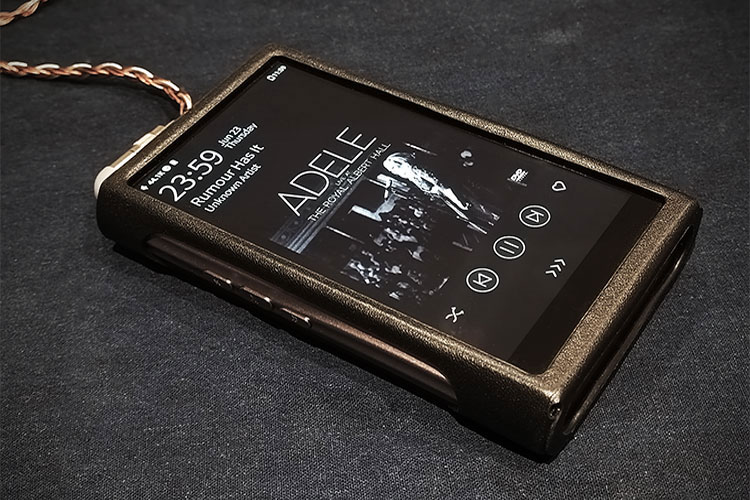 Design
The streamlined M7 has its body CNC carved from aviation-grade, solid aluminum unlike many of its facetted, larger-sized competitors.
The wavy, single-piece chassis takes more expertise and skill to machine. With a sand-blasted finish, it feels textured and secured to the touch. Labels of the jacks and card slot are sharply engraved, keeping the design clean looking.
A glass panel decorates the top side and flipping to the back the M7 is adorned by a matte glass panel. That doesn't mean that the M7 is heavy, at just 312g it feels similar to a large smartphone. It looks so good that I am tempted to not slide on the leather case.
The shrunken body size measuring 129 x 78 x 20mm feels much sleeker and pocket friendly when compared to the M9. The 5" 1920 x 1080 SHARP LCD panel almost takes up the whole area of the front panel.
The pixel density is pretty high here and the screen is contrasty and bright, also responsive enough to feel very smooth thanks to the fast MCU as well.
While most manufacturers are developing techy or geeky-looking devices, the M7 takes a different approach to feel and look more elegant.
The actual usage experience feels like a phone-size M9. You get intuitive controls and a size that is perfect for operating single-handedly. The leather case also leaves out the sides to let you feel the curvatures.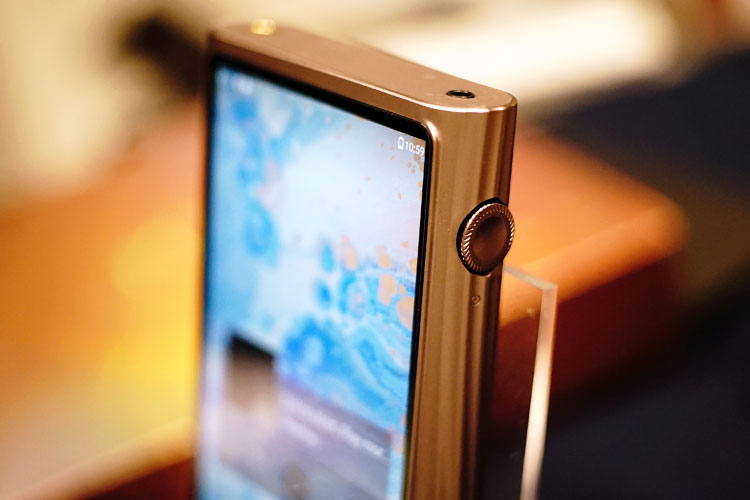 I/O
The in/output layout on the M7 is cleaner than on the M8 and M9, with only 4.4mm Bal. and 3.5mm SE outputs compared to the M8/ M9 featuring the swappable system that supports 3.5mm SE and BAL terminated earphones.
The downside is you will need a converter for 2.5mm cables, yet I do prefer the minimal design that does not look too geeky.
The lower side of the M7 has a USB-C port which you could connect to USB DACs as well as OTG devices i.e., thumb drives to load files onto the M7. Besides it, you can find a card slot with a dust cover that you could easily open without the need for sim card pins.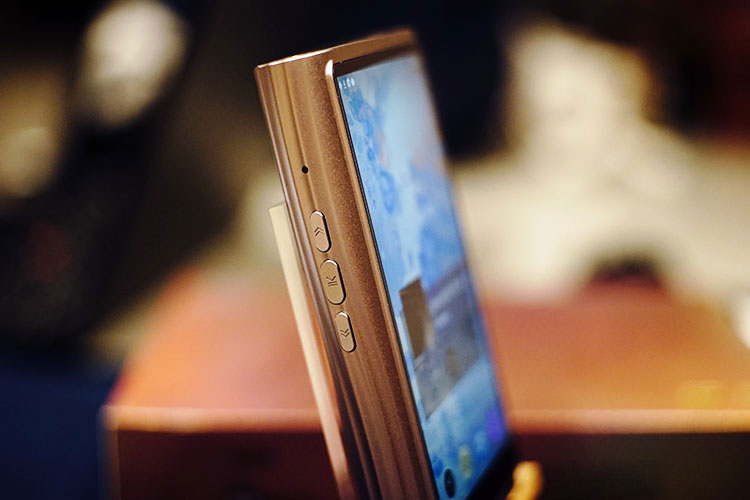 Controls
The physical buttons are intuitive as on other Shanling devices, you could control playback in the pocket with your thumb and adjust the volume with the index finger. The volume knob doubles as the on/off button, everything is controllable with one hand and is friendly to both left-handed and right-handed users.
Battery
The output on M7 is impressively powerful and within a very portable form factor, it is still able to offer up to 10 hours of playback with SE connection and 8.5 hours on Balanced with its 7000mAh battery. The M7 also supports 18W quick charge so you can easily recharge it over coffee time or at work.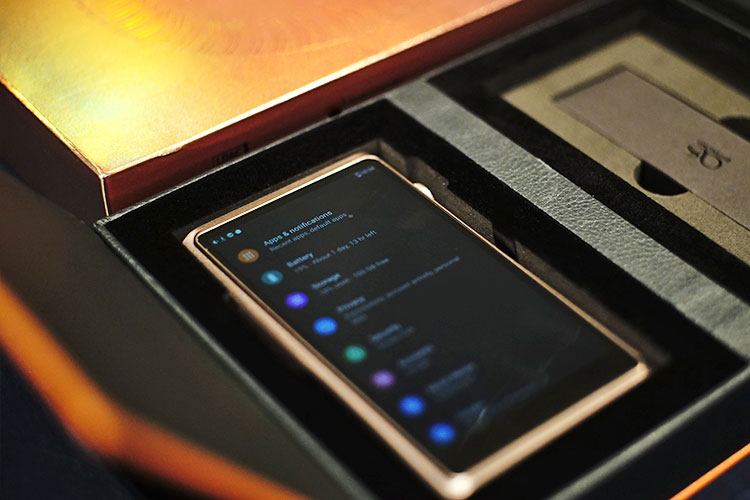 Packaging & Accessories
The M7 comes with faux leather packaging which is designed like a hard-cover book. Very professional gift packaging as always and inside you would find screen protectors and a charging cord.
The M7 is pre-installed with a screen protector so once you lift it up from the box. It may get slightly hot after an hour or two, so if you are putting it in the pocket for a long ride you are recommended to use the leather case.
Click on page 2 below for software and sound impressions.