We review the Cayin N7 which is a new Android 12 DAP featuring a 1BIT DAC output combined with up to 500mW of balanced output power. It is priced at $1999.
Disclaimer: This sample was sent to us for our honest opinion. Headfonics is an independent website with no affiliate links. We thank Cayin and Zeppelin & Co for their support.
You can click here to learn more about Cayin products that we have previously featured on Headfonics.
Note, that this article follows our latest scoring guidelines which you can read here.
Cayin N7
The Cayin N7 is the kind of DAP that invigorates your listening experience with headgear that perhaps over time you have gotten a bit blasé about. It may not be the final word in exacting detail like its flagship sibling, the N8ii but I personally find its ability to image and scale a soundstage on a regular IEM to be incredibly refreshing.
Pros
Outstanding staging capability
Fast and modern OS
Excellent line out performance
Cons
Power a bit weak for demanding headphones
Average battery life
The Cayin N7 launched a few weeks ago though I first got the heads up on its imminent arrival sometime in late 2022. Features and concepts were sketchy at the time but the big pitch was that this DAP was going to be sort of a first in the digital audio player world for what it could do.
The second was its positioning, with its nomenclature and price of $1999 logically positioning it just below the current flagship, the N8ii. So, we have a world first in terms of features but not a flagship, which more than piqued my interest.
Luckily, when it did arrive, I managed to pack it in the bag and get some quality time testing it with a very wide range of new headgear at the recent CanJam Singapore 2023. So, in a way, my review process for the N7 was more varied than normal.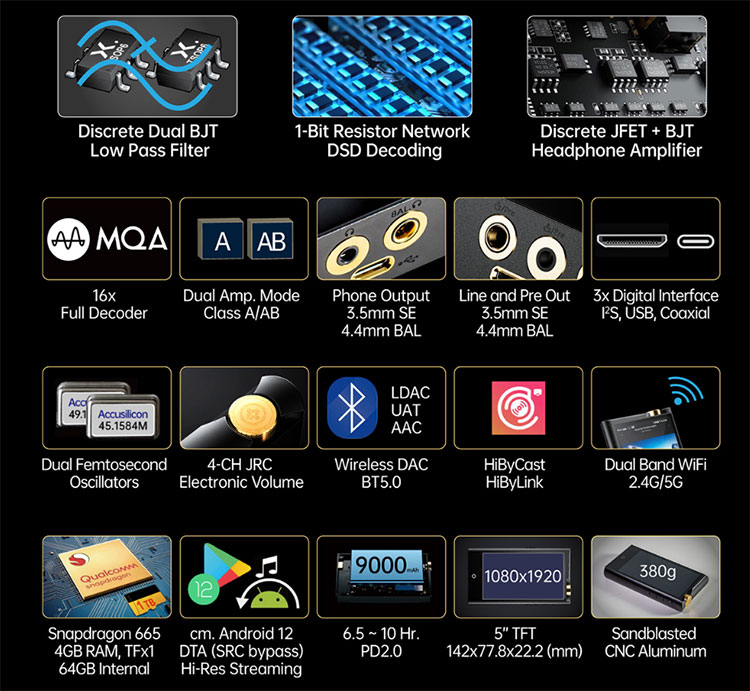 Tech Highlights
Snapshot
The Cayin N7 is the first portable digital audio player to be equipped with a 1-BIT DAC. Not only that, its digital-to-analog conversion through to the low pass filter and the headphone output circuit is fully discrete-engineered as opposed to using pure delta-sigma chipsets or opamp driven.
The N7 also retains Cayin's trademarked dual operational amplifier mode with options for Class and Class AB output, including a triple gain stage. With dedicated balanced and SE line-outs as well as a variable pre-out for power amplifiers there is a place for it at the heart of your digital audio HiFi setup.
Though it is primarily a portable DAP with local playback via 64GB of onboard memory its wireless connectivity and a refreshed Android 12 OS powered by a Snapdragon 665 CPU and 4GB of RAM should also make it an excellent platform for streaming purposes.
An internally rated 3.8V 9000mAh lithium battery will get you around 8.5 hours balanced and up to 10 hours SE with PD2.0 Quick Charge capability meaning from 20% to 80% in just under 2 hours.
1-BIT DAC Benefit
The discrete differential 1-BIT DAC benefit primarily applies to processing native DSD, which is a 1-BIT audio file format, as opposed to PCM, which is multibit.
There are many ways in which both formats are processed in modern-day DACs. This includes portable players with implementations that include pure R-2R inside Cayin's RU6 dongle or the R01 Motherboard and the more traditional delta-sigma chipset formats from AKM and Sabre.
Modern chipsets such as these have a DSD direct bypass mode that will convert the 1-BIT content to multi-bit before they can decode it, such as the older N6ii's stock A01 motherboard.
The N7's audio-digital bridge separates DSD from PCM signals and allows it to bypass a typical SRC multibit converter thus leaving its own 1-BIT format unaltered when it reaches the resistor network DAC. PCM itself is converted to 1-BIT bitstream before it is sent to the DAC.
The contention here is that DSD, decoded in its unaltered 1-BIT format, will sound significantly superior to DSD audio that has to go through an SRC multibit converter.
Discrete components will also ensure Cayin has much firmer control over the subsequent requirements to perfect the performance both before and after decoding.
This includes, among others, an intricate and clean power supply with a double-sided PCB layout to isolate both digital and analog processing as well as 2 Femtosecond crystal oscillators for jitter control, something which poorly converted DSD is prone to exhibit.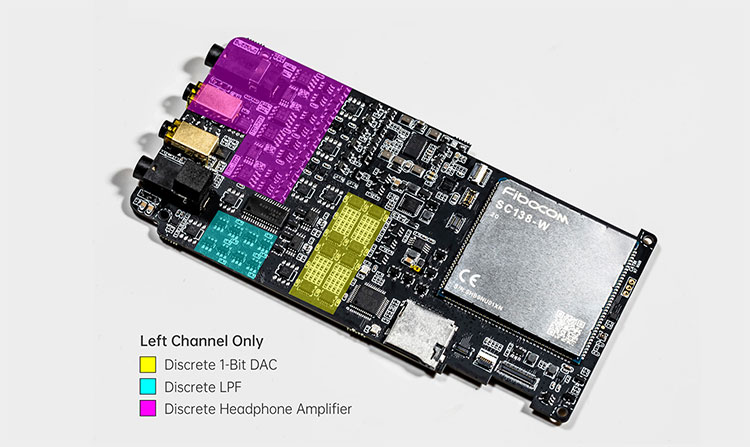 Decoding
Processing capability from the N7 is very competitive including up to PCM 32BIT/768kHz and native DSD512 from USB and I²S and a maximum of 24BIT/192kHz and DSD up to DoP64 from its SPDIF port.
Since the N7 also has wireless Bluetooth transmission and receiving you can also decode up to LDAC 96kHz and for those with UAT-compatible devices up to 192kHz. MQA is also included at 16X unfolding capability up to 768kHz similar to the N8ii.
The N7 also uses DTA or Direct transport Audio to get around Android SRC sampling limitations so the audio output will not be 'gimped' so to speak which means it will be bit-perfect.

Headphone Amplification
The N7 amplifier continues the discrete theme by ditching traditional opamps and instead uses a components-based Class A push-pull circuit with a JFET for its differential input stage and a BJT for voltage amplification and final output.
The emphasis here is a reduction in noise and I think Cayin's makes no bones about the fact that they are targeting IEMs and relatively efficient headphone users rather than demanding headgear.
The numbers seem to back that up with a reasonable 250mW into 32Ω going single-ended which is 10mW stronger than the N8ii on the same rated load.
You get 500mW into the same load when going balanced which is on par with the Lotoo PAW Gold Touch and technically also higher than the N8ii without P+ mode. It is only when you slap on the P+ mode, (Class AB only), do you get a significant mW advantage with the N8ii jumping up to 750mW.
On top of that, Cayin has kept its excellent dual amplifier operational mode seen in the flagship N8ii so you have the ability to switch between a Class A and Class AB via the UI interface.
This time there is a clear distinction in the performance of these two modes, much more so than the equivalent N8ii modes. You can read up on the differences a bit more in our sound impressions on page 3 of this review but in summary, Class A mode gets my vote.


Line-out & Pre-Out Capability
The Cayin N7 comes with dedicated balanced 4.4mm and 3.5mm line-outs for connecting to a typical integrated headphone amplifier, portable or otherwise. The line-out standard rating of each is 2Vrms for SE and 4Vrms for balanced.
On top of that, you also get a variable voltage pre-out for those who want to link it up to a power amplifier. Owners of Cayin's excellent C9 portable amplifier should certainly demo the N7's pre-out capability given it comes with both dedicated pre-amp and line inputs.
Whilst it will not replace the iDAC-MK2 as a dedicated preamp, (7Vrms unbalanced and 13Vrms balanced), the N7 pre-out voltage is none too shabby at 4Vrms SE and 7Vrms balanced and should be more than enough for C9 users and some good quality active speakers or HiFi power amps.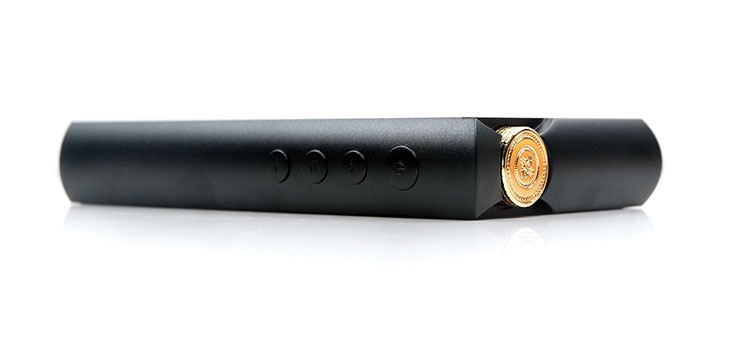 Design
Dimensions
Whilst the overall design language of the N7 overlaps with the N8ii, there is enough of a difference in the final aesthetic and dimensions to give it its own unique character.
Given the ventilation space required for discreet components which generatee more heat than opamp designs, this is still a large device by any standard but not as big or as heavy as the flagship.
For a start, it is just over 60g lighter than the N8ii and you will feel that weight difference in the day-to-day handling of the two. Second, it is slimmer with 3mm less height, a benefit of not having to use Korg Nutubes which are on their sides inside the N8ii chassis.
Aside from that the height and width are not massively different with the N7 marginally shorter by 5mm and narrower by just 1mm compared to the flagship.
The overall dimensions of the N7 do become a shade thicker once you put on the stock leather case but given the heat from its Class A mode combined with ever so slightly sharp corning on the aluminum chassis, it will do the job of keeping your hands relatively cool and fatigue-free.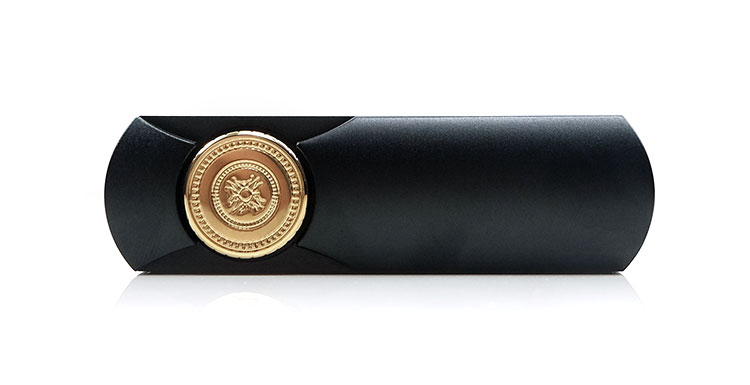 Aesthetics & Controls
Aesthetically, the N7 feels like a cross between the N8ii and a Sony or Lotoo DAP. It has a fairly minimal and slightly curved, black-colored sandblasted CNC aluminum chassis, with clean-cut edging on the top and bottom. And edging that is slightly smoother to the touch than the corresponding edging on the N8ii I might add.
The cutting feels slightly less complex compared to the N8ii chassis with buttons facing outwards which might be more prone to accidentally activated when handled. It does not have those small, recessed pockets in strategic areas that give both the I/O and controls a measure of protection save for the potentiometer.
However, all immediate physical controls are clearly laid out, well-spaced on the right panel, and easy enough to find when unsighted.
One thing to note, with the stock leather case fitted onto the N7, is the amount of physical travel between the case and buttons. This has been reduced quite a bit from the N8ii version making it very easy to turn on and off without too much pressure.
The gold-plated stepped volume dial on the top panel is almost an exact duplicate of the styling and application used on the N8ii version except for the hot stamp finish which is slightly less complex.
Like the N8ii version, the N7 potentiometer has no dual functionality and is an analog potentiometer purely for volume control., It is a pleasingly accurate one at that with no perceived step slippage when rotating.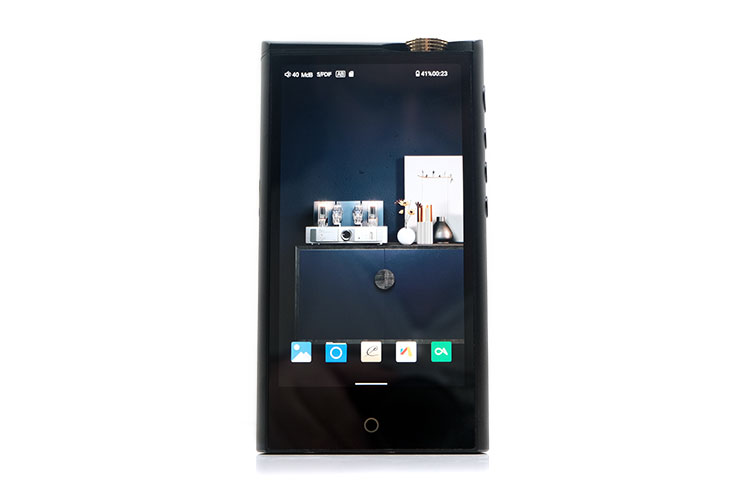 Screen
Like the N8ii, the N7 also uses a 5″ screen, (Sharp), but at a higher resolution at 1080p compared to 720p. That is offset slightly by downgrading the quality of the panel from the N8ii's OLED to TFT but given the lower price point that is not wholly surprising.
Still, the fine detail impresses with a similar 60Hz refresh rate and a superior pixel density rating of 387dpi compared to the N8ii's 319dpi. The detail is crisp and very easy on the eye.
Current owners of the N6ii looking to upgrade will find the enhanced real estate of the capacitive N7 screen a welcome sight. There is plenty of room for scrolling with a multi-touch capability that is very responsive.
It is not a borderless design though the bezel is fairly small at the top and sides. Where the thickness creeps in is at the bottom with Cayin's classic single circular touch-sensitive button dominating an otherwise function-free margin.
The viewing angles are satisfyingly wide meaning legibility at extreme tilts is still quite possible. Sunlight is less of an issue and with Android 12's integrated dark theme, it actually has a more coherent 'black' look to its menu screens than the N8ii's Android 9 interface.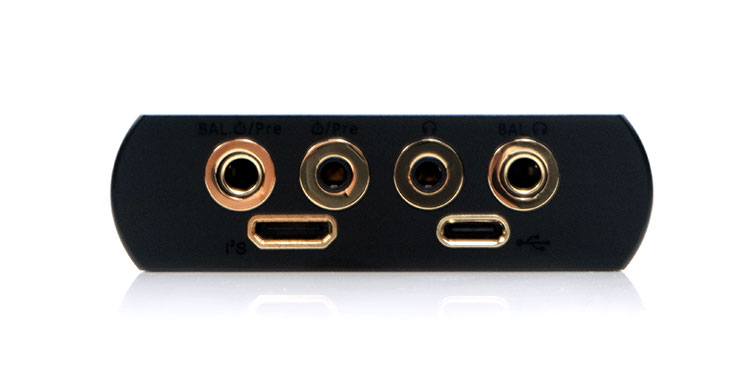 I/O
In a similar fashion to the N8ii the N7 I/O, aside from the memory slot on the left panel, is all on the bottom panel. Only this time the layout had changed to accommodate the additional dedicated lineout and pre-out functionality.
You get 4 ports, 2 x 4.4mm balanced for PO and LO, and 2 x 3.5mm SE for PO and LO. All the PO ports are on the right side and all the LO/Pre out ports are on the right side.
Below you have your digital I/O which includes USB-C for the N7's USB-DAC, OTG, data transfer, and charging features You also have a mini I²S socket which, in my experience, has been very forgiving for compatibility with desktop DACs and other sources with a reciprocal I²S input.
The N7 has 64GB of onboard memory which isn't huge but consistent with being a step down from the N8ii which offers double at 128GB. You do have an external TF card slot which is rated for an additional 1TB of memory as well as flash expansion capability via OTG.
Considering most will want to be testing larger DSD files with the N7 I suspect a good microSD or flash card of around 128GB or higher will be required.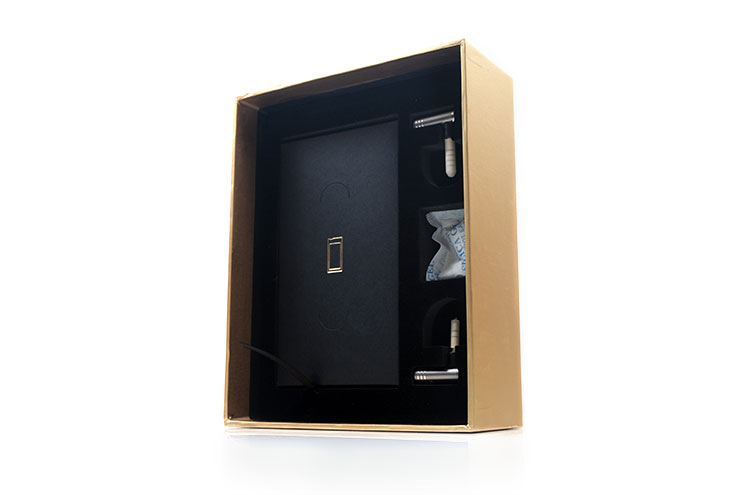 Packaging & Accessories
The Cayin N7 packaging is relatively simple but professionally finished. You will get nothing as fancy as the jewelry box slide-out styling of the N8ii. Instead, it's a 1940s Noire-style mix of black and gold on the outside and replicated somewhat once the lid is lifted.
The N7 is nestled on its own on the top protective layer and wrapped in some protective thin film with the accessories neatly laid out in a second layer just below. The stock accessory lineup is as follows:
Dignis-designed leather case in yellow
4.4mm to 2.5mm (F) Adapter
3.5mm to 2.5mm (F) Adapter
USB-C Cable
Temper Glass Screen Protector
User Manual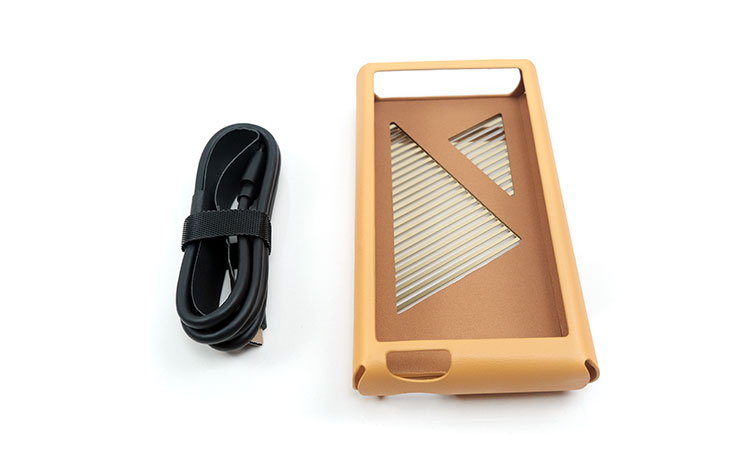 Now in my box, I did not find any tempered glass screen protector but it was explained to me that it was already applied on the front screen. It's an almost precise match and most definitely factory-applied. The fit and lack of bubbles are superbly done to the point where you would not even notice it's there.
The rear also has a screen protector pre-applied also which requires you to peel it off before use. The leather case is like a hybrid of the HiBy RS6 flap-finished leather case combined with the typical metal rear venting system found on the N8ii case.
It fits perfectly but as mentioned before, watch how you handle the sides as there is very little distance between the case and the button so it's quite easy to activate the controls.
As I write this review Cayin has also launched a few additional accessories that you can acquire for the N7. That includes a new Royal Blue version of the same leather case which I admit I much prefer from a personal preference point of view and some attractive gold-plated brass plugs for the ports.
Click on page 2 below for Cayin N7 software impressions and wireless performance.
Click on page 3 below for Cayin N7 sound impressions and pairings.