Software Feature Tweaks
Since the main features of Mango OS and the Mango App are largely unchanged from the DX300 I felt it might be more beneficial to have a look at what are the specific new features or tweaks on the DX320.
If you want a more in-depth look at the various apps and features of the DX3XX series you can read our software rundown in more detail here in the DX300 review.
More Integration
Moving to Android 11 might well be more of a stylistic and future-proofing exercise in some areas for the DX320 since a lot of the core Android upgrades over 10 revolve around messaging and notifications services.
Unless you are planning to use the DX320 as a social media hub these features might not have much value to you.
For example, the notifications control center is now much more expansive to include features like capturing your notification history and the use of bubble floating icons rather than just dots. The screen recording feature that most phones have post-Android 11 is also not an available option in the DX320 version.
Features such as Android Auto we cannot test here as none of our vehicles have Android Auto in our cars. However, in theory, the DX320 should be compatible with its Android 11 installation. If you happen to have tested it let us know in the comments section below.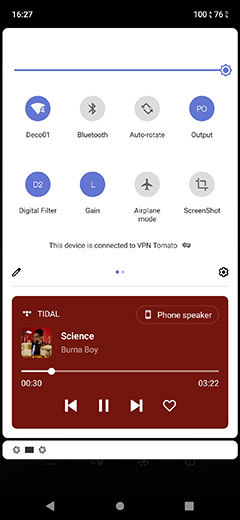 Improved Flexibility
One background tweak which I do like and find useful for the DX320 is the new drop-down notifications bar layout for audio playback. No longer is audio playback seen as a notification as such but rather a built-in feature of the drop-down menu so it remains 'sticky' and fully featured with a full swipe downwards.
For streaming, the ability to tap to redirect the audio signal wirelessly to another device on the same network or BT connection such as a TWS is a very handy service.
Sadly, the Mango app does not have the same built-in features and still organizes itself in the notifications section so I would like to see this shifted and recognized in the same manner as Spotify or TIDAL in the dropdown menu in any future firmware updates if possible.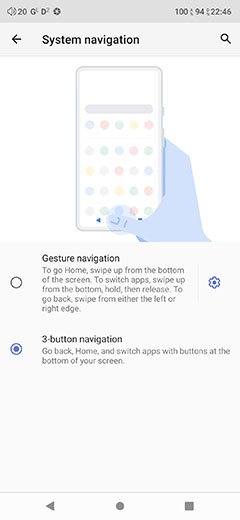 Navigation Changes
Another new feature available on the DX320 from the upgrade to Android 11 is the multiple navigation systems you can choose from. On the older Android 9 version, the DX300 was a fixed 3-button navigation control at the base of the screen for home, Go Back, and Switch apps.
Now, the DX320 is customizable to allow you to also use gesture navigation with swipes in multiple directions to switch apps, go back, or go home.
For some, this is nothing new given smartphones have had this feature for a few years but it will allow a base of users access to a system they may already be quite familiar with. It also provides for a cleaner interface when navigating.
Just a reminder also that the navigation bar for the DX320 is not fixed in stone with certain key features similar to how the DX300 operated also.
For example, the AMP card you choose will affect whether or not you have a line-out option available to you. In the case of AMP13 where there is no specific lineout, the output icon will remain fixed on PO, whereas the stock AMP11 MK2s will allow you to switch between LO and PO.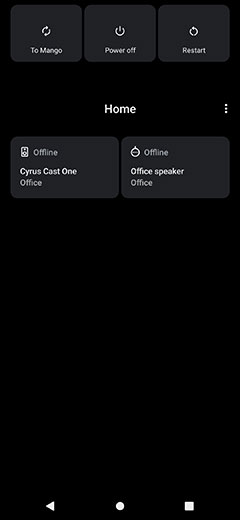 Smart Controls
Android 11 has also reimagined the boring old power button feature suite to now allow you to also integrate relevant smart controls. The DX320 version is no exception.
Previously on the DX300 Android 9 version, you would long press to get 3 basic options to boot into Mango OS, power off, or restart. Nothing more was on offer making it a sort of a 'means-to-end' feature.
However, if you have something like Google Home installed you can now tap into Android's Chromecast features and link up to compatible devices. In our case, it is a Cyrus One Cast streamer and our Google Nest smart speaker.
Watch out though because this seems to be a feature specific to Android 11 only and not available on Android 12. An ironic move from Google because for me it adds a lot of interesting value to the connectivity of the DX320 to a wider wireless ecosystem from a single screen.
Mango App Tweaks
The Mango app has a few new additional features tucked away in the Advanced Menu settings and something I suspect comes from the switch to the new ROHM DAC architecture.
At the very top, you now have two options specifically focused on DSD performance controls including 3 filter options, (low, medium, and high) and a handy DSD volume compensation which should raise the volume up by around 6dB to closer match PCM performance.
Given that the DX320 is bitperfect that same DSD filter choice and compensation control is also a new addition to the main Android audio menu meaning you can adjust it system-wide for most audio apps.
As mentioned, the choice of digital filters on the DX320 has been reduced from 5 to 2 but that's more due to the choice of ROHM DAC than a conscious decision by iBasso to reduce the number of filters available.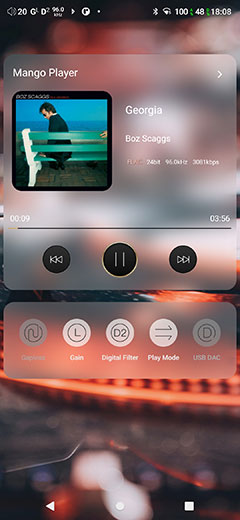 Mango App Widget
The additional Mango widget on the left of the home screen remains unchanged between the Android 9 and the Android 11 version. It is a handy little tool with a lot of useful quick access buttons including gapless, USB-DAC mode, and Play Mode.
There is still some duplication with the drop-down bar with the inclusion of the gain and filters option and for some reason, in our original review, I mentioned SPDIF output as an option that is no longer there on the most recent firmware of both the DX320 and the DX300. I suspect gapless playback has replaced it at some point.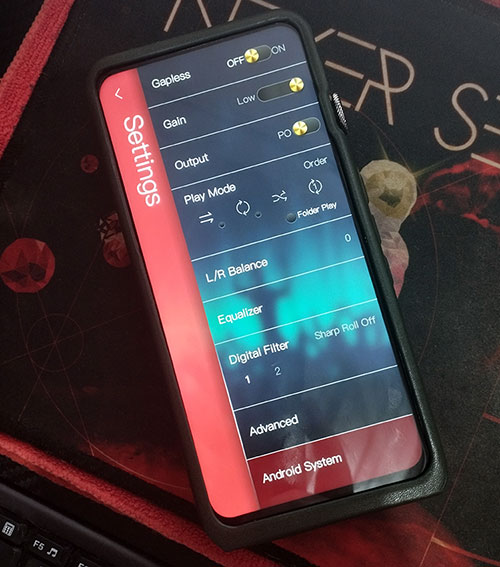 Mango OS Tweaks
Virtually the same changes from the Android app are also present in the DX320 Mango OS. That includes the 3 DSD filters as well as the DSD volume compensation controls. Both of these are drawn directly from the DAC hence being available in both OS frameworks.
You get the two digital filters, sharp and slow roll-off, as opposed to the five, (including NOS), from the DX300's Cirrus Logic DAC implementation.
The output option will also show PO or LO for AMP11 MK2 directly in the settings menu since there are no dropdown options in Mango OS. However, PO/LO will not show up if you are using AMP13 since it has no LO functionality.
Wireless Performance
WiFi
(Measured with a 2.4GHz modem around 3 meters away behind one wall)
There is virtually no difference between the DX320 and the DX300 in terms of WiFi signal strength and network speed at 180 Mbps and 173 Mbps. That should not be surprising given the similar internal construction as well as both DAPs using the new 2 x2 MIMO 2.4G/5G antenna architecture.
Picking up a modem from a decent length away and getting a decent data transmission speed should not provide the DX320 with any challenges. In fact, the real challenge will be your modem performance and network congestion, especially if you are using a DLNA setup on your local network.
Streaming
Chromecast, DLNA, and direct streaming services all function perfectly fine with the DX320. That includes ROON's Endpoint service linking to a PC core, Tidal, Qobuz, and Spotify to name but a few.
Just to note, if you are downloading TIDAL in a region that is blocked you will need to load a VPN and set it to the USA before signing in or else you will get an error and not be able to get up and running. This is a one-time thing so you do not need to use a VPN once logged in.
Spotify, TIDAL, and Qobuz will also allow you to download to memory cards as well as internal storage using the DX320. As you can see from the first picture above the 16X unfolding service works a treat with 768kHz upsampling indicated in the top icon tray and much higher than the DX300's maximum 8X or 352.8kHz capability.
Bluetooth Signal Strength
We compared the DX320 and the DX300 BT signal strength using 2 distance-based tests with a Xiaomi Note 11 4G: one at 1m and the second a bit further away at 3m. We could not find any discernable difference between both of their BT performances at either distance. Both measurements fell within the excellent range for strong signal detection.
That means the DX320 has a rock-solid BT connection within a normal usage range. That should cover your basic bag, pocket, or table nearby usage scenario so you should not expect to see any signal interruption unless your paired device is problematic in its own right.
Bluetooth Range
We next tested the DX320, (with AMP11 MK2s), for any range discrepancies when compared to the DX300 using the Noble Audio Fokus Pro which is an aptX capable TWS.
This is usually a decent performer with our various smartphones though maybe a slight bit weaker than the class-leading but more consumer-tuned Sony WF-1000XM4.
Before you do hook up any TWS do make sure that you dive into the device details on the BT pairing screen and ensure that any HD Audio option is turned on otherwise you will be limited to SBC on Android and it will sound quite poor in comparison. aptX should be a minimum for decent dynamic range and LDAC the ideal for maximum clarity.
For the Fokus Pro, the results were a bit mixed in terms of range with the audio signal stuttering and dropping out about 5-6m away with one wall between myself and the DX320.
The Sony did a lot better getting to within 1-2m of my regular Samsung Z Flip 3 performance of about 10-11m. Compared to the DX300, the two TWS had an almost duplicate performance in terms of range so it's unlikely iBasso did much if any tweaking with the internals between the two devices' BT antennae.
Click on page 2 below for I/O, controls, and software performance
Click on page 3 for software changes and wireless performance
Click on page 4 below for sound impressions and pairings