Noble Audio Fokus Pro is a premium TWS featuring a hybrid 3 driver single dynamic and dual BA configuration with aptX adaptive decoding. It is priced at $349.
Disclaimer: The Noble Audio Fokus Pro sent to us is a sample in exchange for our honest opinion in this review. We thank the team at Noble Audio for giving us this opportunity.
To read more about Noble Audio products we reviewed on Headfonics click here.
Note, this 2-page review follows our new scoring guidelines for 2021 which you can read up on here.
Noble Audio Fokus Pro
The Fokus Pro is Noble's most mature and balanced-sounding TWS to date. Do not get me wrong though, it is still very lively tuning with a thunderous low end. However, the superior mids-focus and smoother treble tuning mean it is a more flexible offering for a wider range of musical tastes compared to the older Falcon line. 
There have been a few known audiophile brands that have taken TWS or True Wireless Systems quite seriously rather than launch a 'me too' product to cash in. Some of those names include Sennheiser, Geekfly, Sony, HiBy, and Noble Audio.
The focus does vary in terms of specific features such as LDAC from HiBy, ANC from Sony. In the case of the new Fokus Pro from Noble, the focus seems very much on how close one can get to the traditional wired IEM experience sans wires.
Aspects such as driver configuration, shell shape, and performance have all moved forward since the original Falcon we reviewed 18 months and even the Falcon Pro launched earlier this year. If anything, given the $20 price gap one might argue that the Fokus Pro might be providing the better value between it and the Falcon Pro.
Tech Highlights
Configuration
The triple driver hybrid driver configuration remains the same as the Falcon Pro with a single dynamic driver for the lows and mids and a dual BA for the mid-highs and highs.
However, this time the dynamic driver size has been increased from 6mm to an 8.2mm customized version. Noble, being Noble, has not released any specific data on the BA drivers inside the Fokus Pro other than that they are Knowles customized balanced armature drivers different to the ones used inside the Falcon Pro.
I am going to presume there is some crossover engineering for the drivers though typically Noble does not use electrical type crossovers in their designs.
Decoding
The Fokus Pro uses the Falcon Pro's Qualcomm QCC3040 Bluetooth SoC. This is Qualcomm's latest generation chipset for TWS and is BT5.2 capable with improved compression performance for SBC stretching up to aptX Adaptive decoding capability.
The pitch behind the adaptive version is rather than a fixed single mode it instead adapts to the type of content you are playing to best manage aspects such as audio quality. That means less RF interference, fewer dropouts, and a more attractive proposition for gamers who need a low latency performance.
Also, the new variable bit rate data stream algorithm makes it possible for aptX Adaptive to deliver up to 24BIT/48kHz which is equivalent to aptX-HD rates.
TrueWireless Support
The QCC3040 inside the Fokus Pro also supports legacy Qualcomm TrueWireless™ Stereo and TrueWireless Mirroring modes, something the previous Falcon models offered. This is a more user-friendly pairing system than the older master-slave type because you only see one product label when pairing not a left or right option. Keeps it really simple.
In a traditional system, there is a master and slave relationship whereby one driver pairs with the source and in turn creates a secondary connection with the other driver.
The latest version allows each driver to connect directly to the source "in stereo" and do away with that master-slave connection between each other. The software inside the Qualcomm QCC3040 then syncs them both as a single pair of earphones.
The master designation thus becomes more flexible. For example, if you run out of battery life on one side, the other side becomes the master so you do not lose a connection.
Design
This is a completely different form factor and one that is built more for the traditional audiophile expectation than the active consumer lifestyle. Gone is the all-plastic 2-piece build of the Falcon Pro replaced by a quasi-contoured traditional IEM teardrop shape designed using a 3D-printed resin and metal-ringed bass venting port.
The aesthetics have gone up a notch also to match the new streamlined and smoother form factor. Now we have a mix of piano black for the main shell and a custom marble blue or blue swirl faceplate with the Noble crown emblem on top. Both are seamlessly integrated with no gaps. You will note that blue is the theme for all of Noble's wireless products to date.
The gauze-tip nozzle is not as long as the previous TWS models but it doesn't need to be. With the contoured shape, you should be able to seat the Fokus Pro closer to your ear canal meaningless length is required to get down the ear canal. The ear tips should do the rest of the leg work.
One final note is the lack of an IPX rating for the Fokus Pro due to the switch to a traditional IEM resin build. That means a light bit of moisture might be ok but not something recommended for heavy-duty sweat or outside in wet conditions.
Comfort & Isolation
With the new shape and contouring, the Fokus Pro is going to feel more comfortable to a wider range of people. The nozzle is slightly shorter offering a more relaxed fitting compared to the deep stem of the Falcon Pro.
However, the isolation is down just a tiny bit because of that more comfortable design. Not that the isolation is bad, it's actually very good as far as a TWS or even universal IEMs go. However, the Falcon Pro isolation is one the best around with those ePro tips and deep seal.
Also, a smaller 6mm driver doesn't really require as much external venting compared to an 8.2mm variant so that bass port on the Fokus Pro will also reduce some of the isolation performance.
Tips
I love the little plastic tips box that comes with the Fokus Pro. It is so much more organized and actually quite pocketable. It reminds me of a larger high-quality shaving blade carrier you sometimes get with high-end wet razors.
Just pop it open and you get a choice of 5 pairs of tips groups into small, medium, and dual flange as well as medium and large single bore silicone tips. Of the two types, my fitting preference was for the dual flange. They felt a bit deeper and produced a more secure fit filling out my ear canal a bit better than the single bore alternatives.
Controls
The Fokus Pro uses a combination of app-based and touch-sensitive controls with an embedded touch sensor just below the faceplate.
The default touch controls are fairly intuitive and not too pressure sensitive to avoid accidental touch events. This is a simple multi-click system split between left and right ears for volume controls and track selection.
The touch response system itself is actually quite snappy with very little lag for post-action events such as pause, play, previous, and next track. Also, if you are not overly happy with the default layout and choices you can also dig into the new Noble Fokus app to customize those settings in terms of which side does what and how many clicks.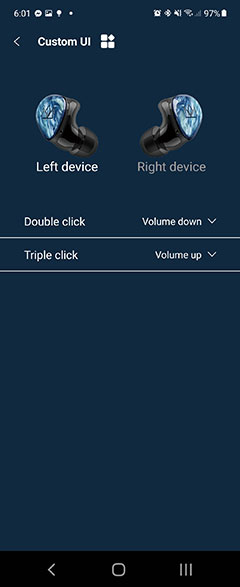 App
The Google and Apple Store available Noble Fokus is a completely new app meaning the Fokus Pro is not compatible with the older Noble Sound Suite. Conversely, the Falcon Series is not compatible with the new Fokus app.
The new app does have some depth to it with a slicker aesthetic and plenty of decent options. Not quite at the Sony Headphones app-level but enough tweaks to keep your attention invested such as a customizable 10-band EQ with 5 presets, control customization, battery information, and OTA firmware updates.
The presets are pretty much a preference thing with the Rap preset perhaps winning the award for the most extreme bass imaginable. If you want to see what this 8.2mm dynamic driver can do just have a listen to that one. I prefer them off or with my own custom profile with 1-2dB down on the 8k and 16k bands and a slight push around 2-4k depending on what I am listening to.
I will mention though to be careful with the Folk preset as the gain is adjusted a little higher than the other presets which might give you a bit of a jolt and have you reaching for the volume down button.
Cradle
The Fokus Pro cradle has some styling similarities to the Falcon Pro case in terms of that black and blue color scheme, a USB-C socket to the rear, and a hinged lid with the branding on top.
However, the material quality is a step up in class with the use of metals over plastics on the external and a stiff refined plastic inner for the tray giving it a sturdier feel.
It is a little bigger and longer but not as wide and still quite pocketable. I suspect the larger 500mAh battery inside and the new IEM styling of the drivers are 2 big factors in the new form factor.
One thing I did pick up on was the cradle hinge which had a bit of wobble when fully open. I do prefer the smoother action of the Falcon Pro hinge which feels a bit steadier when open.
Charging
The battery is a little weaker inside the Fokus Pro drivers at 3.7V 45mAh compared to 3.7V 60mAh. Drivers are rated at 7.5 hours at 50% volume whereas the Falcon Pro was a little bit longer at 10 hours at 70% volume.
However, the Fokus Pro cradle life is much better than before at around 60 hours and potentially up to 75 hours compared to just 28 hours in the Falcon Pro alternative. Drivers might last longer on one charge for the Falcon Pro but the complete Fokus Pro cradle and driver system will give you potentially days more charge time.
And to top it off, the Fokus Pro cradle does not have the Falcon Pro cradle slow trickle drain quirk that will leave you with no charge after a few days of no use. The Fokus Pro cradle will retain that charge until used which is so much better.
Packaging & Accessories
The packaging approach is consistent with the Falcon Pro version and almost identical in looks. Just the names have changed on the outer blue packaging and of course the relevant cradle and drivers on the inside.
This is a relatively large but fresh-looking retail package for a TWS system, certainly quite different from their wired packaging designs. I would say it is also quite the retail shelf 'pro level' in terms of design.
I guess if you are shallow enough that might make a difference but it does allow Noble to create a very nice insert display layout for the accessories and the unit itself.
The accessories are all neatly packaged in a small icon-based black box at the base of the box with the drivers housed just above the cradle in some protective foam. Inside the box, you get the following accessories
Noble branded velvet drawstring case
Tips tray (3 x dual flange, 2 x single bore silicone)
A short USB-C cable for charging
Manual and warranty materials
Click on page 2 below for sound impressions and select comparisons