The Cyrus One Cast is a smart amplifier featuring a DAC, a headphone/speaker Class D amplifier, streaming, and phono input. It is priced at $1999.
Disclaimer: The Cyrus One Cast sent to us for the purposes of this review is a sample in exchange for our honest opinion. Thank you to Cyrus Audio for giving us this opportunity.
You can read more about Cyrus products we reviewed on Headfonics by clicking here.
Note, this 3-page review follows our new scoring guidelines for 2021 which you can read up on here.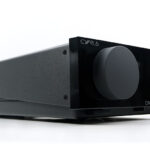 Cyrus One Cast
Is the sound quality as dynamic and resolving as a dedicated amplifier in the same price range or close to it? Perhaps not, but the Class AB headphone timbral coloration is very easy on the ear and they have done a fine job avoiding the traditional 'glare' traps from that ES9018 chipset inside. 1W is should be enough to drive most decent headphones also.
It's our first time covering a Cyrus Audio product on Headfonics but I am very familiar with Cyrus Audio stretching all the way back to my HiFi and Home Ents days over 20 years ago.
This time we have the One Cast, a thoroughly modern spin from Cyrus covering just about every base I can think of for desktop and speaker audio in 2021. Phono? Yup! Headphone and speaker output? For sure! Built-in DAC and pre-out? Yes, please! Streaming and app integration? Check!
The veritable Swiss army knife of audio or as Cyrus Audio calls the One Cast, a $1999 smart amplifier building from the One Series amplifier launched in 2016. We simply cannot cover everything the One Cast can offer or else we are talking a review longer than the Dead Sea Scrolls.
However, we will keep it tidy and take it from a headphone user perspective so sorry speaker guys, we will not be covering that aspect this time around.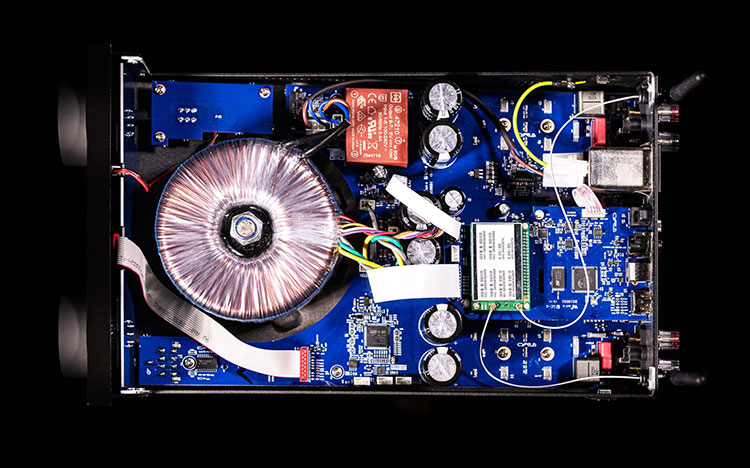 Tech Highlights
It is a little bit tricky to focus on just one thing when the One Cast does so much. How this product speaks to you depends entirely on what your usage scenario might be.
It can act as a streaming bridge to a headphone amplifier, or an all-in-one streamer, decoder, and amplifier for desktop headphone fans. Alternatively, the One Cast will sit right at home as a phono stage and output to a dedicated amplifier or use the internal amp for headphone users.
And finally, it can act as a central audio hub powering speakers directly via its 100W Class D amplifier, via a pre-out, or even wirelessly to another decoding receiver if that is your fancy. You can even connect it up to your TV via HDMI.
DAC
At the heart of the One Cast's decoding system is a single-channel ESS ES9018K2M delta-sigma chipset, which, if I am being honest is a bit long in the tooth and generally used for low-powered devices or mobile sources.
Its decoding capability is just ok at 32BIT/192khz, (24bit/192kHz for SPDIF), and a native decoding capability of up to a maximum of DSD128, (via USB), so some high-end audiophiles might balk a little at seeing those somewhat less future-proofed numbers.
However, aside from MQA, the vast majority of commercial audio still falls into these decoding parameters and if you are an avid Qobuz user then the One Cast DAC can handle it just fine. Streaming anything higher locally via DLNA might be downsampled, with TIDAL streaming better managed via a Chromecast to One Cast for playback.
Amplifier(s)
There are actually two amplifiers inside the One Cast: a Class AB headphone amplifier and a Class D amplifier capable of up to 100W into 8Ω for speakers.
The Cyrus 4th generation Hybrid Class D amplifier for speakers using S.I.D. technology, (speaker impedance detection), is the big pitch here though I would bet a few HIFIMAN HE6 owners might be taking a second glance at that also.
Cyrus has been using this type of Class amplifier inside the One series since its inception in 2016 so some of the flavors of the One HD amplifier which uses the same revision should creep into the One Cast performance.
By opting for a high-efficiency Class D amplifier, Cyrus Audio can basically keep the One Cast relatively light and compact as well as create the necessary space for everything else by avoiding the implementation of heatsinks and cooling fans. What you do get inside is power, a linear power supply with the inclusion of a large toroidal transformer to the front of the circuit design.
Less is known about the precise circuit design of the headphone amplifier beyond the high-level detail and that it is a single-ended push-pull Class AB design with what I presume is an opamp implementation rather than a discreet topology.
The only other caveat and I say this for both the headphone and speaker amps, is the lack of balanced inputs and outputs. Yup, this is a purely single-ended topology design.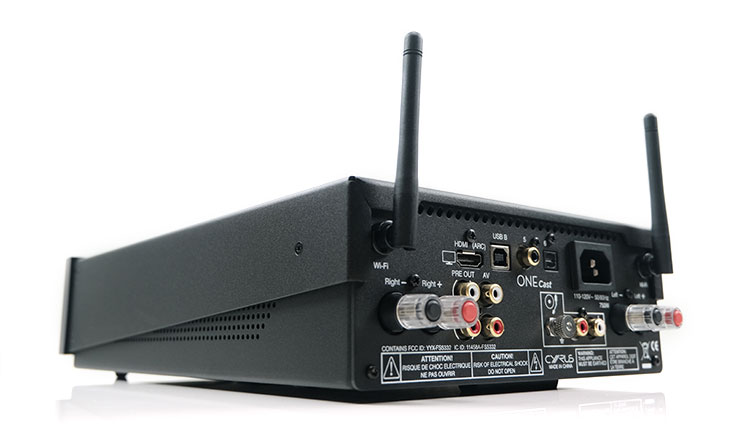 Performance Numbers
Cyrus Audio has gone into a fair amount of performance detail for their 4th Gen Class D amplifier performance but slightly less so for the Class AB headphone amplifier.
On a high level, there is plenty of power from both amplifiers with a speaker output at 100W per channel into an 8Ω load and a nominal declaration of 1W per channel for the headphone amplifier. I say nominal because there is no weighted or load context so I have to presume that it is a 32Ω @1Khz A-weighted benchmark.
On that basis, 1W should be plenty for most headphones such as the Meze Empyrean and the Final D8000 Pro though slightly short for the most demanding out there such as the Susvara and the HE6SE. SNR numbers of the Class AB amp look great though at -128dBA which looks very handy compared to something like the NuPrime Alita's SE SNR of SNR: > 110 dB
On the other hand, at 100W per channel with a pretty good low distortion figure of 0.02% THD+N for 6Ω HiFi enthusiasts should have no issues matching most speakers aside from any timbral preferences.
Streaming
The One Cast streaming capabilities are two-fold on the hardware and codec level. It offers WiFi 802.11a/b/g/n/ac capability for lossless transmission as well as Bluetooth decoding though just SBC level decoding.
However, it is on the input side that the One Cast shows off its versatility with a heavy app's based orientation for source transmission.
It is interesting to note, however, that the One Cast does not have its own dedicated app such as the Mosaic from dCS. Instead, it offers either AirPlay (2 enabled) and Apple Home Pod compatibility or on the Android side Chromecast integration via the Google Home app.
From there, you can stream via your mobile device with apps such as Spotify, TIDAL, or Qobuz as well as enable Google Assistant, Siri, and Alexa for voice command input.
Phono Stage
If all that is not enough the One Cast also has its own built-in phono stage with single-ended RCA input and a grounding post to boot.
This one did pique my interest as we do not get a huge amount of phono stages in for review if any. However, the office does have 2 current phono stages, the budget Project Audio Phono Box s and the high-end ALO Audio Class-A triode Phono Stage at just shy of $1850. Both of these are hooked up to 2 SET amplifiers, the ALO Audio Studio 6 and an Auris HA-2SE.
The built-in version for the One Cast is only MM and not MC compatible but luckily our Rega Planar P1 Plus uses an MM cart so it's good to go for testing.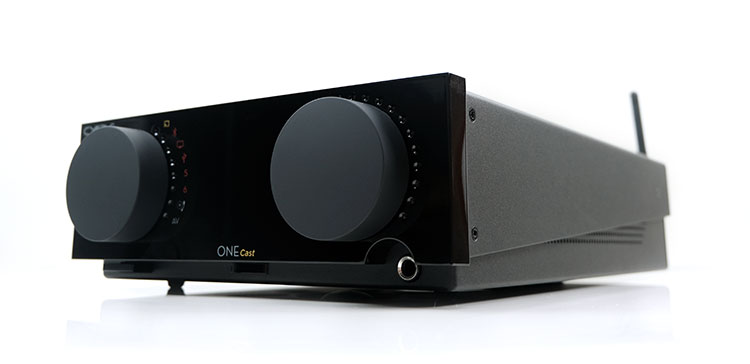 Design
If you are familiar with the One Series since 2016 then the One Cast looks very similar. It has a very 'Cyrus Audio' aesthetic IMHO with that deep form factor, minimalistic clean lines, and a black piano-toned facia with a matching two-piece chassis housing.
The One Cast does look pretty sleek and quite different from the classic wide and shallow amplifier look with those huge dials to the fore. It almost reminds me of a Violectric creation at times.
I have yet to test the previous units or handle them but judging from the collateral on their site it looks to have a very similar build also. And I am on the fence with the quality of the materials here as I have had amps at this price point with slightly stronger housing.
I can't fault the main chassis with its smooth curves, good venting to the sides, and flex-free stiffness to the panels. Rather it is the flimsier piano black plastic front facia that seems slightly at odds with the overall sleek design. From afar, it looks very modern and clean but up close it does feel a little hollow to the tap with those huge rotary dials articulating a bit unevenly.
I/O
Lots of I/O to the rear of the One Cast including excellent spacing for the right and left SE speaker binding posts, dual RCA for the pre-out, an auxiliary AV input for a line audio source, and a grounding post with dual RCA inputs for the phono stage. To the far-left corner, you have two detachable antennas for wireless transmission.
The digital controls are all above and they include a USB B input for connecting to a source such as your PC or Mac, coaxial and optical inputs, and an HDMI ARC interface.
The HDMI ARC interface should appeal to Home Ents and gamers as it allows you to link the Cast One to an HDMI ARC compatible TV and other sources at the same time and act as a conduit for the audio signal to your speakers without having to resort to additional wiring.
The plugs on the top of the speaker posts do come out but they are a mite tricky. I advise a screwdriver if you don't have good fingernails. From there you can use banana plug speaker cable terminations or leave them in and use spade terminations instead. The alternative is raw wire binding and screwing down tight which is never ideal.
On the front, you have those two huge and slightly wobbly dials with the far-right digital volume control and the far-left command dial for step rotating through the mode options, (see control section below). Below, you have a discreetly placed standby power button and to the far right a 6.35mm SE jack output for your headphones.
Controls
There are a number of ways you can control the One Cast. You can access it manually for volume and mode changes on the front facia, you can control playback via casting from your mobile source, or you can use a supplied physical remote control that duplicates the command dial plus throw in some environmental controls including standby mode.
The One Cast does lack an LCD screen and instead reverts to the command dial on the left, (or the remote), with a stepped articulation to allow you to manually chose which mode you wish to enter and a relevant diode light beside a mode icon to indicate that status.
Whilst the diode brightness is adjustable via the remote control and fairly bright at full strength the labeling is not illuminated so there are some legibility problems when navigating, even under regular lighting conditions. I would have loved to have seen the diode shifted to behind the labels so they themselves are lit up or the labeling in a brighter color.
Everything else is actioned via your mobile source either via your audio-specific app casting or through Google Home as well as via a physical remote control for mode changes.
Packaging & Accessories
The One Cast outer packaging is relatively nondescript with a form over-function dual-layer branded cardboard box approach matching the dimensions of the unit.
Just one thing to be careful on when unboxing the One Cast is that there are in actual fact 2 outer boxes and not one. The first outer layer is a standard brown branded cardboard container and it is not the thickest of boxes so watch when you get your box cutter out to cut through the seal you do not actually cut all the way through to the white inner box, (pictured above).
The white inner box is a little more aggressive on the One Series and Cyrus Audio branding and I can see why they used the outer as nothing worse than a white version arriving with a hefty dose of dirt on it.
Inside, the packaging is functionally excellent with absolutely zero chance of the One Cast suffering any mishaps during shipping with two very thick white foam wedges on either end of the wrapped unit.
Underneath in a separate small container box you get your accessories and power leads. The accessories include the aforementioned remote control with 2 fresh AAA batteries to get it operational out of the box, and a plethora of documentation including a 'Get Started' quick guide, firmware update instructions, an operational guide, and a company brochure.
Click on Page 2 below for sound impressions, wireless performance, and pairings
Click on page 3 below for select comparisons