This is a review of the new iBasso DX320 Android 11 DAP featuring the latest AMP11 MK2s stock amp card and the new AMP13 Korg NuTube card. It is priced at $1599.
Disclaimer: This sample was sent to us in exchange for our honest opinion. Headfonics is an independent website with no affiliate links or status. We thank iBasso for this opportunity.
To learn more about iBasso products previously tested on Headfonics you can click here.
Note, this 5-page article follows our latest scoring guidelines which you can read up on here.
iBasso DX320 Review
The iBasso DX320 a deeply engaging DAP with a very competent internal ROHM DAC design, updated OS, and an excellent stock AMP card. It takes a dash of the original smooth tuning and mixes it in with the typical detail-orientated iBasso house sound. The package might look familiar but the sound is fresh and interesting and will work just fine with a wide range of gear.
Pros
Addictive smooth tube tone from AMP13
Modern OS
Flexible AMP card system
Cons
WiFi EMI on AMP13
Mango APK needs more Android 11 Integration
The iBasso DX300 was a bit of a 'shooting star 'product, bright but short-lived with our review of it just over 12 months but already discontinued due to DAC chipset supply issues.
However, the technology and platform are here to stay with the launch of the similar-looking DX320 which is now the company's flagship DAP not counting the limited-edition MAX series.
Like its predecessor, the DX320 has that long smartphone-like styling, an innovative DAC implementation, and the all-important latest AMP card rollout. Yup, that means those who have the existing DX300 series amp cards will find a new home in the compatible DX320.
It also marks the launch of two new amp cards, the AMP11 MK2s, and possibly the highlight for many unwilling to shell out the big Cayin N8ii bucks, a Korg NuTube AMP13 card.
Prices have gone up slightly over the older flagship at $1599 for the main unit plus the stock AMP11 MK2s with the AMP13 sold separately at $269. Having said that, the DX320 still feels very reasonably priced for what it can offer.
Decoding
DAC
The watchword seems to be 'ROHM' this season with the DX320 being the second portable media player to use the very recently launched 2-channel or stereo ROHM BD34301EKV in a dual chipset configuration. The other one is the flagship Cayin N8ii.
Mind you, iBasso has been known to go left of the field with the DX300 using no less than a quad configuration of Cirrus Logic CS43198 chips. However, this is something entirely different and perhaps a choice born out of the previous supply concerns with AKM and Cirrus Logic themselves.
The BD34301EKV is part of ROHM's new MUS-IC series of DAC chipsets of which there are two versions. This is the higher-grade version with the BD34352EKV positioned behind it and differentiated by a slightly reduced SNR and THD-+N rating, (around 3-4dB lower).
This particular version has a peak of 130dB of SNR and a THD+N of -115 dB and up to 130dB in its potential dynamic range.
Billed as sonically sitting somewhere in-between the more musical AKM and generally neutral inclined ESS chipsets, these ROHM DACs are being pitched by the company as excelling in producing classical music with an emphasis on dynamic range and spatial reverberation suited to arena-like music.
That being said, amplification and final tuning will come down to iBasso's own engineers who have broadened the description of their own design by aiming to offer all forms of audio with a very natural level of coloration.
Decoding
Decoding from the new chipsets should have no cause for concern with the DX320 capable of up to DSD512 and a maximum of PCM 32BIT/768kHz.
The DX320 deploys a BIT for BIT system-wide playback architecture up to the maximum 32BIT/384kHz. That renders the Android core bitrate limitations moot. That means bit-perfect playback, not just in Mango OS or the Mango app but for any app that does not alter the source bitrate itself.
MQA unfolding and rendering is double that of the DX300 at X16 for those that love TIDAL or other MQA wrapped formats.
The ROHM design is also a little bit simpler for filtering compared to both the Cirrus Logic and ESS versions with just 2 digital filters as opposed to several including a sharp roll-off and a slow roll-off.
Since the DX320 is also BT5.0 equipped for Bluetooth you can also expect up to LDAC as well as lower codec compatibility from SBC up to aptX and ACC for iPhone or Apple users for transmitting. However, receiving is still limited to the lower SBC and AAC codecs much like the DX300 setup.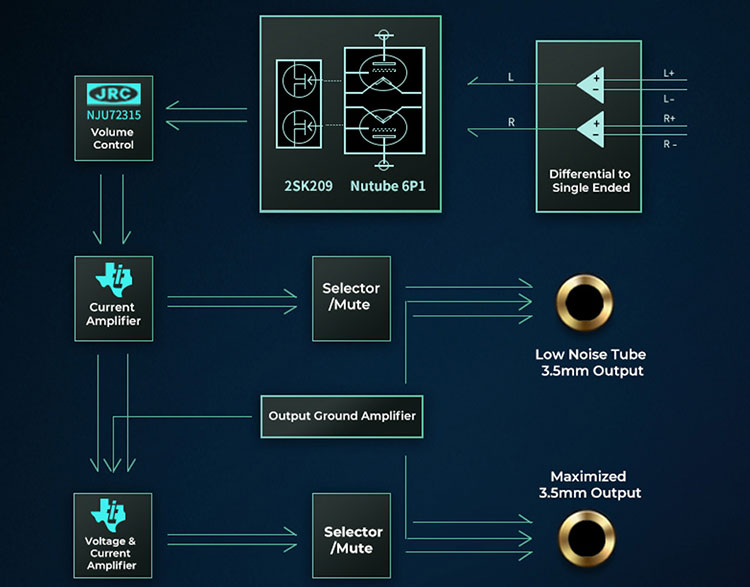 Amplification
AMP11 MK2s
We have not one, but two new AMP cards to talk about in this review.
The first is the stock AMP11 MK2s. Personally, I never got to test the AMP11 MK2 when it was released shortly after the original AMP11 so any comparative work will be based on the first 11 verses this, the latest 11.
Having said that, all AMP11 cards are based on the same original circuit from the most popular of the original AMP cards series, the AMP8.
This is a balanced and discrete engineered topology so that means individual components rather than opamp buffer stages for precise control to deliver high voltage and current without killing low impedance potential.
Similar to the original AMP11, the new DX320 version had a triple PO and LO output configuration in 4.4mm, 2.5mm TRRS, and 3.5mm TRS.
AMP13
The second card is an optional purchase but possibly the more eye-catching one on paper and a true successor to the old AMP9 called the AMP13. This card uses a single 6th Gen Korg NuTube with a single-ended topology and a two-stage amplification design.
This two-stage is realized through a set of dual 3.5mm TRS outputs that offer distinctly different benefits. The first is a 'low noise tube output' to the far left where the NuTube operates in a voltage mode and does not pass the second amplification stage.
This results in a lower voltage output rating of 2.5Vrms but also a lower noise floor of 3.0μV compared to the 4.3μV rating from the maximum output port beside it when set in high gain, (measured based on a volume of 38 on the low noise versus 34 on the maximum output).
It also should ideally give you the purest analog or tube sound whereas the second stage amplifier for the stronger voltage maximum output might dilute that pure tone slightly and give more of a hybrid sound. This second output is your choice if you plan on using more demanding headgear.
Performance Numbers
The DX320 AMP11 MK2s numbers do not really deviate much from the original AMP11 ratings.
It has an impressive 1.2W into a 32Ω going balanced and a slightly higher 380mW single-ended on the same load. The original AMP11 was listed in our review at 1240mW balanced and 350mW SE so just a tiny bit more power for its 3.5mm TRS output.
Both SE and balanced line-out on the AMP11 MK2 have a similar rating to the original card at 3.5V SE and 7.1V balanced. The line-out numbers are very close also with the newer card clocking in at 125dB balanced and 122dB SE for dynamic range. Compared to the AMP11, that's just a 1dB deviation on the SE and an exact match for balanced.
You get an almost duplicate spread of numbers for the DX320 AMP11 MK2s PO with an exact match with the original card at 125dB dynamic range balanced and a -1dB variation for SE at 122dB versus 123dB for AMP11 MK1.
Output resistance on the new AMP11 MK2s is even lower than the original at 0.38Ω balanced and 0.34Ω SE compared to 0.39Ω and 0.43Ω respectively so you should have no impedance skew issues with sensitive gear from the new stock card.
Less is known about the DX320 AMP13 card in terms of the micro-performance details but the headline number is 234mW output on a 32Ω with the low noise output rated 2.5V and 4.1V for the maximized output.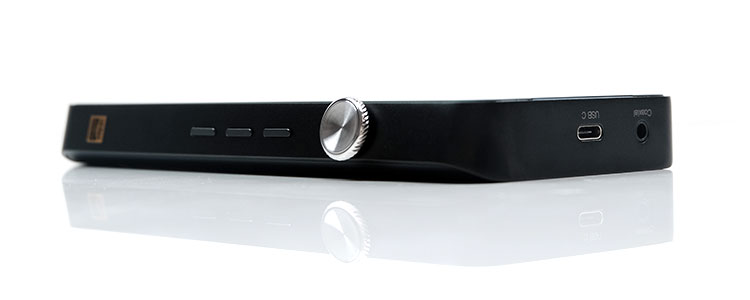 Design
Dimensions
Aside from switching from a slightly different volume dial construction, the DX320 aesthetics and form factor is an exact duplicate of the original DX300.
That means a relatively slim aluminum chassis but also quite a long one making it not the most pocketable but certainly one of the most visually impressive DAPs with that beautiful 6.5″ capacitive 60Hz IPS screen, featuring a 2340×1080 resolution, 420dpi pixel density, and an almost bezel-free design.
The actual dimensions of the DX320 are 162mm x 77mm x 17mm with an overall eight of 310g so beefy but not the heaviest DAP these days when you consider the iBasso MAX Series is closer to 700g and the huge FiiO M17 is just over 600g.
Aesthetics
These dimensions are much more akin to a beefy smartphone so the handling for many users should feel somewhat similar. In fact, like the DX300, the DX320 takes its cue from the original design language of the older and smaller DX160.
That means smooth cornering and zero sharp edges allowing the screen to take center stage with two color options, black and blue with our sample unit being the blue one this time.
It also means a trapezoid form factor with a slightly angular right panel for an enhanced grip and a matte-finished rear panel also has come smartphone-style curving that rests comfortably on your palm.
The DX320 also retains that thin LED strip right at the top of the screen which will light up with status warnings and different colors for varying bit and sample rates during playback.
The new amp cards are housed at the bottom as before with a curved panel so a nice and seamless integration once slotted and screwed into place.
The big change aesthetically is the DX320 multi-function dial which is now silver instead of gold and recessed in the middle instead of flat making it a lot easier to rest your finger and manipulate at the same time.
It also seems a little more discreet or not as thick as the original DX300 dial so it doesn't break the design lines quite as much but it still feels relatively unprotected for me until you stick it in the case.
Click on page 2 below for I/O, controls, and software performance
Click on page 3 for software changes and wireless performance
Click on page 4 below for sound impressions and pairings