This is a review of the Hidizs AP80 Pro-X Red Copper Edition which is a limited-run DAP featuring a red copper shell and a dual ES9219C DAC. It is priced at $249.
Disclaimer: This sample was sent to us in exchange for our honest opinion. Headfonics is an independent website with no affiliate links or status. We thank Hidizs for this opportunity.
To read more about Hidizs products we have previously covered on Headfonics click here.
Note, that this article follows our current scoring guidelines which you can read up on here.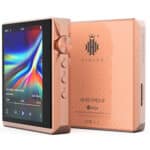 Hidizs AP80 Pro-X Red Copper Edition Review
The Hidizs AP80 Pro-X Red Copper Edition treble is stunning. The build quality is absurdly great, the output power is getting close to negating the need for portable amplifiers, and the UI is ungodly fast and potent compared to the past models that feel much more sluggish and slower.
Pros
Good power for a small DAP
Beautiful finishing and materials
Cons
Tiny buttons
Good screen quality but might be too small for some
Today, we will be tossing the Hidizs AP80 Pro-X Red Copper Edition music player into the fray and testing against some of the company's older models.
I've been through their AP80 lineup since the beginning of the series though Cheryl covered the Pro-X recently. Odds are great I'll be there at the end of it and watch the sweet caress of the end of the AP80 universe end before the next model to replace them gets a release.
I enjoy these DAPs quite a lot, as you can see by the looks of my last model in these photos (the one with the magnet on the back side), it has gotten a lot of usage in my car as my primary travel source.
Will the new model replace it? Let's find out!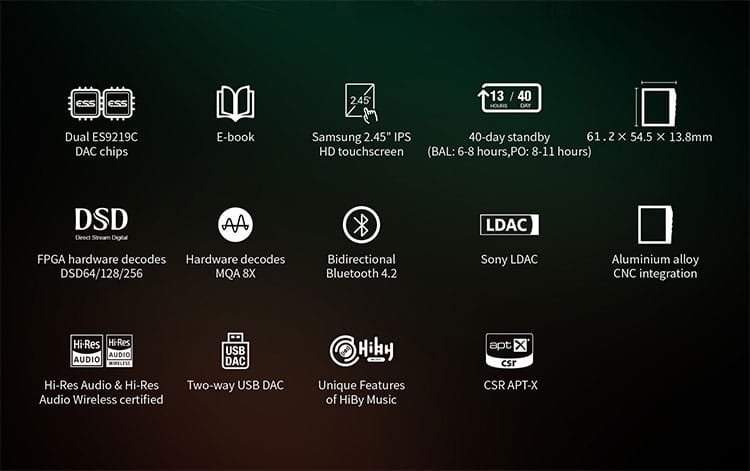 Tech Highlights
DAC
The ES9219C DAC is brand new to me and shares the same exact DAC inside of the original AP80 Pro-X in a dual chipset implementation and is similar also to units like the Shanling M3X.
The Hidizs AP80 Pro-X Red Copper Edition is capable of decoding a wide range of formats. It has a top-tier capability of up to DSD256 natively and up to 32BIT/384kHz for PCM.
It can also manage MQA unfolding up to 8X and with Bidirectional Bluetooth 4.2 support you can also decode wirelessly up to aptX and importantly for many, LDAC.
The DAP will also operate as a USB-DAC so those numbers above apply natively when wired to your PC or MAC. It will also allow you to operate in a 2-way mode for the USB-DAC.
Performance Numbers
The AP80 Pro-X Red Copper Edition puts out 70mW x2 into 32Ω or roughly 0.14W total in single-ended, about 380mW, or 0.38W in balanced 2.5mm output.
For a little guy like this, that is a great amount of output power. That is close to half a watt in a tiny chassis!
Why is this important? Well, gone are the days of needing an external amp if you are using moderately power-hungry headphones. Now, cranking out half a watt in such a little package is really the stuff of dreams for us audio nutbars.
We've wanted this for some time, and we are inching closer and closer to the mystical tiny chassis 1W output, which means we can drive absurdly needly Planar headphones and 600Ω dynamic driver headphones with ease, we will get there soon.
Design
The new AP80 Pro-X Red Copper Edition has the exact same physical specs as the older models, but now uses a nice Samsung 2.45' IPS screen, which looks a bit more vibrant than the past models.
The exterior metal is entirely red copper materials and feels insanely heavy for being so small. The build quality is very good and I cannot see this getting better than the thickest chunk of an uncommon metal material.
Things are getting crazy in a good way, I thought the last AP80 Copper edition was heavy, and also the standard AP80 Pro (maroon/wine-colored one in my photos) which also was quite hefty. However, this new Red Copper edition is essentially a small lead weight compared to those. I like it!
The buttons and volume knob are literally solid pieces of metal and feel extremely heavy and satisfying to click and play with. I found myself just toggling the volume knob for no reason during the testing phase simply because it felt so nice and weighted. This is the best build in the micro-DAP series they've released to date.
Aesthetics & Screen
You either love it or hate it. Some people love the tiny form factor, some do not. I feel like the overall size of this unit is something I want on traveling journeys and business trips.
It fits nicely into a pocket and is so small that it almost doesn't take up space in your suitcase at all. For form factor, you can't beat it really so, I sing high praise for the even better build in this tiny package.
The AP80 Pro-X Red Copper Edition LCD screen is more colorful and sharper vs the older models, one can see that easily but it doesn't show up at all on photos I tried to take.
To the naked eye though, it is very easy to see which models have the lower res font and sharpness to images and colors. This new model is the best of the lot. Noticeably brighter, sharper, and slightly more vibrant.
I/O
On the bottom side of the unit, you can find a 2.5mm balanced output, a USB-C charging, and data port, and a standard 3.5mm output.
On the Red Copper's left side, a single micro-SD card slot that Hidizs says supports up to 512GB. I do not have a 1TB SD card to test with, so I cannot confirm it can go beyond 512GB.
On the right side, you get a standard track skip forward/play and pause center button, track backward, as well as the power dial which doubles as a volume knob. Thankfully, no play and wiggle in the buttons or knob worthy of mention. Everything feels very sturdy and nothing feels loosely connected.
Controls
The AP80 Pro-X Red Copper Edition is no different in button layout from the past models, and yes there is some issue due to its small form factor in pocket play and hitting the right buttons.
Often, I click the wrong one and I end up either track skipping or pausing the unit UI when I didn't mean to. But this is something that all tiny DAPs have. So, no points are taken off for that, it is a common natural problem to have.
Small size, small buttons, you should know that already that a small thing will have small buttons. It isn't at all a huge problem, but if you are out for a run or something and think you can accurately 100% of the time hit the right button when this is in your pocket, you've another thing coming.
Battery Life
In balanced mode with a much higher output, I received about 7 hours of continuous play before the AP80 Pro-X Red Copper Edition battery hit 1%. On standard 3.5mm, that increased to 11 hours of continuous play. Both of those tests were performed with the screen off.
Expect a fair bit less if you kept the setting for the display to stay on at all times. Imagine that for a second…0.38W output for 7 hours. That is magnificent. Bravo Hidizs, the battery life is excellent on this model.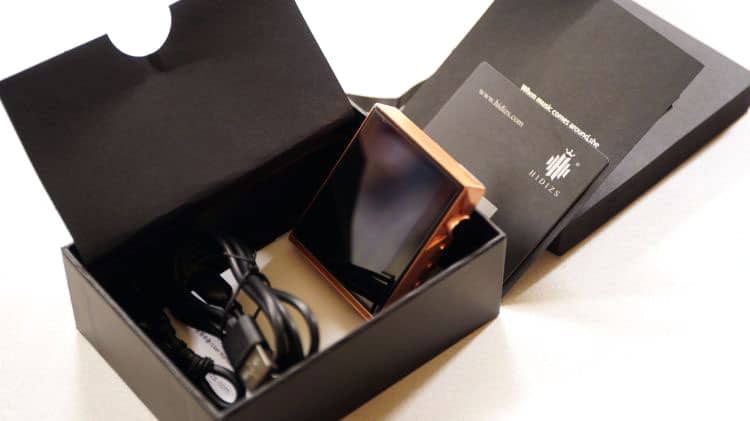 Packaging & Accessories
The AP80 Pro-X Red Copper Edition is well…limited to 499 units so I consider myself thankful to receive one. Odds are good since this is actually limited; I will not personally abuse it as I did the last models. I will keep this one for future comparisons only and keep it as safe as possible.
It comes with a small standard box and a screen protector installed already on the front and rear panels. A USB-C to USB-C and a regular USB to USB-C charging cable and some documents and promo papers are all that are included.
Software UI
The AP80 Pro-X Red Copper Edition UI is snappy and fast, way faster than the last models such as the Cu which all performed significantly slower in operations than this new Red Copper version.
The OS is optimized and slick, I am able to swipe through the menus so fast compared to the other models I have.
I am used to a little lag and knowing I cannot flip through songs at light speed or menus without the system crashing or just stopping entirely for a moment before it tries to keep up.
Now, the AP80 Pro-X Red Copper Edition doesn't seem to have that problem. This is now also the most powerful model from Hidizs that I've been able to test and review.
It is actually quite funny to side-by-side go through menus between this new model and the original black version of the AP80. While the menu is still loading on the original, I am already tapping through menus and songs on the new Red Copper. What a vast improvement and a huge leap forward in processing power.
Software Features
The Hiby OS3.0 firmware is finally slick and smooth with the power inside of this DAP. It offers MSEB, which is my absolute favorite internal software EQ of all time, you can do amazing things with it and the unit itself is very responsive to alterations.
That means that when you change things in the menus and move the switches digitally slightly up or down, you can feel and hear the difference and that is reflective of good circuits being used that aren't junk. The DAP also has 8x MQA support, high-res files, and playlist support are beautiful things.
Two-way Bluetooth is a godsend. Being able to link the DAP to my phone or tablet and use that as the track selector but playing off the AP80 Pro-X Red Copper Edition player itself is amazing.
There are times when I want to be on my PC or phone and not have to dig in my bag or reach for the DAP, (1st world problems?).
Interestingly, the low gain setting is dead silent for sensitive IEMs. High gain is also much quieter than the other AP80 variants but pushing 0.38W in a tiny little chassis like this is something I would have originally thought would process a ton of grounding noise problems. But they got around that somehow and it ended up being very quiet.
Click on page 2 below for sound impressions and select comparisons