In this feature, we review the Hidizs AP80 Pro-X, which is the latest generation of the company's long-running micro DAP series featuring a new dual ESS9219C DAC. It is priced at $189.
Disclaimer: This was sent to us as a sample for our honest opinion. Headfonics is an independent website with no affiliate links or services. We thank the team at Hidizs for giving us this opportunity.
To read more about Hidizs products we have previously covered on Headfonics click here.
Note, this article follows our latest scoring guidelines which you can read up on here.
Hidizs AP80 Pro-X
The Hidizs AP80 Pro-X is a budget powerhouse, priced at a budget of $189, and should make a lot of people happy with its nearly invisible pocketable size that functions as a DAP, USB DAC, BT DAC, and even as a phone dongle.
They say, "If it isn't broken, then don't fix it.". Hidizs is back with a refresh of their entry-level DAP, the Hidizs AP80 Pro-X. What can I say, at first glance, it looks exactly the same as its predecessor, the AP80 Pro.
Looking more deeply, it has the same small footprint, with minor details here and there. Under the hood reveals a more significant improvement, the DAC chips themselves!
Priced at $199, Hidizs may have unleashed another powerhouse packed with a small form factor.
Tech Highlights
The Hidizs AP80 Pro-X uses a new dual ES9219C for its DAC. This chip is previously found in higher-priced DAPs such as the Shanling M3X and crept down to portable BT amplifiers such as the FiiO BTR5 and similarly priced DAPs such as the Hiby R3 Pro Saber. This is an upgrade from the previous model Hidizs AP80 PRO's Dual ES9218P.
The main improvement of the new dual ES9219C DAC chip compared to the AP80 PRO's dual ES9218P is its dynamic range and ultra-low distortion. The dual ES9219C DAC chip supports up to 2.0Vrms output with analog gain control which reduces noise and makes audio sound cleaner on audible levels.
This new high-performance DAC chip decodes up to 32BIT/384kHz and has improved the channel separation by 30%.
Hidizs retains the same built-in FPGA chip HBC3000, enabling native decoding support to DSD64/128/256. MQA decoding is still supported with up to 8x, compared to the old 4x unfolding.
Design
With dimensions of 61.2 x 54.5 x 13.8mm, the AP80 Pro-X is a pocket-sized player housed in an aluminum alloy CNC integration. It comes in 3 colors, black, grey, and blue.
The grey model is a shade between lighter titanium and darker silver color. It's neither flashy nor dull, just the perfect shade to make it look premium. The geometric aesthetics and carvings on the side are also better than the previous model, with a symmetrical indentation, which I would describe as a "flat KitKat".
It has the perfect form factor. The player is easy to grip with one hand while allowing my thumb to access the entirety of the screen.
I/O
The ports of the AP80 Pro-X are pretty straightforward. Hidizs retains the balanced and unbalanced PO which are 2.5mm and 3.5mm respectively and can be found on the bottom panel of the player. A Type-C USB port can also be found on the same bottom panel, which doubles as a USB input and output.
Controls
Similar to the AP80 PRO, the AP80 Pro-X has retained the key tactile buttons. Amazingly, they were able to pack in this many features in such a small body.
It has an analog potentiometer to control music on the go. Aside from volume control, it also doubles as the player on and off button. Below it, traditional physical controls such as the playback buttons are comfortable spaced out, ideal for on-the-go listening to immediately pause, play, and skip tracks.
Packaging & Accessories
The Hidizs AP80 Pro-X, like the AP80 Pro, is a relatively basic unboxing experience. It comes in a black retail box, with foam protectors encapsulating the AP80 Pro-X. Below are the set of accessories included such as the extra set of screen protectors, warranty card, user manual, USB Type-C cable, and USB Type-C to a USB type-C OTG cable.
Pretty standard, however this time around, no silicone case that comes in with the unit, as it was with the AP80 Pro.
It would be best to get a protector for this DAP as it is small and can easily mix with small items such as keys that might scratch the beautiful glass back and metallic sides. Good thing Hidizs sells a leather case for the AP80 Pro-X which would be a good idea to bundle when getting this DAP.
Software
HiBy's proprietary OS is retained on the new AP80 Pro-X, and honestly, it is pretty intuitive if you ask me. The same processor does a decent job. There was no visible lag, and the gestures are snappy and fluid.
It makes sense to use the HiBy OS as it's very easy to get used to. Even with new users of this interface, it behaves similarly to an android music player. Swipe left, go back. Swipe right, see the current music playing. There is no learning curve with this UI, it feels very natural and easy to use.
Navigation
Hidizs has retained the responsive Samsung 2.45" IPS HD touchscreen. The display can go bright and wide enough when used outside under the sun.
No lags were experienced when navigating the UI. It was easy to navigate through the different apps and scroll through tracks in the music player, even with the small size of the player.
My only gripe with this player, because I'm pretty old school myself, is the lack of a "back" button which confines users to use swipe gestures to navigate the screen. However, the response is very good and the gestures are pretty intuitive especially in this day and age where smartphones no longer have tactile buttons.
Features
This player wants to do it all. Aside from the basic music player capabilities, it has included a powerful step counter and E-book function. Frankly, I get the point, this device is small, easy to carry around, which makes it perfect as a workout and travel companion so why not throw all these extra features?
Step Counter
A pedometer sensor is included in the device. On the home screen, a step icon symbolizes the step function. It records your steps daily and saves them in a calendar format.
E-Book Function
Even with the tiny screen, Hidizs has retained the eBook app that reads .txt files. With this small real estate, it's a feature I do not need but is nice to have. It can be handy to fight off boredom in dire situations.
MSEB
Good news for EQ and DSP tweakers. MSEB is here to stay with the AP80 Pro-X. The MSEB panel in the Music Player app lets users configure the temperature, bass extension, bass texture, note thickness, vocals and so much more.
Customization is an addicting feature and the MSEB feature makes this player oh much fun. It's the ultimate tool that optimizes the listening experience through different tracks. Do certain tracks lack the bass boost? Just tweak the MSEB and it would conform to your preference.
Media Management
The media library on the AP80 Pro-X music player follows the same pattern as Hiby OS devices. For those new to this format, the player allows users to sort files by storage, albums, artists, genres, and format.
I prefer to navigate through my files through the storage option, wherein I have already sorted my playlists by putting them into separate folders on my SD card. This is pretty seamless as you can choose to shuffle and repeat through the folder.
However, to maximize the player's capability, you can create your own playlist and favorites through the media player.
Wireless Connectivity
Bluetooth
This model has a bidirectional Bluetooth aka BT capability, meaning it can input and output signals via BT.
Pairing my Sony Wireless headphones is straightforward with this device. Just go to the Bluetooth icon on the home page and search for nearby devices. Your specified device will eventually pop up and pair instantaneously.
One letdown was the decision to use a BT 4.2 instead of BT 5.0. Bluetooth 5.0 would've enabled a longer range which would be nice when moving from place to place. Although, Bluetooth 4.2 range is good enough for the common listening use case.
This device also supports HiBy UAT, Sony LDAC, and aptX CSR to reduce latency and deliver CD-quality sound wirelessly over Bluetooth connections. These are really good considerations from Hidizs, as more and more audiophiles want the flexibility of listening to HiFi in both wireless and wired modes.
If you're like me who often forgets to bring a dongle, then the AP80 Pro-X might just save you. The input capability allows me to stream using my phone and send the music to the AP80 Pro-X. I can then easily listen through my earphones connected to the music player.
Wired Connectivity
USB-DAC
Using the AP80 Pro-X on my M1 MacBook Pro was pretty seamless. No drivers were needed to use the player as a DAC. Same as other DACs, just select the AP80 Pro-X in the sound options of the Mac's Control Panel.
I have tried the AP80 Pro-X on my iPhone 12 Pro Max using a lightning OTG cable + USB-A to USC-C cable, which did not work due to the iPhone's lack of power.
USB-OTG
The USB-OTG function is also pretty straightforward. I have tested it with my iFi nano iDSD Black Label and it worked flawlessly, just connect the USB-C OTG cable to the USB-A male port of the iFi Nano, and boom it works.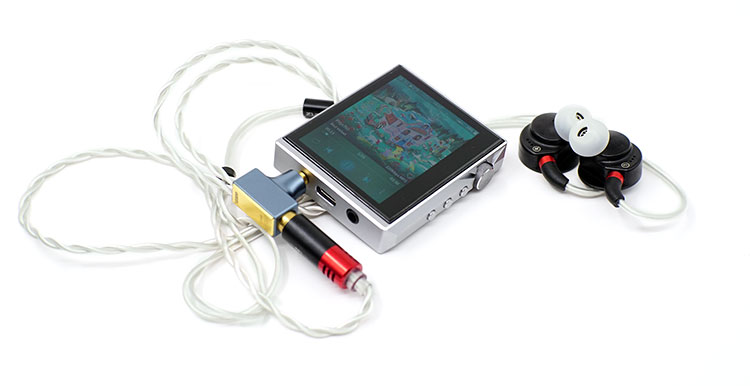 Sound Impressions
Bass
As with the previous variants, the AP80 Pro-X's bass is pretty flat, with EQ deactivated. Both sub-bass and mid-bass are dry and lacking. Lively tracks are decorated with a slight thump in the bass region, which is a slight disappointment.
Turning on the MSEB is another story. I was pleasantly surprised how sound significantly changes with the MSEB feature. Turning up the Bass Extension and Bass Texture provides a deep rumble and more prominent mid-bass. It sounds solid and dense, as it should be.
Mids
The midrange of the AP80 Pro-X is tuned more forward than both bass and treble. In fact, the midrange is the strength of the AP80 Pro-X as it sounds warm, rich, and natural.
Male and Female vocals are well-textured, with a slight warmth added on the lower mids. Harmonization of multiple vocals comes more alive thanks to the articulate details presented in the midrange.
Instruments also sound thick and full. It is easy to distinguish different strings and wind instruments. It perfectly captures the natural tonality which makes it sound very organic and true to life.
Turning on the MSEB though changes everything. When the bass is boosted, the midrange becomes recessed and further tweaking is needed to compensate.
Treble
Treble is comfortably tuned, with well-extended treble. The upper lift on the treble helps in making the sound feel airy and light, with a good shimmer on cymbals and higher frequencies.
There was no harshness, even in treble-heavy tracks. Treble does not feel rounded or flat. It is a bit relaxed and very forgiving. Tuning was just right and natural.
Soundstage (including imaging)
Soundstage and imaging are average with the AP80 Pro-X. Don't get me wrong, it's still one of the best in its current market price. Oftentimes, soundstage does not feel cramped. However, it is noticeable that space is limited, with maybe around 1 inch overhead.
Imaging is also just right. At times, it feels a sound comes from a single direction and is intimate. However, if you want great imaging, be prepared to save for a DAP twice or thrice the price of the AP80 Pro-X.
Click on page 2 below for pairings and select comparisons