The Hidizs AP80 is a brand-new entry-level DAP priced at a very competitive $115. This is a very small-sized DAP designed to compete with the Shanling M0.
Disclaimer: This sample was sent to us in exchange for our honest opinion. Headfonics is an independent website with no affiliate links or status. Thank you to Hidizs for giving us this opportunity.
To read more about Hidzs products review on Headfonics click here.
Note, that this post follows our current scoring guidelines which you can read in more detail here.
Hidizs AP80 Review
The AP80 is probably the best budget DAP I've ever touched and heard. It sounds much nicer than the Xduoo X3ii, my older Sony A17, and even the Shanling M0 by an audible degree. The screen is very nice and the added physical buttons make pocket play very easy, saves a lot on screen-battery usage as well.
Over the last few months, I've been privy to a few different review samples from Hidizs. Some were portable music players, some were portable DACs. I've enjoyed all of them so far and it seems very clear that this company is trying to achieve great things.
They are churning out multiple products per year and don't seem to be stopping any time soon.
Today, we are going to investigate the AP80, their newest touchscreen portable music player that has a Kickstarter just about to begin. Visit the link below to grab that as soon as possible:
Accessories and Battery Life
You get a typical cardboard box with the logo, the AP80, of course, and also a USB-C cable. The player charges super quickly via USB-C and is ready to go 0-100% in just over an hour for me.
That is awesome and then some. This AP80 has a rating of 15 hours of usage and I capped out around 11 with the screen off. With it on, that number went down.
Standby time is terrible on my unit and I can't say for sure if something is wrong with it or not. They quote 35-day standby time and I can't seem to get through one sleep cycle. I can't let it sit overnight on pause and shut the screen off without needing a full recharge the next morning.
Not really much else to deliberate on here outside of the typical peel-off-screen protection, which, thank the audio deities, was there out of the box because I nearly instantly scuffed my AP80 badly. Totally my fault.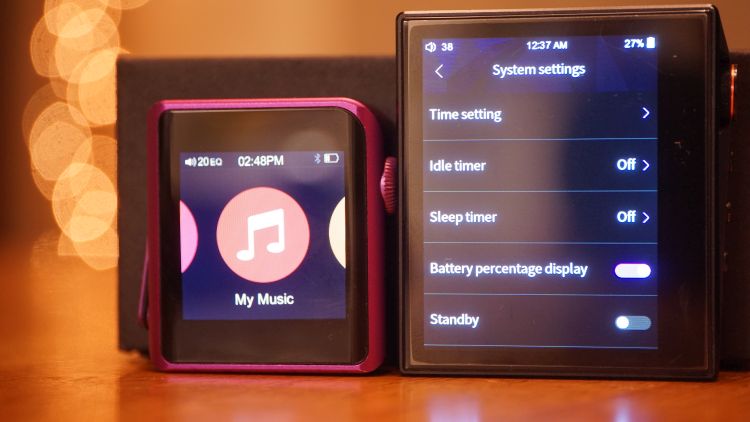 The Screen and Build
At 2.45 inches, this 360×480 monitor feels titanic compared to the much tinier Shanling M0 that I reviewed recently. Colors are vibrant and eye-popping and the UI lets you select some solid color schemes for the touch button areas. I like blue. So, I've opted for a Blue theme. It looks very pretty, indeed.
However again, battery life drains much faster with the screen on. Thankfully, we have physical buttons on the side of the player, unlike the M0. The AP80 is also CNC'ed aluminum and has a very solid, weighty feel.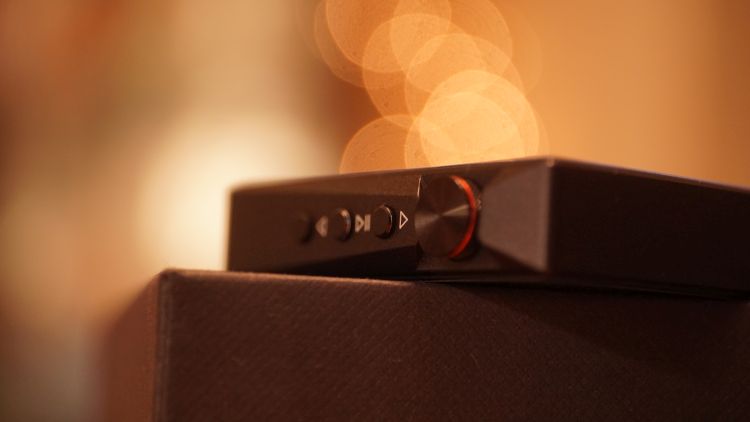 File Formats
Naturally, DSD is a standard these days, even at entry-level and the AP80 allows up to DSD128. Which, as I've said in the past, is already pretty high. I can't hear a difference from 128 to 256, so I don't care if the player supports up to 256.
Beyond that, DSD plays wonderfully and responsively too. Meaning, that the unit's hardware can cycle DSD tracks without serious lag or problems with stutter in the UI itself, or even crashing. So far, no crashes at all and no freezing issues on the current and most up-to-date firmware.
Yes, when I got the player on what I think was Beta pre-production firmware, the unit was a little laggy. But, that was immediately remedied and never became a problem when I was emailed the new firmware. While playing high-res files, the AP80 handles high-res motions very well for such a small little thing.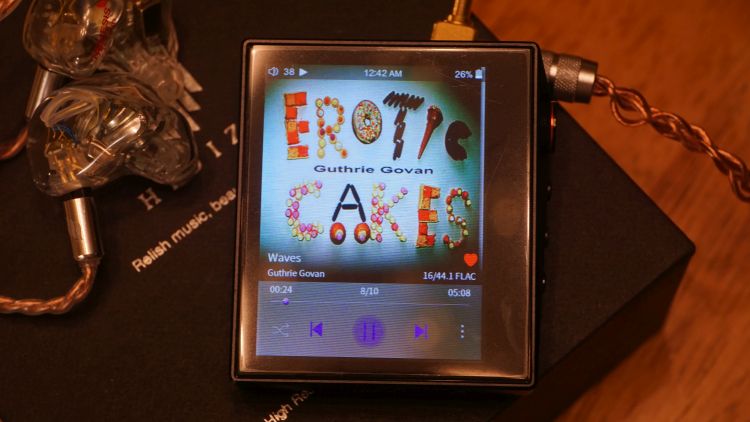 The DAC
I am officially a huge fan of the 9218P, which, as you guessed, is the same DAC in the Shanling M0. This little new school DAC is turning out to be fantastic and very adaptable in the way of EQ possibility.
No, I would not be using this as a USB DAC, for the price you can do better in a stand-alone unit elsewhere. However, right now, especially if you are like me and enjoy musicality over purity, this is a portable 'Godsend' for listeners like myself.
MSEB (DSP)
Well, if you are a purist, just ignore this section entirely. Turn off all the EQ functions and play as is, stock and flat. You'll enjoy that.
Without EQ active, this DAC seems to perform in the semi-neutral territory with what I would consider small nuances of treble bloom. With it active, the world really opens up. That is due almost entirely to the MSEB system.
Wow. I am really speechless as to how well the DAC responds to EQ and how well the AP80 is at changing itself with small incremental toggling of the EQ system…but not in the music players' EQ subset.
Only in the MSEB, which is vastly superior to the normal EQ. Ignore the normal EQ, it does almost nothing when I change it that I found positive.
The available toggles inside the MSEB are magnificent. You can turn the player into a very bassy, very soft impact, or very harsh experience.
You can alter the roll-off and even directly control midrange to be more on the gentle side, or more neutral. You can do a lot with this and I found myself extremely happy with how easy this system is for the EQ aficionado like myself.
IMO, right now, this is the best overall EQ system available in a budget DAP. I am immensely impressed. I am having a lot of fun and enjoying the sound quality as well. The MSEB is found in the Hiby portable players, by the way, and is also short for Mage-Sound 8-Ball.
Sound Impressions
Bass
As mentioned, bass via the MSEB is absurdly responsive and amazingly customizable. With it disabled and no EQ active, the AP80 feels quite dry on the bass end. It lacks any interesting bite, tone, or texture and feels very flat.
Those after a reference type of sound may enjoy it quite a lot. Musicality chasers will not likely enjoy it and will be playing with the MSEB a lot to fix that.
For the price, low-end fidelity, in the pure sense of the word, is very nice. I feel like the lack of subjectively interesting appeal in tonality may be an issue for anyone with headphones that are not very neutral.
I don't think the flat sound on the bottom end will do justice enough for moderately boosted bass headphones or really anything that is known for excellent texture.
Quantity is also a bit of an issue on a flat EQ setup. Bassheads won't be satisfied, of course. What is there though, is just fine in terms of quantity. So long as your headphone isn't regarded as a bass enthusiast model, the +0dB EQ is more than sufficient.
Midrange and Vocals
Again, due to the ridiculous features in the MSEB, you can move the midrange around freely and even affect dynamism and physical tactility. Even tonal changes to sound "sweeter" via female-enhanced vocals.
Without any EQ present, the experience feels moderate up and down the block. Meaning, moderately forward, not recessive, not intimate. But, can become either quite easily if need be.
The vocal tonality is also extremely neutral feeling all the way up to the upper midrange, which is then affected by the very noticeable brightness factor hike in the normalized treble areas.
Yes, this DAP can sound very intimate with EQ. But without it, the AP80 plays it safe and caters to a wider appeal of listeners, instead of either intimacy or relaxed positioning.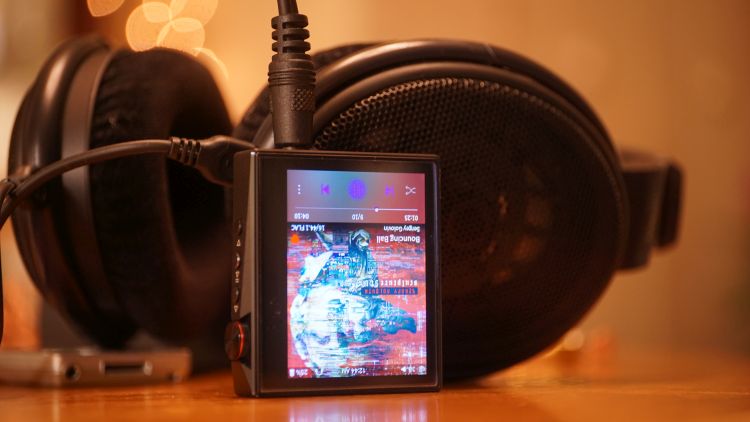 Treble
As mentioned, the treble is musical and very apparently so. What I enjoy about it is that I boost it with the MSEB only just a bit to sound less physically impacting. Beyond that, I try to keep it as flat as I can because the stock treble on the AP80 is beautiful. But, then again, so was the treble on the M0 from Shanling using the same DAC.
It seems this DAC is relatively neutral for the most part until you get to the top end, which has a noticeable bloom and sparkle. That slight bit of musicality is very noticeable only because the midrange and bass are very flat feeling.
That doesn't mean the treble is problematic. It isn't. It is quite gorgeous with EQ totally disabled. But, if you want it, there are a slew of MSEB options for you.
Imaging
Yep, it sounds larger and more dynamic than the Shanling M0 and every other budget-level DAP I've got on hand. This sounds a lot more open than my original Fiio X3 and similar sub-$200 systems I have for portability. The image is extremely coherent and well-formed.
The AP80s height factor and width are not offset by lacking depth or air between spaces. The curtain behind it all is very dark feeling and also quiet.
This sound is good enough to be used with my Empire Ears custom CIEM The Nemesis ($1600) and have it sound fantastic in staging elements. As a stage buff, for the price, I've not come across anything like this. It is exceptionally open-sounding for this price tier.
Our Verdict
The AP80 is probably the best budget DAP I've ever touched and heard. It sounds much nicer than the Xduoo X3ii, my older Sony A17, and even the Shanling M0 by an audible degree. The screen is very nice and the added physical buttons make pocket play very easy, saving a lot on screen-battery usage as well.
The AP80 MSEB is magnificent, thanks to HIBY for that. Beyond all of this, the unit supports aptX Bluetooth and Hiby Link, as well as includes an FM tuner which is super rare these days.
I am having a ton of fun messing with the sound properties and seeing what the player is really capable of. Not many DAPs are responsive to EQ even when they have a really intuitive EQ on board. Thankfully, this DAC responds very well to small changes.
If you want a musical-sounding player with a lot of bass, you can have it. If you want a neutral player with a soft impact, you can have that too. The AP80 is also of a high enough fidelity to make the Shanling M0 sound a little muddy by comparison and that is in all areas of listening: bass, mids, treble, staging, and coherency.
These guys did a great job with the AP80. It is the first budget tier DAP to really sound great with very expensive custom IEMs that I've ever reviewed. What a fantastic little DAP and at a great price too.
Hidizs AP80 Technical Specifications
DAC: Sabre ESS 9218P
Stream: 32bit/384KHz
DSD64/128
Gain control: Low/High
Line out: enabled (with volume lock)/disabled
Digital filter: slow descent/sharp drop
EQ: 10band, +/-12dB, 8 presets
Frequency response: 20Hz — 40KHz
SNR: 119dB
Dynamic Range: >105dB
Channel separation: 73dB
THD+noise: 0.003%
Output power: 80mW @ 32Ohms
USB DAC stream: up to 32bit|384KH