In this feature, we review the FiiO KA2 which is a dual CS43131 equipped dongle-type portable DAC/amp with a 4.4mm balanced output capability. It is priced at $59.99.
Disclaimer: This was sent to us as a sample for our honest opinion. Headfonics is an independent website with no affiliate links or services. We thank FiiO for this opportunity.
To learn more about the FiiO products we have previously highlighted on Headfonics you can click here.
Note, that this post follows our latest scoring guidelines which you can read up on here.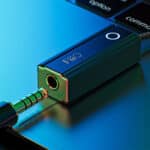 FiiO KA2
The Jade Audio partnership continues to keep bringing forth a concept with most of their products that show a good example of gear that is good sound but doesn't have to cost a small fortune. You can throw the FiiO KA2 in the list of their components that do just that.
Pros
Compact Design
Good value to performance ratio
Cons
non-detachable cable
Limited app features
If you go to the FiiO webpage and look at their product lineup you will soon realize the biggest dilemma with FiiO is what model to choose since they carry so many models within some of their product lines to choose from. This fact is most prevalent in particular with their IEM lineup.
Their dongle DAC lineup however has remained rather basic and up to now only contains three models. So far we have covered two models, the KA1 and the KA3. This time we're going to tackle the KA2, the middle sibling.
There are many differences between the last two covered dongles particularly with the internal components that were used because on the outside all three seem rather similar except for some intricacies.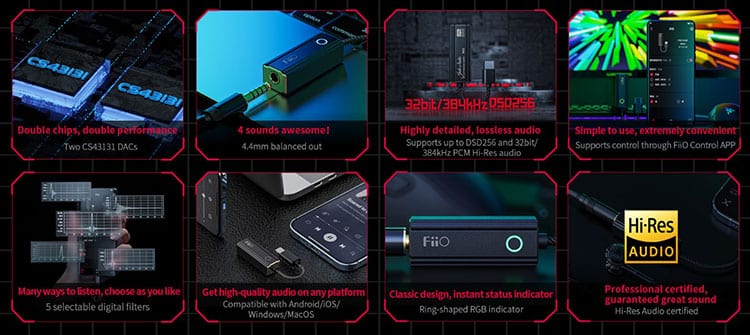 Tech Highlights
FiiO took a 180-degree turn this time with the KA2 and the internal components it employs. On the other two dongle models, FiiO used ESS tech DACs but this time they went with a dual CS43131 chip setup. This dual-chip setup is capable of 153mw with a signal-to-noise ratio of 131dB and a THD-N of 0.0005%.
Looking at the numbers alone one cannot tell this is a budget dongle DAC. The specification numbers look good on paper and seem perfectly aligned to particularly run IEMs since there seems to be a less powerful output than other 4.4mm dongles. However, the output does seem to be catering to efficient gear.
This dual-mono dual-chip design within the KA2 runs 32-bit at up to 384 kHz PCM and DSD256 digital music formats but there is a lack of MQA format capabilities. The FiiO KA2 can run on android, iOS, Windows, or Mac out of the box.
Design
FiiO has kept its black and gold scheme throughout its dongle DAC lineup so the KA2 follows a familiar design language. They also kept the subtly lit triple-color format indicator which I also like.
This particular multicolor format indicator design has an LED which sits behind a circle that allows the glow of the LED to shine through. However, it remains below an intensity level and is never glaring or too intense even in a dark environment.
The KA2 metal shell employs the same fin design the other two FiiO dongles do. It also shares the 'Jekyll and Hyde' look by being labeled a FiiO product on one side and the flip side being labeled with the Jade Audio branding.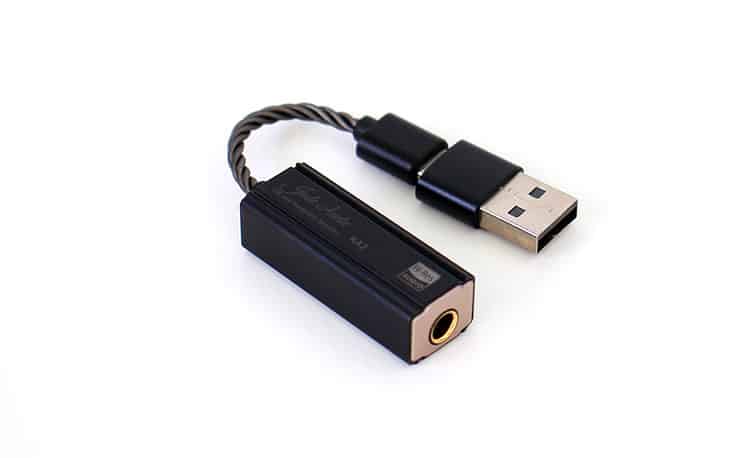 I/O
Contrasting the KA1 which has a single 3.5mm output the KA2 is equipped with a single 4.4mm balanced output. So, pull out those balanced equipped IEMs folks.
Now I don't know too much about the intricacies of the internal circuitry but if you drop that 4.4mm down to a 3.5mm with a gender changer adapter it still will work.
But I highly recommend you use a conventional 4.4mm equipped IEM instead just to be sure. This practice could cause some damage down the line. Get the KA1 instead if you plan on using 3.5mm connectivity exclusively.
The other end is equipped with a non-removable twisted cable that terminates to a male USB-C connector. There's also a Lightning-equipped model so be sure to get the right one you need.
Now we could gossip and talk about how much more I like the removable cable setup on the KA3 plus it also has a more robust output section. So, for the extra couple of bucks, it might be worth taking a look at. Not to mention all the other features that open within the FiiO control app when it connects to the KA3.
FiiO Control App
Yes indeed, the KA2 works with the FiiO control app, but the app seems to limit you far as what it lets you do within it. For example, the equalizer is disabled within the app but on a positive note, you do get to play around with five so-called low pass filters to choose from.
The other features that this app has that I thought were most useful were the 2-step gain control and the volume control which can climb up to 120% on volume level. It's very useful to set the maximum volume level.
There's also a full product manual within the app. However, one thing I couldn't find was a utility for firmware upgrades within the app.
I did look within the website in the support section and found firmware for the KA1 and the KA3 but not for the KA2. Perhaps one will be released at a further date hopefully since FiiO tends to open up more features with each release.
Low Pass Filters
I brushed through these so-called low-pass filters and found these filters to be somewhat subtle or almost inaudible, well almost. I think they're not affecting the low end at all or as the name implies but instead are some DAC filters because one for example is called a non-oversampling filter which is a dead giveaway.
The minimum phase along with the slow roll-off filters are more midrange forward while the other two seem to remain more neutral, especially the no oversampling variant which seems to be the cleanest sounding.
The other two do take on a smoother approach, especially at the top end. Your mileage may vary so make sure to check them out with your particular gear. They seem to react differently with different gears.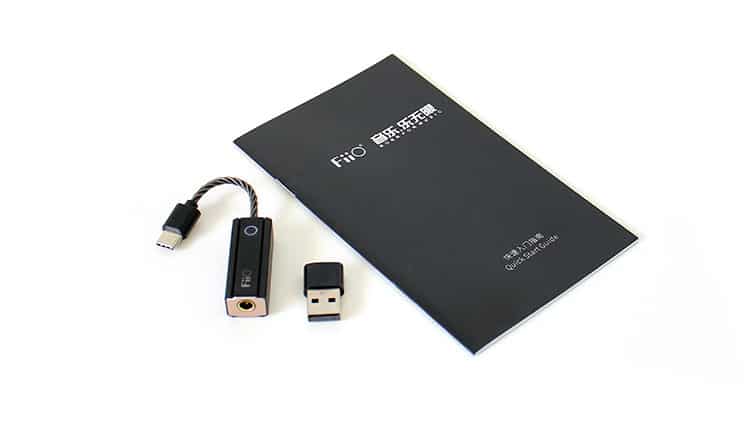 Packaging and Accessories
The FiiO KA2 comes with a USB-C to full-size USB adapter or at least this version of the dongle DAC does. You don't get much else except for a user's manual.
The KA2 dongle comes within a slide-out box and is laid within a foam mold along with the full-size adapter. My particular unit arrived in perfect shape although my local delivery guy seemed gentle and rarely played football with my deliveries thankfully.
Sound Impressions
Summary
The FiiO KA2 seems to be a well-controlled dongle DAC sonically just like the others within the FiiO lineup. They all project mostly neutrality but try to remain uncharacteristic and peak free. Neutral bass, midrange relaxed and smooth, and some rather dark high frequencies are all present characters.
The dynamic range seems rather high but at times it seemed as if power ran out at top volume when engaged in loud volume sessions and the dongle would take on a somewhat saturated character when played loud. This is not the "rock out on high volume" type of dongle it seems but rather a more delicate listen-to dongle at a moderate volume level.
The frequency response curve seems flat line, well extended, and concluded. The KA2 seems to stay within a margin of combativeness and tries to remain gentle while at the same time trying to remain dynamic and musical, especially at the top end.
Noise levels are very low and the KA2 seems to have a tuning geared to run IEMs in particular since they reveal more hiss and noise levels within the gear. The KA2 seems to have a pitch-black background which combined with its gentle tune makes this dongle DAC very IEM friendly.
Staging and Dynamics
The KA2 portrays a somewhat punchy character but the bass response is tilted neutral and seems clinical and is absent of bloom and sometimes uncharacteristic.
The midrange on the other hand seems precise tonally and correct in magnitude. The high frequencies seem a touch dark compared to similarly equipped dongles and compared to the rest of the frequency range.
Staging is all there although some elements can bleed outward from their occupied space. It's barely noticeable. Imaging is quite good along with the amount of space it can produce long as the headphones are up to the task. There's nothing dramatic to say about a soundstage that is rather undramatic.
Synergy
Power
The KA2 power output seems ample enough to run some efficient planar headphones and some high-impedance dynamic driver models but again, I would just stick to IEMs with the KA2 since it seems particularly designed for that purpose.
It's not a powerhouse dongle but the amount of fidelity it can produce is the main ingredient here and it's what you buy it for. So good moderation of the volume is key.
The amount of power available will get you by if you want to use some full-sized headphones and most times seems to suffice. There is some distortion at the very top of the volume however and it's probably due to a lack of current and or voltage output.
Far as power consumption goes, it falls somewhere in the middle of the rest. I could get 10 and up to 18 minutes of music with 1% battery life but if you use full-sized headphones and loud volume levels that time will be cut in half but will never drop below that so it seems to be rather efficient again if you moderate that volume.
Pairing
It doesn't matter what you pair the KA2 with because the sound signature is rather neutral characterized and has no strong aspect that will favor a warm-sounding or bright IEM and will add a very small amount of character of its own.
Of course, the FiiO IEM lineup pairs well with the KA2 but it also can play nicely with others. I paired some Tri I3 IEMs that have a tri-configuration of a dynamic, a BA along with a planar driver which was taken to very loud volume levels.
Dynamic driver IEMs also work nicely. The FD7, the Meze RAI Solo, and a pair of FD5 IEMs worked well and in good synergy with the KA2. I could go on but you get the point. Most IEMs will fare just fine.