We review the Feliks Audio EUFORIA evo, which is a desktop OTL pre-amp and headphone tube amplifier for headphones rated up to a 600Ω load. It is priced at €2699 SRP.
Disclaimer: This was sent to us as a sample for our honest opinion. Headfonics is an independent website with no affiliate links or services. We thank Feliks Audio for their support.
To read more about Feliks Audio products featured on Headfonics, click here.
Note that this post follows our latest scoring guidelines which you can read in more detail here.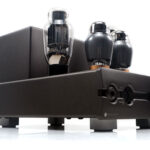 Feliks Audio EUFORIA evo
The Feliks Audio EUFORIA evo is an elegant OTL amplifier tailor-made to give you a smooth embracing tone and one that works wonderfully well with high impedance dynamic driver headphones such as the ZMF Headphones Atrium and the Focal Utopia 2022. I could listen to these enjoyable combos for hours without fatigue. 
Pros
Smooth euphonic tone and spacious delivery
Super low tube microphonics
Compact design
Cons
Lacks power for demanding headphones
Generates plenty of heat
The Feliks Audio EUFORIA evo is the 3rd iteration of their popular EUFORIA OTL headphone amplifier series which started way back in 2017 and then followed up with the 20th Anniversary Edition in 2020.
To date, Mike has been going through the ins and outs of the previous two models, with this EUFORIA evo my second Feliks Audio tube amp review after last year's award-winning flagship Envy tube amp.
So, consider this review a fresh perspective on one of Feliks Audio's signature headphone amplifiers and one that we will closely compare to some of the recent competition out there including the Envy itself.
Yes, it 'hits' very differently from the Envy, and given its far lower €2699 price point this might well be an ideal amplifier for high-impedance headphone owners on a tighter budget.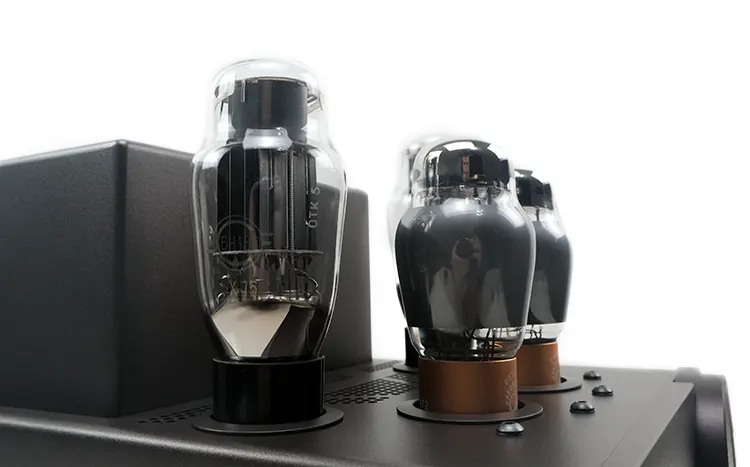 Tech Highlights
OTL Amplification
The Feliks Audio EUFORIA evo is a single-ended pure OTL or output-transformerless headphone tube amplifier with pre-amp and crossfeed capability.
This is my first time reviewing an OTL. With previously reviewed tube amps they either use an output transformer such as the Class A solid-state rectifier inside the flagship Envy or the Cayin HA-300MK2 whose SET, (single-ended triode), topology drives a pair of proprietary output transformers to both headphone and speakers.
There is a lot of debate and fans of OTL designs as opposed to output-coupled transformers from SET setups. That is before we would even begin to dive into the discussion of ZOTL and its claimed improvements on OTL. And we cannot discount the fact that SET and OTL are not mutually exclusive tube amplifier designs either as some use both.
However, there are those that would consider an OTL design as a more pure way of delivering a tube amplifier's performance with the lack of a transformer stage seen as potentially limiting the potential resolution, dynamics, and potential bass response of the amplifier.
Mind you, SET and solid-state rectifier headphone tube amps in 2023 are extremely competitive with great transformers so at least for me, it's not a cut-and-dry case of going purely with OTL if you have a set of 300Ω headphones based on my previous listening experience. It still comes down to performance, your lineup of headphones, and personal preference.
Tubes
The EUFORA evo uses a matching set of PsVane CV181 MK2 "Gold" drivers combined with a pair of 6N13S (NOS) power tubes. It will be purely on that out-of-the-box setup that we will be assessing the EUFORIA evo's performance.
PsVane CV181 MK2 "Gold" shouldered driver tubes are not cheap and have an approximate cost of around $200 retail for a matched pair.
However, by all accounts, they are an ideal choice for injecting a dynamic response from the performance of the amplifier. With their Teflon base and gold contact pins, they are also fairly durable designs with a good contact performance and very low noise levels.
Feliks are no strangers to PsVane either with their flagship Envy also using a pair PsVane CV181-T MK2 driver tubes alongside those beautiful matching Electro Harmonix Gold 300B power tubes.
The EUFORIA evo 6N13S (NOS) or 6H13C are black-plated Svetlana "Winged C" branded power tubes and fairly popular picks for OTL amplifiers. They cost about $100 on the open market for a quality pair and are OTK 5 rated, (if you believe that the higher the OTK number the better the performance mantra).
Performance Numbers
Despite the inclusion of a 4-pin XLR PO output, the EUFORIA evo is a single-ended headphone amplifier and pre-amp. The XLR output is more for convenience and connector flexibility for those that have 4-pin plugs for their headphones.
It contains a similar approach to the Envy with regard to internal engineering with "point to point" technology. This means each component is directly hard-wired to the next. All the point-to-point wired connections are custom-made from a single-crystal copper (UPOCC) with Teflon isolation.
The EUFORIA evo is capable of up to 280mW of SE output power with 20 dB of gain into a 300Ω load which is a decent level of performance though not quite Envy level.
A well-engineered OTL amplifier should have excellent voltage headroom for higher-impedance headphones. The fact that the PO output is rated at 65Ω will give you a fairly large hint at what the ideal headphone impedance match should be.
Indeed, Feliks does state that the EUFORIA evo is good for up to 600Ω headphones and planar magnetic headphones with its enhanced current delivery. However, I would say planars of a more efficient type are going to be better suited with some caveats.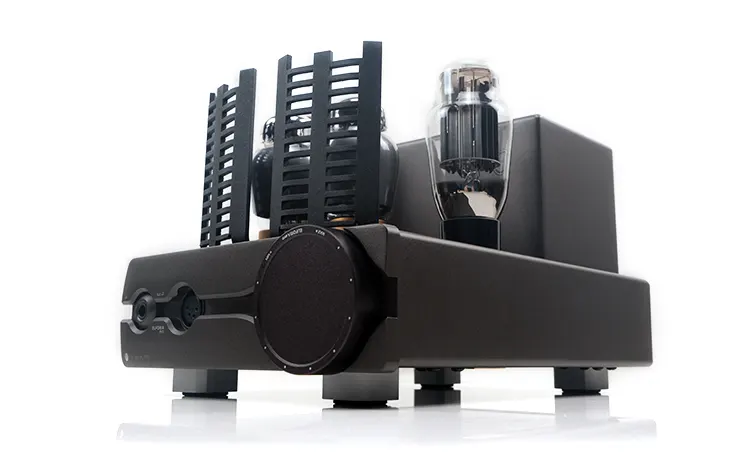 Design
The EUFORIA evo is one of those classic compact desktop tube designs that should appeal to those with more limited but study desktop space.
I say sturdy because it has that classic boxed toroidal power supply at the rear which gives it some reasonable heft though nowhere the weight of its bigger sibling, the Envy, at 7kg compared to just over 15kg.
Like the Envy, perhaps even more so given how hot OTL amps can get, I would recommend placing the EUFORIA evo in a well-ventilated spot to allow it to ventilate properly.
The finishing is quite different from those who are used to the previous two editions of the EUFORIA. This time we have a sandblasted aluminum panel finish as opposed to gloss or matte but also a similar updated design language to the Envy with a split front plate and sweeping arcs over a large rotary resistive rather than a stepped Alps potentiometer.
Both the potentiometer and the optional tube guards shown in the picture above are finished in black which contrasts slightly with the cedar brown tone of the main chassis. The only other break in the brown hue of the main housing is on top of the power supplier lid and on the rear panel.
The top has a beautiful little silver logo emblem right in the center and on the rear, you have gold-plated RCA sockets, with the swappable fuse and a power plug section in black.
Underneath the main EUFORIA evo housing are four matte white-finished and very solid-looking pillars with rubber soles that offer a solid grip on pretty much any surface I placed the EUFORIA evo on.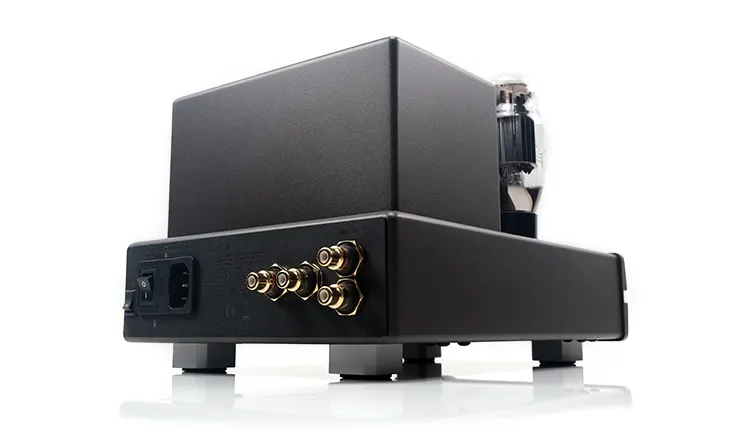 I/O
A couple of noteworthy features in the I/O of the EUFORIA Evo. The first, as mentioned, is that whilst it offers both 6.35mm SE and 4-pin XLR, both are SE outputs given the OTL amplifier topology is single-ended to begin with.
On the back plate for the inputs and pre-amp though it's a more classic dual gold-plated RCA configuration which should be quite familiar to all headphone and pre-amp owners.
The one caveat that might be less familiar for those new to the EUFORIA evo or Feliks headphone amplifier lineup is a small switch beside the power socket which introduces a bit of crossfeed into the signal.
However, this is not your usual crossfeed left into right channel type of enhancement. The EUFORIA evo crossfeed function is more focused on the bass response and both its weight and stronger central imaging as opposed to adjusting to the entire frequency response.
You can find out how that affects the sound and general performance of the amplifier on page 2 of this review.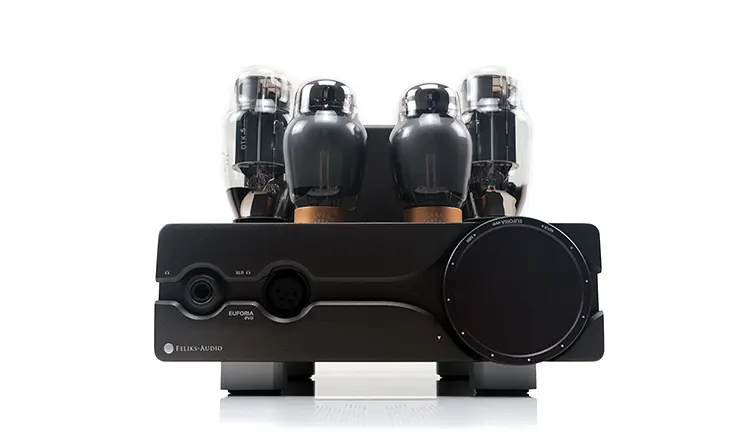 Controls
Everything on the EUFORIA evo is manual with no remote control, which for most OTL amplifier fans is par for the course. I will note that the large Alps pot is a joy to use much like the even bigger RJ45 version on the Envy.
The EUFORIA evo potentiometer is not too resistive, but not loose either, and is very smooth with a coherent and accurate arc for gain control. The markings on the pot are also quite clearly labeled with a min and max at either end also which I do appreciate.
Aside from that you have the power and crossfeed switches on the rear panel though do take note that there is a 30-second waiting period before the amplifier becomes 'active' to allow the tubes to warm up to operational level.
Accessories & Packaging
As with the Envy, the EUFORIA evo is your typical brown box packaging with excellent internal foam protection though much more compact in volumetric dimensions compared to its bigger sibling.
Inside, the amplifier itself is wrapped in a plastic bag and held securely within the foam inserts. The tubes are packaged securely in a separate foam tray and not pre-installed, which is how I like it.
The tubes are numbered 1-4 with a supplied manual including a diagrammatical display of the corresponding numbered sockets on the amplifier to make sure you install the tubes correctly.
For an additional €100 at the checkout on the Feliks Audio website, you can buy two tube-protecting cages, or guards as I call them which come with a small Allan key.
Installing them is fairly simple and takes just 2 minutes to install. However, my advice is to do that first then roll the tubes as the space is a bit tight between the driver tubes and the guards to move the Allan key quickly.
Click on page 2 below for sound impressions and pairings.