We review the FiiO KA13, which we regard as one of the most powerful entry-level dongle DACs in the market today with up to 550mW of balanced output power. It is priced at $75.99.
Disclaimer: This was sent to us as a sample in exchange for our honest opinion. Headfonics is an independent website with no affiliate links or services. We thank FiiO for their support.
You can click here to learn more about the FiiO gear we have previously assessed on Headfonics.
Note, that this article follows our current scoring guidelines which you can read in more detail here.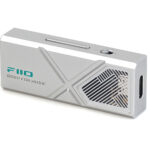 FiiO KA13 Review
The FiiO KA13 at its price point is unbeatable especially if your main objective is to obtain max power output at the set cost. It's what makes the KA13 appealing. The fact is that although you're getting one of the most powerful dongles out there, it's still highly affordable.
Pros
Powerful 4.4mm output port
Attractive ambient light window
High-value price for performance ratio
Cons
The FiiO Control app is limited in features
High battery consumption in desktop mode
FiiO at present offers five dongle DAC amplifier models to choose from if you include their most recent model, the KA13. We've already covered the other four which are the KA1, KA2, KA3, and KA5.
Today we will cover the KA13, which is a new balanced-capable dongle DAC made in collaboration with the Jade Audio division. However, the KA13 has a unique claim over other dongle DAC releases.
FiiO labeled the new KA13 a mini desktop amp which in basic language implies that it can replace the conventional desktop DAC amp combo. It seems FiiO makes this claim on the basis that the KA13 has a powerful enough amplifier section to drive most headphones.
The FiiO and Jade Audio collabs often offer up a good performance and high-value ratios and the KA13 seems to follow that trend. It's offered at well under a hundred bucks and still offers the buyer the luxury of a dual mono circuitry design.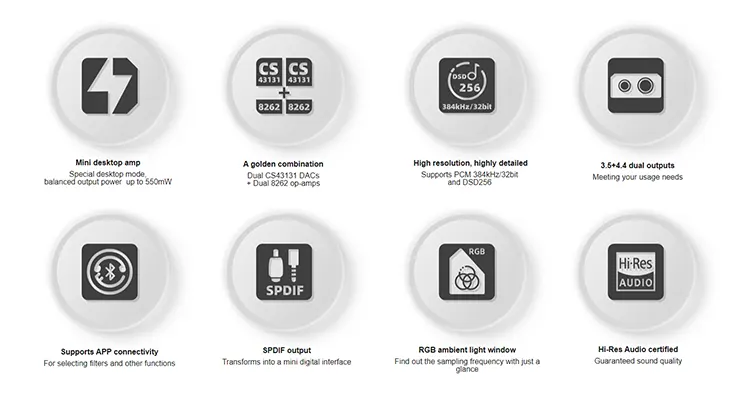 Tech Highlights
DAC
The main internal components of the KA13 consist of two CS43131 DACs plus two separate SGM8262 OP Amps which beef up the output stage to a level that the KA13 can deliver a maximum output of 550mW on the balanced 4.4mm output per channel.
This puts the KA13 dongle in a position to be able to stake claim to say it's one of the highest performers as far as raw power output obtained from a dongle DAC to date. Most rely on less than 300mw per side and only a handful of models surpass that figure.
Now, we all know that power in watts is not everything but it seems that we have good specifications that complement that output as well like a 1.7µV noise floor, 122 dB SNR rating, and 0.0005% THD.
These measurements could easily give the impression we're looking at a desktop model if you look at the specs alone.
Decoding
The FiiO KA13 can handle most of the popular lossy and lossless formats including decoding PCM at up to 384/32bit and native DSD at up to DSD256 but it has no MQA unfolding.
On the front of the dongle, there's a window that not only lets you see some of the components inside but it has a 3 color backlight that according to what it locks onto, gives the user a visual cue of what sampling frequency it locks onto.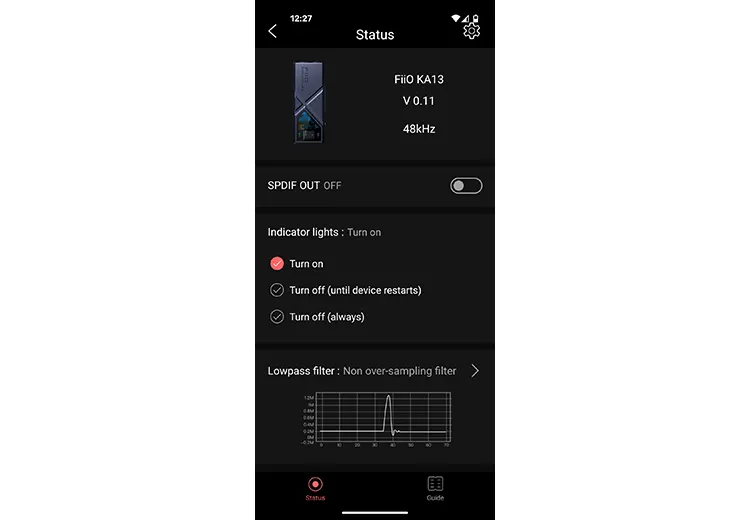 Software
You can use FiiO's Control app with the KA13 but it seems to limit its features on this model. You get to use some digital filters and play around with the RGB ambient light window LED on and off setting but not much else.
The app lets you control the 3.5mm output to either power headphones or you can also switch the plug to output as a SPDIF digital out, but you'll have to outsource an adapter. The included digital manual within the app will help you set things up and explain other available features.
The app does not let you access a firmware upgrade method but FiiO includes a downloadable firmware update on their main website under support and then just click the firmware button and look for the KA13. There's a trick to the procedure so read the instructions carefully or just do the following.
The first thing you have to do is download and install their driver on a PC-based system so you can verify your firmware version. Then you download and run the FW upgrade utility but you must replace the vendor and product ID with the numbers given in the manual, 2972 and 0062 respectively, and Voila!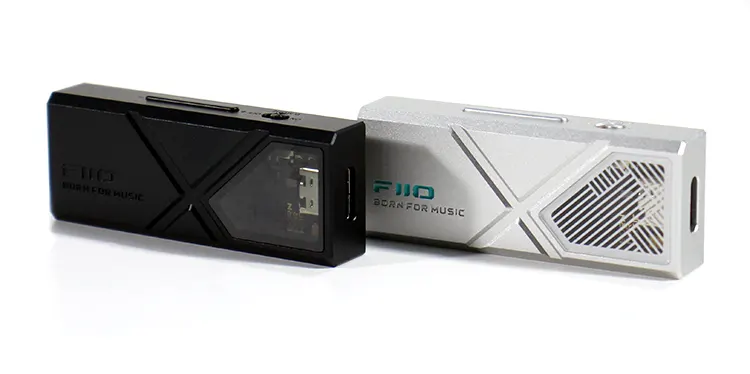 Design
The KA13 is available in two colors, one is a dawn silver theme and the other variant is all-black. They're both identical in dimensions and both shells are CNC carved out of aluminum blocks, anodized to then be fitted with the electronics and closed off with the ambient light window glass.
The color schemes have funny contrasting aspects in that the silver model accentuates the front logo but the back side doesn't accentuate the Jade Audio logo well since it's done in a silver-on-silver theme.
But contrary, the black highly accentuates the Jade Audio logo with a gold-on-black implementation but the front side doesn't give much to look at if it wasn't for the ambient light window. They're good-looking dongles regardless and the black will particularly stand the test of time.
They both have engraved 'born for music" upfront but the silver variant traps dirt inside the crevices and perhaps FiiO should have added some color to it like they did with the engraved FiiO logo. The same goes for the black model.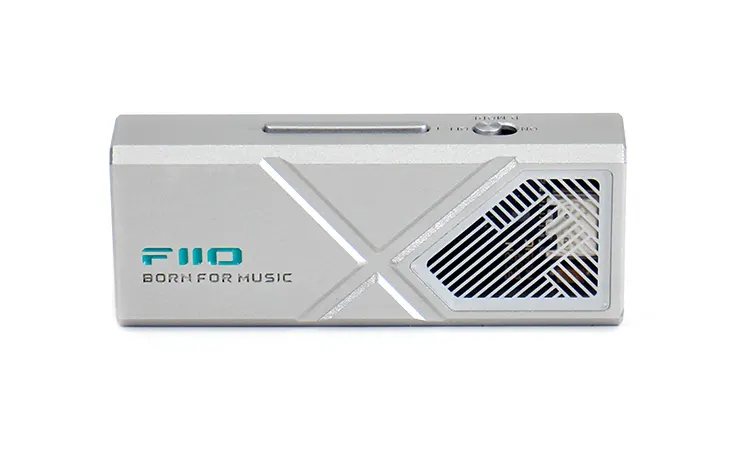 I/O
Nowadays it's becoming hard to find dongle DACs with just one headphone output connection. Following that trend, the FiiO KA13 uses the two most common connection types, a 3.5mm, and a 4.4mm balanced output. It also uses the common USB-C connection type for the input.
In addition, the single-ended 3.5mm output doubles up as a digital output selectable within FiiO's Control app. But you'll have to outsource a 3.5mm SPDIF adapter because the house doesn't include one.
To control the analog outputs, there's an onboard volume rocker that seems to have fine control plus you can also command some basic media control functions. By the way, both outputs should not be used simultaneously, as said by FiiO.
Another implementation the KA13 has onboard is a switch labeled desktop mode. It's a two-position gain control, that's how I see this switch. It has two gain levels and both are set at usable levels—the volume in general defaults to a low but audible level when you reboot or replug the device.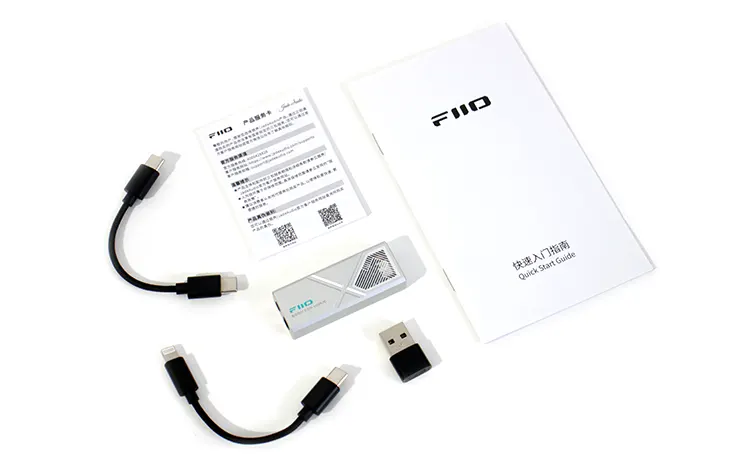 Packaging and Accessories
I'm happy to see that FiiO is not forgetting those who use a Lightning connection-equipped piece of gear even though I'm an Android user myself. FiiO throws in the KA13 box a braided cloth-wrapped USB-C cable for Android and a Lightning cable.
They also include a USB-C to a full-size USB type A adapter so you're well covered out the box connectivity-wise. Inside the box, there's also a quick guide and another after-sales booklet that was written in more languages than I can count.
The KA13 box is made of construction cardboard and laminated mostly on the outside sleeve. The inside displays the dongle and holds a separate smaller box that contains all the cables, the USB adapter, and a desiccant.
Sound Impressions
Summary
FiiO has never veered their dongle DAC sound signature from the original KA3 dongle which I find to offer frequency response linearity, a hygienic but energetic sound signature with decent bilateral spectral reach, and a splash of warmth.
As far as hiss, clicks, and pops, the KA13 remained silent during operation since this model also mutes itself in standby mode as other dongles do or when a source is not detected so it's hard to get the KA13 to produce any hiss.
I did hear some instability and breakup when I used the KA13 on a PC and used sources that required multi-track audio decoding and some soundtracks produced by some PC games. Music listening using a media player, however, did not forebring this characteristic, and music sources played smoothly even at selected high bit rates.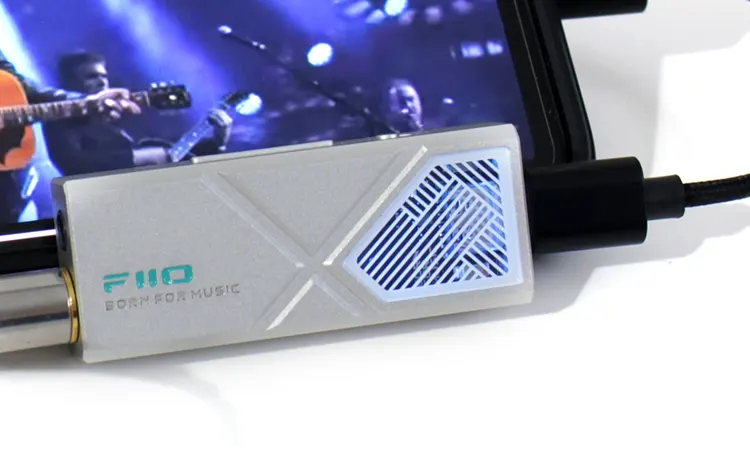 Staging and Dynamics
Somehow, FiiO managed to squeeze an extra amount of size in the soundstage representation with this dongle over their previous dongle DAC releases. It seems that area was of the most importance for FiiO and it seems they were successful in some aspects.
But it also tends to focus some of the recorded elements within a small frontal space in a concentric way while simultaneously sounding too expansive at times, just enough to hinder detail retrieval.
I always felt that most dongle DACs lacked soundstage size, particularly frontal depth and height but it seems FiiO managed to open that area up even though it uses the common 43131 chip. Perhaps it's attributed to the synergy between the SOC pair and the OP amplification.
Click on page 2 below for our recommended pairings and selected comparisons.