Today, we review the FiiO KA5, which is the company's flagship iOS and Android-compatible portable dongle DAC and headphone amplifier. It is priced at $129.99 SRP.
Disclaimer: This was sent to us as a sample for our honest opinion. Headfonics is an independent website with no affiliate links or services. We thank FiiO for this opportunity.
You can click here to learn more about the FiiO gear we have previously highlighted on Headfonics.
Note, that this post follows our latest scoring guidelines which you can read here.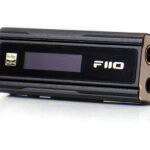 FiiO KA5
FiiO stuffed the KA5 with lots of good stuff like dual flagship DACs and dual amplifier chips, gave it an OLED screen with lots of accessible, useful features, and put a modest price tag on it. What's not to like?
Pros
Plenty of driving power
Not too hard on battery life
Featureful for a dongle DAC
Cons
Runs warm if you push it hard
Slight sharpness on the endcaps
FiiO just revved up their dongle DAC division another notch and just introduced a model that currently takes the top tier position within their Dongle DAC product lineup. That model is designated as the KA5 which now sits a step up above the KA3 in more ways than one.
Again, FiiO teamed up with Jade Audio on this venture, and to me it seems the partnership is going to be successful for a long time. This partnership has bought us some cool gear at a reasonable cost to the end user by implementing a high-efficiency manufacturing method.
FiiO did enter the dongle DAC market rather late but so far they've introduced four models if you include this new model. They've introduced the KA1, KA2, and KA3. What happened with number four?
I can attempt to logically answer that question. The KA5 stepped it up not once but twice from the KA3 so do the math, two plus three is five hence, the KA5. Perhaps that's what FiiO had in mind. Perhaps?
Tech Highlights
So, where were the two upgrades made? The first upgrade has to do with the internal hardware and the second major feature upgrade is the addition of an OLED display with many features that are accessible through that display or could also be executed by using downloadable software as well.
One of the improvements was executed at the DAC level. FiiO splurged on the DAC section itself and threw into the mix a dual flagship CS43198 setup. FiiO used a 6-layer immersion gold PCB to mount them along with all the rest of the components.
Speaking of components, there seems to be a couple of Opamps mounted on that board that feeds the output section of the KA5. They're a couple of SGM 8261 chips that seem to be customized by FiiO to their preferred specifications.
FiiO specifically mentions the fact that they designed the amplifier section with a reasonable ability to power some hungry cans and it seems to do well on preliminary testing. Those chips appear to be custom jobs since the chip's labeled number as shown doesn't seem to be a shelf component.
Decoding
The CS43198 chips are rather formidable when it comes to performing a decent conversion over to analog and are capable of running 32bit at up to 384kHz decoding with a side order of DSD capability of up to DSD256 though no MQA.
This DAC can also run different filter types. There's a total of five selectable digital filters which are called lowpass filters on the app but one look and you'll notice the common phrases that are normally associated with DAC section filters like phase compensated and non-oversampling, to name a couple.
Another cool feature is that you can switch this DAC section to operate in either class AB mode or in H class. The H class kicks the KA5 into low-power DAC mode. This is beneficial if battery drain is a major concern to you.
The DAC mode feature is accessible through FiiO's Control app and right on the onboard screen menu.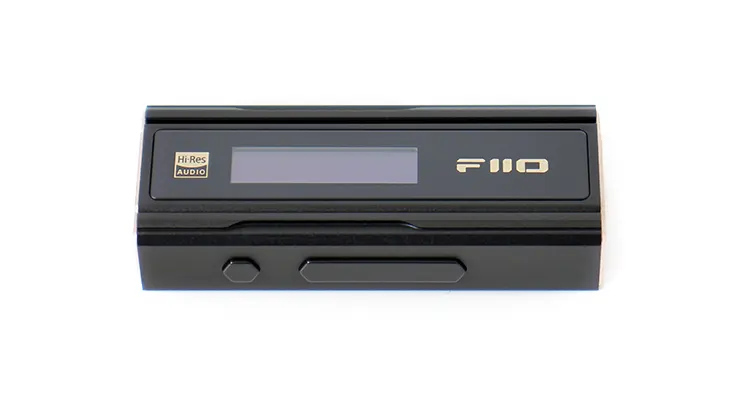 Design
The FiiO KA5 takes cues from its sibling, the KA3, but refined the design and improved the finish. But I could still feel some sharpness on the end cap edges similar to what I felt on the KA3 chassis. But overall, it looks better than the previous model.
The main body is anodized and CNC shaped from aluminum alloy and you can get the KA5 in two color schemes, black and white. The black version has gold end caps while the white version has white end caps.
The backside displays a full back tempered glass with the Jade Audio logo and a couple of other pieces of info laid in a gold letter scheme. On the front sits the 1-inch OLED with the FiiO logo in gold letters, also behind tempered glass.
All three controls reside on one side of the body, the volume plus and minus buttons along with a multifunction hex-shaped button that's used to activate the screen and to bring forth and operate the on-screen menu. It also controls pause and play functions.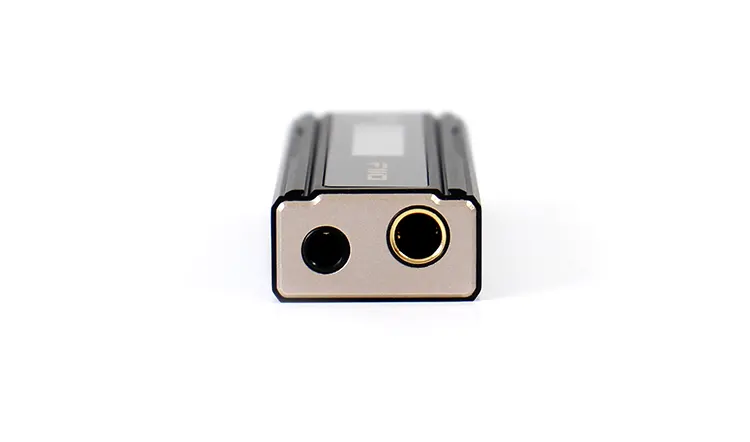 I/O
All the FiiO KA5 connectivity was placed on the end caps as usual, One end holds a USB-C female port which operates on either 2.0 mode or a selectable 1.0 mode. The other end cap has two headphone ports, one is a 3.5mm single-ended connection and the other is a 4.4mm Pentaconn balanced output connection.
If I may say something about the 4.4mm connector used is that it's a smooth-feeling connector, particularly on insertion. I have to mention that because not all 4.4mm connectors are made the same it seems. This one seems to be well-made and seems to have closer-to-original-stock design tolerances.
The KA5 also has a 3.5mm SPDIF output capability but you'll have to outsource a separate cable for that. Again, this feature can be activated by a toggle on both the onboard screen and OS or through the Control app.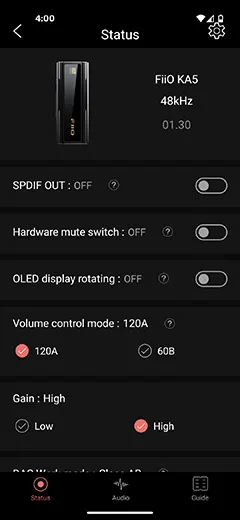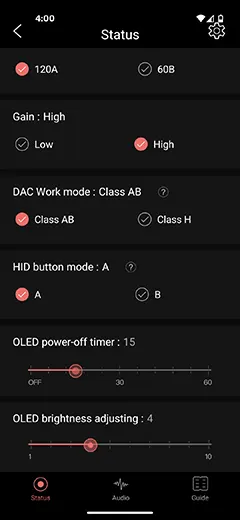 FiiO Control
There are a few things you can do within the FiiO Control app to set up the KA5 so it works best with your particular scenario. Besides what was already mentioned, there's a 2-way gain toggle plus a decibel limiter with two settings. You can choose between a 120db limiter or a 60-decibel limit setting.
There's a max volume and a balance slider, an OLED rotation toggle, an OLED brightness adjustment, and a time-out adjustment. There's also a hardware button that flips the direction of the volume buttons.
On the backside of the app, there's a user's manual which seems to be thorough enough but there's nowhere to perform a firmware update within the app. If you need to update the firmware, you have to download a file with a small Windows application that allows you to perform a firmware update.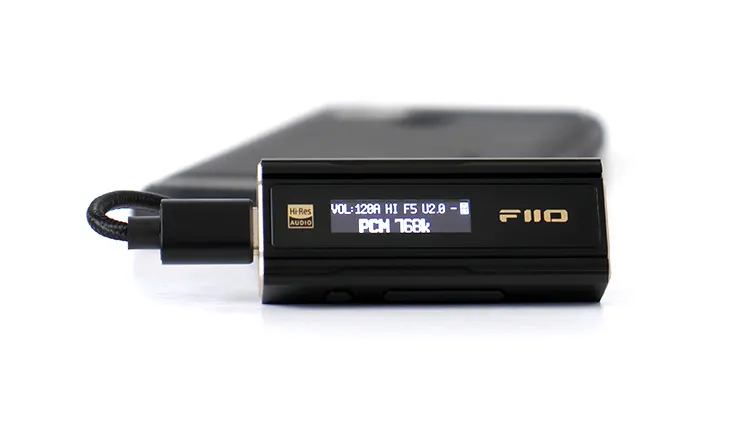 OLED Screen
The OLED screen can give access to all the features accessible within the Control app. The fact that you can access all the app features through the built-in OS and screen is certainly a plus.
Especially if you plan on using the KA5 with a PC or MAC device since neither is capable of running the Control app. It only seems to run on Android far as I know.
But besides the aforementioned A/B and H DAC modes, another cool feature that's available is a de-pop on or off toggle which enables or disables the hardware mute feature that keeps the unit silent between tracks or when it's not producing music. This can be executed on board directly as well.
Sometimes the average mute feature cuts off introductions and at times I wish I could shut it off. This is one of the first times I've seen this implemented on a dongle DAC so my compliments to FiiO. Innovation is always good.
Anyways, it's a nice feature to have. But subject aside, the screen is not bad either far as image quality. I can read it from a few feet away, which is more than what you need. You can also set the screen brightness intensity level if you need to.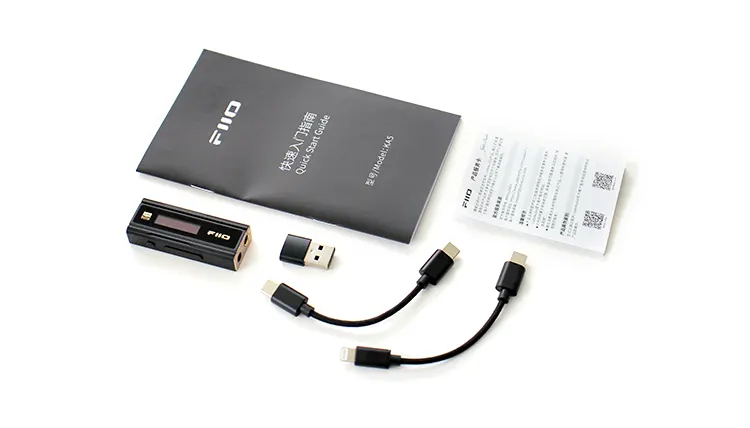 Packaging and Accessories
I like the fact that FiiO includes lightning connectivity although I'm strictly an Android user. My opinion on that front is that it seems FiiO thinks about inclusion on the design table, not in a political sense, but in an accommodating sense.
Of course, FiiO also includes a 4-inch cable for Android use. You also get a full-size USB dongle in case you want to use the KA5 on a full-size USB port. So, the included connectivity covers most gear and is, again, simple but very inclusive.
The rest of the contents inside the moderately sized box are a quick start guide and an after-sale pamphlet with some warranty information. That's all there is besides a silica snack but don't eat that, promise me.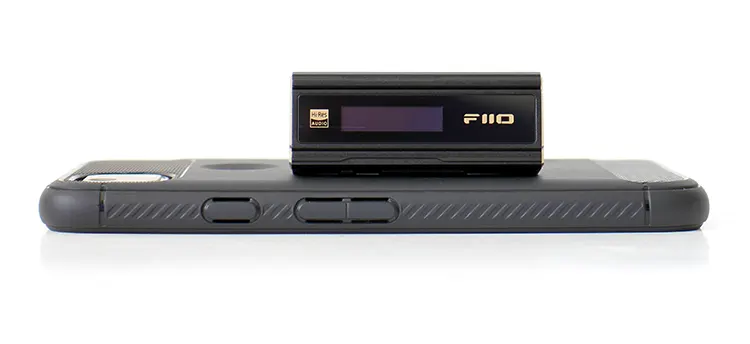 Sound Impressions
Summary
The FiiO KA5 follows the FiiO dongle DAC sound tradition and sticks to their common neutral but slightly warm characterized sound signature. The overall tonality is warm but remains well-balanced through the frequency bands.
There seems to be a sense of warmth but mostly noted on vocals since they take on a deep character. However, the rest of the spectrum remains neutral, especially the lower end.
The high frequencies seem to have a decent extension reach. They also remain well-controlled and balanced with the rest of the spectrum and never wander into excessiveness or obscurity either.
Far as noise levels, FiiO didn't shy off and included a feature that allows you to disable the common mute feature. So, it's safe to say that FiiO knew out of the gate that the KA5 had a dark background and included that feature knowing it was not prone to producing hiss.
Staging and Dynamics
The FiiO KA5 is capable of 120 decibels, or is it? The selectable limiter doesn't have a current drain sensor or an impedance sensing feature so that number should not be adhered to. I simply kept it on 120db and never looked back.
The KA5 is a punchy little device that has a surprising amount of power and high dynamic range capable of driving most large-size headphones and max-out IEMs easily.
Far as the staging is concerned, it's rather good but personal. It has precision and depth but it's not largely projected and remains within arm's reach. There's a shortened amount of height and depth which seems average to many dongles but everything seems to be well placed.
Most dongle DACs have a limited size stage and tend to veer into intimate territory but I like that kind of stage versus one that's artificially too wide. But the one aspect that the KA5 does very well in is properly defining each element in its own confined space inside the soundstage.
Click on page 2 below for pairings and our selected comparisons.