This is a review of the new FiiO KA1 entry-level dongle-type portable DAC and headphone amplifier launched in partnership with Jade Audio. It is priced at $49.99.
Disclaimer: This was sent to us as a sample in exchange for our honest opinion. Headfonics is an independent website with no affiliate links or status. We thank FiiO for this opportunity.
To learn more about FiiO products we have previously highlighted on Headfonics you can click here.
Note, that this post follows our latest scoring guidelines which you can read up on here.
FiiO KA1 Review
The FiiO KA1 fits inside a particular market that caters to those who are either unwilling to spend big bucks on audio gear or are just strapped for cash and want a dongle DAC that works well with most devices, has high compatibility in the digital domain, and offers good performance in general.
Pros
Excellent performance to cost ratio
Compact form factor
Ample Digital Format Capability
Cons
Cable cannot be detached
Low power output
We've seen a few joint ventures between FiiO and Jade audio lately and this time around we have another dongle DAC for scrutiny similar to the recent KA3. Downscaling the KA3 concept has turned up the KA1 and although there are similarities many differences abound.
It seems FiiO and Jade Audio are aiming their new KA1 dongle at buyers who are on a tight budget but want a device with some decent modern-day tech inside, minimalistic conceptually, and of course a modest price tag.
Downscaled portable items are being sought more every day and perhaps that is another point of appeal that will sell the KA1 but performance is paramount because regardless of size or features, good sound is on top of our checklist and is what we're all here for.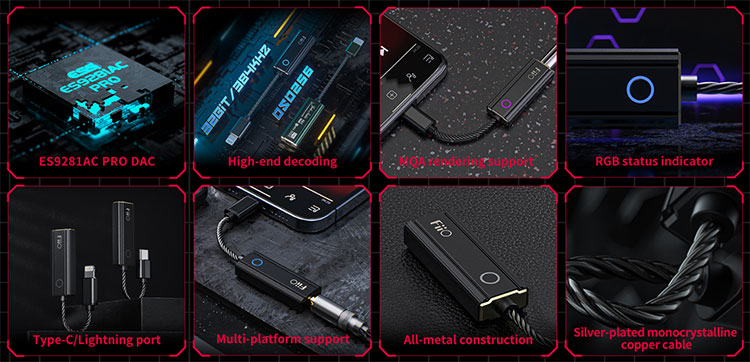 Tech Highlights
Considering the asking price FiiO still managed to incorporate a rather ostentatious chip. They used an ESS Sabre HiFi line ES9281AC Pro which is a 32-bit HyperStream 2 series chip with QUAD DAC architecture and good digital format handling capability.
The ESS ES9281AC Pro updated block diagram was released just around a year ago. Ever since then, other dongle makers have employed this chip on their units with good results.
Stability and experienced implementation is almost assured at this point. This particular chip seems to have a good record of decent performance and reliability so far.
The one chip package which is mounted on a multilayer gold-plated PC board combines a USB audio interface, a DAC section, and a built-in amplifier. The additional implementation of a patented time-domain jitter eliminator keeps it all clean and on point.
Digital Formats
For a budget device, the KA1 seems to have a good set of digital format capabilities. The ESS chip has a 16-channel PS Bridge which supports 8 channels of inputs and outputs that negate DSD files and even does some hardware rendered MQA.
Apart from certified MQA capability, the FiiO KA1 handles digital open standard DSD64, DSD128, and DSD256 plus PCM at up to 32 bit/ 384kHz rates.
The only format lacking or not mentioned here is DXD but it will probably play under PCM just fine since both formats are the same but DXD runs at a particular and single frequency rate.
The KA1 is a multiplatform device as well so you could use one on Android or an IOS platform device. Windows, MAC, and tablets are also game plus with the above digital format capabilities, you could rest assured of having a good insurance policy because you're covered.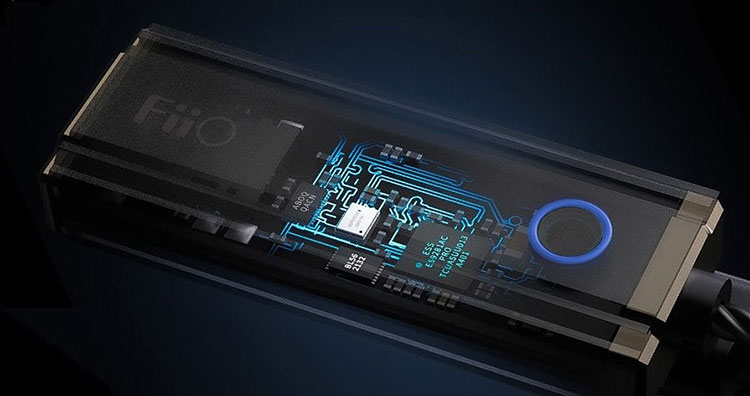 Performance Numbers
Power-wise, the KA1 is not that impressive looking on paper and is rated at 45mW at 32Ω max or 1.2 volts at the same impedance. It might not sound like much but if I was to compare the KA1 with similarly spec'd devices audibly I would say there seems to be an edge here. The power specification seems somewhat moderately rated but not by a large margin.
To further reinforce the quality of the amplifier section and to its credit, channel balance is listed as within 0.05 decibels and channel separation is at 73db at max power output which is not bad for a device of this class and size.
The frequency response is listed as 20 to 20 kHz but I've seen some graphs and measurements FiiO posted and obtained off the KA1 which gives me clues that it's capable of reaching up to 50 kHz with ease.
Distortion levels are listed in two distinct forms. The overall distortion level is listed at 0.0005% but there's also a second listing which is the bottom noise level and that spec is listed at 0.00018%.
Design
If you like small devices the KA1 will please you but if you like detachable wires then the opposite will apply which is probably the only drawback I found about the KA1 design in general.
The body style copies its looks from the KA3, color scheme, and all. The shell is all metal, finished off in a black matte with gold-colored end caps plus the double branding. Even the cooling fin aspect of the design and the round LED were carried over but the overall size was taken down to about half the size of the KA3.
Dimension-wise the shell measures 40x15x8mm and with the additional length of the non-removable cable it measures around 70mm which brings the KA1 overall length to around 110mm.
Add to that a weight of 10 grams and the numbers alone should be a good indicator of how portable this dongle is.
I/O
The FiiO KA1 I/O consists of a USB-C input port on one side and a single-ended 3.5mm output port on the other side so no specialized studies or training is required to operate this device and I'm certain anyone can figure out this little device.
There seems to be an active headphone connect detection feature within the KA1. There is mention of this feature within the ESS tech sheet and on the KA1 webpage actually. It internally shuts off the dongle if there is no load detected.
The detection circuitry keeps the unit off until you connect a headphone. If, for example, you're a PC user and connect the dongle to the PC it will not work until you connect the headphones.
Once you do it will become the main audio device. Disconnect the headphones and the PC will automatically disconnect the dongle and switch over to the onboard sound card.
It works out particularly well with mobile devices also since it saves on battery life by remaining inactive with no current draw until you commit, connect headphones, and start playing back some music. Otherwise, the unit remains inactive.
Packaging and Accessories
I hope you're not expecting leather-lined storage cases or gold fringed cleaning cloths at this asking price. So, what you get is the dongle, a female USB-C to full-size male USB adapter plus a quick guide which is more so an owner's manual to me because it displays warranty info, product information, authenticity procedures and it goes beyond the average quick guide.
The box is a slide-out and sleeve type and once you remove the main product box from the sleeve it reveals the dongle and the USB adapter lodged inside a custom foam mold and the quick guide sits atop.
Sound Impressions
Summary
FiiO actually posted various measurements obtained off the KA1 and if you look at the frequency response graph it seems to have a straight line across the graph.
In other words, the KA1 is completely flat across the audible frequency spectrum therefore other specifications will matter more and more so it affects the overall sound signature.
The KA1 uses an ESS DAC chip which on average sounds rather warm but this dongle presents sound in an almost antiseptic way in which nothing is emphasized and is neither warm sounding nor bright. If I would put it on a legal scale it would tilt one degree to the warm side but that's it.
There seems to be an absence of coloration overall and this dongle seems to aim for neutrality. Clarity is rather high far as the distinction between different elements within recordings and timbre seems to be unaltered.
The noise floor is kept very low but I think it has more to do with the mute feature within the chip that shuts down the audio output if no audio is present. This gives the listener a totally silent background between tracks.
If you listen closely however you could hear a small amount of hiss in certain silent passages so there is a minuscule amount of hiss there but it's mostly concealed and unperceivable.
Synergy
Power
With the amount of power available I would not exclusively pair the KA1 with a headphone that is hard to drive or that require high current power like planar cans and I would stick to efficient dynamic 16- or 32Ω cans or I would just use IEMs most times.
The output side is certainly not a powerhouse but on the plus side, the KA1 dongle design seems efficient enough that power consumption is kept very low. You barely notice its consuming power running off a mobile device and it seems to not affect the battery much.
On average my 5000mAh produced around 6 minutes of music at half volume with a 1% decrease in battery power on average so break out the calculator folks.
Pairing
It really doesn't matter what you pair the FiiO KA1 with because the sound signature is neutral and has no character that will favor a warm-sounding or bright IEM and will add no character of its own.
What you do have to be cautious with is the available amount of power and if it would be sufficient enough for your needs and more importantly, would it take your particular headphones up to an acceptable volume level without distorting. Stick to efficient cans is the rule here.
To give a couple of examples I could technically run the HIFIMAN Sundara on the KA1 and the Edition XS with more success but at rather high-volume levels things got congested up and it's because of the lack of voltage and driving current capability and the 1.2 volts was not enough to run them optimally. The bass response was the most affected.
You could drive Grado SR60 or an SR80, a SHP9500s, and other similar dynamic driver cans well and with less distortion at high volume levels. However, most IEMs are game and present no challenges since the half dozen or so models I tried worked very well with this dongle.
That includes some multi-driver models like the iBasso IT07 and I even tried a TRI I3 which uses a planar driver with great success.