Today's feature is a review of the Alpha Omega Omegon MK2, which is a new custom quad BA and dual EST driver custom in-ear monitor. It is priced at RM5,700.00 SRP or around $1200.
Disclaimer: This sample was sent to us in exchange for our honest opinion. Headfonics is an independent website with no affiliate links or status. We thank the team at Alpha Omega for their support.
Click here to read more about the custom monitors we have previously highlighted on Headfonics.
This post follows our current scoring guidelines which you can read in more detail here.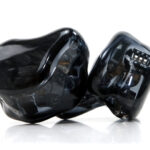 Alpha Omega Omegon MK2 Review
The Alpha Omega Omegon MK2 is one of those rare BA/EST hybrid custom monitors that delivers a credible level of sub-bass weight and mid-bass punch without sounding overly bloated or polite.
Pros
Smooth and agreeable vocal tuning
Excellent bass definition
Plenty of tuning options
Cons
Slightly loose nozzle fit, (can be modified on request)
Slightly dark highs on default mode
I feel like I have come late to the Alpha Omega party. The Omegon MK2 is a 2nd generation custom IEM monitor with a few tweaks from the first iteration based on customer and review feedback.
Technically, I was supposed to receive the MK1 earlier this year but with the advent of this newer version, Clement, (the owner), and the team at Alpha Omega thought it prudent to start with the latter over the former.
For those new to the brand, Alpha Omega is based in Kuching, which is the capital city of the state of Sarawak in Malaysia. It is one of the more picturesque regions in the country with a beautiful waterfront on the Sarawak River.
They were established in 2021 with a broad range of audio tuning, OEM collaborations, and reshelling and repair which is a bit of a lost art in 2023 these days.
The Omegon MK2 CIEM is the flagship of their small custom monitor range priced at $1200 but their entry-level Voyager IEM starts as low as around $120 so there is a choice for all types of budgets.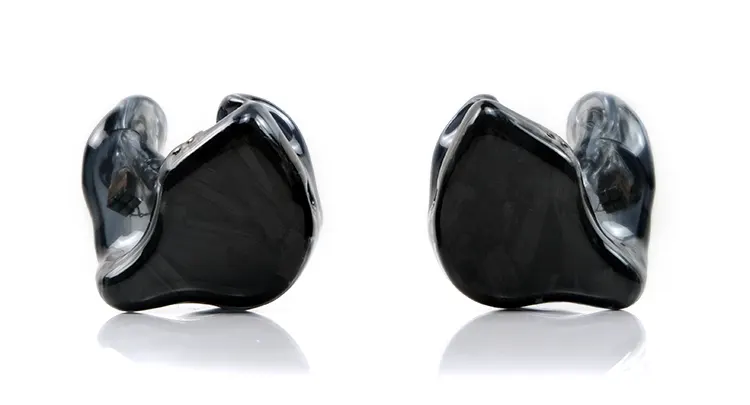 Tech Highlights
The Alpha Omega Omegon MK2 is a hybrid multi-driver in-ear monitor. It can be bought in both universal and custom format with this sample being the CIEM version.
The hybrid comes from a mix of Sonion 2nd generation electrostatic and Sonion balanced armature drivers but stops short of being a tribrid with the omission of dynamic drivers.
There is a total of 6 drivers inside the Omegon including 4 balanced armature and 2 EST drivers. Both types are in a dual array configuration with a dual vented woofer set for the lows, 2 mid-drivers for the mids, and the EST driver for the array for the highs using a crossover point of around 4k.
The use of EST for the audible range is not the norm. Quite a lot of EST builds use them for air and headroom whereas the Omegon MK2 places them firmly in control of all the highs which should create an interesting coloration.
Configurable Tuning
However, there is more to the Omegon MK2 than simply more confidence in using EST drivers for tuning. It also has a triple dip-switch control to the rear of the panel to give you up to 7 tuning options similar to the likes of qdc's Anole V6 and the Anole VX.
Each switch covers a specific area of the Omegon MK2 frequency response and they can be used in a singular fashion or in various combinations to produce a unique performance response.
Switch 1 has a focus on the sub-bass level, switch 2 targets the mid-bass, (or specifically the low pass filter of the circuits ), while switch 3 controls the treble amount. And yes, it works on a resistance basis for how much or how much of each area is present in the presentation.
PCC (Phase Correct Channel)
The final area of note is more of a technical solution called 'Phase Correction Channel' or PPC.
This primarily targets the perceived issue with phase control between the low-end Sonion 38D1XJ woofers dual array and the mid-driver BA equivalents by introducing a new venting system to cancel out the potential for phase interference.
The net result should be a much cleaner bass performance and improved separation from the BA mids-drivers over the MK1. Having not heard the MK1 I cannot back that claim but I can tell you how it performs against some competitors that also use BA drivers for the lows on page 3 of this review.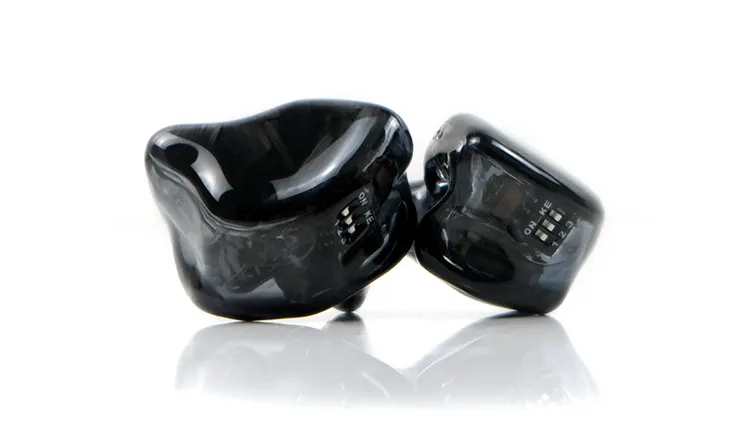 Design
Because it is a custom design, the Omegon MK2 can come in various finishes. You can go loud, you can go with the signature 'Son of Hydra' scale pattern visual you see on their website product page, or pick something entirely personal to you.
This particular sample's design has a seemingly low-profile finish during the day but its brushstroke pattern on the plates glows whiter in the dark. It's a smoky black translucent shell behind the plates topped off with some dark forged carbon fiber designs for the faceplates.
I picked it to allow the white dip switch block to stand out a bit more in the pictures which I think came out well enough.
As you might expect, the materials are almost entirely of resin save for the triple dip switch block which is a lightweight plastic enclosing a small electrical circuit to the rear of the main shell. The contouring is very intricate rather than vague which normally indicates a quality 3D printer or shaping process is being used here.
It is not the biggest CIEM I have encountered in terms of its form factor. The Omegon MK2 is a bit smaller than the competing models I have used for comparisons such as the Anole V6, the FIBAE 7 Unlimited, and Craft Ears Craft 6.
One of the primary reasons behind my perception of a compact design is a more aggressive indent in the middle of the main shell that faithfully follows the plate shape itself. It seems to cut a few millimeters off its width.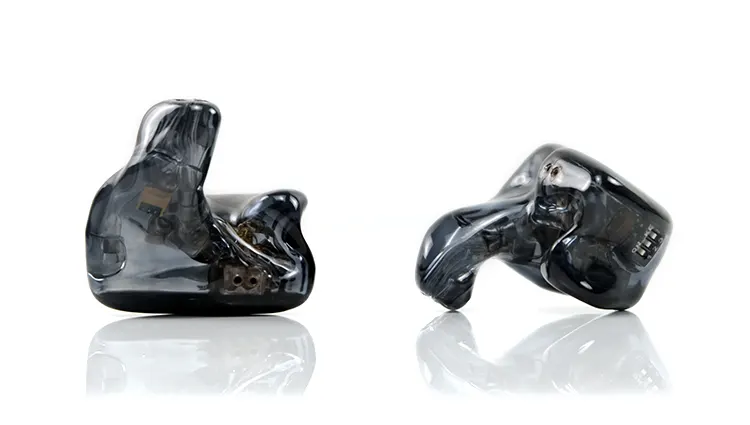 Comfort & Isolation
The Omegon MK2 sample I have here is very comfortable in the ear but perhaps a shade too comfortable with a slight gap preventing it from acquiring a top-notch seal that I would expect from a non-vented custom IEM shell.
These things can happen and Alpha Omega does offer a refit service free of charge if your custom is not quite how you wish it to be for sealing purposes.
What I did was use a set of Comply Custom foam strips around the nozzle about halfway down or just beyond the bend which created an effective final seal to ensure no audio quality was lost.
These strips cost about $20 for a pack of 5 and I tend to keep them hanging around as your ear canal shape changes throughout the years so older models I have here from a decade ago sometimes need them to keep their seal.
Aside from that the small form factor of the Omegon MK2 is very welcome with no real protrusion out of my ears and no real discernable pressure on the side of my ear's concha basin. Especially to the front of the ear which is where that aggressive indentation along the plate lines seems to have a comforting effect.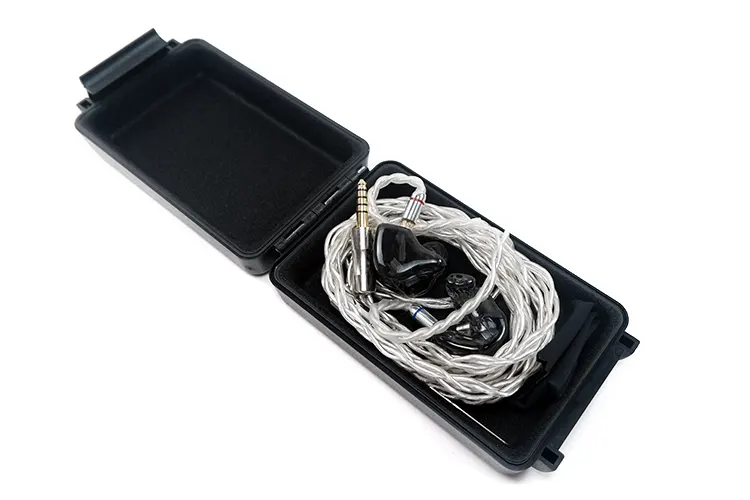 Stock Cable
The Omegon MK2 comes with a fairly hefty but quite attractive-looking stock cable terminated with a balanced 4.4mm jack and 0.78mm 2-pin connectors by default.
Inside is a 20AWG 4-core 6N pure silver Litz wire wrapped in a soft translucent PVC jacket so you get plenty of shine externally and complemented by some dense aluminum barrels with laser cut motifs on the splitter and a matching chin cinch.
The stock cable jack barrel sides are concaved to give it a bit more grip when handling and the chin cinch also moves up and down fairly smoothly without any sticky areas encountered and does hold its position quite well. Both the connector barrels are sensibly color-ringed with blue for the left and red for the right.
This is a quiet cable for microphonics, the dense splitter does its job very well indeed in terms of damping down the cable to the jack. Its long-throw braid also prevents it from tangling and retaining any kinks from long periods rolled up.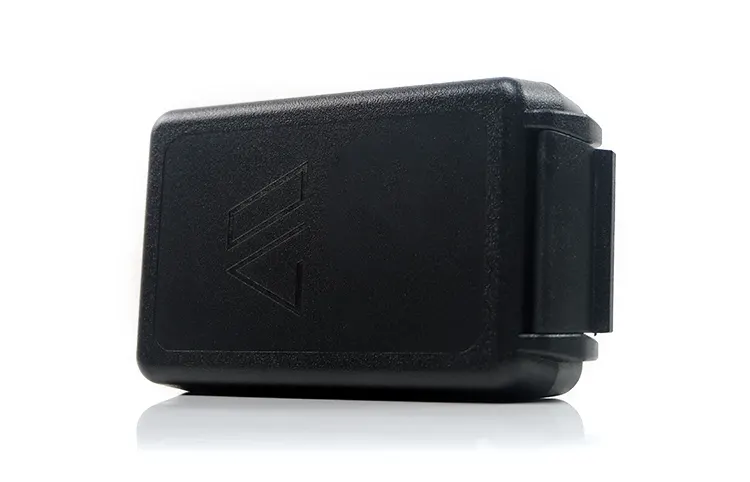 Packaging & Accessories
The Omegon MK2 packaging is presentable but a little understated. It does what it needs to do by getting your monitors and cables to you safely.
The box is all black with the Alpha Omega branding on the front and inside you get decent foam protection which holds the small plastic carry case as well as the cable and Omegon MK2 drivers inside the case.
This is a carry case I have not seen in quite a while. It used to be quite common with the likes of 64 Audio before they, and most others, moved to puck-style case designs. I have no issue with it, it's quite compact and seems quite durable and its slimmer form factor makes it more pocketable than puck designs.
It does mean there is only enough room for the cable, the Omegon MK2 drivers, and a small cleaning pick which is just as well as that is all you get with the Omegon MK2 in its custom format. If it's universal I presume you also get a few additional ear tips.
Click on page 2 below for our sound impressions and recommended pairings.