The FiiO KA3 is a new dongle-type balanced portable amp and DAC offering DSD512 decoding and up to 240mW of power. It is priced at $89.99
Disclaimer: The FiiO KA3 sent to us is a sample in exchange for our honest opinion in this review. We thank FiiO for this opportunity.
To learn more about FiiO reviews on Headfonics you can click here.
Note, this 2-page review follows our new scoring guidelines for 2021 which you can read up on here.
FiiO KA3
FiiO KA3 is a formidable dongle DAC that is very well constructed which has good connectivity and compatibility, a higher-than-average power output capability over other models in its price bracket, and does so with reasonably low power consumption as an added bonus.
Ever had a thought that came true? I don't want to sound like a mystic, claim clairvoyance or divination capabilities but some months ago I said to myself one day soon FiiO is going to make a dongle DAC and I was right.
FiiO makes everything else except dongle DACs so why not right? Actually, the new KA3 is not FiiO's first dongle DAC. Their first one was the K1.
The question is why did they wait this long to release another? The dongle DAC segment is full of new models at this moment and has become a high-demand segment and you have to either be daring or offer something different to get noticed.
Did they save the best for last here? Of late they have been producing some really good flagship IEMs like their FD7 and their FH9 so I was looking forward to seeing how this small mobile device fares.
The FiiO KA3 is the company's newly released dongle DAC portable audio device with dual branding and is made in collaboration with FiiO's sub-brand Jade Audio.
Tech Highlights
DAC
The main component inside the FiiO KA3 is an ESS Technologies ES9038Q2M reference DAC chip. If you look around this chip has been used on some rather expensive full-size DACs and sports some impressive numbers referencing the posted specifications.
This chip uses the ESS patented 32bit Hyper Stream 2 DAC architecture and it's called Hyper stream 2 because internally it sports a dual mono DAC system with plenty of processing power.
FiiO tied this chip together with a dual independent HI-FI OP-amp stage to hit the rather high-power output numbers and this chip combination made this device a more formidable device with a clean DAC plus enough power for most headphones out there.
Codecs
The FiiO KA3 takes advantage of the ES9038Q2M DAC chips decoding capabilities which are rather high for a device of this size and caliber and are a big selling point here. It can basically do all decoding the ESS chip factory specification sheet mentions.
This little guy can do up to 32BIT/768kHz on PCM and I did personally run that rate on my PC from a USB 3.0 port and it remained rock solid with absolutely no breakup or timing issues whatsoever. Most of the dongle DACs out there and even some desktop DCA models top off at 384 kHz as a reference point in this case.
The KA3 can also do DSD up to 512 however there is no MQA or DXD. The good thing is that although it does not handle MQA or DXD, the more familiar PCM and DSD run native on the ESS chip which is an improvement over software rendering and does so despite it running the high bit rates it does.
Performance Numbers
All the numbers look pretty formidable starting with a rated power output of 240mW on the balanced side at 32 ohms and 130mW at the same impedance from the single-ended side.
Distortion is listed at a very low 0.0008% THD-N with an SN ratio of 122 decibels. The noise floor is listed at 1.7uV which is very low and is probably a contributing factor to the absence of hiss on this device. You could also use the app to kick the KA3 into its low gain mode if you do detect some background hiss.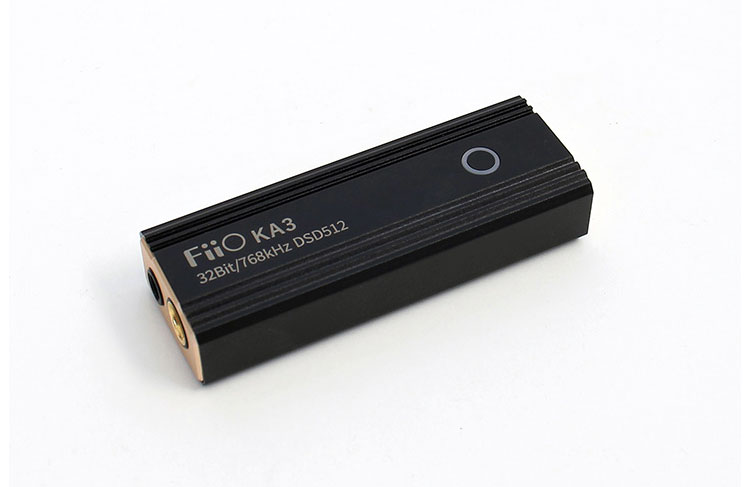 Design
The FiiO KA3 to me has a Jekyll and Hyde appearance or shall I say a dual-branded shell due to the fact that one side is labeled with the FiiO logo and the other with the Jade Audio name. I found that quite interesting.
The shell itself has an all-metal ribbed construction with a black matte finish and the end caps are finished off in a gold-tone. The main body weighs in at 17.5 grams and measures around 58mm x 22mm x 14mm. Those are my rough measurements so they can be off by a millimeter or two.
The LED indicator is subtle and the circular shape of the lamp itself is tastefully done and informative to some level since it only displays three colors depending on what bit rate, in general, is fed through the DAC. I would not call these RGB lights however since the three colors emitted are Yellow, Green, and blue with no Red hues.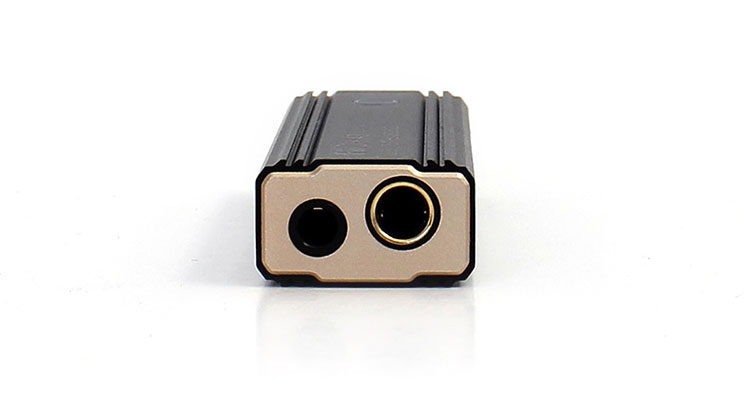 I/O
Dongle DACs are straightforward and simple devices and they always have few connections. The KA3 is no exception to the rule and has a conventional USB-C female connection on one end and two headphone outputs at the other end.
There's a single-ended 3.5mm plug and a Pentaconn 4.4mm balanced output which is mounted somewhat off-centered I guess due to the size of the plug assembly itself and its position on the board. You sort of get used to it.
Again, this particular type of dongle DAC design is my favorite type because there are no cables attached to the body itself making it quite easy to source out any cable type you like or replace it if it becomes intermittent.
App
There is an app you could download to access some hidden features on the KA3. For example, you could adjust maximum volume and balance. There are more options of course like an impedance match along with a gain switch. Both these features have two settings each.
There's another feature called low pass filter. I'm still playing around with this feature as it seems the effects are very subtle to almost undetectable to my ears. I was unable to locate an equalizer within the app which might irksome.
There is another switch to shut off the 3-color LED. I guess if you are big on conserving battery life and power consumption this would be a good feature but I think this feature is included more for people who like to use their device in a totally dark environment.
If you need a product instruction manual there's no need to download one or carry one because the app has one which you could pull up and read for reference with no need to use a PDF reader for example.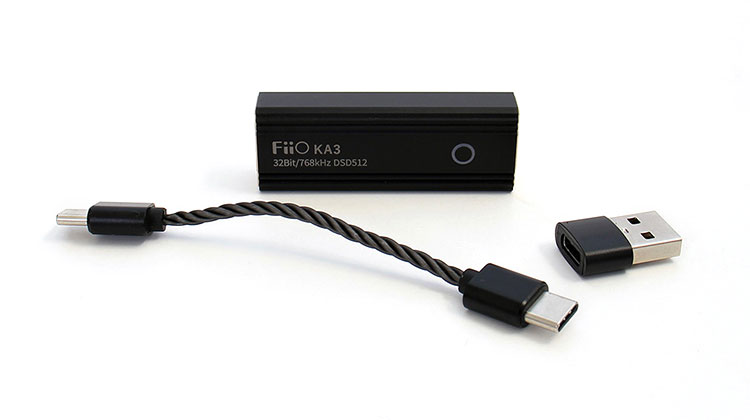 Wired Connectivity
USB-DAC
I used the KA3 on my PC as if it was a DAC amplifier combo and it works fine plus its plug-and-play straight out of the box. No drivers were needed on my Windows 10 and another Windows 11 PC and it was able to work at the rated full bit rates.
FiiO claims this device is completely compatible with Apple and MAC. I'm not an Apple guy so I could not verify compatibility and do any testing with such devices but I trust FiiO enough and you should get good results from an Apple or MAC gear alike.
USB-OTG
Just as on the PC, the KA3 acted as a plug-and-play device and there was no complicated setup needed on Android in particular. I just plugged it into my phone and was done. One phone I used has Android 10 and the other had version 12.
There is a footnote in FiiO's website which says that because of the large power requirements of the KA3 and because of the limited power of most iPhones available through its lightning connector some stuttering and random rebooting can occur but they do say it only happens at loud volume levels so there's another heads up.
Remember the KA3 does not have a battery so it relies on the connected source for power so just keep that in mind if your days are long and you depend on your phone and high battery drain worries you some.
Packaging & Accessories
The black rectangular box is well laminated with the product name and a silver outline drawing of the KA3 atop a circuit board. The box opens to reveal the contents which are contained within 2 compartments.
The KA3 is nestled and kept safe inside a custom foam mold while the included dual male USB-C wire and the full-sized USB adapter are inside a small black box.
You also get a small instruction pamphlet but heads up, although the KA3 is Apple compatible the KA3 does not come with an Apple-compatible wire so you will have to outsource that. However, I noticed that some retailers out there are offering the KA3 with a Lightning cable as a combo set.
Click on page 2 below for sound impressions and select comparisons