Today, we review the FiiO FH11, which is an entry-level hybrid single 10mm carbon-based dynamic driver and a custom BA driver universal IEM. It is priced at $54.99 SRP.
Disclaimer: This was sent to us as a sample for our honest opinion. Headfonics is an independent website with no affiliate links or services. We thank FiiO for their support.
You can click here to learn more about the FiiO gear we have previously assessed on Headfonics.
Note, that this article follows our current scoring guidelines which you can read in more detail here.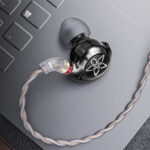 FiiO FH11
With the FH11, FiiO has clearly invaded the old FH1's lair and taken its best qualities, revised it, and then tossed new shells combined with a highly responsive and engaging tuning.
Pros
Excellent responsiveness
Prominent and engaging tone
Cons
Heavy shells
Weak output power diminishes the bass/treble
Today, we will be reviewing the new FiiO FH11 dual driver inner ear headphones which is a sibling to the previously released FD11 and part of their new "Little Conch Series".
The FiiO lineup has become sort of a benchmark for audio products to be compared with. The reason for that is that FiiO makes fantastic products that have a high price-to-performance ratio.
I do not doubt in my mind that this model will improve on the older FiiO FH1s model that I reviewed some time ago.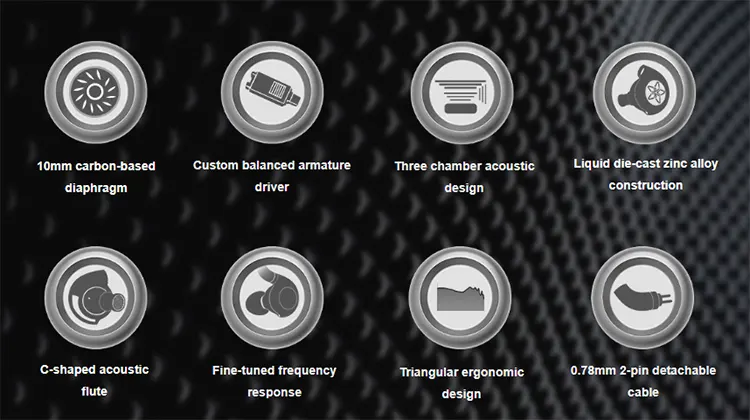 Tech Highlights
The FiiO FH11 is a closed dual-driver hybrid IEM with a 10mm dynamic carbon-based diaphragm. On top of that, they have a custom Balanced driver for treble needs.
The diaphragm is ¼ lighter than Beryllium or aluminum, which is what I feel should be the industry standard these days, not just for tensile strength, but also for raw purity and fidelity.
C-shaped acoustic flutes, like these, tend to produce a more pronounced and forced physical texture to the treble and bass snap.
They are powerful designs, that push a lot of air in such a tiny air chamber, and so too, the experience usually ends up being prominently engaging and prone to more physical slam effect than what one might consider a mellow tone IEM.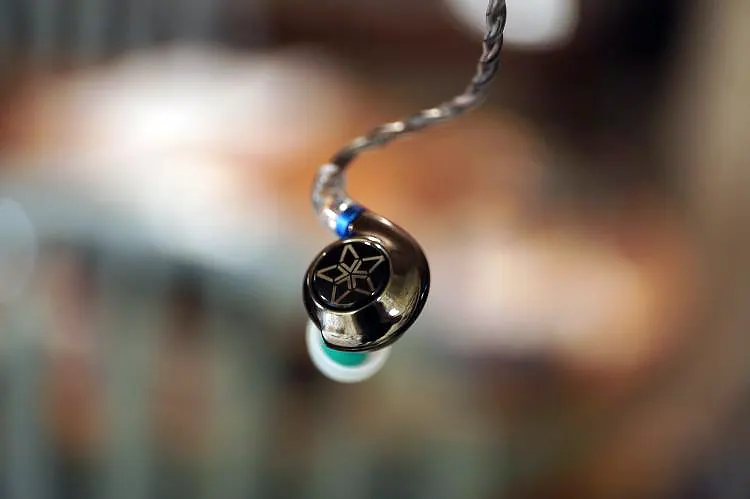 Design
The FH11 is a medium-sized closed IEM shell, using the same physical design as the older FD11 model that you can read my review of here.
Both of these models share the same shell materials as the much more expensive FH15, which Louis reviewed here back in March of 2023. Both the FD11 and the new FH11 use a C-shaped acoustic flute design that was inspired by a sea snail shell.
An interior 3-layered chamber is set up and designed to push a copious amount of air, which will lead to more bass depth and impact.
The FD11 and the FH11 are from what FiiO calls their "Bionic Conch" series, but maybe Biologic was a more fun word to use, considering the shells were inspired by the natural designs of ocean-dwelling snails, which can often have hypnotizingly beautiful designs elements and colors.
On a last note, the exteriors are polished and electroplated, which gives the exterior shells an intense sheen, but are also fingerprint magnets.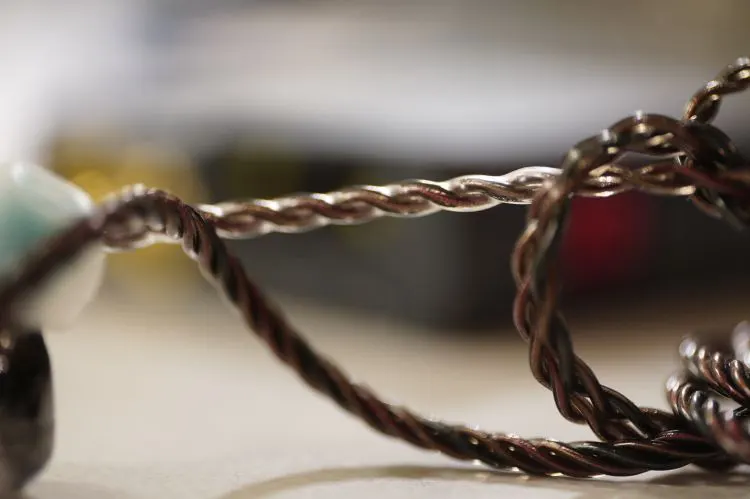 Stock Cable
The stock cable twisted and felt nice to me, I've no complaints, as it is standard these days to have quality cables included in budget items. It is a standard old-school 2-pin style, and I was so happy to see the shells of the IEM have blue and red interior 2-pin ports for stereo left and right.
That design quirk made me so happy; I wish all headphone makers would use this from now on. Save a little stress when we place the cable connectors on the wrong shell and must reverse them.
It comes with a 3.5mm option, no balanced cable included. However, I have found that extra power offers this owner a higher fidelity experience, so you might want to deep-dive for a good balanced 2-pin connector to swap with the stock 3.5mm unbalanced option.
Also, there is no ¼ adapter in the box, so you'll need one of those two if you are using a larger amplifier or a portable one with a large normal ¼ output.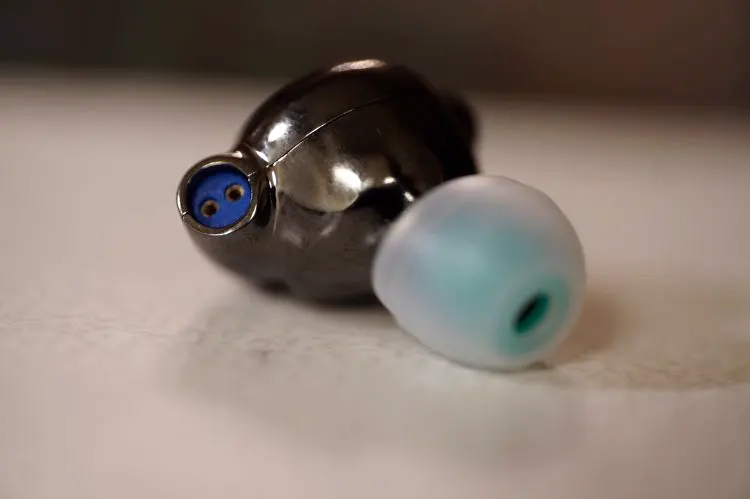 Comfort & Isolation
The FH11 has a design that helps grip the inner ear, as that part of the shell is not flush and fully flat, but there is a raised area that makes the stability more solidified in my ear.
The shells are also quite heavy, full-cast zinc alloy, and dense as hell, I call these designs "little lead weights". And that extra weight with the right shell design will make the fit more stable in your ear and less likely to pop out when you are moving around.
In my experience, the comfort is excellent, it's a small shell, but it is a very dense feeling. So, physical weight fatigue is a thing. But it is not a huge problem. I can wear the IEM for hours and not get tired or sore.
I've found that foam 3rd party tips make the experience even more form-fitting, however, all those tips ruined the sound quality that the stock tips provided, so that is a world I am not willing to make a sacrifice in just for extra comfort.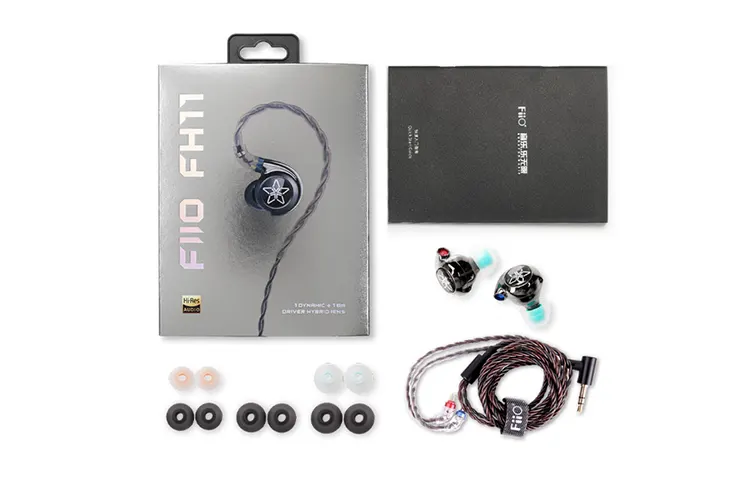 Packaging & Accessories
The box is small and unassuming. Inside, you receive a few ear tip spares and the stock 2-pin cable. I've found that the stock tips that come with the IEM are the best overall.
After a while swapping with 3rd party sets and sets from other IEMs, I've come back to the originals. They just work better overall. The interior of the box has a foam cutout for safe storage of the shells, but no hard case for portability needs. Outside of that, just a small FiiO manual.
Synergy
Two Sides
I've found that quality power is required here, even though the IEM is easily driven at a lowly 24Ω, this IEM greatly benefits from improved power.
If you are asking my opinion, then I would say that without a good output stage, (PO), you'll be missing out on what this is capable of. I'd also say that the stock experience, without decent juice being used, is one that I would skip and not want to use.
Dropping this on a good portable amp opened this product up, significantly. As mentioned, boosting on the bottom or top side, but also with a good amount of juice behind it, makes this IEM invert into a different product.
The swing from what it normally was intended to sound like vs what it sounds like with a boost of power behind it and some active Bass/Treble EQ active, is staggering.
With that in mind, pick your poison. You are technically getting 2 IEMs in one here. Don't use an amp or any EQ, and the experience is more reference tier and colorless, sharp, and leaning toward treble and bright.
Add power and some bass to the experience, and it's like a literal Dr. Jekyll and Mr. Hyde thing happens. You can change the entire sound signature to a warmer, bassier one, and the bleed into the mids is enough to smoothen the vocalist experience and de-sharpen the treble.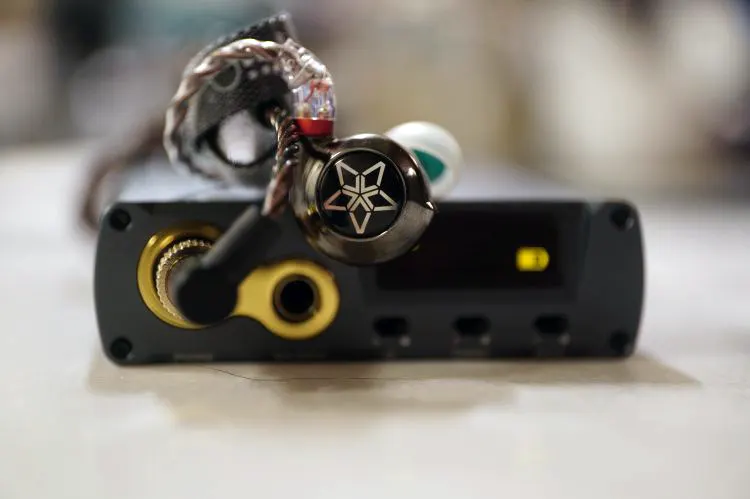 Pairings
I'd stay away from using the same type of tone in an amplifier as the stock sound, which is purer and more refined. So, my CEntrance HiFi-M8 V2, for example, is more on the colorless spectrum. I'd prefer not to use it with the FH11 because the stock sound is similar.
However, an xDuoo XD05 Plus or my XRK Audio NHB Pocket Amp will provide much more warmth and softness, and the FH11 responds so well to give a totally different tonal signature.
The synergy is high here, you can shift the tone of the product drastically to warm to more neutral and colorless, quite easily.
Click on page 2 for detailed sound impressions and our selected comparisons.