We review the iFi Audio GO pod, which is a pair of wearable Bluetooth-powered DAC and headphone amplifiers designed to make IEMs wireless. They are priced at $399 SRP.
Disclaimer: We received this sample in exchange for our honest opinion. Headfonics is an independent website with no affiliate links or services. We thank iFi Audio for their support.
More information about iFi Audio products that we have previously covered on Headfonics can be found here.
Please keep in mind that this post adheres to our most recent scoring guidelines, which you can find here.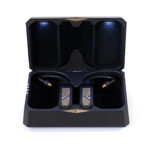 iFi Audio GO pod
The iFi Audio Go pod certainly took pole position in the ear hook Bluetooth dongle segment. It has one of the best sonic performances, stability, and convenience I have heard and tested to date. You can consider the cavernous battery as the frosting on the cake.
Performance & Features
8.9
Pros
LDAC-level quality sound on an ear dongle
Excellent battery life
Removable/replaceable ear hooks
Cons
Large cradle size
Ear loops are not malleable
The Gaia app lacks features
One of the wireless segments that has gone through a slow rev-up is the hook-style, Bluetooth dongle adapter. Perhaps it's because it's a clever way one could enjoy music wirelessly with your own IEMs of choice. Or perhaps because it hasn't hit the mainstream 'wired' crowd yet, who knows?
So far, only a handful of companies have released their version. FiiO has their UTWS1, UTWS3, and the UTWS5. iBasso has their CF01. Shure has one and so does CCA. Fostex had their older TM2 plus a few others have one as well. I might have left out one or two so, my apologies to those.
The latest company to introduce a model in this segment is iFi Audio and they called them Go pod. My first impression of the GO pod is that iFi Audio seems to have thrown everything into them but the kitchen sink and that's the hook. Get it?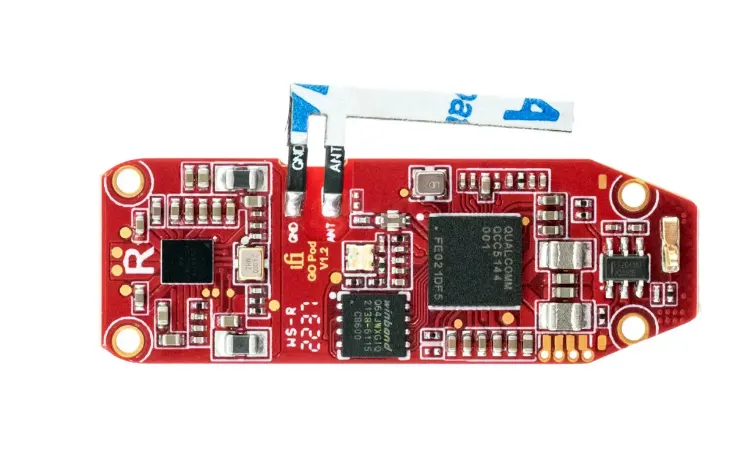 Tech Highlights
There's a lot of tech inside the GO pod from iFi Audio. But the first feature that must be mentioned is that it is the first to have LDAC capability in this segment.
At their heart lies a Qualcomm QCC5144 chip in each earbud that captures its signal through an FPC-type high-gain antenna. The QCC 5144 runs on a Bluetooth 5.2 radio but it's also backward compatible and verified by myself down to at least BT 4.0.
To handle the digital-to-analog conversion, there's a set of CS43131 SOC DAC chips that combine its two internal channels to make one powerful DAC channel on each side which in theory improves conversion power and more than likely also produces a small audible improvement.
What's feeding the auto impedance sensing output? I'm unsure but I think those Ligitek PT2041a chips carry some of that weight and responsibility. Or is the amplification coming from the SOCs? What else is visible on the circuit board?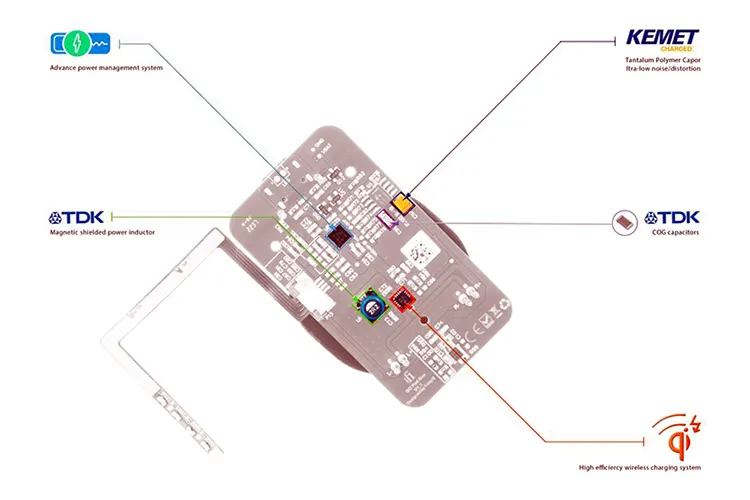 Hardware
iFi Audio is big on firmware. There's a Winbond code storage chip visible on the circuit board that is more than likely where the firmware is stored along with the programming for the touch features and other internal functionalities.
iFi is also big on using high-quality parts and on its printed circuit board we can also see Kemet Tantalum polymer caps, TDK COG caps, an Advanced power management chip along with a TDK magnetic shield power inductor.
Once again, it seems iFi Audio took a no-expense-spared approach to come up with a top-notch piece of gear. To tie it all together, a 24,000 MHZ clock keeps it all in synchronization.
Decoding
The Qualcomm QCC 5144 inside each iFi Audio GO pod is a low-power draw 32-bit quad-core architecture SOC.
This chip implementation allows the Go pod to handle LDAC and LHDC (HWA) at up to their maximum 32bit/96kHz specification and up to a 990kbps bitrate. They also can run aptX, SBC, and AAC.
One drawback is that to run that 990kbps rate you must pair the GO pod with compatible Qualcomm-equipped gear, otherwise it will run at rates of 660kbps which still surpasses the other codecs.
The GO pod also makes use of Qualcomm's TrueWireless mirroring which can use either side to receive or transmit a signal. It uses a smart sensing implementation that chooses the pod with the best signal.
That works when you use both pods simultaneously but you can also use one at a time of course.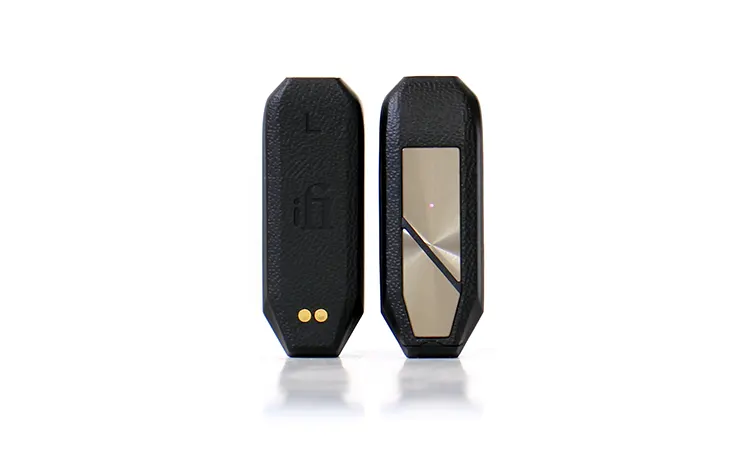 Buds Design
I like the iFi Audio GO pod far as the pod design a lot. Why? Because they have a removable hook and stem system that allows you to use multiple types of IEMs and with all the different connections you might run into.
Out of the box you get three types but you can order spares and other types from iFi Audio. The loop itself is a fixed loop and they're not adjustable. They seem to be flexible enough and comfortable thanks to the thick, soft rubber insulation.
Each Go pod is smaller than most pen drives. Each pod measures 1.7 inches, weighs 12 grams, and is made from a durable resin. The shells are IPX5 waterproof rated.
They are also absent of protruding edges and corners and seem comfortable to wear. I felt the loops and the IEM more so than the actual dongle.
Microphone System
I only spotted one orifice which is located at the bottom of each Go pod that could house the microphone system. So, I'm taking an educated guess here and will say there's only one microphone in each pod.
There also seems to be a screen at the entrance of that orifice which I imagine acts as a wind filter. According to iFi Audio's literature, Qualcomm's cVc system was also employed in this set to further reduce noise pickup.
My impression of the GO pod microphone setup is that the quality seems right at the level, far as pickup sensitivity, and sound quality, and equal to my two Android phones. But the noise levels were reduced twofold, which is exactly what is needed when you're on a phone call.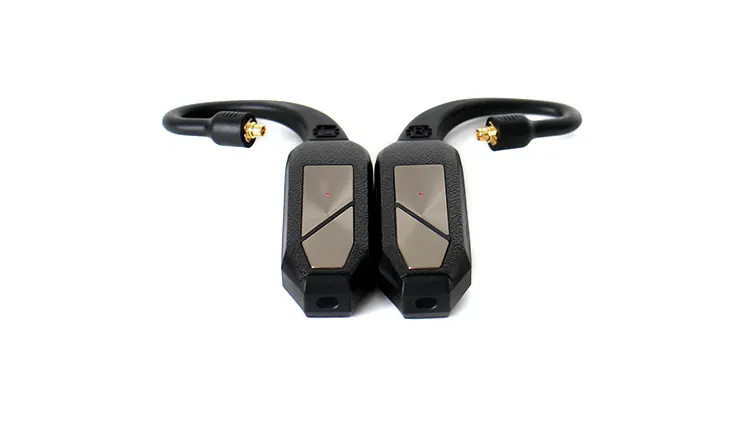 Controls
Touch
In conjunction with the microphone, you can access voice command features via the touchpad commands. They give you full control and I never once felt as if there was a feature missing.
Far as sensitivity and responsiveness are concerned, they're excellent. Once you go through each feature once or twice they become quite intuitive. Remember, you can always adjust the sensitivity as well within the Gaia app.
The touchpad fascia looks like it's made of brushed bronze but is made from an aluminum alloy, a la GO Blue. There are two panels but the bottom panel is the one that handles the touch control. The top panel houses a single LED status indicator.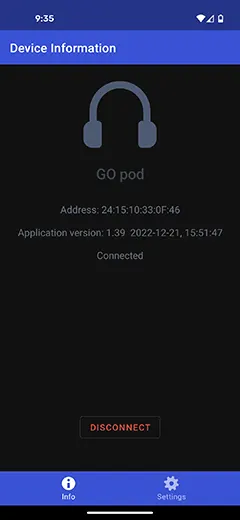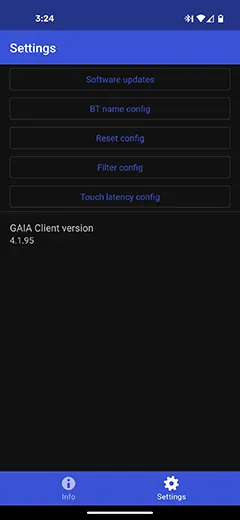 Gaia App
Although iFi Audio doesn't have an official iFi branded app yet, you can download and use the Gaia app which is good for flashing firmware updates. However, you still have to download the firmware file from the iFi Audio website.
The three features worth mentioning within the Gaia app are the low latency and phase compensation filter, the non-oversampling mode plus the fast and slow filter selections.
The fast and slow settings present the listener with the biggest sonic change from the other settings. If you select the non-oversampling mode all the other settings grey out. The fast setting, which was my favorite brings the stage forward and presents sound with better clarity and coherency in my opinion.
The Gaia app also gives you access to an adjustment slider for the touch function latency. That setting remained stock and I did not need to adjust it at all since I found the touchpad to be responsive enough and just right.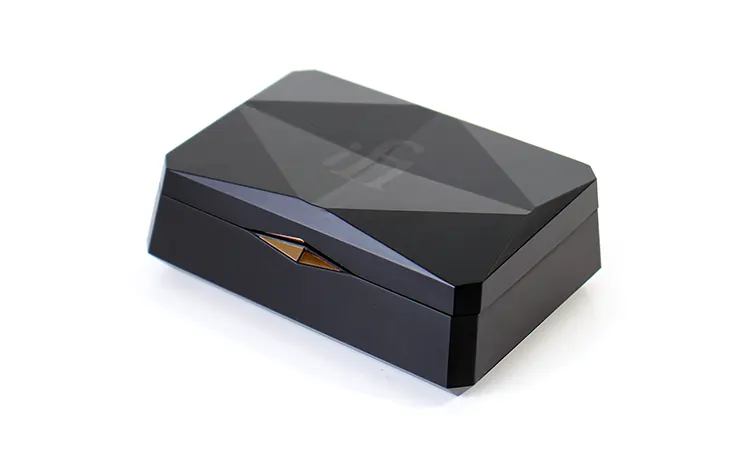 Cradle Design
Oh my, this cradle has bling. The iFi Audio GO pod cradle is the only model to have spotlights inside the cradle which is another first. They turn on soon as you open the door and display the suede-like lined innards plus the ear dongles.
One small inconvenience of the iFi Audio GO pod system is the large size of the cradle which is not pocket friendly at all. This thing is huge. The good thing is that it has no super sharp edges or corners either. The cradle does have four rubber feet underneath so that tells me this cradle is best suited for a tabletop.
One benefit to reap from the large-sized cradle is that you can fit two sets of IEMs in there with the stems installed on the IEMs inside the cradle at one time. So, you can take two IEM sets wired up to the ear hooks within the cradle instead of just one set.
The overall construction material seems to be made of a high-quality polymer that is scratch resistant but I would certainly be gentle with the single rear-mounted hinge.
The USB-C charging port is right below the rear-mounted hinge where it belongs but you can also use a QI wireless charger. 4 LEDs on the left side of the cradle indicate the amount of charge available in 25% increments.
Battery life
The cradle is large, yes, but so is the internal battery. The 1500maH internal battery is cavernous, to say the least. I had a hard time killing this battery. iFi claims you can get 35 hours and I'm not arguing with that. I bet you could get more if you try, just saying.
I'm not going to complain about the 180maH batteries inside each ear pod either because I got lots of playtime out of them.
It's possible to get 8 hours from one charge if you use sensitive IEMs and moderate the volume. If you get many phone calls and often use the mic system then that time will go down considerably.
There's another positive aspect about the overall battery implementation and it's that the pods also employ an auto-shutoff feature that is very effective. I purposely left these with 85% battery life stagnant for three days laying around and when I went back to them, they were at 84%, not bad.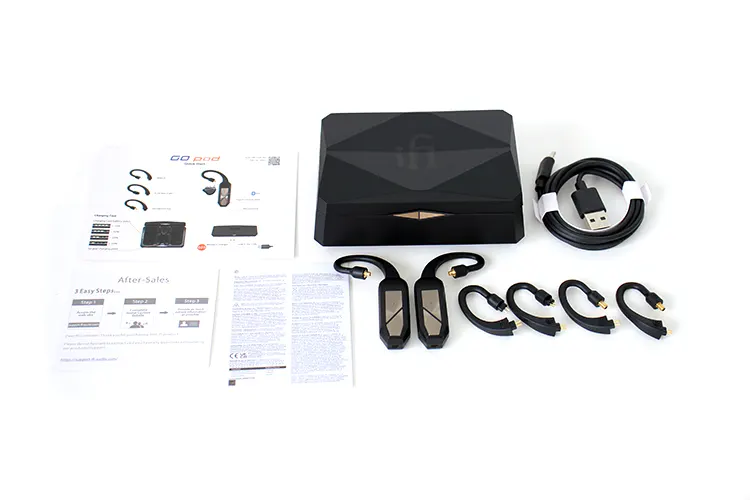 Packaging & Accessories
It seems iFi Audio is a company that uses effective packaging but is not so much into the unboxing experience gig. The packaging is adequate but it's nothing fancy.
There are 3 ear hook sets inside the box, each has a different termination. One has an MMCX connector, there's one with a dual pin 0.78mm connector and one with an IEM Pentaconn connector which is not very common. T2 and A2DC types are separately available from iFi Audio.
The rest of the contents include a quick start guide, an aftersales information guide, one with some legal information plus the customary iFi Audio logo sticker. Oh, there's also a charging cable but you have to supply the power source.
Click on page 2 for our sound impressions and selected comparisons.