The CEntrance HiFi-M8 V2 is a 2nd Gen portable DAC and headphone amplifier featuring 32BIT/384kHZ decoding and up to 1.6W of output power. It is priced at $749.99.
Disclaimer: The CEntrance HIFI-M8 V2 sent to us is a sample in exchange for our honest opinion in this review. Many thanks to CEntrance for giving us this opportunity.
To read more about CEntrance products reviewed on Headfonics click here.
Note, this review follows our new scoring guidelines for 2021 which you can read up on here.
CEntrance HiFi-M8 V2
CEntrance has done a great job with the HiFi-M8 V2, it is indeed a multi-tool.  It isn't geared for very warm headphones or speakers if you use it as a source, but overall it is well geared for the natural/neutral spectrum of products out there.
The CEntrance M8 V2 is a powerhouse of a $749.99 DAC and amplifier combo. Sometimes, Swiss Army Knives come in the variant form of an Audiophile piece of gear. That is my favorite type of knife!
Today, we will be hunting the wild CEntrance M8 V2, a new version of the classic M8, but with some serious upgrades. To the wilds! Grab your bow. You will need it.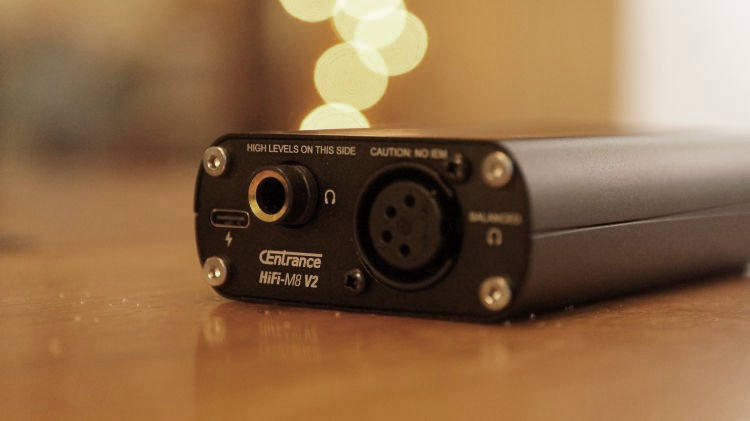 Design
Good lord. The exterior of the HiFi-M8 V2 is a solid metal chassis that feels immensely weighted and dense. Sometimes, you can tell when cheap metals are used and when they feel very hallow. This M8 V2 feels super-premium, as a thick boi' (internet Meme slang for hefty) naturally would house in appeal.
The HiFi-M8 V2 is by no means pocket-friendly for your pants, but it fits perfectly fine in my jacket and hooded sweater pockets without a problem.
I have to admit, the knobs and wheels on this HiFi-M8 V2 feel very premium. What I love about them is that they do not stick out far and are purposely designed to be as streamlined and narrow as possible, so you don't accidentally bump them.
Thoughtful Design Elements
Oh, dear audio gods, I love CEntrance for this. I have issues with extremely free-floating volume knobs that are easily brushed up against, that will hike up the volume and blast your ears out of your skull. But this HiFi-M8 V2 has thought of that and designed the volume knobs to be almost flush with the metal chassis, as well as designed to house some physical resistance.
Here is a quote from Michael Goodman, the founder, and CEO of CEntrance that he wanted me to relay to our readers!
"CEntrance wants to thank the enthusiastic HiFi community, which helped shape this product through an extensive crowdsourcing effort. HiFi-M8 V2 would not have all the features it has without the feedback of passionate headphone enthusiasts, whose contributions during the design process are highly appreciated!" –Michael Goodman, Founder, and CEO of CEntrance"
Design Priorities
I subjectively feel negative thoughts toward symmetrical design in products that house symmetry as the priority over usefulness. If you look at the rear of this HiFi-M8 V2, you will see a plethora of text and switches, inputs, and outputs without any real method to the madness.
And you know what? This is how it should be. There is no "there must be 3 on the left and 3 on the right, we must cut out the other functions and knobs, because customers only want 3 on the left and 3 on the right, with ample space between." CEntrance learned this lesson well with the HiFi-M8 V2. I am so happy there is so much going on here.
Functionality is more important than symmetrical design every day of the week for me. What a great design, and mad respect to CEntrance here for understanding how we want our features. More stuff equals me rating it higher. Sure, it looks daunting at the moment of the first contact. My first impression was "whoa, that's a lot of stuff back there!".
I/O
Starting at the top left, we get a gain switch. This HiFi-M8 V2 is a monster in power and can produce over 1w of power in balanced mode. I keep the high gain on because I often mostly use it in Balanced mode. More power equals better Hifi points. Right? That is how it works, at least I thought.
Next to that, we get a standard 3.5mm output for normal headphone usage. Right next to that, we get a 2.5mm balanced output.
I use this often with my Sennheiser HD800's custom 2.5mm balanced cable, but because I am a weirdo and I like big thick adapters that look awesome for photos, I slap a balanced XLR on this cable and run it out of the front, ha! I'm an audiophile now! Look!
Right next to those outputs are two switches for some boosting options on the top and bottom end. You need to poke them with a pen or a small object.
I am not a fan of the treble boost, but I see the value if you have some headphones that can benefit from it. The HD800 doesn't need it, so I don't use it. However, my Audeze Euclid benefits from a slight treble boost, so it meshes really well with the treble boost
Middle Row
Down yonder in the HiFi-M8 V2 middle row, we have a standard USB-C DAC input for usage with a PC or a source DAP that allows for it. Beyond that is a dial for raising and lowering the LED brightness on the top of the unit, as well as a volume dial.
Bottom Row
On the bottom row, we have an Input selection button that toggles between Bluetooth and USB input. A Charge while using the toggle, and also a toggle for battery saving mode. The far-right side houses a power button that will blink with an LED above it to denote what mode the unit is currently operating in, as well as the battery life.
Front Panel
Flipping around to the front side of the HiFi-M8 V2, we get the serious output side that is "not supposed to be used with IEM's". This side has a much higher output voltage so best to only use them for the inefficient headphones, or Planar's. You get a standard ¼ output and next to that is the big boy balanced XLR.
Packaging & Accessories
Standard packaging here for the HiFi-M8 V2. Nothing special to report, the box is relatively neutral in appeal. Typical cardboard and nothing to boast over. What the box contains is far more important to me. It came with a standard USB-C cable and nothing more.
Thankfully, CEntrance offers some add-ons for extra cash that include a quick charger, a waterproof case, a tripod stand, and a clamping mount. I do not have any of those, so I cannot speak of what they are like. I have the standard product and nothing more added on came with my package.
The package also comes standard with a small pouch, some rubber feet, and a multi-tool to use on the switches, as they are all recessed.
HiFi-M8 V2 Sound Impressions
Bass
I can safely say that this HiFi-M8 V2 is one of the more pure-sounding DAC's I've experienced in this price range and that is including the newer SMSL M400 DAC that is roughly the same price as this.
The DAC they've selected in the AK4493, which in this implementation is very, very good! CEntrance has always had this slight metallic sheen in their house signature sound, but it was never harsh. I reviewed a few of their amps in the past and they all share similar sound tonalities to this HiFi-M8 V2.
Bass is pure, quick, and friendly to the ear. Meaning, it is not harsh on physical tactility and impact. It is moderate in that regard, plentiful in engaging factor but never boring or annoyingly painful.
While the tone is on the clinical side, physical tactility is on the musical and fun side, especially so due to the excellent bass booster switch-mode. Stock, without the low-end boost active, the HiFi-M8 V2 is very balanced sounding. You can, of course, alter that with the switch activated.
Bass Depth and Response
As mentioned, the low-end toggle adds a few extra dB's to the bass experience and with that in mind, I am much happier with the Euclid from Audeze, which IMO sounds better boosted.
This also really helps the HD800 in XLR balanced mode too, I feel no quality drop there with it active vs not active. That is really saying something, as usually bass enhancing muddies the sound. But, not so in this case.
CEntrance has done a great job making sure to control that function and not let it go overboard. This switch really makes the HD800 a headphone that I actually want to use often.
Mids
The CEntrance HiFi-M8 V2 offers a bit of a forward sound signature, it feels ever so slightly more relaxed than Ultrasone's Panther, another great DAC/amp that I've reviewed recently.
Yes, it feels more relaxed, but it is still in the world of what I consider a forward sound signature. I've heard a few others that were a bit too forward, so I classify this placement of vocals and mids a "moderately forward" in appeal.
As far as fidelity goes, this takes the win for the purest sounding sub $1000 portable source that I've heard. True, the Ultrasone Panther is right behind it though. But, there is no doubt here, of course, that the lower tier xDuoo XD05+ has finally met its end. And that is a product I felt to offer quality on par with the $500 tier.
This HiFi-M8 V2 doesn't feel like a portable source at all. It has such high output and coherency that I feel like it operates and offers more of a desktop sound signature and vibe. Is it worth nearly $800 big ones? Yes, I think so. I think considering its size and what it can offer in output options and power, it is worth such a price.
Mid Recommendations and Thoughts
No, this isn't the source I'd be using with my lovely ATH-ESW series, due to its immensely forward and intimate sound. But, I would be using it with the likes of Audeze and Hifiman. Something more middle ground in the physical setup.
I think the best overall companion that I've stumbled on for this HiFi-M8 V2 was the Audeze Euclid, a $1300 IEM that was released recently in 2021. While the mids are not overly forward and in my face, they are instead a step or two back, but not what I would call recessive in nature. And it is with those types of headphones and speakers that I would say would match well with the HiFi-M8 V2.
For example, I am sourcing my Magnepan LRS speakers with it through a Cambridge AXA35 speaker amplifier and the result is stunning to say the very least. The Maggies are not highly engaging in forwardness, but instead, loom with excellent depth of field and realism in stage depth, and that pairs supremely well with the HiFi-M8 V2. A great combo here.
Treble
I am happy to report that the treble offered on this product is top-notch for the price. In fact, I'd say it sounds very similar to the SMSL M400 (one of the best DACs out there paired with the SP400 Amplifier from the same company) and that combo sounds quite similar in tone and texture to this small CEntrance M8 V2.
The sparkle factor is important to me, I love a gentle sheen and brightness, but without physical bite force that is wince-worthy. I got exactly what I love in this HiFi-M8 V2. Some gentle sparkle, but tamed and not harsh to listen to.
It is accurate in tone, but also refreshing in physical tactility factor and never painful, even on harsh tracks. So, I rate this as clinical in tone only, but not in strike factor. I think they designed it to be a bit reserved in physical quantity and bite slam effect. At least, that is, to my ear.
Does anyone ever listen to the older Astell and Kern AK120? The original? I loved that DAP, I had mine outfitted with a Red Wine mod and the result was stunningly similar to this HiFi-M8 V2 that came years later.
That RWAK120 had the same amazing tonality, but with less fidelity, than this HiFi-M8 V2. I am so happy to see that more and more products are taming the hostile treble while remaining relatively neutral/clinical in tone. See, it can be done!
Staging
Coherency is the prime factoid to be taken away from the staging experience of the CEntrance HiFi-M8 V2. Well-formed. Pristine in execution.
The width factor with the HD800 as my benchmark is noticeably different when I A/B with the Ultrasone Panther, and in turn, with the Xduoo XD05+. Quite amazing to hear the subtle changes in physicality between all three, using the same track and the same headphone.
I consider the Ultrasone Panther to house better depth than it does width in its own imaging experience. This is the same physical setup in the CEntrance HiFi-M8 V2, depth of field is noticeably superior to the width and height factor. That excellent sense of stage depth is quite good. Better than the Panther? I don't think so, I feel like they are pretty much equal in imaging prowess.
However, the air factor of the upper midrange and treble experience of the M8 V2 makes it sound slightly more spacious and effortless overall. So, I rate imaging properties as very good for the price. CEntrance does Imaging well. Most who own their products know that depth of field is their prize-winning specialty.
HiFi-M8 V2 Wireless Performance
Bluetooth vs USB
The HiFi-M8 V2 shells out BT5.0 and that is a godsend to us in the audiophile community over the past year or so. Bluetooth has upgraded to the point where it is a viable HiFi option and I am more than fine running a cheap Hidizs AP80 Pro as my music source and outputting it to the M8 V2 via Bluetooth, than using the Sennheiser HD800 in balanced mode.
Sure, it doesn't sound as good as a direct USB connection, but my god, we've come so far in the world of Bluetooth and I am so happy that it is now a legit HiFi possibility. Well, now it is a reality.
I run my phone often via BT out to the HiFi-M8 V2 and I get to enjoy podcasts in brimming quality. I prefer to go totally wireless, running my PC right off Bluetooth into the HiFi-M8 V2 and forgetting about it afterward. I hate cables. Truly.
What is even more lovely, I can just pick up the HiFi-M8 V2 and move around the house now and listen while I am cooking, or doing any other manner of things nowhere near my computer or phone.
Portability
I can take this anywhere. I can go for a walk and have incredible sound quality. Often, I sit in the park and play Pokemon Go in my car with an HD800 on my noggin' and this HiFi-M8 V2 sitting next to me. I can safely tell you that the experience is quite stunning to say the very least.
I haven't had any connection problems, both my sources and my iPhone SE2020 pair easily. I also pair the HiFi-M8 V2 to my TV and have cut the wires entirely. No more cables running down my floor all the way to my chair. I've gone totally wireless.
We've hit that era and the HiFi-M8 V2 is proof of that. I am beyond happy when I adhere to my Pokemon Go addiction and sit in my car in the park near the Poke-stops now. I tote the HiFi-M8 V2 and my HD800 with me, or something like my Empire Ears Nemesis customs, and just relax in the car while I play.
It is little things like this that I love most about the current era of HiFi. Everything is getting easier to use and offering a higher fidelity on the go.
Our Verdict
The CEntrance HiFi-M8 V2 is quite stellar. Sure, it is a bit bulky, but it is a 'chonk' with a ton of options and power as well. I can run sensitive custom IEM's and then swap to a balanced HD800, then back to a Planar IEM from Audeze and not think twice about tone matching. This HiFi-M8 V2 has everything I've ever wanted and needed in a portable source.
Battery life is between 8-11 hours depending on what mode you are in, but that is a solid option considering it has a quick charge function too, all things considered.
Bluetooth Mode will offer the lower end of that and if I am playing in balanced mode, that number will drop a bit more. The lower voltage outputs will of course let you run longer than the higher output.
CEntrance has done a great job with the HiFi-M8 V2, it is indeed a multi-tool. It isn't geared for very warm headphones or speakers if you use it as a source, but overall it is well geared for the natural/neutral spectrum of products out there and what it does offer is fantastic in purity factor and available toggle switches that can tailor the sound to your preferences.
CEntrance HiFi-M8 V2 Specifications
Response 20 Hz…20 kHz ±0.2 dB
THD+N 0.0063% (0 dBFS, 1kHz, under load)
Noise Floor 6 µV RMS (A-wtd), max gain
Output Power, XLR 1.6 W (max total, 75Ω) (this is dangerously high, please take care of your hearing)
Output Power, ¼" 532 mW (max total, 32Ω)
Output Power 2.5mm 360 mW (max total, 47Ω)
Output Power 3.5mm 130 mW (max total, 32Ω)
Max Level, XLR 6.1 V rms / +17.9 dBu
Max Level, ¼"1 V rms / +12 dBu
Max Level, 2.5 mm 2.9 V rms / +11.5 dBu
Max Level, 3.5 mm 1.5 V rms / +5.5 dBu
Output Impedance, XLR 2.5 Ohm
Output Impedance, 1/4″ 2 Ohm
Output Impedance, 2.5 mm 0.3 Ohm
Output Impedance, 3.5 mm 0.5 Ohm
Supported Headphones 8…600 Ohm, practically any headphone made
Gain Switch 20 dB pad (set low for IEM)
Digital Specifications
Resolution: USB 24-bit, 32-bit
Sample Rate, USB 44.1 kHz, 48 kHz, 88.2 kHz, 96 kHz, 176.4 kHz, 192 kHz, 352.8 kHz, 384 kHz + DSD
Clocking Two custom, mil-spec clocks, 10 ppm precision, 1 ps jitter
Compatibility iPhone, iPad, Android, Mac, Linux, PC. Driver not required for Windows 10
USB Input USB-C, fully compatible with USB 3.1
Bluetooth Balanced audio: APTX, AAC, MP3, SBC
General Specifications
Number of Outputs 4 total (2 Balanced (XLR and 2.5 mm) and 2 Unbalanced (1/4″ and 3.5mm)
Number of Amplifiers 8 total (4 on the Cool side, 4 on the Hot side)
Headphone Amp Custom, Class A, AmpExtreme™ technology with bipolar power supplies
Battery Run time
Bluetooth input: 11 HRS, USB input: 8 HRS (Stamina Mode ON, 4 amps active)
Bluetooth input: 8 HRS, USB input: 5 HRS (STAMINA Mode OFF, 8 amps active)
Charge time ~4.5 hours using a 2.4A USB charger.
DC Charging +5 V from the USB adapter, such as iPad charger. 2 A or more recommended
Battery-isolated, ±10 V analog power supply rails with microsecond transient response time
Dimensions
Unit Dimensions 121 mm (4.76″) (L), 70 mm (2.76″) (W), 36 mm (1.42″) (H)
Unit Weight 250 grams (8.9 ounces)