Today, we review the FiiO FD11, which is a new entry-level IEM featuring a 10mm dual-cavity dynamic driver and a carbon-based diaphragm. It is priced at $49.99 SRP.
Disclaimer: This was sent to us as a sample for our honest opinion. Headfonics is an independent website with no affiliate links or services. We thank FiiO for their support.
You can click here to learn more about the FiiO gear we have previously covered on Headfonics.
Note, that this post follows our latest scoring guidelines which you can read in more detail here.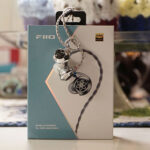 FiiO FD11
The FiiO FD11 is a hit, and is likely going to be one of the most significant budget IEM sellers of the summer due to its crazy-low price. This is a great "beater" option to toss in your bag and travel with. It offers a great treble response without going too far and the imaging prowess is generally nice, without anything overly lacking.
Pros
Excellent price to performance ratio
Pure tonality and good bass response
The FiiO FD11 is a new IEM specifically made for those who prefer to be light on the wallet, but serious with their audio fidelity. It rides the previous FiiO wave alongside the JD7 model, which we reviewed.
I had a quick scan on the net before I started this review and there was already a consensus that it performs on par with some other models that are double, even triple its cost.
At this point in life, it is hard not to trust FiiO to their word, they've never let me down before, nor have they made claims that I found to not be accurate regarding their IEMs.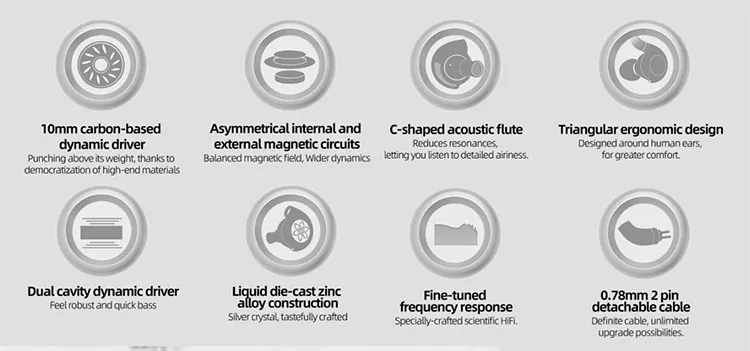 Tech Highlights
The FiiO FD11 is a single dynamic driver in-ear monitor rated at 24Ω impedance with an SPL of 114 dB/mW at 1kHz and is part of their new "bionic conch" series of IEMs which aim for a high performance-to-price ratio.
It uses a 10mm carbon-based diaphragm, which seems to be the new trend in the headphone world these days. And I like it. New tech that sounds good? Yes, please.
I remember the bulging days of the Beryllium designs that popped in some years ago. While skeptical at the time, I was hopeful for a bright future. Now? It seems that a lot of designs are implementing a carbon dome of some sort.
The innards are labeled with a Dual-Cavity dynamic driver C-shaped acoustic flute design, which I believe is a stand-in code for "conch" design.
This means that the device design inside mirrors a seashell-like design and that it is more supportive of physical contact stability in terms of getting a good fit. More on this in a bit though.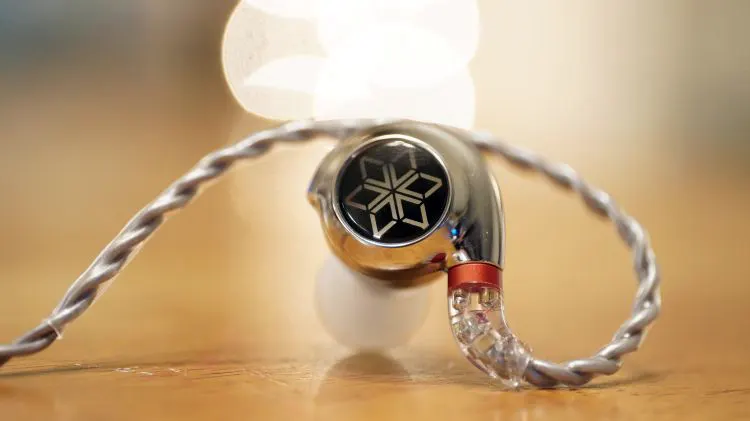 Design
The shell material is made from a liquid die-cast zinc alloy that feels very weighted in the hand and in the ear too. While medium-sized in physical stature, the weight of the unit is significant.
Oh, by the way, the FD11 is made out of the same materials as the more expensive FH15 from FiiO that sells for over $200.
The FD11 uses standard 2-pin connectors, so if you have a nicer cable somewhere from a past set, feel free to drop that on and feel cool to all the audio nerds when you post pics of it. Hurrah for social acceptance!
The IEM is also entirely closed in design too, so that means, of course, it won't leak sound to anyone around you. However, with the idea of a fully closed and significant thickness of the cut of metal, one would think that the shell should be stable in the ear.
Comfort & Isolation
So, comfort is so wildly subjective and I found it stressful that some of the marketing said that this IEM design was intended to help with a secure fit.
For the life of me, I could not get a solid and stable fit on the FD11. The exterior shell of this IEM is supremely polished metal and slippery in the hand. So, when it goes into your ear, the exterior being so smooth tends to make the experience slip out and require constant adjustment.
I have replaced the HS18s with the equivalent size foamies that puff up and help with a great seal on other IEMs. In this case, it didn't matter. There needs to be at least a minutia of texture on the IEM shell so that it doesn't slip.
This is worse now in the hot weather, a short walk with the constant adjusting made worse with slight sweating and making that slickness even slicker for me. I am unable to get a proper seal that will stay in place even if I am sitting stationary and not moving.
Are they comfortable? Yes, they are comfy and do not bug me, annoy me, or cause any physical fatigue. The ear loop area of the cable is not a bother either. The only part of this experience that is a bother is how highly polished the shells are, sometimes to the point they just slip right out and end up dangling right off my shoulder area.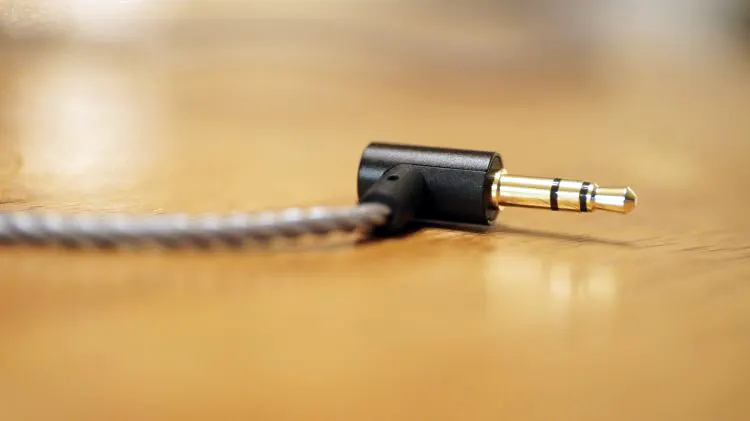 Stock Cable
The stock cable is a 1.2m long 4-core copper wire. For such a budget price, I do not expect anything incredible anyway, yet what I get is quite nice, all things considered. A nice, braided cable with a 3.5mm adapter, with clear excellent soldering and no microphonics issues whatsoever. I can't complain at all.
Sure, it is entry-level, and as mentioned, this headphone is so efficient, rated at 24Ω. So, your extra juice is irrelevant here, no need for it, powered to the max right off a basic smartphone.
Funny enough, I plugged it into a powerful xDuoo XD05 Plus portable amp and noticed that the 0.5/10 setting is just a bit too high. Meaning the IEM is so efficient that on an amp that goes to a 10 on the dial, 0.5 is too loud for it and it's almost overamped at that point.
Yea, it is very efficient. I tried tossing some other balanced cables on it and found them to be a total waste of time and effort, they sounded no different than unbalanced with the stock cable. Stick with what you have, I say.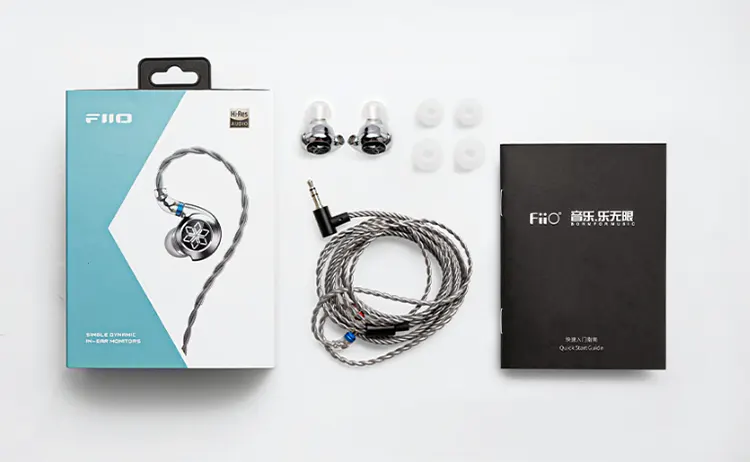 Packaging & Accessories
The FiiO FD11 comes with a standard cardboard box with some FiiO texts. Inside, the FD11 sits nicely in a prefabricated cutout of softer foam. Below it, nothing but a set of extra premium HS18 silicone tips and a tiny manual.
No carrying case. FiiO does not include any other adapters with this model, nor any cable selection for balanced needs if you wanted it.
FiiO does sell balanced options you can buy on their website that will work perfectly fine with this model, but you don't need the extra power with this model. The FD11 is absurdly efficient and requires no amplification at all.
Synergy
This IEM does not play nicely with warm-sounding sources or amplifiers. The FD11 leans slightly toward analytical in tone, which is the opposite of warm.
None of my warmer amplifiers or sources did anything for me and all of them ended up with a shoulder shrug experience at the end of the game. Even with bass boosting to achieve more quantity, it's the tone that remains purified, textureless, and pristine.
These qualities match up more with reference tier tone sources and amplifiers out there such as the TempoTec V6 DAP. But don't let that stop you if you own something on the more musical side.
It all still sounds great in fidelity terms, it's just tone matching the rig itself to the headphone can sometimes be a hassle and I personally feel it is very important to get right before buying a rig.
As mentioned, the FD11 is very efficient and doesn't need amplification at all, so you can use pretty much any music player or phone/Dongle such as the FiiO KA1, and tap the max potential of the IEM.
In fact, also as mentioned, maybe even stay away from powerful portable amplifiers such as the FiiO Q7. This FD11 is literally the most efficient IEM I have in my inventory.
All other IEMs on the same amplifier setting sound quieter. Remember, I was using 0.5 out of 10 max for this context. I've never rolled the dial to a setting below 1 on my portable amp of choice, this was the first time.
Click on page 2 for sound impressions and our selected comparisons.