Software
Cayin has opted to go for Android 9 for the N8ii software system powered by a Snapdragon 660 CPU and a hefty 6GB of RAM.
A few pros and cons here for me, the first primarily being a slightly aged OS so features such as the expanded notifications control center and Android Auto are not available on this version as well as Google's official support for Android ending earlier this year in March.
The N8ii is also behind other flagships for processing power such as the Shanling M9 which uses the newer Qualcomm Snapdragon 665, though to be fair, the 660 is prevalent in most other competing flagship DAPs such as the HiBy R8 and a considerable step up on the more limited HiBy OS from the original N8.
The implementation of 6GB of LPDDR4 RAM should also give the N8ii a bit of a boost for multi-tasking and stream buffering and to my knowledge, there is no DAP in the market right now with a higher allocation of RAM.
The internal CPU clock range for the N8ii is set at 633.6 – 2208.0 MHz which matches the likes of the Android 9 HiBy R8 which uses the same CPU. The N8ii clock rate is a bit wider than the flagship M17 equivalent which is set at 1843.2 – 2208.0 MHz despite also using the same Snapdragon 660 CPU.
Bloat Free
Out of the box, the N8ii OS layer is relatively bloat-free with Google Play and Cayin's own media player installed by default on its international firmware though no Chrome or other associated google apps which you will have to download once you have set up your store services.
You can also use the likes of APK Pure to download region-blocked apps such as TIDAL and Qobuz if that is an issue in your area. For apps that are region-specific, I would still recommend using APK Pure combined with a VPN to log in one time to the likes of TIDAL.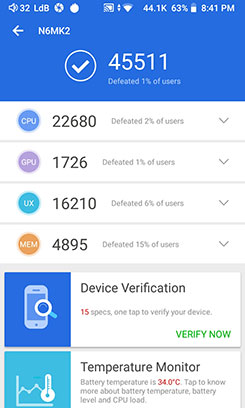 Performance Benchmarking
As you can see from the AnTuTu benchmarking results the N8ii is leagues ahead of the next Cayin DAP down, the N6ii which uses an inferior Snapdragon 425 and 4GB of RAM.
This makes it the fastest DAP Cayin has released to date and one that is also on par with the likes of the similarly equipped R8 which has a similar score and a full 10k higher than the DX320 despite both DAPs having similar or slightly superior CPU setups.
It scores as high as the Shanling M9 which I believe has the best CPU in the DAP market right now with the Qualcomm Snapdragon 665 so the implementation and CPU performance of the N8ii are very competitive.
And true enough the subjective user experience is excellent in terms of a fast response rate, smooth scrolling, and multitasking ease.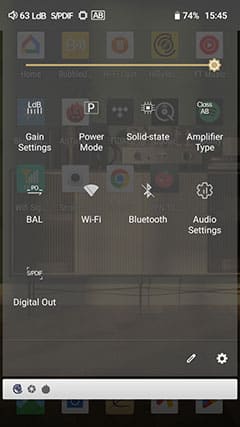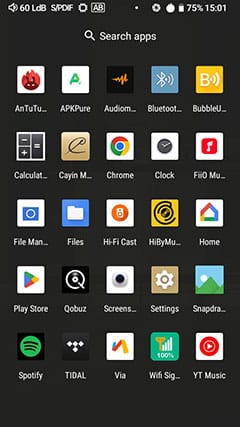 UI
Cayin does things slightly differently from the majority of other DAPs out there for navigational flow.
On the one side, they have a very strong and useful drop-down instant access navigation pane, probably one of the best examples out there in the market today. You get access to just about every critical mode the N8ii can offer including choice of timbre, operation mode, 3 levels of gain, power mode, and PO/LO options.
Furthermore, you get the standard Android features for connectivity such as WiFi and Bluetooth as well as quick access to the core audio settings where you can find some deeper controls such as the DSD/PCM filters.
If you hit the navigational pane edit you will also find the digital out icon which is something I would recommend you add to the menu if you plan on switching between a coaxial adaptor or I²S.
On the other side, the N8ii uses more of a gesture flow system with a single button operation for screen pane management which is a Cayin signature move.
That can present a level of frustration if you are used to the more standard 3-icon Android navigational flow. For me, it is not as easily manipulated as the classic Android controls suite.
The circular icon at the base does more than navigate as it also lights up in a series of colors to represent various sample rates during playback. This is an option you can turn off via the settings menu.
I am pleased to see that the classic Android tray is being used on the N8ii which I much prefer over the multi-screen method that the likes of the DX320 use.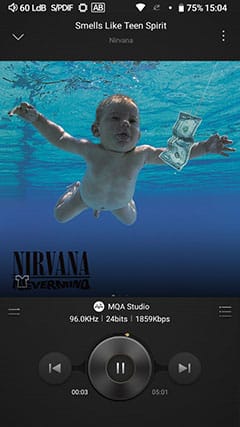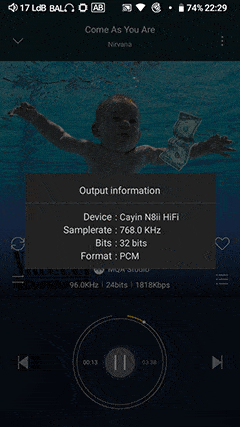 Features
Direct Transfer Architecture, (DTA)
DTA is fundamental to the entire listening experience on the N8ii and something which pretty much all the major DAP manufacturers deploy these days on all DAPs.
Basically, DTA allows the N8ii to bypass the Android sample rate conversion cap (SRC) on a platform-wide basis for almost all apps rather than depend on an app-specific application. In short, bit-perfect output at whatever rate for all your audio files on pretty much any platform and that should include the likes of TIDAL Masters.
However, the N8ii front end is a bit different for keeping you up to date on the output rates by the use of the color LED ring for sample rate output rather than a numerical sample rate indicator in the top notifications bar.
There are 6 color codes denoting ranges from 44.1kHz up to 384kHz though nothing indicated for 705-768kHz which would be useful for the MQA 16X upsampling functionality when using TIDAL or local MQA playback.
You can, however, check the exact sample rate when using both HiBy Music and the Cayin branded version apps by clicking on the sample rate indicator in the middle of the screen which will activate a pop-up overlay with both format and sample rate shown.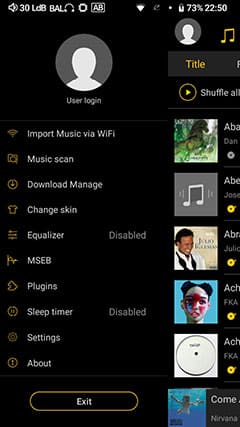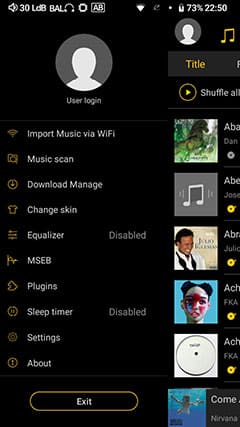 Cayin vs HiBY
Cayin loads their Android DAPs with a specific Cayin Music player that is actually a skinned HiBy Music Player with a stripped-down feature set. You also get the HiBy Music Pro Edition app with the N8ii out of the box so you have choices.
The user experience across both the N6ii and the N8ii for this app is actually very consistent with the only notable difference being the firmware version with the N8ii on V1.9 and the N6ii on V1.3 though both showing as up to date. In fact, a quick scoot through the two Cayin branded player's apps shows zero feature changes.
Compared to the HiBy Music player, the Cayin version feels more basic and loses a lot of additional engagement options such as the internal TIDAL interface, MSEB, as well as the new custom theme function to name but a few so I would consider this as a pure music player rather than a media hub.
What they do share in common though is their similar decoding capability including local MQA playback via the latest N8ii firmware update and BT remote control via HiByLink. For basic media management, the operation of these two apps is also quite similar also in terms of accurate media management.
The workflow of both is going to feel very similar so I advise going with the HiBy version if you plan on expanding your use of media management beyond whatever you have locally stored for example the TIDAL and Cloud streaming services.
I would use the Cayin player instead of you wanted something a little lighter and less battery intensive.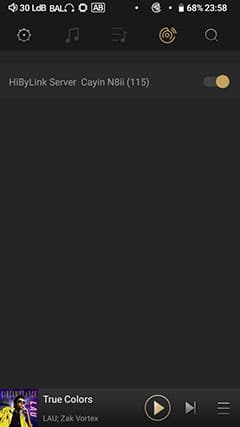 HiByLink
The N8ii implementation of HiByLink works just as well as the native HiBy DAP experience. Basically, HiByLink allows you to set up the N8ii as either a client or server via Bluetooth and operate another source with the HiBy Music app (and a BT connection) remotely.
For example, your smartphone with HiByLink can connect to the N8ii and playback from the N8ii library. You can then switch that around and play whatever is on your phone via the N8ii. You can also browse the media as well as operate playback controls and volume. Very handy indeed.
One thing to note, however, is the slight difference between the Cayin HiByLink implementation and the HiBY Music app itself. Within HiBy Music you can set up the N8ii as a controller or a server, however, within Cayin's app you can only set it up as a server.
MSEB
It is a pity the Cayin Music app does not have MSEB or some sort of PMEQ option as I am finding these two specific features to offer excellent value.
However, MSEB is there in all its glory inside the HiBy Music app and I strongly suggest you try it out. It makes matching to any IEM or headphone a piece of cake outside of noise floor and output power limitations.
The way MSEB targets the frequency response and timbre of the audio signal is quite special. You can thicken the sound, thin it out, increase or decrease sibilance, deepen the bass or make the timbre sound warm or cooler.
You can even decide how much each slider will affect the sound in the settings. You can use the MSEB to fine-tune or completely take over, it is your call.
It makes a mockery of describing the sound of the N8ii at times because I can change it so radically making it a very fine tool for matching up to IEMs or headphones with fussy sound signatures.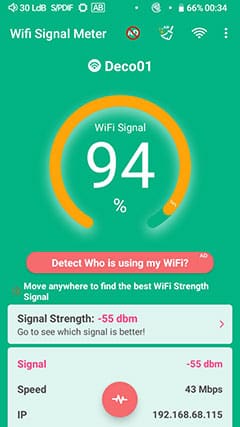 Wireless Performance
WiFi
To test the WiFi signal we decided to assess how the N8ii performed or improved upon the slightly older but still widely available N6ii with both picking up our modem's 2.4G signal from about 7m away which is kind of normal for our modem's performance in these tests.
We ran the test for 5 minutes in a similar fixed location with screenshots every 30 seconds or so and calculated the mean of all combined.
The above screenshots are the highest peaks during the test and you can see clearly that the Antennae inside the N8ii can perform at a higher rate for WiFi signal strength compared to the older N6ii.
The ranges did vary, however, it was not always a consistent percentage. However, the variable parameters were lower on the N6ii at anywhere between 50% to just over 80% whereas the N8ii parameters were in the mid-70s up to that 94% in the picture above.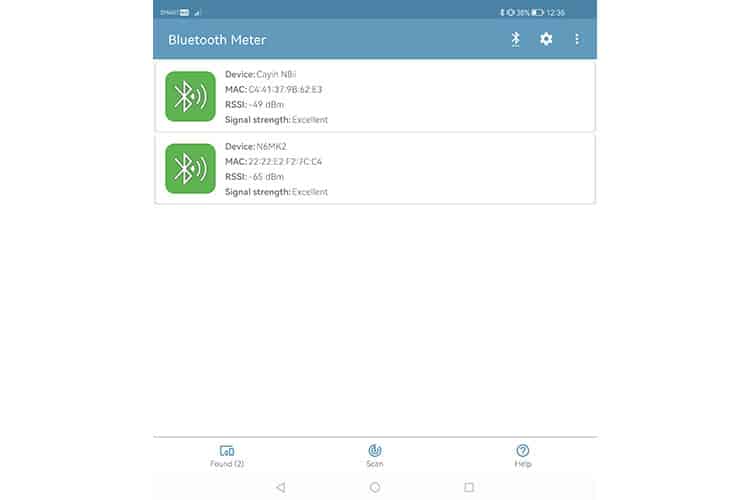 Bluetooth
It was also the same scenario when we compared the Bluetooth performance of the N8ii against the N6ii. Testing was done from 1m away which is where I would presume the majority of people will be using BT, for example, a TWS.
A second test was done again from 2-3m away when people might be using the N8ii and walking around an office or living area.
This test was done over 5 mons with regular screenshots taken over that period. The above was the highest performance from 2-3m away which clearly showed that the N8ii BT5.0 antennae were superior to the BT4.2 module and antennae inside the N6ii.
For this test, we had a difference of 16dBm in signal detection strength taken from a Huawei Mate Xs 2 phone which is more than just a slight deviation based on previous tests don't to date.
In theory, that should mean the Cayin N8ii will offer a more stable connection over a longer range compared to the N6ii.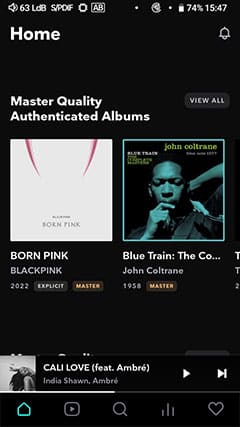 Streaming (WiFi)
There are a ton of streaming options with N8ii's WiFi capability due to the open nature of their Android 9 implementation.
Combining that with DTA capability then most streaming apps will also output bit-perfect audio making the N8ii equally as competitive as any flagship DAP such as the M17 or the R8 when it comes to bypassing Androids sampling caps.
I tested TIDAL and Spotify for streaming capability on the N8ii and had no issues obtaining bit-perfect playback with TIDAL Masters compatibility. However, my one issue was the exact sampling rate as the multi-color smart glowing LED indicator only shows up to 384kHz or cyan according to the manual.
With local playback using HiBy Music or Cayin's app, this is not an issue but with TIDAL and Spotify there is no easy way to find out. What I do know is that MQA Master tracks are being unfolded to at least 384kHz using both apps.
However, if you want something more precise then I advise opening up TIDAL within HiBy Music to allow you to simply tap on the sample rate to see how much unfolding is happening. In this case, I can confirm a 16X, (705.6KHz), capability when accessing TIDAL Masters using HiBy Music.
DLNA is also available for local networks and servers either direct from the HiBy Music app or alternative 3rd party apps such as BubbleUPnP or Hifi Cast. The 6GB of RAM and the Snapdragon CPU mean you are far less likely to encounter buffering issues compared to the older N6ii.
Streaming (Bluetooth)
Stability and range were excellent with our tested TWS including the Sony WF-1000XM4 and the new Huawei Freebuds Pro 2 using LDAC. I was impressed with this with both TWS having a maxed-out range on the N8ii similar to my connection with the Samsung Z Flip 3 smartphone.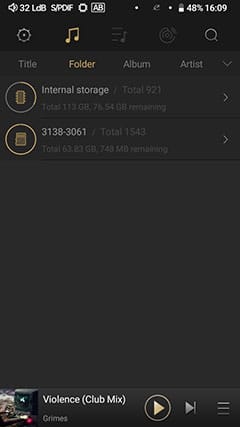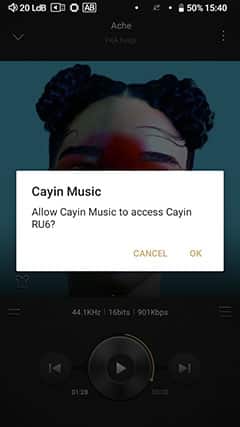 Wired Performance
OTG
Despite the unusual pin configuration of the N8ii USB-C for SPDIF, the OTG services work completely as normal meaning any OTG-compliant USB cable will work just fine. I tested 4 sub-C OTG dongles and a SanDisk 64GB flash drive and had no issues with compatibility.
Now I doubt there is much need to use a dongle DAC with the N8ii given its excellent native audio output but just in case you have a hankering for something like Cayin's own R2R RU6 then there are no issues in compatibility.
I do suggest you use the Exclusive HQ audio output function in HiBy Music or Cayin's own music app to ensure you get the best performance.
One thing to note from that Exclusive HQ driver is that if you activate it on both HiBy Music and Cayin Music player then the N8ii will default to the Cayin Music player with no audio output on HiBy Music possible. In short, you cannot use it with more than one app at the same time.
Flash drive expansion via OTG for both apps is also recognized and can be scanned for audio tracks for integration into each app's media library. All metatags will be recognized also making it quite seamless for large local storage integration.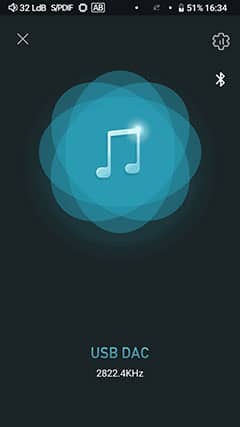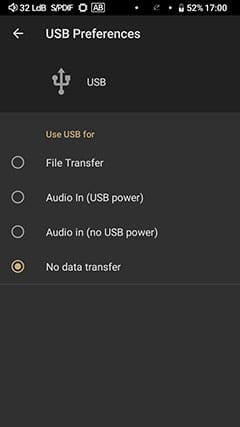 USB-DAC
Overall, the USB-DAC performance using Windows 10's universal 2.0 driver was excellent. I could not actually find any noticeable lip-sync lag either on movie-based audio with YouTube and Microsoft's own movie player and VLC playing various audio segments just fine.
The N8ii is also fully compatible with playback via media servers such as Roon and JRiver Media Player using the supplied WASAPI drivers automatically available when plugged in. On a side note, the new Roon Arc or Roon 2.0 is also possible for streaming via your Roon core when active.
You can also manually set the bitrate and sampling rate in the driver Windows properties right up to 32BIT/384kHz or leave it on its default 44.1K/16BIT setting and let something like Foobar manually control the output according to the track's own inherent properties.
The N8ii display is a fairly familiar one when being used as a USB-DAC, however, you do have to initiate it via the Android dropdown menu where you switch between file transfer or charging only. You will find 2 Audio options with USB power and without which will initiate the USB-DAC feature.
Once active you will see the bitrate, including MQA, on display with all audio settings accessible as well as the ability to link to devices via BT for playback transmission.
Click on page 3 below for sound impressions and pairings