Today, we review the Cayin N8ii, the company's latest flagship Android DAP featuring a dual Korg Nutube output and a dual ROHM DAC implementation. It is priced at $3499.
Disclaimer: This sample was sent to us for our honest opinion. Headfonics is an independent website with no affiliate links. We thank Cayin for this opportunity.
You can click here to learn more about Cayin products that we have previously featured on Headfonics.
Note, that this article follows our latest scoring guidelines which you can read here.
Cayin N8ii
Though no longer unique for tubes, the Cayin N8ii DAP still retains its flagship status and remains a class act offering an incredible array of highly resolving and enjoyable sound signatures.
Pros
Deliciously smooth tube output
Multiple Timbre selection
Load of I/O options
Cons
Android 9 is a bit dated
Quite large
It's been four years since Cayin launched the original N8 DAP and brought about the unique concept of a tube inside a portable media player. Since then they have rolled out both the entry-level N3PRO and the top-of-the-line C9 portable amplifier, both with adaptations of the same 'tube in a box theme.
So, an upgrade seems overdue, especially in this rapidly evolving portable player market. The new N8ii is just that and then some. Still the flagship DAP at $3499 and still with Nutube but it's plural now as in Nutubes. Yes, there is more than one inside.
On top of that, we have a fresh design, a far superior OS with upgraded internals as well as a completely new DAC implementation. This is hardly an iterative product launch. Though it is very much a Cayin in terms of features and possibly the sound signature, it looks and feels very fresh and modern at the same time.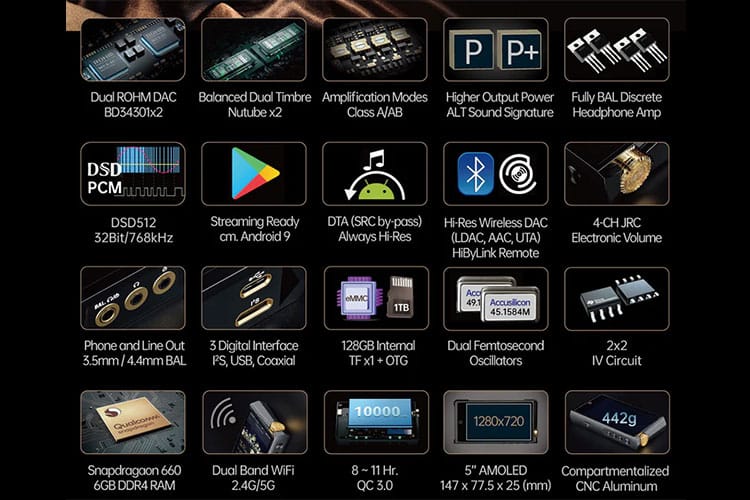 Tech Highlights
DAC
The N8ii switches away from the previous AKM AK4497EQ which is now discontinued and to a new dual ROHM BD34301EKV implementation in mono mode. This is not the first time we have seen this DAC being used inside a DAP this year with the iBasso DX320 springing to mind.
The BD34301EKV is part of ROHM's new MUS-IC series of DAC chipsets of which there are two versions. This is the higher-grade version with the BD34352EKV positioned behind it and differentiated by a slightly reduced SNR and THD-+N rating, (around 3-4dB lower).
This particular version has a peak of 130dB of SNR and a THD+N of -115 dB and up to 130dB in its potential dynamic range. Although this is as the 'crow flies', the N8ii does get pretty close at a maximum of 125dB of SNR from its solid-state balanced output.
The decoding has improved over the older AK4497EQ also. Via USB you can get up to DSD512 natively and a maximum of PCM 32BIT/768kHz when using it as a USB-DAC or in I²S mode. With firmware V1.14 you also get a very competitive MQA unfolding rate of 16x, (up to 768kHz).
You also get the maximum 24BIT/192Khz via SPDIF and because the N8ii is BT wireless you can expect up to 96kHz LDAC. Interestingly, HiBy's UAT is also covered meaning if you have a compatible UAT receiver such as the HiBy W5 TWS it will go all the way put to 192kHz wirelessly.
Amplification
There is actually a lot happening here for amplification but if you are a Cayin fan you will already be familiar with how they have been crafting a niche for themselves with not 1 or 2 but 4 different flavors of output for the N8 and now the N8ii.
This is made possible by including two discreetly engineered amplification output modes, solid-state and tube, combined with a Class A and Class AB dual operational mode.
All four modes can be combined, for example, Class A with tubes or Class AB with solid-state and vice versa Class AB with Tube and Class A with solid-state. All of this can be done via some easy access options on the OS layer.
For the N8ii tube output, Cayin returns to the spring-loaded Korg Nutube NP61 but this time the implementation is balanced with two Nutubes installed as opposed to the original N8 which has just one.
That now means you can operate the tube output of the N8ii with a balanced connection whereas before you could only use it with the 3.5mm output.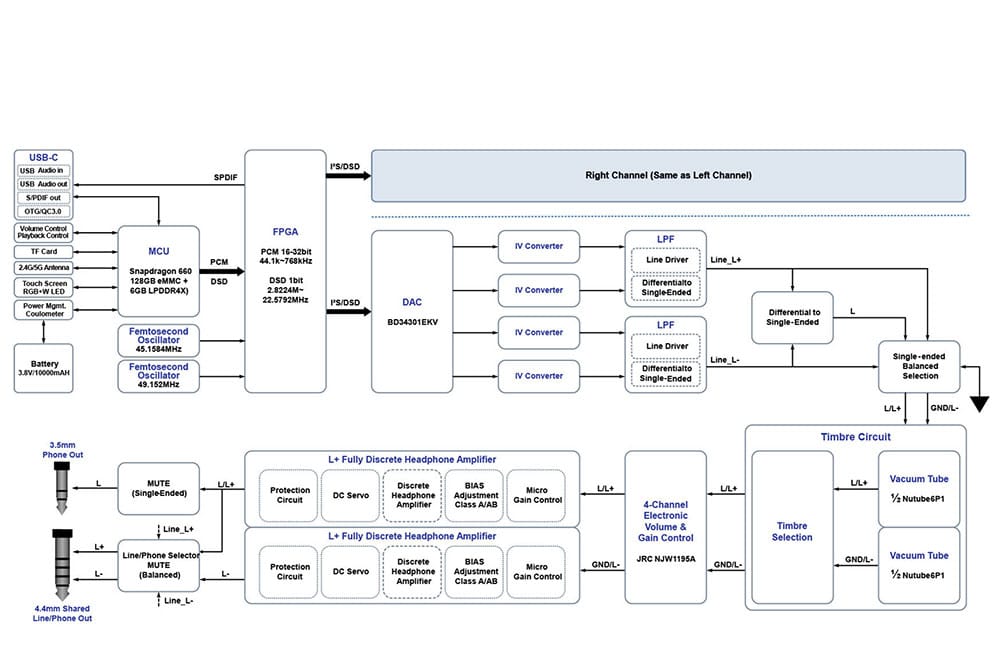 Performance Layers
Like the amplification design, the requisite performance numbers from the N8ii output are similarly multi-layered. You get a standard benchmark for 3.5mm and 4.4mm and as you would expect the balanced output is consistently more powerful at the various load milestone points.
That in turn has a second layer with the tube output differing in power compared to the slightly stronger solid-state performance under various loads.
However, you get another layer on top of that which is even more powerful for both outputs using the N8ii's dual output mode feature. The default is P or standard and here you revert to the stock tube and solid-state performance numbers.
Whereas P+, which stands for high output, increases the voltage swing from the standard 7V to over 10V which should result in a much better dynamic range performance, especially with headphones.
Performance Numbers
So, under P for the N8ii's tube and SS single-ended output you get an output range of between 64mW (150Ω) and 420mW (16Ω) which in turn, increases to 100mW and 72omW under the same loads when using P+.
Switching to the N8ii balanced output using standard P mode the power naturally goes up a notch with the range starting at 150mW, (150ohms) up to 760mW, (16ohms). For P+ you get a little more juice at 150Ω at 160mW but you get a huge bump at 16Ω with a rating of 1.2W.
Note, that both P and P+ modes are only available in Class AB mode and not Class A mode so, if you like the sound of Class A you will get slightly less potential voltage swing.
Design
Dimensions
Like its predecessor, the N8ii is a big beast though by no means the longest or perhaps even the widest. What it has is height, no doubt due to the requirements for the spring-mounted Nutubes which are on the far left side and on their sides rather than lying flat.
At 442g it is heavier than the original by 42g though I cannot really tell you if that feels significant in the hand given our N8 sample has long since gone back to Cayin. What I can tell you is that it is not far off the form factor of the HiBy R8 albeit significantly thicker and a little bit narrower.
The overall dimensions do become a shade thicker once you put on the N8ii case but considering the value and the use of tubes I would consider the protective case mandatory. It is also a shade on the sharp side physically for cornering so the case helps soften it up a bit for handling.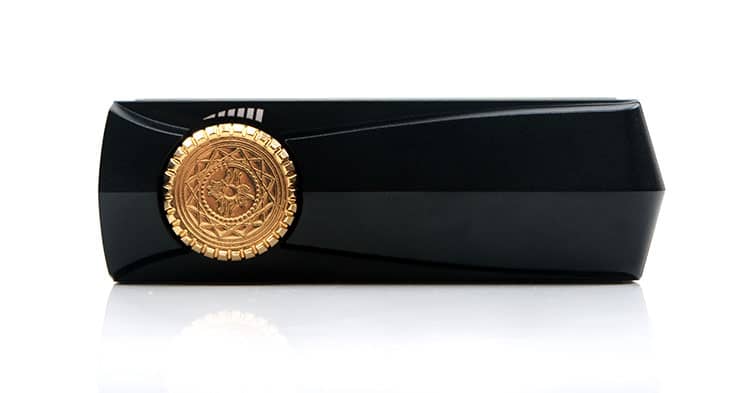 Aesthetics
The design language compared to the original, at least for me, is less overtly 'Asian' save for the lavishly gold patterned potentiometer on the top panel. Shades of Lotoo and Sony come to mind though this design flow is more commonplace these days potentially making it the most 'user acceptable'.
Because of the Android implementation, the N8ii is now much more screen dominant on the front panel compared to the original. Combined with a sleek and slightly angular CNC machined aluminum alloy finish it feels quite sturdy but also relatively discreet with its black-colored sandblasted finish.
What I especially like about the contouring are the small recessed pockets in strategic areas that give both the I/O and controls a relative degree of everyday protection against bumps and knocks. It's tastefully done rather than overt and not something you would immediately notice under dim lights.
You will notice the nuanced curving with two small guards to protect the ports on the base that elegantly extend outwards from a pointed side panel finish as well as minor recesses around the physical controls on the right panel.
There is also an additional long recessed design on the left panel that allows Cayin to fashion a protected acrylic window for the green glow of the N8ii tubes to shine through. Something that is both operationally useful and aesthetically pleasing.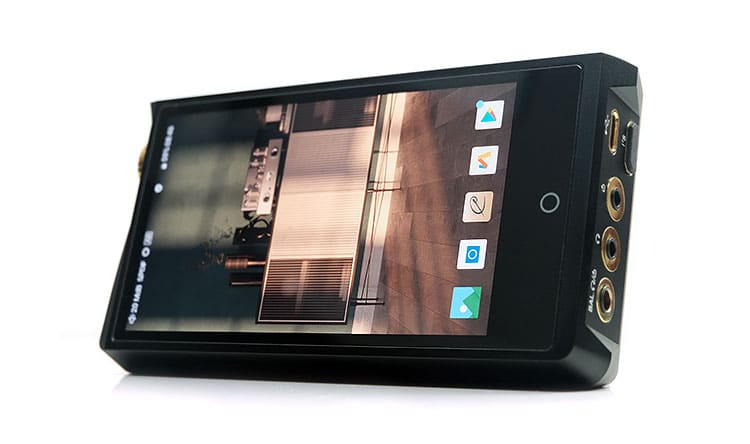 Screen
Battery life is a consideration here and whilst I think the quality of the AMOLED screen is absolutely superb the 5″ 780p size and resolution are slightly lower or smaller compared to the likes of the 5.5″ 1080p R8 and the newer 6.5″ 2340×1080 DX320.
Still, if you are upgrading from the relatively petite 3.2″ screen of the original N8 this is a vast improvement. HiBy's OS has never really needed massive amounts of space to perform quite like Android but even so, it's a more familiar and welcoming modern appearance for most users in this day and age.
It is not a borderless design though the bezel is fairly small at the top and sides. Where the thickness creeps in is at the bottom with Cayin's classic single circular touch-sensitive button dominating an otherwise function-free margin.
Touch response and legibility are excellent, or perhaps I perceive it to be excellent due to the rather high-quality' audiophile' background screen picture. At 319dpi pixel density, it is on par with the bigger DX320 screen though at a lower overall density of 305dpi compared to 420dpi.
One thing to note the lighting on the N8ii screen is very good meaning whites look proper white, and wide angle viewing is very easy. The DX320 looks considerably darker on full-screen brightness when placed beside it.
I/O
All the I/O save for the external memory card slot are housed at the base of the N8ii. Given its above-average height, there is more than enough room to fit plenty of options here including both digital and analog.
All the analog is to the left including dual 4.4mm balanced PO and LO and dedicated 3.5mm PO and LO ports. To the far right are the digital I/O including USB and a mini I²S socket.
Now for those wondering about SPDIF, this is actually done via the USB-C socket with a conversion cable. Cayin has always configured its USB-C ports slightly differently in the past from standard formats and from the original N8 package a few years back you got a specific USB-C to SPDIF coaxial adaptor.
Not this time. There is no adaptor in the N8ii package so, you will have to buy a specific Cayin branded version to use the coaxial output. For I²S there is no adaptor or cable included either but Cayin's formats are usually fairly compatible with regular HDMI cables so, a mini-HDMI format for about $5 will work just fine here.
For memory, the N8ii has a decent 128mB of onboard memory with an additional microSD slot on the right panel to further expand your storage capacity. The N8ii also has OTG capability meaning you can add a few more physical GB to the storage via a flash drive.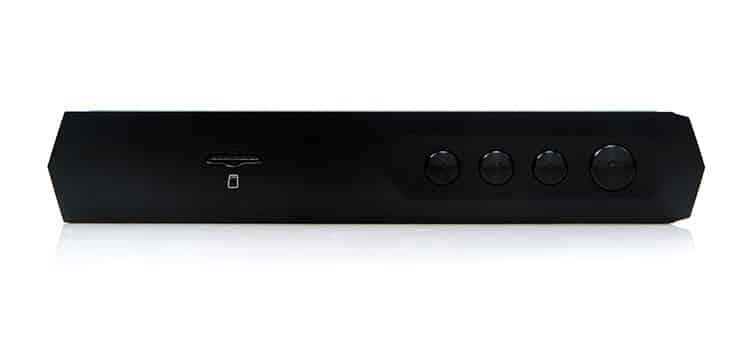 Controls
As with most modern DAPs, the N8ii direct control system is a hybrid of touch and physical. There is also an element of wireless integration allowing you some aspects of remote control but that will depend on the 3rd party software you are using such as HiByLink or Casting services.
The N8ii keeps it simple with a Sony/Lotoo-like triple deck of slightly raised circular playback buttons on the right panel and a larger power on/off button just above.
Blind operation is relatively simple given their size differences and height relative to the aluminum chassis panel. However, carry case users might note the degree of travel becomes longer when slipped onto the N8ii and you do lose a degree of distinction in the button sizing through touch only.
The potentiometer dial on the top panel has no dual functionality similar to the N6ii. This is an analog potentiometer purely for volume control and an accurate one at that with no perceived step slippage when rotating.
The touchscreen control system will largely replicate the physical experience save for powering off and on the device. There may be some nuanced differences depending on the software use but otherwise, the overall framework control experience is quite consistent.
The majority of quick access controls can be accessed via a packed Android drop-down menu system. This includes PO/LO switching, timbre versions, and operational modes as well as gain and connectivity options. You can also double tap the screen to wake the N8ii.
Volume control can also be controlled via the touchscreen but only once initiated via the physical dial which brings up the volume OS overlay.
Battery Life
The N8ii packs a very hefty 10000mAh 3.8V Li-poly battery which is a significantly larger battery than the 3.7V 7000mAh Li-poly battery version used inside the original N8.
That gives you a relatively decent 11 hours on paper using FLAC 16-bit/44kHz weighted measurement system with I presume 50% volume and the screen turned off during that test time.
That varies slightly depending on whether you go balanced or SE, tube or SS with balanced SS running at 10 hours compared to the top-tier SE SS 11-hour rating. The lowest parameter is the balanced tube PO at 8 hours using the high-powered output.
That is an improvement also on the original which offered a maximum of 9.5 hours. All numbers drop by an approximate hour off the lead time once you go into High² mode which is the same as it was for the original N8 performance with the same setting.
Bear in mind though that, unlike the original N8, the N8ii is an Android device with a far wider range of apps and connectivity options which can and does sap your battery a bit more than the rated figures. Playing as a pure music player should get you close but streaming, unfolding, or playing hi-res might reduce that by 1-2 hours of total battery life.
The N8ii is also QC3.0 (and PD2/3) quick charging compatible meaning from 20% to 80% in just under 2 hours which is impressive for a battery of this size.
Packaging & Accessories
The Cayin N8ii package is a little more conservative compared to the original's more opulent aesthetics but is now quite consistent with the styling from the Cayin C9 and N6ii retail boxes.
This time it is a more compact and regular jewelry-type fold-out box with the unit nestled in protective foam on the top layer and the accessories neatly packed in a slide-out case below.
Accessories include a nylon-jacketed USB-A to USB-C for charging, data transfer, and USB-DAC duties, and a nice green leather case with good rear venting similar to the HiBy R8 styling.
You also get two adapters, an L-shaped 2.5mm to 4.4mm and a 2.5mm to 3.5mm adapter, as well as one additional tempered glass screen protector.
Click on page 2 below for software and wireless performance
Click on page 3 below for sound impressions and pairings