Today, we review the Shanling UA3 which is a new dongle-type portable DAC and headphone amplifier featuring up to DSD512 decoding capability. It has a price of $109.
Disclaimer: This is a sample sent to us in exchange for our honest opinion. Headfonics is an independent website with no affiliate links or status. We thank Shanling for this opportunity.
To find out more about Shanling products we have previously covered on Headfonics click here.
Note, that this article follows our latest scoring guidelines which you can read up on here.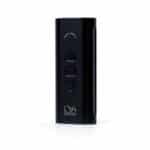 Shanling UA3 Review
The Shanling UA3 has a hefty, good-sounding output at a low price point. It also has a good app, and a robustly constructed body making it a heavy-hitting contender in its class.
Pros
Decent amount of driving power
Lightweight
Clean Design
Cons
Initial Gain on volume set rather high
Shanling makes one of the most feature-crammed dongle DACs out there presently which is the recent UA5. It's crammed with features one could access through its digital display. But it also has very good sound quality and a solidly constructed body.
The UA5 also has a rather novel volume knob that serves more than one function. This and the hybrid battery feature made the UA5 different enough for me to take a hard look at it. Unique features it seems are becoming more relevant with each dongle DAC release.
If you go down the Shanling dongle DAC product line you will run into the UA3 which is right below the UA5.
What does the UA3 bring to the table that I can't taste anywhere else? What distinguishes this dongle DAC from the rest? This particular question should be on every dongle DAC manufacturer's front burner in this day and age.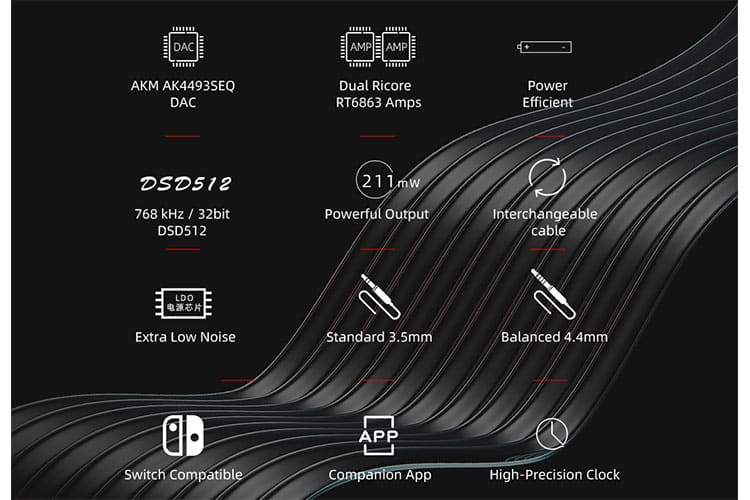 Tech Highlights
DAC Section
Perhaps the answer to that question lies with the DAC Shanling is using within the UA3. While everyone else seems to steer to the more common ESS chips or perhaps Cirrus logic, Shanling went with a recently released AKM variant which has been absent in the dongle DAC market up until now.
Shanling went with a single AK4493SEQ for the UA3 which is a fairly new chip from the AKM group. The AK4493SEQ chip is labeled as a 32bit DAC with AKM's Velvet sound technology.
This chip's specific claim to stand out from the rest is that it uses an integrated switched capacitor filter OSR double design that takes the place of resistors to accurately reproduce the characters of continuous time Bessel or simply put, a Bessel filter.
AKM published a diagram of the internal sections of the AK4493SEQ and it shows a delta-sigma modulator and there also seems to be an integrated clock. It seems the particular chip's claimed high power efficiency is attributed to the fact that the chip operates alone with minimal need of any external circuits except for one extra needed stage.
Digital Formats
Most inexpensive dongle DACs are excluding MQA decoding and the Shanling UA3 does the same but instead, it seems to focus all efforts on the more common digital formats and made sure the UA3 excels at them.
For example, the PCM format can play nice at up to 32-bit and 768 kHz rates. DSD capability reaches DSD512. I usually push dongle DACs limits far as digital formats go to see if they can handle their highest bit rates well and yes, the UA5 was stable consistently at those high rates and of course at lower rates also.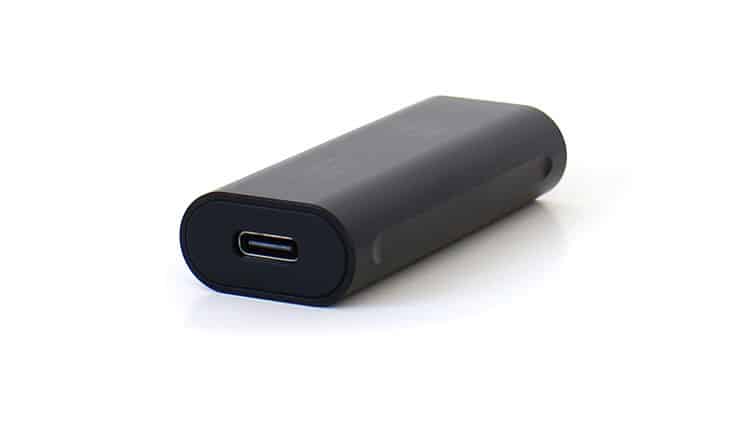 Amplification Section
Although the DAC section within the AK4493SEQ seems very competent the particular chip seems to be void of any amplification and seems to be just a dedicated DAC. So Shanling's solution was to pair it up with a set of Ricore RT6963 amplification chips for the front-end stage within the UA3.
The DAC chips were not doubled up apparently because it seems Shanling felt this chip's performance was adequate or probably just wanted to keep power consumption down to the lowest possible levels.
They also seem to give importance to and made sure the UA3 had enough driving power for more than just efficient IEMs. This chip combo seems to have an ample amount of power and volume level on tap.
Performance Numbers
The Shanling seems to have power output specification numbers that rival more expensive models and particularly their own UA5.
The UA3 can hit up to 211mW per side at 32Ω. On the SE side, you get 125mW at the same impedance. Output impedance is 0.4Ω and 0.8Ω on the balanced side.
Voltage is posted at 2v with 2.6v off the balanced side which is rather low and would have assumed that the balanced side would be capable of double the amount of the SE side but that's not so.
The single-ended side specs far as SNR and dynamic range are listed at 119db. You slightly step up to 120db on the balanced side. Both outputs have a listed frequency response of 20 to 40 kHz.
The two most noted specification improvements, particularly on the balanced side, is of course power output but the channel separation goes up from 80 decibels up to 110 decibels which is quite a significant gain.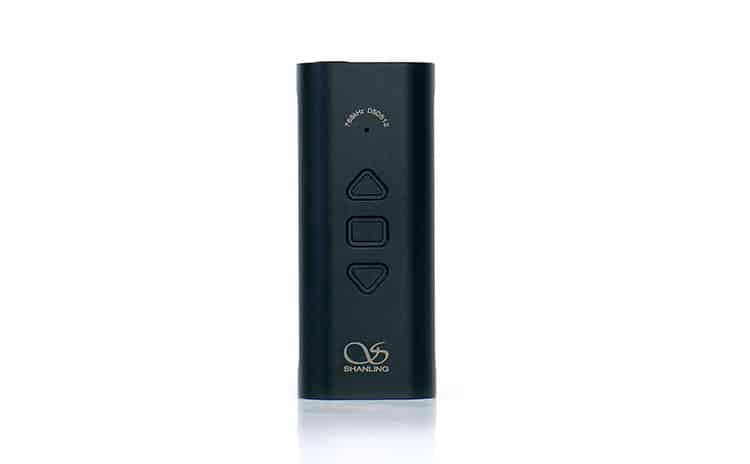 Design
The Shanling UA3 serves up a simplistic concept in design and the UA3 is not an eyesore of glitter and gold. Instead, it has a 60x25x13mm seamless all-metal black anodized shell with rounded ends and slotted sides and some subtle markings up front and back. All the writing is done in white and in fair contrast to the black finish.
In other words, the writing is not too bright on the UA3 and is not excessively contrasting or highly eye-catching. You could almost call it subtle.
The markings are composed of a Hi-Res logo and some Shanling branding. On the flip side, there's a Shanling logo with digital format indications surrounding a very small LED which acts as an RGB format indicator.
On the top, you can see the dual headphone connectivity consisting of a 4.4mm balanced output and a 3.5mm connection but I would not use both simultaneously or on any dongle or amplifier.
On the bottom lies the female USB-C connection which is the input side. On one surface, there are also a couple of re-assignable volume control buttons with a multifunction button.
One thing that this dongle should have in my opinion is an up-front gain switch of some type because the volume control seems very sensitive to volume levels stock and you could only adjust gain levels within the Eddict player.
It could easily be implemented by a double click or similar function on that multifunction button in a firmware update later on.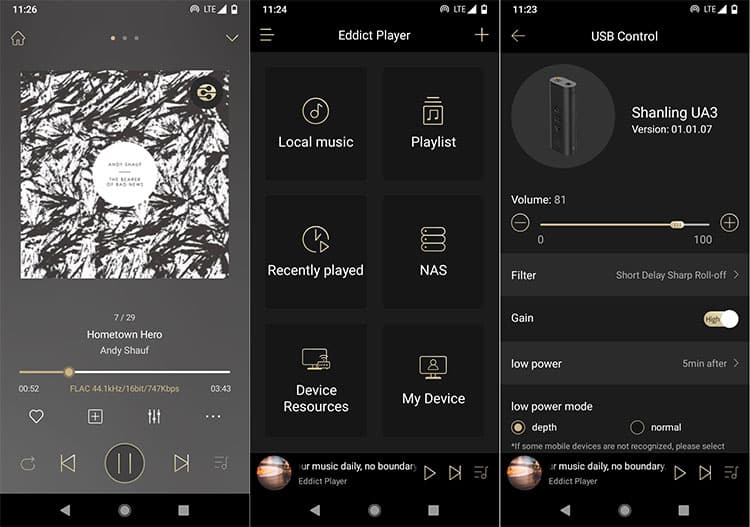 Eddict Player
If you look for an app that works with the UA3, Shanling has a player called Eddict player that works with the UA3 but to me, it seems like more than a player because it has a lot of features.
The one important feature of dongle DAC controller apps is usually the firmware updates feature. There seems to be none within the player but Shanling handles that with separate files that you can download and execute within a PC but not within the app or on mobile devices. The process involves installing a driver and then launching an executable.
The Eddict player does ask for file access when you first use it and that's fine since it has to find your local music library but it does not ask for contact access like most others which is a relief.
The Eddict player is quite nice, it has lots of features and everything seems to work well. There's a ten-band equalizer with ten custom presets, a few filters plus a gain.
It also enables the user to access their NAS from within the player or any other network storage plus it offers WIFI transfer capability in case you want to move some music files around from within the app itself.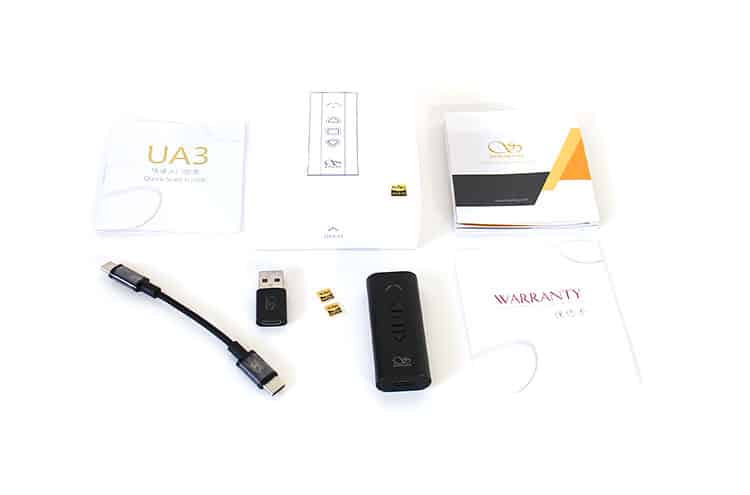 Packaging and Accessories
The Shanling UA3 accessories list is as follows. Inside the box, there's a quick guide, a warranty card, and a product guide brochure. This is all the literature you get.
For connectivity, you get a dual-sided USB-C black paracord-wrapped cable with grey tips and a separate full-size USB adapter. It's a rather nice cable plus I'm also happy the wire is fully swappable.
But again, there's no iOS connectivity included although the UA3 is compatible with the OS. Both the cable plus the adapter supplied are Shanling branded.
Now, remember the white Hi-Res logo in white on the shell? Shanling includes two gold Hi-Res stickers in case you want to add some color and make the dongle look more eye-catching by adding some sheen.
Sound Impressions
Summary
The DAC section within the Shanling UA3 seems very neutral and well-balanced with a good amount of detailed nuances. It seems new tech pays off sometimes as in the case of the UA3 which bought in the AKM forward detail sound signature and encased it within a small dongle DAC.
What you get here is a DAC that attempts to extract details but also seems unforgiving in the fact that it gives the listener an almost unaltered picture of the recording. So, if the recording is a bad one this dongle DAC will reflect the fact. At least it constantly portrays a dark background that's absent of hiss.
About the only aspect of the overall sound signature that can be considered ingenuous and untrue is the slight ligneous or almost tube-like character some vocals can portray but overall, all the frequency bands are represented evenly and smoothly.
The UA3 seems to bring forth bass response a few drops more than other more neutral dongles, like for example some of the Cirrus logic variants.
The bass extension can reach very low notes while the highs seem preferably neutral. Midrange response does have a rather airy aspect but simultaneously the fact doesn't make it distant sounding as a whole.
Staging and dynamics
Since there's a good bass presence there seems to be a good amount of grunt in the low end when the recording requires plus the bass portrays a large occupation spatially. Along with speedy delivery, the UA3 gives off a good quantity of bass kick. The overall balance seems about flat-lined all the way pats through the rest of the bands.
There's an aspect I quite like about the UA3 and it's the large sound stage it can produce. Items seem to have distance but do not wander away and still retain a good presence. The dongle seems to also portray things within recordings in an elevated way relative to placement.
The positioning is good. Technical abilities are also good for separation, and imaging with a good ability to sound tall and wide but not sound too distant or faded far away. Vocal aspects seem wider compared to most other DACs.
Perhaps if we give an overall description it would go like this. The overall soundstage and width create an airy aspect occupied by large-sized elements all within their corresponding spaces with un-bonded elements. It seems the UA3 hits a step above some older dongles with older tech SOCs far as the overall panorama and staging.