Sound Impressions
Summary
The Melomania 1 has what I would consider an unusual tuning for a typical TWS offering, and perhaps that is a good thing. I would not classify this as V-shaped, it is much too smooth in its overall sound and lacks that high contrast lean and explosive but fatiguing sound.
Instead, it has a dense mid-bass punch, a warm and elevated lower-midrange with some equally smooth and inviting vocal performances. It also has a wisp of upper treble sparkle to give it a bit of a lift for high-frequency notes. You could classify this as a loose "M-shaped" presentation aside from that little uptick in the upper treble presence.
What is also noticeable is an upper-mids and lower-treble drip from around 4-6k which does pull back percussion and take a little air and vibrancy away from some vocal performances. You still get that smooth dense sound from vocals but at the same time, they can sound a little bit closed in.
Vocals can also defer to a heavier thicker lower-mids performance that gives equal weighting to underlying lower-pitching instrumental notes. Strong male vocals do also benefit from that lower-mids bias if they are pitching low. That tuning does make the Melomania 1 a solid choice for those who like a bit of body in their guitar chords be it bass or rhythm.
Quite often, the typical V-Shaped TWS will deliver the low-end power but suck out the midrange body to make way for treble sparkle leaving instruments without any lower harmonic order weight sounding more on the lean side. The Melomania 1 does not do that which is why I would say this is a fairly unique tuning.
Timbre
There is a slight contrast in the Melomania 1's timbre starting with an elevated mid-bass and a sub-bass turning that just lightly dips behind it but not by a huge amount. It is not as weighted as something like the Anker Soundcore Liberty 2 Pro or Noble's Falcon but it does have a lovely punchy sound and a lot more warmth.
The dip into the lower-mids is marginal and in fact, the mid-bass elevation sustains right up to almost 500Hz hence that perception of warmth and density to a lot of lower-pitching instrumental timbre.
Guitar work benefits from that tuning with a very natural rich tone, one which I enjoy over cooler and lean V-shaped midrange timbre. I was testing some uilleann pipe solos from Nightwish's excellent "Endless Forms Most Beautiful" and they sounded very solid and smooth as opposed to wispy and thin which never works well for an instrument that I grew up with.
I did say contrast and that's where that upper treble plays a role, mostly in the upper mids timbre. First, the FR dips on the lower treble and then rises from around 8-10k so you get that slight ethereal shimmer on the very highest pitching notes like triangles and some hi-hat strikes.
It can also just slip in a little on vocals with the silicone stock tips but less so with the Symbio W hybrid tips which fatten up the timbre You also lose a little air as mentioned before which tends to pull back percussion from sounding overbearing or splashy but they can sound a little 'glassy' and light in weight.
Staging
The Melomania 1 is mid-bass to lower-mids prominent with a good upper treble presence. Depth is good but not as powerful or as weighted as our comparison V-shaped TWS such as the Stylish, Falcon, and Liberty 2 Pro.
Instead, it is mid-bass forward and punchy with some bloom into the lower-mids which serves to bring the ear's focus to that 500Hz to 800Hz region all the more. Vocals are neutral in terms of positioning but slightly second to the lower-mids so instruments can take center stage.
Some vocal mixes, particularly male vocals such as Kendrick Lamar sound excellent on the Melomania 1. I suspect that is more to do with less layering in the lower-mids which is quite common for Rap/Modern R'n'B productions creating a bit more space for them to breathe.
Instrumental separation and imaging are above average for a TWS. It has far less of a diffuse feel to its midrange performance though the lower treble dip can suck a little bit of space or air from the upper mids. Despite that, I still prefer their vocal solidity and presence compared to leaner affairs such as the Liberty 2 Pro.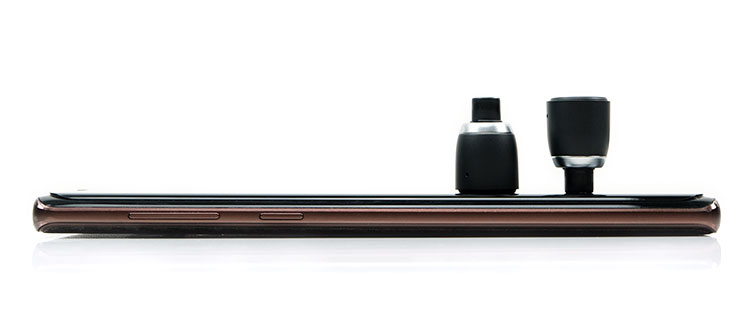 Wireless Performance
Pairing
The TrueWireless Stereo Plus feature means both of the Melomania 1 drivers will show up in your source BT pairing scans. The manual does tell you to go with the right channel and ignore the left channel prompt. It is a bit old school with newer TWS units showing a single unified label (no L or R) which makes it virtually dummy-proof to hook up.
The Melomania 1 separate labeling does mean you can hook either left or right or both depending on your preference but if you want stereo you must only pick the right side and the left will connect to the source automatically for stereo mode.
During our testing, we did get the odd SNAFU with a drop and reconnect happening maybe 1-2 times with the same source but that was the exception rather than the norm and happened only once in several days.
Range & Stability
I honestly had no issues with the stability of the signal when paired with my regular Note 9 smartphone. There was zero stability up to 10m with one wall in between and only a minor drop out when moving a little further until about 12m behind a second wall then the signal dropped out.
It is not Edifier TWS NB or HELM TW5.0 strong as in it drops out 1-2m before those two but it was still quite respectable. Definitely more range than Lypertek's TEVI and Noble Audio's Falcon and on par with Sennheiser's MOMENTUM True Wireless V1's performance.
Working off a high-end DAP such as the HiBy R8 and Cayin's N6ii there was a bit more drop out from around 7-8m behind one wall and we didn't get the full 10m with the Melomania 1. Not surprising really as it is rare I find a DAP with as good a BT signal performance as smartphones.
One drawback is the lack of active pairing on the Melomania 1 when disconnecting from one source and then trying to pair with another source. You either have to cradle them or push the right channel button for a few seconds to activate pairing mode for any new source to find the drivers.
Latency
The Melomania 1 does have some latency for audio/video sync for media watching on various files and YouTube using a Windows 10 laptop. We clocked it at a solid 0.2s hasten using a VLC media player for a 2-channel audio bitrate of 162kbps video file.
When I say solid that means nothing too hazy as in you cannot get away a lack of tweaking at 0.0s or a minor 0.1s nudge. To be fair, that is pretty normal for the majority of our TWS units tested this year with only a small few doing better such as Sony's WF-1000XM3.
Competing units such as the Noble Falcon has a bit more flexibility at 0.1s potentially, or depending on the media file though, to be honest, I prefer it at 0.2s. 1MORE's Stylish TWS also has a bit of lag with a 0.2s tweak required as also the Liberty 2 Pro.
Select Comparisons
Anker Soundcore Liberty 2 Pro
$149.99
Technical
The Liberty 2 Pro is quite a different beast to the Melomania 1. For a start, it is a multi-driver configuration as opposed to a single dynamic driver inside the Melomania 1. It uses a single 11mm dynamic driver and a single Knowles custom-tuned balanced armature in what Anker calls an Astria Coaxial Acoustic Architecture.
The crossover sits around 3k on the Liberty 2 Pro with the BA covering the upper-mids to the highs and the dynamic driver going up to the mids. The Melomania 5.8mm graphene-enhanced dynamic driver covers the entire range. There will be fans of that single driver coherency and fans of the blend of timbre you can get from using different driver strengths for sure.
Both TWS uses BT5.0, can decode up to aptX, offer physical controls, and utilize cVc microphone noise suppression technology so there is common ground. Where they differ on some keys aspects includes Melomania 1 offering an IPX5 rating whereas the Liberty 2 Pro has none.
On the flip side, the Liberty 2 uses a more modern USB-C and Qi wireless charging system whereas the Melomania 1 uses an older micro-USB charging connection. The Liberty 2 also has a fantastic app with a ton of EQ profiles to work your way through whereas the Melomania is app free.
Battery life is very similar for the drivers at 9 hours for the Melomania 1 and 8 hours for the Liberty 2 on paper. These do drop in real-world testing to around 7 hours but still very competitive. The Melomania 1's diminutive cradle does carry a better charge capacity of 36 hours as opposed to 24 for the Liberty 2 Pro.
Design
I like both designs but I love the Melomania 1 diminutive form factor. The Liberty 2 Pro sliding-lid pebble form factor is very addictive to use but it does not feel quite as sturdy or as compact compared to the Melomania 1 cradle. The magnetic slots also feel more secure than the open bay of the Liberty 2 Pro cradle.
In terms of form factor, hugely different approaches. The Liberty 2 Pro has a long flat plate but deep design using ear wings for stabilization in the ear. They look more ungainly than the very minimalistic bullet-type form factor of the Melomania 1 but feel a bit more secure in the ear. Isolation is about the same for both with the stock tips and neither offer ANC.
Tuning
The Liberty 2 Pro stock tuning is a classic V-Shaped presentation with a high level of sub-to-mid bass and treble contrast, at least with the stock profile. The 2 Pro timbre is on the clean and cool side with a solid upper-mids/treble level of energy which in turn, offsets the sub-bass bias.
By contrast, the Melomania 1 is on the whole a bit more intimate and warmer though the lower mids and male vocals with more of a mid-bass than a sub-bass bias.
My big issue with the Liberty 2 Pro is the comparative lack of body in its instrumental and vocal timbre throughout the mids. The Melomania 1 may suffer from a lack of air in the lower treble but instrumental notes and vocal performances are more physical and denser sounding.
The Liberty 2 Pro is all about treble and bass contrast so you get plenty of power and yes, a more forward vocal presence above 1k but not so much body thereafter. The Pro 2 also avoids a lower-treble suck out so it does sound airier with more headroom compared to the Melomania 1 which instead has a slither of 8-10k shimmer.
The staging is perceptibly bigger on the Liberty 2 Pro which is what I would expect from a V-shaped tuning. However, it is a bit vague for imaging with a distant arena-like staging quality and the lack of body doesn't help either. The Melomania 1's imaging a little better but it is also helped by a smoother sounding instrumental and vocal timbre making is an easier listen.
Noble Audio Falcon
$156
Technical
Like the Melomania 1, the Falcon is also a single dynamic driver TWS. Inside, the dynamic driver is more or less the same size with the Melomania 1 using a 5.8mm graphene-enhanced version and the Falcon opting for a 6mm dual-layered carbon dynamic driver.
In terms of shared features both offer BT5.0, up to aptX decoding, CVC noise cancellation, and TrueStereo Wireless Plus for independent driver control. Differences include a higher IPX7 rating for the Falcon compared to IPX5 for the Melomania 1 but a lower QCC3020 chipset compared to the QCC3026 inside the Cambridge Audio offering.
Both offer physical controls via their faceplates, however, the Falcon goes one step further with an app that allows you to tweak those controls as well deliver firmware upgrades and EQ enhancements.
The Falcon can offer a bit more driver battery life at 10 hours in the paper compared to 9 for the Melomania 1 but a little less at 30 hours for the cradle compared to 36 for the Melomania 1 cradle. Again, for context, this is reduced volume and SBC codec testing so take off about 20-25% for aptX decoding and higher volumes. Noble rates the Falcon at 5.5 hours at 100% volume.
Neither TWS offers quick charging but the Falcon does offer a USB-C connection port whereas the Melomania 1 uses an older micro-USB connection.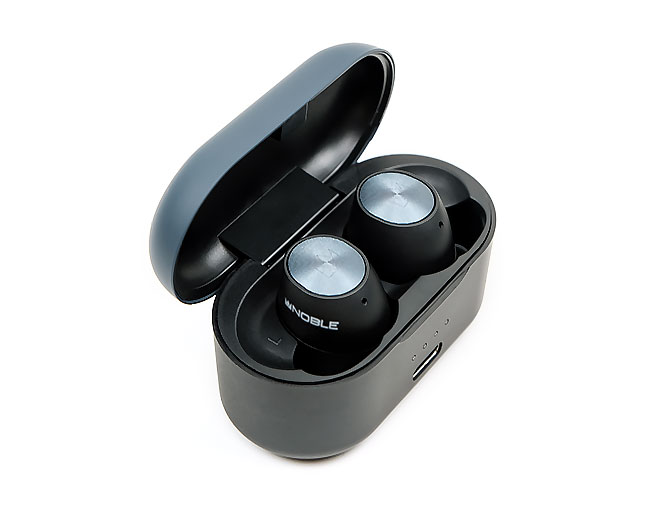 Design
Both of these TWO units have height, however, the Falcon's length is more to do with a very long nozzle which is a Noble signature design intended to get that nozzle as far into your canal as possible. Otherwise, both units are not that wide though overall the Falcon is the bigger unit.
Very different aesthetics though both have plastics as their main material. The Melomania 1's bullet form factor uses a steel ring motif as opposed to Noble's blue faceplate finishing. They do indeed use LED lighting under physical controls in their faceplates though the Noble has a much stronger blue LED.
The depth of the nozzle combined with some great ePro tips does allow the Falcon to fit in a bit tighter in your ear and isolate very well. The Melomania 1 does not go as deep so not quite as secure and stock tips are as good at isolating but are on par with the Falcon with the Symbio W tips attached.
Both have tiny cradles with LED charging lights to the front but the Melomania 1 case is finished to a higher standard and a bit more compact and modern looking.
Tuning
The Falcon follows more of a classic V-shaped response whereas the Melomania 1 veers more to an "M-shaped" curve with just marginally less sub-bass dominance and a warmer more elevated mid-bass elevation.
The Falcon's high point is south of 80Hz with just a moment's delay so to speak at 100Hz before dropping down by almost 20dB into the lower-mids. The Melomania 1 rises at 100Hz and drops also 1K but that drop is still ironing itself out well into the upper-mids.
As a result, the timbre is a bit thicker and warmer on the Melomania 1 for lower-mids instruments and they do have a bit more presence but also you get a bit more upper bass bloom. The Falcon is cleaner sounding through the lower-mids and with a cooler timbre and a bit less presence and weight.
The Falcon does create a more the perception of a more spacious midrange sound with the Melomania's more bumped 800Hz – 1k range delivering something a bit more intimate. This does mean lower register male vocals and instruments lack a bit of body whereas the Melomania 1 sounds a bit warmer and smoother.
Timbre Coloration
The Falcon has a stronger more vibrant upper mids tuning but here timbre coloration from the treble tuning also plays a role. The Melomania 1 dips in the lower-treble and sucks out a little air in the process. Not a huge amount but compared to the Falcon female vocals can sound smoother with more body but combined with a slightly more neutral positioning they can sound a little more closed in.
The Melomania 1 also has this little upper treble peak though that you can hear shine through sometimes on very high percussion hits. For female ethereal vocals, it introduced a little more sibilance even though I would say the sustain and decay are smoother than the Falcon.
The Falcon has no such dip peaking at 7k and then fading from 8-10k more so you do not get that wispy treble tone as much. As a result, very high register notes have a bit more body and it has less sibilance creeping into vocal attacks. However, its 7k peak can produce a hard edge to its timbre for percussion and vocals.
1MORE Stylish TWS
$99.99
Technical
The Stylish is also a single dynamic driver TWS though slightly larger at 7m compared to 5.8mm inside the Melomania 1. The drivers do differ though with the 1MORE using a titanium composite driver diaphragm as opposed to graphene-enhanced inside the Melomania 1.
In terms of shared features both TWS offer BT5.0, aptX decoding, and microphone noise suppression technology. The technology is named differently with 1MORE using ENC, whereas the Melomania uses cVc 8.0. The chipset on the Stylish is also a lower grade Qualcomm QCC3020 compared to the QCC3026 inside the Melomania 1.
The Stylish does lack an IPX rating whereas the Cambridge Audio variant offers IPX5 though 1MORE have been at pains to point out that they have yet to see driver failure from sweating on the Stylish.
Both TWS using physical as opposed to touch controls though the Stylish is enhanced with a sidekick app that allows for tweaking those controls as well as enable EQ and receive firmware updates. Sadly, the Melomania 1 lacks an app feature.
The Melomania 1 has the better battery life management at up to 9 hours on paper at reduced volume using SBC as their main testing methodology. That also includes an additional 36 hours in the cradle. The Stylish can only offer up to 6.5 hours under similar testing standards and 24 hours in the cradle.
Design
The Stylish has a compact jellybean form factor towards the top but like the Liberty 2 Pro from Anker a fairly tall shell and nozzle with the use of an O-ring system for stabilization in the ear. It does paint a very different picture aesthetically to the tall bullet form factor of the Melomania 1.
Both are primarily plastic in design though the Melomania 1 nozzle has a steel gauze and steel ring motif to offset. The Melomania 1 nozzle is also much wider making 3rd party tip rolling more difficult compared to the narrower Stylish nozzle.
In the ear, the Melomania 1 isolates a little better than the Stylish with the stock tips but with both there are benefits in top rolling with both sealing a lot better with Symbio. The Stylish does have more flexibility with the narrower nozzle to fit other types of tips to get a good seal.
The Stylish cradle is small and smooth, almost pebble-shaped but the Melomania 1 cradle is smaller and much more pocket friendly overall. Both have excellent build quality though they do use older micro-USB charging technology. The Stylish can fast-charge though with 3 hours worth of playback on a 15 min charge.
Tuning
A couple of important tuning differences between these two. The first is on the low-end. The Stylish has more of a sub-bass bias and a typical V-shaped response overall with a cooler mid-bass and less warmth traveling into a dipped lower midrange.
The Melomania 1 has a better mid-bass punch and some warmth delivering something more akin to an "M-shaped" response curve. That means some decent power but not as much low-end quantity as the Stylish.
However, with the Symbio W hybrid tips attached the bass goes up a notch and closer in positioning making is very satisfying and a little tighter/faster sounding than the Stylish low-end performance.
The Stylish dipped mids up to 1k drops instrumental presence making the timbre a little on the leaner and cleaner side though with decent underlying PRaT for low-pitching percussion.
The Melomania 1 has a bit more of a mids bump for vocal clarity and slightly less aggressive treble response. The treble takes on a much more endearing liquid quality with the Symbio hybrid tips whereas the silicone tips bring in a bit more sibilance into upper mids percussion and ethereal high pitched vocal performances.
With the hybrid tips, the Melomania 1 has a more natural lilt to its timbre and good vocal solidity. The Stylish has a slow rise from 1k to 5k but the vocal still sounds comparatively dipped and lacking in presence.
The treble on the Stylish is relatively relaxed but can still surprise you with a fair dose of sibilance on vocal timbre now and then whereas the Melomania 1 treble has more energy but seems generally more refined for percussion and vocals.
Our Verdict
I personally think the Melomania 1 is quite a unique offering. It is a shame I did not manage to get to review it when it was launched last year as 2020 has brought in a strong line up of ANC/app integrated competitors with USB-C and wireless charging, all features the Melomania 1 lacks.
I suspect 2019 would have seen it top of the pile for many potential users given its more nuanced and warmer tuning and a timbre I find more appealing than a lot of high contrast V-Shaped offerings swarming the market out there right now.
The design and cradle do nothing but enhances that uniqueness to the 'nth-degree'. It will stand out from the crowd, despite its lack of gym-friendly ear hooks. Do try to find fitting 3rd party ear tips as the stock versions are a shade on the porous side and some, like Symbio W's, seal a lot better.
Overall, a punchy and smooth performance from a very pocket-friendly TWS with excellent battery life to boot.
Cambridge Audio Melomania 1 Specifications
Bluetooth version Bluetooth 5.0, class 2
Processor triple-core processor architecture: dual-core 32-bit processor application subsystem & Qualcomm qcc3026 single-core 120mhz kalimba DSP audio subsystem
Supported profiles A2DP, avrcp, HSP, HFP
Supported codecs aptX™, AAC, SBC
Latency 70ms
Driver 5.8mm graphene-enhanced diaphragm
Frequency response (earbuds) 20hz – 20khz
Total harmonic distortion <0.04% @1khz 1mw
Battery playtime (earbuds) 9 hours (continuous a2dp playback)
Battery playtime (charging case) 36 hours (an additional 4 earbud charges)
Battery playtime (total) 45 hours (9 + 36)
Charging time case: approx. 15mins/60mins/90mins
Standby time (from a full charge) approx. 1 year
Power supply 5v, 500 ma (or greater): USB charging (micro-USB cable supplied)
Microphone mems with cvc™ noise cancellation
Microphone sensitivity 96db SPL at 1khz
Frequency response (microphone) 100 Hz to 8 kHz
Voice control yes: Siri (ios) / google assistant (android)
Ipx rating ipx5 (water spray resistant (earbuds & case))
Operating temperature 0°c to +40°c / 32°f – 104°f
Operating relative humidity 10 to 80%, non-condensing
Dimensions charging case: 59 x 50 x 22mm; earphones: 27 x 15mm
Weight earbud: 4.6g each (9.2g both earbuds); charging case: 37g; total: 46.2g
Color/finish black: matte UV lacquer; stone: matte UV lacquer