This is a review of the Sennheiser Momentum True Wireless, which is the company's debut TWS system featuring aptX, app integration, and BT5.0. It is priced currently at $199.95.
Disclaimer: This was sent to us as a sample for our honest opinion. Headfonics is an independent website with no affiliate links or services. We would like to thank Sennheiser USA for giving us this opportunity.
To read more on Sennheiser products we have covered on Headfonics click here.
Note, that this post follows our latest scoring guidelines which you can read here.
Sennheiser Momentum True Wireless
The MOMENTUM True Wireless is a professionally made, and well-integrated TWS system. It strikes a solid balance between immediate listening, easy-to-use controls, and solid build quality. What it lacks is battery life, lots of it, and that could well be a deal-breaker for many.
With the recent announcement of the launch of the Sennheiser Momentum True Wireless 2, we thought it would be an ideal moment to look back on the first edition of the company's debut TWS.
The first Momentum TWS is still available globally albeit for a reduced price these days of around $199 and for some that might be pretty good value. I suspect it will be gradually phased out or while stocks last.
This is probably one of the higher-profile TWS releases of early 2019 given the brand cred of Sennheiser and likely one that most audiophiles would have checked out initially when having a look at the TWS market. It is not cheap but it does come with a lot of features outside of ANC which is now in the MOMENTUM True Wireless 2.
Tech Inside
So, what features does the MOMENTUM True Wireless come with? Plenty actually with aptX/AAC decoding, BT5.0, touch controls, Smart Control app integration, and IPX4 at a high level.
Configuration
Let's start with the audio side. The MOMENTUM True Wireless is a single 7mm dynamic driver TWS which, compared to wired models is a little on the small side. However, compared with most TWS dynamic drivers it is slightly above average.
Sennheiser does not say anything specific about the materials of the driver, other than it is new. That means it is not simply a Momentum In-Ear with the wires taken out. A quick check of the driver SPL ratings would also show the new driver needs a fairly decent SoC chipset amp inside at 107dB SPL compared to the In-Ear's much easier 118dB SPL equivalent.
Bluetooth 5.0
The single dynamic driver MOMENTUM TWS uses Bluetooth 5.0. That is pretty much the minimum standard now for any modern TWS. BT5.0 should provide for a better range and stability compared to the older BT4.x versions.
aptX
aptX is about as good as you can expect from a TWS system at the time of writing. LDAC is not yet available and aptX-HD is still not possible. I suspect the current TWS design and implementation might not allow for that, particularly on size and battery life as well as left-to-right communication protocols with regard to stability.
In any event, aptX, (and AAC for iOS devices) is the ceiling for both budget and flagship with the current 2020 focus on premium ANC technology wrapped into the MOMENTUM True Wireless 2.
One further important enhancement on the MOMENTUM True Wireless feature set and one which we will test on page 2 is the inclusion of aptX LL or Low Latency. This is the first TWS I have seen actively advertise this.
Most TWS we have tested have required a small degree of sync adjustment for latency with the HELM TW5.0 perhaps the best performer. It will be interesting to see if the Sennheiser implementation of aptX LL will give us the best sync rates to date.
IPX4
Some sort of rating is ideal to greatly expand the ideal usage case scenarios for the MOMENTUM True Wireless. It is not as high as some cheaper models that have IPX7 such as the Lypertek TEVI or even the IPX5 rating of the budget Jade Audio EW1. However, IPX4 is more related to water droplets and primarily sweat so it should be enough for most gym users or those with active outdoor lifestyles.
Touch Controls
This is a big advantage over physical buttons if done correctly and you can read more about that in our controls section below. The MOMENTUM TWS features a full suite of playback, call, and voice/volume control via some really excellent touch-sensitive faceplates.
Smart Control
This is one of the bigger features and that is the level of OS integration for the MOMENTUM TWS. Smart Control has some excellent features including Transparent Hearing which works in a very similar fashion to the excellent 1MORE environmental noise controls. It also has an onboard EQ which works in a very interesting but fairly intuitive manner. Can you hear the effects? Absolutely.
Design
The form factor is similar to the likes of the MPOW M5, TOLV, and the TEVI but in the hand, you quickly realize the MOMENTUM TWS build quality is on a much higher level.
First, the main 2-piece housing is made from plastics but its a good quality light plastic material with a very even surface finish. Given it is a single DD inside, there is a small but discreet vent on the side of the housing.
The main faceplate is a metal inset brandished with Sennheiser's logo and a light circular patterning underneath. This is your touch control surface and it is a well-thought-out design.
The housing shape under the main faceplate is tall enough that you can grip each driver without accidentally activating the touch-sensitive faceplate. This can often be a problem on cheaper TWS devices such as the KZ T1 or Jade Audio's EW1 where the touch surface is not as clearly marked out.
At the same time, the touch surface is big enough for you not to be figuring out where it might be. It is also very accurate and responsive.
Underneath you will notice the plethora of gold-plated contact points. Normally I am used to 4 (2 per side), but this has 12 in total with the more typical 2 large points separated by a square of 4 smaller ones in-between.
Comfort & Isolation
Despite having a super short nozzle I have no real fitting complaints with the MOMENTUM True Wireless. The depth of the housing does mean they will stick out a fair bit but given how light they are it is not something I can claim to have really noticed in my day-to-day usage.
The supplied single-bore short silicone tips are just so-so which is a surprise given this is Sennheiser. I would have expected a wider choice or style. Having said that I got lucky with the large tips doing a good job keeping them steady and well isolated.
Tips Tweaking
There will be a lot of emphasis on the tips you use with the MOMENTUM true wireless because of that super short nozzle. That means they do the majority of the work for keeping them steady as well as the level of isolation you can expect. The Smart Control Transparent Hearing experience does help in this regard but ultimately the type of tip used will be more effective.
Final E offers more isolation and a better seal than the stock-supplied tips for example. The Final E tips also sound a heck of a lot better than the stock tips with a more satisfying low-end presence and generally a more engaging sound. Generic large foam tips sealed on par with the Final variants and offered a fairly smooth and rich tone but slightly less bass presence.
Controls
The MOMENTUM True Wireless uses a combination of touch control and extended wireless app-based features via its Smart Control App, (Android and iOS). Whilst you do not need the Smart Control app to use the TWS with most phones, the app does add some good value on top of the normal playback, call, and Voice Assistant features.
Touch
The touch controls on the drivers are excellent and probably the best I have reviewed to date. It is not just the physical size of the touch area and its easy access positioning but also the accuracy and response rate. The low latency between touch and execution is palpable.
The only concern I have is the volume control seems a bit wieldy via a long press which seems to boost the volume independently from your phone software volume. Each adjustment seems a big drop or increase. Personally, I prefer dropping my source volume slowly than using the MOMENTUM True Wireless touch volume control.
App
Pairing with the Smart Control on a Huawei P20 was very straightforward. The pairing was first initiated on the P20 via its Android BT service after which the Smart Control was fired up.
It takes a few seconds to locate the MOMENTUMs then it adds them to your list of wireless products. You can also add more than one product such as the full-size PXC 550 headphones since the app is not specific to just the MOMENTUM TWS.
From there you can access the Transparent Hearing, stop and play controls and their innovative EQ software. Transparent Hearing is very similar to 1MORE's ENC Microphone Technology and is more aggressive than you might expect it to be. Tthe way it dulls down or boosts background noise is very satisfying.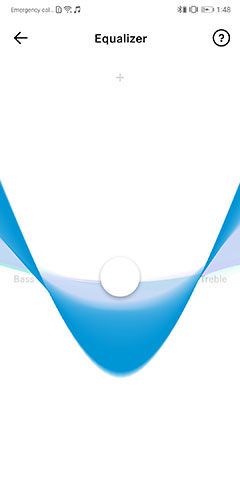 Smart Control EQ
The EQ experience is fun if a little bit on the vague side. You will not be hit with numbers or FR banding but rather a moveable sphere on the screen. You can adjust the sphere in any direction with only parameter a single line in the middle with 'bass' on the far left and 'treble' on the far right.
Moving laterally left and right reminds me of a shelving filter on a PMEQ system. If you move right or left but stay in the middle does produce a veiled warmed experience but doesn't diminish positioning hugely. Rather the bass tends to just warm everything up a bit too much.
If you move to the extreme right and go tall then it suddenly starts to sound very dark with mids dropping and a lack of presence. Extreme left to treble is the opposite effect. The sound gets progressively thinner and tinny sounding and right and taller pushes the positioning further away.
If you keep the sphere central and move up it delivers an n-shaped signature and downwards the opposite with a V-Shaped tuning.
Device Settings
Smart Control also allows you a few tweaks on how the drivers wireless interact with the Smart pause feature probably one of the most welcome.
Basically, that means when you take the MOMENTUM True Wireless buds out of your ears the music on your source stops until you put them back in again. It is pretty cool and works exactly as you expect it to do. However, you can turn it off via the app which means you have to touch control them to stop.
You can also turn off the voice prompts, the auto-accept incoming calls function, (which I always do) and enable or disable the voice assistant.
Cradle
There are some pros and cons to the MOMENTUM True Wireless case. First, aesthetics and design are top-notch though I must confess very similar to the TEVI just a shade lighter in the cloth cover and slightly flatter or squarer.
Side by side, the Sennheiser design is a bit better in its finishing and that flatter form factor makes it more pocketable. The TEVI case also has a lot more flex than the MOMENTUM TWS which is rock solid.
LED 'Hub'
The internals are also made of a plain black contoured plastic material and unlike many competing cases it is free of LED lights. To find a light you need to look at the back right beside the very assuring USB-C port.
That small LED light is your hub of information for charging both the drivers and the capacity left in the case. The LED light is not an always-on feature with a small button on the right side of the USB-C port that, when pressed, brings up the LED color status.
During charging the LED light is a constant on with amber for charging and green for fully charged.
Battery Life
And here come the cons of the case and in a way, the MOMENTUM True Wireless's serious Achilles heel, its battery life.
The drivers are rated at just 4 hours before they need a charge and truth be told that's optimistic with around 3.5 hours more likely or less if you enjoy a high volume and aptX. With cheaper units now offering 5-10 hours on average that placed the MOMENTUM towards the low-end.
Sadly, the case only has around an 8-hour capacity also so that's just 2 additional charges on top of the 4 giving you around 10-12 hours max. Charging time is also 1.5 hours which seems a bit slow for just 8 hours.
Compare the case to the TEVI which is rated closer to 70 hours for the case or even the Fostex TM2 at 10 hours for the drivers without any charging case capacity at all then it was clearly a missed opportunity.
It is good to know the new MOMENTUM True Wireless 2 now has 7-hour drivers and 28 hours in the case. Problem sorted.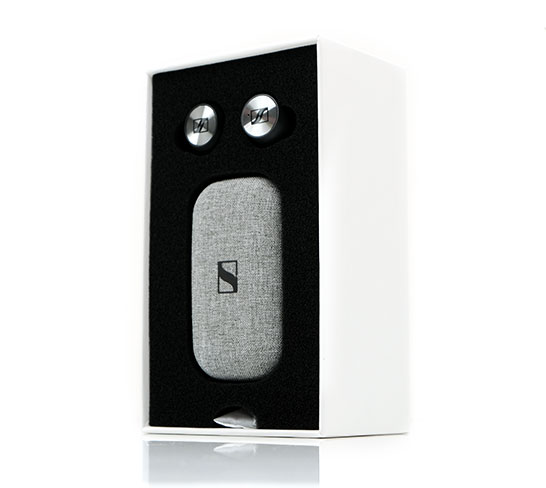 Accessories & Packaging
The packaging is consistent with Sennheiser's typical low-key but professional boxes from their other audiophile gear. They come in a smallish but deep box with plenty of information on the outside and well protected on the inside with a foam cut out holding everything in place.
Interestingly, the drivers are outside the box not inside. Not sure if that's for marketing reasons or health and safety. Underneath you also get the rest of your accessory line up which isn't terribly exciting for this price point.
The accessory lineup is on the light side for me with one short USB-C to USB-A charging cable and 4 sets of tips in small, medium (x 2) and large. The 3 sets of tips in the picture are bagged and there is an additional medium set on the tips of the drivers when first out of the box.
You also get some associated marketing and warranty collateral including a user guide. Do take the time to read the guide as with most TWS to familiarize yourself with the controls.
Click On Page 2 below for sound impressions and comparisons