Today's review is all about the Cambridge Audio Melomania 1. This is a single 6m graphene-enhanced dynamic driver TWS featuring BT5.0, aptX, and up to 45 hours battery life. It is priced at $99.95.
Disclaimer: This is a sample that was sent to us is a sample in exchange for our honest opinion. We thank the team at Cambridge Audio for giving us this opportunity.
To read more about Cambridge Audio products we have previously featured on Headfonics click here.
Note, this review follows our new scoring guidelines for 2020 which you can read up on here.
Cambridge Audio Melomania 1 Review
Overall, the Cambridge Audio Melomania 1 has a punchy and smooth performance from a very pocket-friendly TWS with excellent battery life to boot. 
UK's Cambridge Audio is a name that I have grown up with back in Belfast where our daily Saturday Richer Sounds demo afternoons was a mandatory excursion. You name it, they made it and for many products, they made it rather well.
I think I have tried quite a few of their DACs, cables, receivers, and amps and I am willing to bet you have also. And yet, this is our first time doing a product review on this brand. It will not be the last either with Mike auditioning some of their amps and speaker setups this coming fall.
For all of their heritage in HiFi, however, we do start with something thoroughly portable and modern, the Melomania 1 TWS which retails for $129.95 in the US.
I had my eye on this one for a while now since we started TWS reviews since it does come with a slew of TWS features I think mandatory in 2020. It is also one of the most unusual looking TWS I have reviewed to date.
Tech Inside
Configuration
The internals of the Melomania 1 consist of a single 5.8mm graphene-enhanced dynamic driver which is about the norm in terms of dynamic driver size in most TWS these days.
You do get a few outliers such as Edifier's monster 13mm driver inside their TWS NB or Anker Sound Core Liberty 2 Pro's 10mm but by far, the 6mm sizing is the most common.
The use of a lightweight but strong graphene plating on the diaphragm should stiffen the resistance a bit more than regular diaphragms. The movement should tighten up as a result and the distortion is comparatively lowered.
Qualcomm QCC3026
The Melomania 1 comes packed with Bluetooth 5.0 using higher rated Qualcomm QCC3026 chipset inside a Triple-core Processor Architecture. This offers a dual-core 32-bit processor application subsystem alongside the Qualcomm QCC3026 Single-core 120Mhz Kalimba DSP audio subsystem.
Quite a lot of cheaper TWS use the lower-grade or entry-level QCC3020 chipset. One which stands out for me that does use the QCC3026 is the high-end Fostex TM2 which scored pretty well here in its review.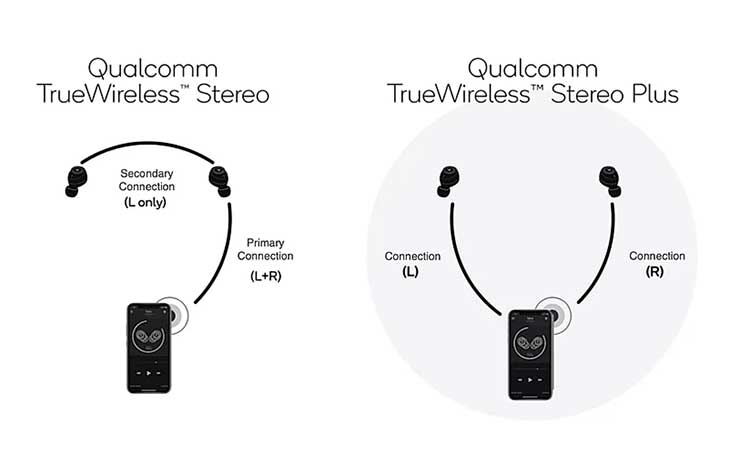 TrueWireless Stereo Plus
Using the ACC3026 also means Melomania 1 is TrueWireless Stereo Plus capable which is a plus in my book.
TrueWireless Stereo Plus dictates how the two drivers pair, both to the source and to each other. In a traditional 'non-Plus' system, there is a master and slave relationship whereby one driver pairs with the source and in turn creates a secondary connection with the other driver.
The Plus version allows each driver to connect directly to the source "in stereo" and do away with that master-slave connection between each other. The software inside the Qualcomm QCC3026 SoC then syncs them both as a single pair of earphones.
The master designation thus becomes more flexible. For example, if you run out of battery life on one side, the other side becomes the master so you do not lose a connection.
cVc 8.0
The Melomania 1 uses a MEMS, (MicroElectro-Mechanical Systems), microphone system combined with cVc 8.0 for noise suppression during calls. cVc technology is a set of noise reduction algorithms built into the microphone audio processing circuit and housed inside the drivers.
It is primarily designed to improve the quality or clarity of voice calls and lower interference from wind or outside noise. This tech should not be confused with ANC which is much more aggressive in noise cancellation.
aptX
Codecs are properly covered by the Melomania 1 so apart from SBC and ACC you also get aptX which is the highest available level of decoding you can have right now for True Wireless due to the battery and tech restrictions.
You can get away with SBC and AAC only if you have a killer SoC and driver like the Sony WF-1000XM3 but those are more often the exception than the norm. Latency is measured on paper at 70mS and we will be testing that on page 2 in our wireless performance section.
IPX
The Melomania 1 is rated for IPX5 which is plenty decent and more than enough for sweaty workouts at the gym. technically, it should be able to resist a sustained low-pressure water jet spray. However, for the life of me, I cannot think of such a time when I might be in such a situation.
Design
If you are familiar with IEM bullet-type designs and like them then these are right up your alley. For sure, the most unusual TWS design I have seen to date.
The beauty is in the simplicity of the lightweight design but the beast might be in the fitting since most bullet-type wired IEMs tend to use the cable to get a stable fit. In this case, you have none so tips play a huge role.
The Melomania 1 form factor is very round and smooth and about medium-sized for a TWS with nothing in the way of O-rings or wings sticking out.
The materials are a professionally finished black hard plastic, (it also comes in 'stone'), for the main body and nozzle and a chrome metal ring just at the base before the nozzle as well as finely crafted metal gauze over the wide nozzle opening.
Both driver housings are nearly identical save for the R and L so you will need to pay careful attention to which one is which before you stick them in your ears. I do hope the labels are not prone to fading or disappearing over time as that might create a problem as to which one goes into which ear.
Light modes
The top of the Melomania 1 drivers house a rounded faceplate which duals as the physical controls for the Melomania 1. They are very discreetly done with a slimline LED ring just peeking through that will signal some status alerts such as charging and pairing. There are a total of four LED signal modes including:
White pulsing light – earphone charging
No light – earphones fully charged
Blue/White flashing – pairing mode
Red light – Low battery warning
Comfort & Isolation
Bullet form factors are always excellent for comfort since so little of the tall but narrow main housing touches your ear.
The Melomania 1 is no exception to this rule though I found I did have to insert quite deeply to make sure the fit was secure. That did mean the Melomania 1 was sitting at more of an angle using the base of my concha basin ridge to stay in one position.
Given how light they are I honestly did not feel them on my ear at all. The key area is the pressure applied inside your ear canal which, though minimal, is important for the drivers to stay fixed in one position.
Tips
The Melomania 1 comes with a set of single bore silicone tips in small, medium, and large sizes with an additional set already fitted out of the box. I found their sealing capability to be very average and I would recommend you try some 3rd party tips because it makes a huge difference to the level of background noise you can block out.
The only problem is the nozzle opening or bore on the Melomania 1 is huge, much bigger than a standard-sized opening. SpinFits and Final E tips would not fit on comfortable for me but the Symbio W tips worked just fine and did a spectacular job of blocking out background noise.
The only issue I have with 3rd party tips like the Symbio W was their size. There is not a lot of room in the diminutive cradle and they will not fit back in with these larger hybrid sturdy tips.
Just one last thing to note, the Melomania 1 uses a dynamic driver so both housings have small vent holes. That will mean a slight loss of passive isolation but not a huge amount, at least not when you have a good set of tips on them.
Controls
The Melomania 1 controls are entirely physical via the backplate button on the main driver housing. The mechanism is tactile and responsive though you do have to grip the sides of each driver to use them to prevent any uncomfortable inward pressure on your ear canals.
The control system is fairly simplistic but I do tend to prefer this for TWS for easy memory recall. From the driver, you can control playback and activate your phone's voice assistant (Google Voice Assistant or Apple Siri) as well as accept or reject incoming phone calls.
Volume on the Melomania 1 is controlled by a long press on the left side to reduce or the right side to increase. It is a shade "herky-jerky' for me with a stepped increase or decreases. There is a slight delay before the volume control quickly starts and it can be down a few steps before you have time to take your finger off the button.
Cradle
I love the Melomania 1 cradle design. It is so tiny, compact, and very smoothly corned for comfortable handling. It truly is pocketable and makes a lot of other TWS cradles look enormous. I would say it is close to the size of an Apple AirPods 2 case, maybe marginally bigger.
The materials are in keeping with the driver housing with mostly stiff black plastic save for the metal contacts for charging, the hinge, and the USB port socket.
The front is adorned with 5 small LEDs that indicate the charge level of the battery case and they do light up and turn off when the magnet activated lid is opened or closed. The driver bays are also magnetized so they do sit very securely in place when the lid is left open.
The big drawback is the use of micro-USB for the charging port and the lack of wireless or quick charging facilities which, in 2020, is a bit behind the times. Granted, the Melomania 1 was launched in mid-2019 when micro-USB was more prevalent so I will be lenient to a certain extent but suffice to say it is old tech now.
Battery Life
For such a compact package battery life is stellar. You get 9 hours playback (A2DP level testing) from the drivers before hitting needing to place them back in the cradle which in turn, holds up to 36 hours additional juice. That is a total of 45 hours of battery life and one of the better performers out there in the TWS market right now.
Of course, aptX and plenty of button mashing might decrease that a bit but I found it not by a huge amount with around 7 hours using aptX obtainable. That is still hugely competitive.
Charging time from zero to 100% is around 90 mins max which is not too bad considering how much juice you can get out of this tiny cradle when fully charged.
Packaging & Accessories
A nice clean retail package with accessories, driver, and case well laid out on the inside. The box is more of a book type elongated display case than a tiny logistics friendly box but it does leave enough room for a welcome letter on the inside flip from James Johnson-Flint, the CEO of Cambridge Audio.
Here, he offers the reasoning behind the creation of Melomania 1. He also encourages you to direct feedback to him your thoughts on the device with a supplied email address. Thoughtful and thoroughly welcome transparency.
Inside, the accessories are what you would expect from a TWS with the single bore silicone tips in 3 sizes, a short USB-A to micro-USB charging cable, and a huge assortment of stickers, user guides, (multilingual) and a 'cheat sheet' card for the controls.
You can also order some optional official silicone protective cases, (6 colors), for around $10 from Amazon but I am not honestly sure you need them unless you like some serious protection and a new color scheme.
The cradle does feel very sturdy though I am not 100% sure it is scratch proof so that might be your user case basis for getting one beyond fashionable looks.
Click on page 2 below for Sound impressions and comparisons