Sound Impressions
Timbre
I would consider the Topping E70 to be a slightly warm-sounding DAC although the general tonality is neutral. However, the dynamic range seems high which produces lots of energy behind notes.
The frequency response seems linear and as ruler-flat as in their graphs. So much so that the overall sound signature can come through somewhat aseptic at times.
But what I like most about the E70 is the dark background free from hiss and any other type of noise. Operating the unit to switch inputs doesn't introduce switching noise either. The only operating noise you will hear from the E70 is from the on-and-off power relays or relays which operate the switching of inputs.
Another aspect of the E70 sound signature I like is the wide-scope soundstage you get. Using a capable headphone like the Hifiman Arya you get a sense of width and accurate placement that seems more upscale versus other cheaper DACs. It presents the listener with lots of 3D information.
Staging & Dynamics
I mostly used Topping's L70 matching amplifier and I also used their A90 to get a good sense of the Topping brand signature but I also use a unit from iFi like the ZEN CAN just to obtain a different perspective.
On every occasion, the wide soundstage proved to be accurate and interesting so that I was able to hear distinct elements represented in a rather proper size perspective and not only accurately placed but rightfully represented in tone.
The imaging capabilities are quite good here. They're smooth as butter and far as an accurate panning. This DAC produces a 3D panorama and a soundstage that seems to punch way above its retail price.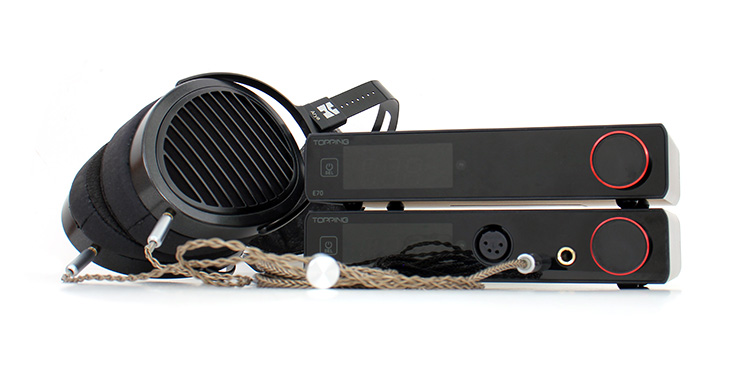 Synergy
The L70 of course pairs up well with the E70 since they were practically made for each other. Using this combo proved to be a simple yet very effective audio setup solution. I call this setup a minimum interaction design combo.
Connecting the two with a 3.5mm 12v trigger seems to remove the necessity of having to use the rear power switch on two units often, enabling the user to turn on and off both units using one single remote control or with one touch of the front panel.
Now of course you could also use the E70 with other amplifiers and I believe that the variable output selection on the analog output section makes it even more so.
If you use for example a Sundara open back and then transition into an Arya you could get a sense of the level of accuracy within the stage so I would say the E70 has good upwards scalability by simply upgrading the amplifier section.
Select Comparisons
iFi Audio ZEN One Signature
Price $349.00
Technical
Both these units function in the same manner. They take a digital signal, thru either a USB, optical, or SPDIF feed and supply an analog signal that's recognizable by an amplifier's input section. On top of that, the ZEN One Signature also receives Bluetooth audio as the E70 does which makes them extremely similar.
But the iFi Audio ZEN One Signature DAC takes a different audio path which consists of an XMOS processor tied to a Burr Brown Dac section that runs off a custom firmware.
The input section is almost identical and the only difference here is within the two balanced analog outputs which use different connectivity, XLR versus 4.4mm in the case of the iFi ZEN One signature DAC.
One particular advantage the iFi ZEN One Signature has over the E70 is MQA capability and it does the rendering at the hardware level to boot. So keep that in mind if you're an MQA fan. But if you're like me you could just keep walking on that one.
Design
These two units are opposite concepts far as appearance. One has a post-modern look and the other is retro modern and I'll let you guess who's who. The rounded trapezoid exudes retro, doesn't it?
You do get more control on the E70 on the analog output ports plus an additional volume knob since you could select either output to play, both simultaneously or both off and that is not possible on the ZEN One Signature DAC. The output is fixed in this case.
There's one feature that can't be overlooked within this comparison and that's the inclusion of a full-featured remote control but one thing to note is if the particular DAC in question will be placed at arms reach why do you need a remote control?
Performance
There's one aspect that the iFi Audio ZEN One Signature DAC lacks and that's the filter selection and the selectable variable output levels which can be done on either RCA or XLR connections. You can select a different filter but it involves flashing the firmware.
But considering hardware implementations, the E70 takes an existing chipset and exploits it while the iFi ZEN One Signature DAC went further out and further customized. Sure there are some custom implementations within the E70 but more so on the iFi unit.
The iFi final production result is a natural-sounding DAC section that portrays a clean aspect far as background noise and noise floor. Far as tonality, the E70 has a more vivid midsection while the iFi One was smoother sounding in a very nuanced way.
Perhaps all those fancy caps and low-noise ICs made a difference in the sense that they produced a smoother-sounding DAC overall with perhaps the dynamic range aspect and dynamism character first place belonging to the E70.
HIFIMAN EF400
Price $599.00
Technical
While technically not a DAC exclusively, the HIFIMAN EF400 can be used as one comfortably and it will surely please your audiophile senses due to the implemented R2R Himalaya DAC section with selectable digital filters.
I also threw in this model to get three different perspectives and for the opportunity to compare three different DAC sections. One with a Burr Brown XMOS implementation, one with an R2R, and the third which is the ES9028PRO with a custom inverted voltage power section.
Design
The HIFIMAN EF400 has what I call an old-world design modernized and what gives it the old-world vibe is the thick brushed aluminum front panel and heavy chassis. This unit weighs more than the other two combined.
But if you look inside, each of the 3 sections is rather small except for the massive toroidal transformer which is not small at all. I'm referring to the separate DAC and amplifier sections placed on individual boards to keep crosstalk and interference to a minimum.
Performance
The HIFIMAN Himalaya DAC section has a gorgeous tonality that makes it highly enjoyable and musical sounding. But the fact that the selectable filters don't affect the overall sound output greatly doesn't add much versatility since I found the E70 filters to be audibly ineffective.
Both these Dac sections sound great and the differences lie in that indescribable sense of musicality which takes shape and color most notably. However, the E70 seems more impressive on that first listen and wins over those who like large three-dimensional spaces with an extra splash of resolution.
Sound is one determining factor but the other factor is that you have to buy an amplifier obviously in conjunction with the E70 DAC and the EF400 already has one. So if you want an all-in-one unit then the EF400 should be considered. But just remember it only has a single USB input.
I did notice a slight dry aspect which is not present if you use the DAC section exclusively. And if you dislike that character you will probably end up buying another amplifier to accompany the EF400.
If you buy an amp after the fact to accompany the EF400 it could make this a more expensive purchase but the overall result could be the best sounding overall.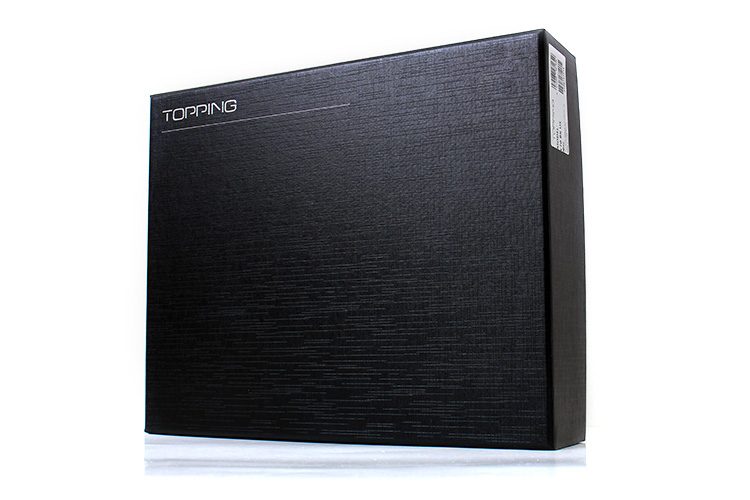 Our Verdict
The Topping E70 is a surprisingly good DAC that feels right at home in a desktop scenario or injected into a home theatre hub. The control set feels a bit awkward and unrefined but the remote control simplifies using this unit making it a top-choice DAC for couch dwellers.
The sound quality is on par with more expensive DAC sections, particularly in staging and 3D presentation plus it also excels with a very low noise floor.
This is a DAC I could recommend fully and without hesitation due to the list of its unique features, flatline frequency response, and high dynamic range. Just keep a micro cloth handy and you'll be okay. Stay tuned for the L70 write-up. Good things are coming from Topping.
Topping E70 Technical Specifications
Decoding
PCM
USB IN: 44.1kHz-768kHz/16bit-32bit
COAX/OPT IN: 44.1kHz-192kHz/ 16bit-24bit
BT IN: AAC/SBC/APTX/APTX LL/ APTX HD/APTX-Adaptive/LDAC
DSD(Native)
DSD(DoP)
USB IN: DSD64-DSD256
COAX/OPT IN: DSD64
RCA
THD+N @1kHz (A-wt): <0.00008%
THD+N @20-20kHz 90kBw (No-wt): <0.00007%
[email protected](A-wt): 126dB
Dynamic range @1kHz (A-wt): 126dB
Frequency Response:
20Hz-20kHz(±0.2dB)
20Hz-40kHz(±0.4dB)
Output Level:
1Vrms @0dBFS (4V Mode)
5Vrms @0dBFS (5V Mode)
Noise(A-wt): <1.3uVrms
Channel Crosstalk: -133dB @1kHz
Channel Balance: 0.3dB
Output Impedance: 50Ω
XLR
THD+N @1kHz (A-wt): <0.00006%
THD @20-20kHz 90kBw (No-owt): <0.0002%
[email protected](A-wt): 132dB
Dynamic range @1kHz (A-wt): 132dB
Frequency Response
20Hz-20kHz(士2dB)
20Hz-40kHz(±0.4dB)
Output Level
1Vrms @0dBFS (4V Mode)
0Vrms @0dBFS (5V Mode)
Noise(A-wt): <1.3uVrms
Channel Crosstalk: -149dB @1kHz
Channel Balance: 0.3dB
Output Impedance: 100Ω